Abstract
Increased serum ferritin is frequent in renal transplant recipients. This reflects iron overload due to blood transfusions given to treat renal anaemia. Previous studies suggested excess mortality in non-renal transplant recipients with iron overload. We hypothesized that serum ferritin levels above 1,100 ng/ml may be associated with increased long-term mortality in renal transplant recipients. Twenty consecutive renal transplant recipients with high levels of serum ferritin and 20 renal transplant recipients with normal serum ferritin levels, matched for age and gender, were prospectively studied for 10 years. Nine patients (45%) with increased serum ferritin died during follow-up, compared to four controls (20%). Univariate and multivariate analysis identified multiple blood transfusions (>40 units) prior to transplantation as being associated with higher mortality in renal transplant recipients (risk ratio (RR): 3.1, confidence interval (CI): 1.1–9.2; P=0.03). These data suggest that serum ferritin levels above 1,100 ng/ml due to multiple blood transfusions causing iron overload is a relevant factor that increases mortality.
This is a preview of subscription content, log in to check access.
Access options
Buy single article
Instant access to the full article PDF.
US$ 39.95
Price includes VAT for USA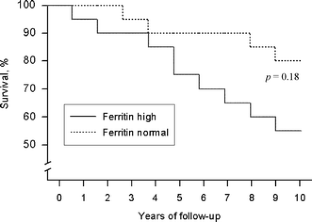 References
1.

Araujo JA, Romano EL, Brito BE, Parthe V, Romano M, Bracho M, Montano RF, Cardier J (1995) Iron overload augments the development of atherosclerotic lesions in rabbits. Arterioscler Thromb Vasc Biol 15:1172–1180

2.

Ballas SK (2001) Iron overload is a determinant of morbidity and mortality in adult patients with sickle cell disease. Semin Hematol 38 [Suppl 1]:30–36

3.

Boelaert JR, Daneels RF, Schurgers ML, Matthys EG, Gordts BZ, Van Landuyt HW (1990) Iron overload in haemodialysis patients increases the risk of bacteraemia: a prospective study. Nephrol Dial Transplant 5:130–134

4.

Breitenfeldt MK, Rasenack J, Berthold H, Olschewski M, Schroff J, Strey C, Grotz WH (2002) Impact of hepatitis B and C on graft loss and mortality after kidney transplantation. Clin Transplant 16:130–136

5.

Brittenham GM, Griffith PM, Nienhuis AW, McLaren CE, Young NS, Tucker EE, Allen CJ, Farrell DE, Harris JW (1994) Efficacy of deferoxamine in preventing complications of iron overload in patients with thalassemia major. N Engl J Med 331:567–573

6.

Brunson ME, Alexander JW (1990) Mechanisms of transfusion-induced immunosuppression. Transfusion 30:651–658

7.

Eschbach JW, Adamson JW (1999) Iron overload in renal failure patients: changes since the introduction of erythropoietin therapy. Kidney Int 55 [Suppl 69]:35–43

8.

Fabrizi F, Martin P, Ponticelli C (2002) Hepatitis B virus and renal transplantation. Nephron 90:241–251

9.

Gabay C, Kushner I (1999) Acute-phase proteins and other systemic responses to inflammation. N Engl J Med 340:448–454

10.

Gastaldello K, Vereerstraeten A, Nzame-Nze T, Vanherweghem JL, Tielemans C (1995) Resistance to erythropoietin in iron-overloaded haemodialysis patients can be overcome by ascorbic acid administration. Nephrol Dial Transplant 10 [Suppl 6]:44–47

11.

Gungor T, Rohrbach E, Solem E, Kaltwasser JP, Kornhuber B (1996) Logarithmic quantitation using serum ferritin to estimate iron overload in secondary haemochromatosis. Arch Dis Child 74:323–327

12.

Hoen B, Kessler M, Hestin D, Mayeux D (1995) Risk factors for bacterial infections in haemodialysis adult patients: a multicentre prospective survey. Nephrol Dial Transplant 10:377–381

13.

Hoen B, Paul-Dauphin A, Hestin D, Kessler M (1998) Epibacdial: a multicenter prospective study of risk factors for bacteremia in chronic hemodialysis patients. J Am Soc Nephrol 9:869–876

14.

Hohler T, Gerken G (2000) Genetic hemochromatosis—from molecular genetics to the clinical diagnosis. Z Gastroenterol 38:509–515

15.

Holtmann G, Anlauf M, Wagner K, Holtmann M, Kolbel CBM, Philipp T, Goebell H (1990) Prevalence, causes and effects of iron overload in patients with allogeneic renal grafts. Med Klin 85:517–522

16.

Huo TI, Yang WC, Wu JC, King KL, Loong CC, Lin CY, Chang FY, Lee SD (2001) Kidney transplantation in patients with chronic hepatitis B virus infection: is the prognosis worse? Dig Dis Sci 46:469–475

17.

Khan IH, Catto GRD, Edward N, Fleming LW, Henderson IS, Macleod AM (1993) Influence of coexisting disease on survival on renal-replacement therapy. Lancet 341:415–418

18.

Kliem V, Van der Hoff U, Brunkhorst R, Tillmann HL, Flik J, Man MP, Pichlmayr R, Koch KM, Frei U (1996) The long-term course of hepatitis C after kidney transplantation. Transplantation 62:1417–1421

19.

Knekt P, Reuanen A, Takkunen H, Aromas A, Heliovaara M, Hakulinen T (1994) Body iron stores and risk of cancer. Int J Cancer 56:379–382

20.

Landers DF, Hill GE, Wong KC, Fox IJ (1996) Blood transfusion-induced immunomodulation. Anesth Analg 82:187–204

21.

Lee MH, Means RT (1995) Extremely elevated serum ferritin levels in a university hospital: associated diseases and clinical significance. Am J Med 98:566–571

22.

MacPhail AP, Mandishona EM, Bloom PD, Paterson AC, Rouault TA, Gordeuk VR (1999) Measurements of iron status and survival in African iron overload. S Afr Med J 89:966–972

23.

Mandishona E, MacPhail AP, Gordeuk VR, Kedda MA, Paterson AC, Rouault TA (1998) Dietary iron overload as a risk factor of hepatocellular carcinoma in black Africans. Hepatology 27:237–245

24.

Mantel N, Haenszel W (1959) Statistical aspects of the analysis of data from retrospective studies of disease. J Natl Cancer Inst 22:719–748

25.

Mathurin P, Mouquet C, Poynard T, Sylla C, Benalia H, Fretz C, Thibault V, Cadranel JF, Bernard B, Opolon P, Coriat P, Bitker MO (1999) Impact of hepatitis B and C virus on kidney transplantation outcome. Hepatology 29:257–263

26.

Moreb J, Popovtzer MM, Friedlaender MM, Konijn AM, Hershko C (1983) Evaluation of iron status in patients on chronic hemodialysis: relative usefulness of bone marrow hemosiderin, serum ferritin, transferrin saturation, mean corpuscular volume and red cell protoporphyrin. Nephron 35:196–200

27.

Niederau C, Fischer R, Purschel A, Stremmel W, Haussinger D, Strohmeyer G (1996) Long-term survival in patients with hereditary hemochromatosis. Gastroenterology 110:1107–1119

28.

Park SB, Kim HC, Lee SH, Cho WH, Park CH (1994) Evolution of serum ferritin levels in renal transplant recipients with severe iron overload. Transplant Proc 26:2054–2055

29.

Patruta SI, Hoerl WH (1999) Iron and infection. Kidney Int 55 [Suppl 69]:125–130

30.

Patruta SI, Edlinger R, Sunder-Plassmann G, Hoerl WH (1998) Neutrophil impairment associated with iron therapy in hemodialysis patients with functional iron deficiency. J Am Soc Nephrol 9:655–663

31.

Pereira BJG, Natov SN, Bouthot BA, Murthy BVR, Ruthazer R, Schmid CH, Levey AS (1998) Effect of hepatitis C infection and renal transplantation on survival in end-stage renal disease. Kidney Int 53:1374–1381

32.

Prieto J, Barry M, Sherlock S (1975) Serum ferritin in patients with iron overload and with acute and chronic liver disease. Gastroenterology 68:525–533

33.

Rao KV, Anderson WR (1985) Hemosiderosis and hemochromatosis in renal transplant recipients. Am J Nephrol 5:418–430

34.

Salonen JT, Nyysonen K, Korpela H, Tuomilehto J, Seppanen R, Salonen R (1992) High stored iron levels are associated with excess risk of myocardial infarction in eastern Finnish men. Circulation 86:803–811

35.

Schafer AI, Cheron RG, Dluhy R, Cooper B, Gleason RE, Soeldner JS, Bunn HF (1981) Clinical consequences of acquired transfusional iron overload in adults. N Engl J Med 304:319–324

36.

Seifert A, Von Herrath D, Schaefer K (1987) Iron overload, but not treatment with desferrioxamine favours the development of septicemia in patients on maintenance hemodialysis. Q J Med 65:1015–1024

37.

Sempos CT, Looker AC, Gillum RF, McGee DL, Vuong CV, Johnson CL (2000) Serum ferritin and death from all causes and cardiovascular disease: the NHANES II mortality study. Ann Epidemiol 10:441–448

38.

Sezer S, Ozdemir FN, Guz G, Ozdemir BH, Sengul S, Arat Z, Turan M, Demirhan B, Haberal M (2001) Ferritin levels can be a good predictor for HCV viremia in potential renal transplant candidates. Transplant Proc 33:2796–2798

39.

Sullivan JL (1996) Iron versus cholesterol: perspective on the iron and heart disease debate. J Clin Epidemiol 49:1345–1352

40.

Tielemans CL, Lenclud CM, Wens R, Collart FE, Dratwa M (1989) Critical role of iron overload in the increased susceptibility of haemodialysis patients to bacterial infections: beneficial effects of desferrioxamine. Nephrol Dial Transplant 4:883–887

41.

Van Twuyver E. Mooijaart RJD, Ten Berge IJM, Van Der Horst AR, Wilmink JM, Kast WM, Melief CJM, De Waal LP (1991) Pretransplantation blood transfusion revisited. N Engl J Med 325:1210–1213

42.

Weinberg ED (1996) The role of iron in cancer. Eur J Cancer Prev 5:19–36

43.

Weiss G (2002) Iron and immunity: a double-edged sword. Eur J Clin Invest 32 [Suppl 1]:70–78

44.

Yuan XM, Brunk UT (1998) Iron and LDL-oxidation in atherogenesis. APMIS 106:825–842
Acknowledgments
The authors thank the staff of the renal transplant outpatients department for their co-operation and help.
About this article
Cite this article
Herget-Rosenthal, S., Gerken, G., Philipp, T. et al. Serum ferritin and survival of renal transplant recipients: a prospective 10-year cohort study. Transpl Int 16, 642–647 (2003). https://doi.org/10.1007/s00147-003-0568-4
Received:

Revised:

Accepted:

Published:

Issue Date:
Keywords
Ferritin

Serum Ferritin

Iron Overload

Renal Transplant Recipient

Serum Ferritin Level