Abstract
Technology and social change are interdependent. The information technology (IT) revolution has redefined social equation shifting the focus from material to knowledge power. While developed countries have harnessed their resources with the growth of knowledge societies, the developing and least developed countries have lagged behind in progress. In this paper, the authors have examined the roles of Information and Communications Technologies (ICT), government and international agencies and human-centered approaches to arrive at a conceptual model of knowledge community in developing countries. This paper explores need for knowledge community in developing countries to suggest an integrative framework to harness local knowledge.
This is a preview of subscription content, log in to check access.
Access options
Buy single article
Instant access to the full article PDF.
US$ 39.95
Price includes VAT for USA
Subscribe to journal
Immediate online access to all issues from 2019. Subscription will auto renew annually.
US$ 99
This is the net price. Taxes to be calculated in checkout.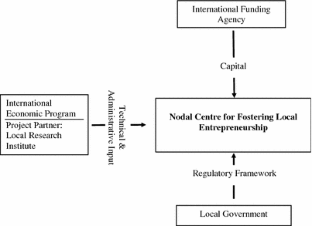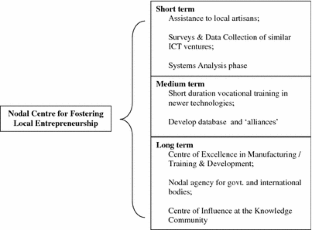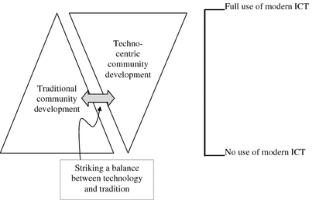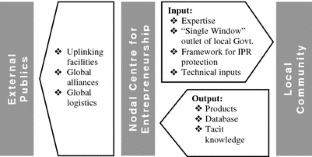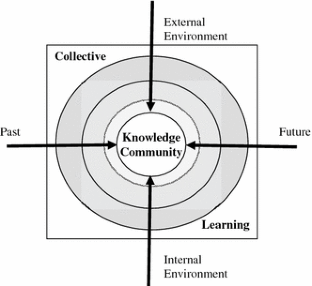 References
Afuah A (1998) Innovation management: strategies, implementation, and profits. OUP, New York

Ball D, McCulloch W (1999) International business: the challenge of global competition, 7th edn. McGraw-Hill, Boston

Bhalla VK, Shiva Ramu S (2001) International business––environment and management. Anmol Publications, New Delhi

Bhatnagar S (2001) Lessons from a knowledge management initiative. Available at: http://www.iimahd.ernet.in /egov/ifip/dec2001/article2.htm (accessed on 15 March 2002)

Brandt D, et al (2001) The design of human-centered manufacturing systems. In: Cornelius Leondes (eds) The design of manufacturing systems. CRC Press, Boca Raton, pp 5–10

Clarke, Monkhouse (eds) (1994) Rethinking the company. Pitman, London

EU–India Update (2004) Health and family welfare programme: reforms make headway [Newsletter], vol 4(1). Delegation of the European Commission in India, New Delhi

Gill K (1990) Summary of human-centered systems research in Europe. The Centre for Social and Educational Applications of Knowledge Engineering (SEAKE), Brighton Polytechnic. In: Hosking, Anderson (eds) (1992) Organisational change and innovation: psychological perspectives and practices in Europe. Routledge, London

Gill K (1996) The foundations of human-centered systems. In: Gill K (ed) Human–machine symbiosis. Springer, London

Gomes-Casseres B (1994) Group versus group: how alliance networks compete, July–August, Harvard Business Review

Gopakumar K (1998) Management skills for rural enterprises. In: Rabindra Kanungo (ed) Enterpreneurship and innovation: models for development. Sage, New Delhi

Khan WM (1998) Technological innovation in SMEs in Pakistan. In: Kanungo RN (ed) Entrepreneurship and innovation––models for development. Sage, New Delhi

Longenecker JG, et al (2003) Small business management––an entrepreneurial emphasis. Thomson Southwestern, Ohio

Misra SK, Puri VK (1999) Indian economy. Himalaya Publishing House, New Delhi

Nair KB et al (1998) Rural entrepreneurship in a developing economy: a contingency approach. In: Kanungo RN (ed) Entrepreneurship and innovation––models for development. Sage, New Delhi

Nath V (2001) Heralding ICT enabled knowledge societies: way forward for the developing countries. Available at: http://www.cddc.vt.edu/knownet/articles/heralding.htm (accessed on 2 February 2002)

Rajora R (2002) Bridging the digital divide. Tata McGraw-Hill, New Delhi

Ramachandran K, Roy S (1998) A framework and entrepreneurial typology for developing a comprehensive theory of entrepreneurship. In: Kanungo RN (ed) Entrepreneurship and innovation––models for development. Sage, New Delhi

Schumacher EF (1979) Good work. Jonathan Cape, London

Senker J, Faulkner W (1996) Networks, tacit knowledge and innovation. In Coombs et al. (eds) Technological collaboration: the dynamics of cooperation in industrial innovation. Edward Elgar, Cheltenham

Stevens C (1998) The knowledge-driven economy. In: Dale Neef (eds) The knowledge economy. Butterworth-Heinemann, Boston, p 92

Symon G (1992) Changing towards human-centered technology. In: Hosking, Anderson (eds) Organisational change and innovation: psychological perspectives and practices in Europe. Routledge, London

Wood R (2001) Managing complexity: how businesses can adopt and prosper in the connected economy. The Economist Books, London, p 57
About this article
Cite this article
Purani, K., Nair, S. Knowledge community: integrating ICT into social development in developing economies. AI & Soc 21, 329–345 (2007). https://doi.org/10.1007/s00146-006-0063-4
Received:

Accepted:

Published:

Issue Date:
Keywords
Collaborative social development

Collective learning

Human-centered approach

Knowledge community

Nodal center for entrepreneurship