Zusammenfassung
Hintergrund
Symptomatische fokale Knorpelläsionen bei jungen und sportlichen Patienten, aber auch die stetig steigenden funktionellen Ansprüche bis ins hohe Alter stellen eine therapeutische Herausforderung dar. Hier bedarf es der Entwicklung neuer Methoden in der gelenkerhaltenden Therapie und glenohumeralen Endoprothetik.
Material und Methoden
Das Ziel dieses Beitrags ist die Präsentation des arthroskopischen partiellen Oberflächenersatzes bei fokalen chondralen Läsionen sowie Innovationen der inversen Schulterprothese. Eingegangen wird auf die Hintergründe des partiellen Oberflächenersatzes des Humeruskopfes sowie auf die anatomische schaftlose Schulterprothese bzw. inverse Implantate mit Inklinationswinkel von 135°. Indikation und Operationstechnik werden erläutert und klinische sowie radiologische Ergebnisse präsentiert.
Ergebnisse
In 5‑Jahres-Untersuchungen nach arthroskopischem partiellem Humeruskopfersatz zeigten sich eine Wiederherstellung der Funktion und Schmerzfreiheit sowie eine Revisionsrate von unter 20 %. Schaftlose anatomische Prothesen reduzieren die Operationszeiten signifikant und bieten nahezu anatomische Voraussetzungen im Revisionsfall. Anatomische Schaftwinkel und Glenosphärenlateralisierung minimalisieren "scapular notching" und verbessern Rotationsbewegungen bei inversen Prothesen.
Diskussion
Die aktuellen Entwicklungen im Bereich der Schulterprothetik zeigen steigende Funktionalität und Schmerzfreiheit. Der arthroskopische Oberflächenersatz des Humeruskopfes stellt eine Therapieoption bei humeralen Knorpeldefekten ohne biomechanische Veränderung bzw. Strukturverletzung dar.
Abstract
Background
Symptomatic focal chondral lesions in young and physically active patients and the ever increasing demand to preserve function up until old age, make treatment challenging. These conditions require innovations in joint-preserving treatment options and total glenohumeral joint replacement.
Material and methods
The aim of this article is to illustrate arthroscopic partial humeral head resurfacing for focal chondral lesions and innovations of reverse total shoulder arthroplasty. An illustration of the background of arthroscopic humeral head resurfacing and the use of anatomical shaftless shoulder prostheses as well as reverse total shoulder arthroplasty with an inclination angel of 135° is given. The indications, surgical technique as well as clinical and radiological results are presented.
Results
Arthroscopic partial humeral head resurfacing provided significant improvement of clinical outcome at 5‑year follow-up and the revision rate was below 20%. Shaftless anatomical prostheses provided a significant reduction in operation time and better anatomical conditions in revision surgery. Anatomical shaft angle and lateralization of the glenosphere provided a minimalization of scapular notching and improvement of rotation in reverse shoulder arthroplasty.
Conclusion
Innovations in glenohumeral joint-preserving and also in anatomical and reverse total shoulder arthroplasty showed promising results with an increase of function and reduction of postoperative pain. Arthroscopic humeral head resurfacing represents a treatment option for humeral chondral defects without biomechanical alterations and structural damage.
This is a preview of subscription content, log in to check access.
Access options
Buy single article
Instant access to the full article PDF.
US$ 39.95
Price includes VAT for USA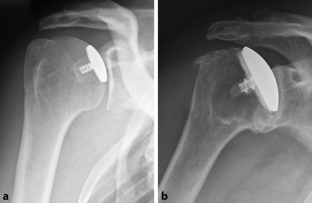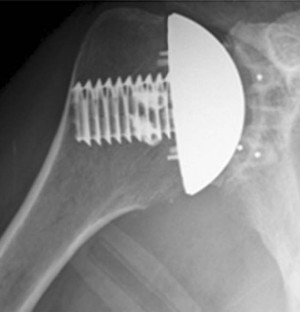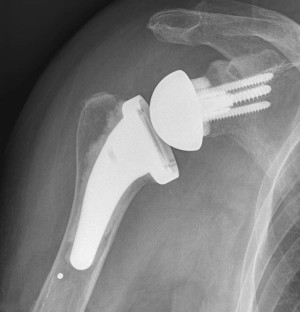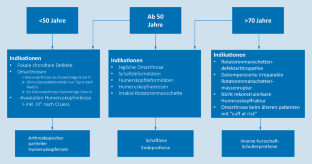 Literatur
1.

Cole BJ, Yanke A, Provencher MT (2007) Nonarthroplasty alternatives for the treatment of glenohumeral arthritis. J Shoulder Elbow Surg 16:231–240

2.

Gartsman GM, Taverna E, Hammerman SM (1999) Arthroscopictreatmentofacute traumaticanterior glenohumeral dislocation and greater tuberosity fracture. Arthroscopy 15:648–650

3.

Paley KJ, Jobe FW, Pink MM, Kvitne RS, ElAttrache NS (2000) Arthroscopic findings in the overhand throwing athlete: evidence for posterior internal impingement of the rotator cuff. Arthroscopy 16:35–40

4.

Buscayret F, Edwards TB, Szabo I, Adeleine P, Coudane H, Walch G (2004) Glenohumeral arthrosis in anterior instability before and after surgical treatment: incidence and contributing factors. Am J Sports Med 32:1165–1172

5.

Cameron BD, Galatz LM, Ramsey MLWilliams GR, Iannotti JP (2002) Non-prosthetic management of grade IV osteochondral lesions of the glenohumeral joint. J Shoulder Elbow Surg 11:25–32

6.

Hogan CJ, Diduch DR (2001) Progressive articular cartilage loss following radiofrequency treatment of apartial-thickness lesion. Arthroscopy 17:1–4

7.

McCarty LP III, Cole BJ (2005) Nonarthroplasty treatment of glenohumeral cartilage lesions. Arthroscopy 21:1131–1142

8.

Heuberer PR, Plachel F, Willinger L, Moroder P, Laky B, Pauzenberger L, Lomoschitz F, Anderl W (2017) Critical shoulder angle combined with age predict five shoulder pathologies: a retrospective anaylsis of 1000 cases. BMC Musculoskelet Disord 18:259

9.

Bishop JY, Flatow EL (2003) Management of glenohumeral arthritis: a role for arthroscopy? Orthop Clin North Am 34:559–566

10.

Richards DP, Burkhart SS (2007) Arthroscopic debridement and capsular release for glenohumeral osteoarthritis. Arthroscopy 23:1019–1022

11.

Safran MR, Baillargeon D (2004) The role of arthroscopy in the treatment of glenohumeral arthritis. Sports Med Arthrosc 12:139–145

12.

Weinstein DM, Bucchieri JS, Pollock RG, Flatow EL, Bigliani LU (2000) Arthroscopic debridement of the shoulder for osteoarthritis. Arthroscopy 16:471–476

13.

Frank RM, Van Thiel GS, Slabaugh MA, Romeo AA, Cole BJ, Verma NN (2010) Clinical outcomes after microfracture of the glenohumeral joint. Am J Sports Med 38:772–781

14.

Kerr BJ, McCarty EC (2008) Outcome of arthroscopic débridement is worse for patients with glenohumeral arthritis of both sides of the joint. Clin Orthop Relat Res 466:634–638

15.

Millett PJ, Huffard BH, Horan MP, Hawkins RJ, Steadman JR (2009) Outcomes of full-thickness articular cartilage injuries of the shoulder treated withmicrofracture. Arthroscopy 25:856–863

16.

Romeo AA, Cole BJ, Mazzocca AD, Fox JA, Freeman KB, Joy E (2002) Autologous chondrocyte repair of an articular defect in the humeral head. Arthroscopy 18:925–929

17.

Scheibel M, Bartl C, Magosch P, Lichtenberg S, Habermeyer P (2004) Osteochondral autologous transplantation for the treatment of full-thickness articular cartilage defects of the shoulder. J Bone Joint Surg Br 86:991–997

18.

Uribe JW, Botto-van Bemden A (2009) Partial humeral head resurfacing for osteonecrosis. J Shoulder Elbow Surg 18:711–716

19.

Gobezie R, Lenarz CJ, Wanner JP, Streit JJ (2011) Allarthroscopic biologic total shoulder resurfacing. Arthroscopy 27:1588–1593

20.

Sperling JW, Cofield RH, Rowland CM (1998) Neer hemiarthroplasty and neer total shoulder arthroplasty inpatientsfifty yearsoldor less. Longtermresults. J Bone Joint Surg Am 80:464–473

21.

Hammond G, Tibone JE, McGarry MH, Jun BJ, Lee TQ (2012) Biomechanical comparison of anatomic humeral head resurfacing and hemiarthroplasty in functional glenohumeral positions. J Bone Joint Surg Am 94:68–76

22.

Scheibel M, Habermeyer P (2008) Subscapularis dysfunction following anterior surgical approaches to the shoulder. J Shoulder Elbow Surg 17:671–683

23.

Heuberer PR, Brandl G, Pauzenberger L, Laky B, Kriegleder B, Anderl W (2018) Radiological changes do not influence clinical mid-term outcome in stemless humeral head replacements with hollow screw fixation: a prospective radiological and clinical evaluation. BMC Musculoskelet Disord 19:28

24.

Australian Orthopaedic Association National Joint Replacement Registry (AOANJRR) (2012) Demographics and outcomes of shoulder Arthroplasty, in: supplementary report 2012. https://aoanjrr.dmac.adelaide.edu.au/documents/10180/68968/Demographics%20and%20Outcomes%20of%20Shoulder%20Arthroplasty. Zugegriffen: 01.10.2018

25.

Anderl W, Kriegleder B, Neumaier M, Laky B, Heuberer P (2015) Arthroscopic partial shoulder resurfacing. Knee Surg Sports Traumatol Arthrosc 23:1563–1570

26.

Simovitch RW, Zumstein MA, Lohri E et al (2007) Predictors of scapular notching in patients managed with the delta Iii reverse total shoulder replacement. J Bone Joint Surg Am 89:588–600

27.

Zumstein MA, Pinedo M, Old J, Boileau P (2011) Problems, complications, reoperations, and revisions in reverse total shoulder arthroplasty: a systematic review. J Shoulder Elbow Surg 20:146–157
Ethics declarations
Interessenkonflikt
P. Heuberer gibt an, dass er in beratender Funktion für Arthex Inc. (Naples, FL, USA) tätig ist. M. Eigenschink gibt an, dass kein Interessenskonflikt besteht. Die Firma Arthrex Inc. (Naples, FL, USA) hatte keinen Einfluss auf Design, Datenerhebung oder Ergebnisse dieser Arbeit.
Alle beschriebenen Untersuchungen am Menschen wurden mit Zustimmung der zuständigen Ethik-Kommission, im Einklang mit nationalem Recht sowie gemäß der Deklaration von Helsinki von 1975 (in der aktuellen, überarbeiteten Fassung) durchgeführt. Von allen beteiligten Patienten liegt eine Einverständniserklärung vor.
About this article
Cite this article
Eigenschink, M., Heuberer, P.R. Innovationen in der Schulterendoprothetik. Arthroskopie 32, 22–27 (2019). https://doi.org/10.1007/s00142-018-0244-4
Schlüsselwörter
Knorpeldefekt

Chondrale fokale Läsionen

Omarthrose

Glenohumeralgelenk

Gelenkprothese
Keywords
Cartilage defect

Chondral focal lesions

Omarthritis

Glenohumeral joint

Joint prosthesis