Zusammenfassung
Hintergrund
Bei isolierter medialer Gonarthrose hat sich die unikondyläre Kniearthroplastik (UKA) als operative Behandlung etabliert. Abweichungen der mechanischen Achse von der Norm können durch Mehrbelastung des Implantats oder des nichtbetroffenen Gelenkkompartiments das Resultat negativ beeinflussen. Die mediale oder laterale Gonarthrose mit ausgeprägter juxtaartikulärer koronarer Achsdeformität kann daher nicht optimal mittels isolierter UKA behandelt werden. Der folgende Artikel geht auf die Technik einer kombinierten medialen UKA und einer medial aufklappenden hohen tibialen Osteotomie (HTO) bei medialer Gonarthrose mit proximaler tibialer Varusdeformität ein.
Methode
Präoperativ erfolgte eine radiologische Deformitätenanalyse nach Paley. Um eine ausreichende Knochenbrücke zwischen HTO und tibialer Prothesenkomponente zu gewährleisten, wird die Osteotomie distaler als üblich angesetzt. Anschließend wird die UKA durchgeführt. Das hierbei gewonnene autologe Knochenmaterial wird zur Auffüllung des aufklappenden Osteotomiespalts verwendet und die Osteotomie schließlich mit einer winkelstabilen 3,5-T-Platte fixiert. Die Nachbehandlung entspricht jener bei isolierter UKA, jedoch mit Teilbelastung von 15 kg für 6 Wochen postoperativ.
Ergebnisse
Die Technik der kombinierten UKA und HTO bei medialer Gonarthrose mit juxtaartikulärer tibialer Deformität stellt eine Alternative zur Knietotalprothese dar und bietet die Möglichkeit einer Indikationserweiterung für die UKA. Für eine abschließende Beurteilung dieser Operationstechnik sind Vergleichsstudien notwendig. Das diesem Beitrag beigefügte Videomaterial veranschaulicht die Operationstechnik im Detail.
Abstract
Background
Unicondylar knee arthroplasty (UKA) is an effective procedure for isolated medial or lateral knee osteoarthritis (OA). Mechanical axis deviation could lead to overloading of implants or unaffected knee compartments; therefore, unicondylar knee OA with severe juxta-articular coronal deformity cannot be addressed by UKA alone. This article presents a surgical technique of combined medial UKA and medially opening wedge high tibial osteotomy (HTO) for medial knee OA with juxta-articular tibal varus deformity.
Methods
A preoperative deformity analysis on weight-bearing full leg radiographs is carried out according to Paley. The HTO is performed further distally than usual to ensure a sufficient bony bridge between HTO and tibial UKA components and UKA surgery is performed. The autologous material obtained from UKA bone cuts is used to fill the opening HTO gap. Fixation is achieved with a locking compression 3.5 T plate. Postoperative aftercare is the same as routine UKA except for partial weight-bearing of 15 kg for 6 weeks.
Results
The technique of combined medial UKA and HTO for medial knee OA with juxta-articular coronal tibial deformity is an alternative to total knee arthroplasty and has the potential to further expand the indications for UKA. The precise value of this technique needs to be evaluated further in comparative outcome studies. The supplemental video details the aforementioned surgical technique.
This is a preview of subscription content, log in to check access.
Access options
Buy single article
Instant unlimited access to the full article PDF.
US$ 39.95
Price includes VAT for USA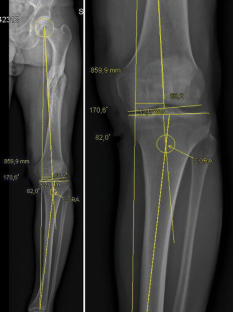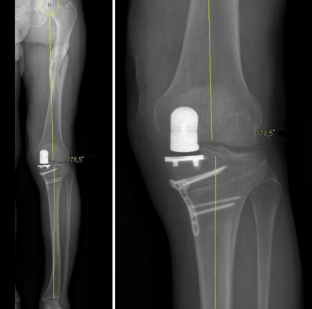 Literatur
1.

Chatellard R, Sauleau V, Colmar M, Robert H, Raynaud G, Brilhault J et al (2013) Medial unicompartmental knee arthroplasty: does tibial component position influence clinical outcomes and arthroplasty survival? Orthop Traumatol Surg Res 99(4 Suppl):S219–S225

2.

Emerson RH, Head WC, Peters PC (1992) Soft-tissue balance and alignment in medial unicompartmental knee arthroplasty. J Bone Joint Surg Br 74(6):807–810

3.

Hernigou P, Deschamps G (2004) Alignment influences wear in the knee after medial unicompartmental arthroplasty. Clin Orthop Relat Res 423:161–165

4.

Kellgren JH, Lawrence JS (1957) Radiological assessment of osteo-arthrosis. Ann Rheum Dis 16(4):494–502

5.

Kennedy WR, White RP (1987) Unicompartmental arthroplasty of the knee. Postoperative alignment and its influence on overall results. Clin Orthop Relat Res 221:278–285

6.

Kozinn SC, Scott R (1989) Unicondylar knee arthroplasty. J Bone Joint Surg Am 71(1):145–150

7.

Murray DW, Goodfellow JW, O'Connor JJ (1998) The Oxford medial unicompartmental arthroplasty: a ten-year survival study. J Bone Joint Surg Br 80(6):983–989

8.

Paley D (2002) Principles of deformity correction. Springer, Berlin New York, S 806

9.

von Knoch F, Munzinger U (2014) Modern unicondylar knee arthroplasty. Tips and tricks. Orthopäde 43(5):414–424

10.

Drobny L, Preiss S, Harder L, Knoch F von (2015) Mediale Gonarthrose mit juxtaartikulärer tibialer Varusdeformität. Orthopäde 44(8):595–598
Weiterführende Literatur
11.

Lobenhoffer P (2012) Unikondylärer Gelenksersatz. Arthroskopie 25(3):195–203
Ethics declarations
Interessenkonflikt
L. Drobny, L. Harder, F. von Knoch und S. Preiss geben an, dass kein Interessenkonflikt besteht.
Alle beschriebenen Untersuchungen am Menschen wurden mit unter Einhaltung der Richtlinien der zuständigen Ethik-Kommission, im Einklang mit nationalem Recht sowie gemäß der Deklaration von Helsinki von 1975 (in der aktuellen, überarbeiteten Fassung) durchgeführt. Von dem beteiligten Patienten liegt eine Einverständniserklärung vor.
Additional information
Untersuchung durchgeführt an der Schulthess Klinik Zürich
Caption Electronic Supplementary Material
About this article
Cite this article
Drobny, L., Harder, L., von Knoch, F. et al. Mediale unikondyläre Kniearthroplastik und proximale Tibiaosteotomie. Arthroskopie 30, 312–315 (2017). https://doi.org/10.1007/s00142-017-0154-x
Schlüsselwörter
Knie

Osteotomie

Achsdeformität

Varusgonarthrose

Mediales Release
Keywords
Knee

Osteotomy

Axis deviation

Varus gonarthrosis

Medial release