Zusammenfassung
Einleitung
Die anterosuperiore Rotatorenmanschettenläsion (ASRML) bezeichnet die kombinierte Verletzung der Subskapularis- und der Supraspinatussehne, welche i. d. R. mit einer Pathologie am Rotatorenintervall assoziiert ist. Das Vollbild der ASRML reicht von der höhergradigen Pulley-Läsion über die transmurale Ruptur der Supraspinatussehne kombiniert mit einer partiellen Läsion der Subskapularissehne (z. B. "hidden lesion") bis hin zur anterosuperioren Massenruptur.
Diagnostik
Die Diagnose der ASRML basiert primär auf einer gezielten Anamnese, weshalb zu Beginn zwischen einem akuten Trauma und einer degenerativen Ursache zu unterscheiden bzw. der individuelle Anspruch zu erfragen ist. Eine strukturierte klinische Untersuchung mit isolierter und ganzheitlicher Evaluierung der entsprechenden Rotatorenmanschette ist wesentlicher Bestandteil der Diagnostik. Als Goldstandard der radiologischen Bildgebung gilt die Magnetresonanztomographie, wenngleich v. a. partielle kraniale Läsionen der Subskapularissehne (z. B. Pulley-Läsion) häufig als falsch-negativ interpretiert werden.
Therapie
Die Therapie der ASRML ist multifaktoriell bedingt und muss nach Zusammenschau der funktionellen Ansprüche und diagnostischen Befunde individuell entschieden werden. Die arthroskopische Versorgung gilt als Mittel der Wahl. Insbesondere beim jungen und aktiven Patienten ist die anatomische Rekonstruktion der Rotatorenmanschette vorzuziehen. Als Salvage-Operation konnten mittels Muskeltransfer bzw. Implantation einer inversen Endoprothese zufriedenstellende langfristige Ergebnisse erzielt werden.
Abstract
Introduction
The anterosuperior rotator cuff lesion (ASRCL) denotes the concomitant injury of the subscapularis and supraspinatus tendons, which is usually associated with a pathology on the rotator interval. The full-scale of the ASRCL ranges from the higher-grade lesion of the biceps pulley through the transmural tear of the supraspinatus tendon combined with a partial lesion of the subscapular tendon (e. g. hidden lesion) to the massive anterosuperior rotator cuff tear.
Diagnosis
The diagnosis of ASRCL is primarily based on anamnestic history, making it necessary to differentiate between an acute trauma and a degenerative cause and to determine the individual's physical use and demand. A structured clinical examination with isolated and complete evaluation of the respective rotator cuff is an essential component of the diagnosis. Magnetic resonance imaging is considered the gold standard of radiological imaging, although partial cranial lesions of the subscapular tendon (e. g. lesion of the biceps pulley) are often misdiagnosed.
Therapy
The therapy of ASRCL is multifactorial and must be decided on an individual basis after determination of all the functional requirements and diagnostic findings. Arthroscopic surgery is considered the treatment of choice. Anatomical reconstruction of the rotator cuff is especially preferred in young and active patients. Satisfactory long-term results have been achieved by means of muscle transfer or reverse shoulder prosthesis used as a salvage operation.
This is a preview of subscription content, log in to check access.
Access options
Buy single article
Instant unlimited access to the full article PDF.
US$ 39.95
Price includes VAT for USA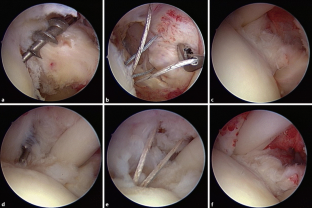 Literatur
1.

Adams CR, Schoolfield JD, Burkhart SS (2008) The results of arthroscopic subscapularis tendon repairs. Arthroscopy 24:1381–1389

2.

Andrews JR, Broussard TS, Carson WG (1985) Arthroscopy of the shoulder in the management of partial tears of the rotator cuff: a preliminary report. Arthroscopy 1:117–122

3.

Bartl C, Imhoff AB (2007) Management of isolated subscapularis tendon tears. Orthopäde 36:848–854

4.

Braun S, Horan MP, Elser F, Millett PJ (2011) Lesions of the biceps pulley. Am J Sports Med 39:790–795

5.

Edwards TB, Walch G, Sirveaux F, Mole D, Nove-Josserand L, Boulahia A, Neyton L, Szabo I, Lindgren B (2005) Repair of tears of the subscapularis. J Bone Joint Surg Am 87:725–730

6.

Ellman H (1990) Diagnosis and treatment of incomplete rotator cuff tears. Clin Orthop Relat Res 254:64–74

7.

Flury MP, John M, Goldhahn J, Schwyzer HK, Simmen BR (2006) Rupture of the subscapularis tendon (isolated or in combination with supraspinatus tear): when is a repair indicated? J Shoulder Elbow Surg 15:659–664

8.

Gerber C, Hersche O, Farron A (1996) Isolated rupture of the subscapularis tendon. J Bone Joint Surg Am 78:1015–1023

9.

Gerber C, Sebesta A (2000) Impingement of the deep surface of the subscapularis tendon and the reflection pulley on the anterosuperior glenoid rim: a preliminary report. J Shoulder Elbow Surg 9:483–490

10.

Habermeyer P, Magosch P, Pritsch M, Scheibel MT, Lichtenberg S (2004) Anterosuperior impingement of the shoulder as a result of pulley lesions: a prospective arthroscopic study. J Shoulder Elbow Surg 13:5–12

11.

Itoi E, Minagawa H, Yamamoto N, Seki N, Abe H (2006) Are pain location and physical examinations useful in locating a tear site of the rotator cuff? Am J Sports Med 34:256–264

12.

Kim SJ, Jung M, Lee JH, Kim C, Chun YM (2014) Arthroscopic repair of anterosuperior rotator cuff tears: in-continuity technique vs. disruption of subscapularis-supraspinatus tear margin: comparison of clinical outcomes and structural integrity between the two techniques. J Bone Joint Surg Am 96:2056–2061

13.

Kim SJ, Jung M, Lee JH, Park JH, Chun YM (2015) Arthroscopic repair of a significant (〉50 %) partial-thickness subscapularis tear concomitant with a full-thickness supraspinatus tear: technical considerations for subscapularis repair (transtendon technique versus tear completion). J Shoulder Elbow Surg 24:875–881

14.

Kreuz PC, Remiger A, Erggelet C, Hinterwimmer S, Niemeyer P, Gachter A (2005) Isolated and combined tears of the subscapularis tendon. Am J Sports Med 33:1831–1837

15.

Lafosse L, Jost B, Reiland Y, Audebert S, Toussaint B, Gobezie R (2007) Structural integrity and clinical outcomes after arthroscopic repair of isolated subscapularis tears. J Bone Joint Surg Am 89:1184–1193

16.

Matthews TJ, Hand GC, Rees JL, Athanasou NA, Carr AJ (2006) Pathology of the torn rotator cuff tendon. Reduction in potential for repair as tear size increases. J Bone Joint Surg Br 88:489–495

17.

McAuliffe TB, Dowd GS (1987) Avulsion of the subscapularis tendon. A case report. J Bone Joint Surg Am 69:1454–1455

18.

McGarvey C, Harb Z, Smith C, Houghton R, Corbett S, Ajuied A (2016) Diagnosis of rotator cuff tears using 3‑Tesla MRI versus 3‑Tesla MRA: a systematic review and meta-analysis. Skeletal Radiol 45:251–261

19.

Milgrom C, Schaffler M, Gilbert S, van Holsbeeck M (1995) Rotator-cuff changes in asymptomatic adults. The effect of age, hand dominance and gender. J Bone Joint Surg Br 77:296–298

20.

Moroder P, Schulz E, Mitterer M, Plachel F, Resch H, Lederer S (2017) Long-term outcome after pectoralis major transfer for irreparable anterosuperior rotator cuff tears. J Bone Joint Surg Am 99:239–245

21.

Namdari S, Henn RF 3rd, Green A (2008) Traumatic anterosuperior rotator cuff tears: the outcome of open surgical repair. J Bone Joint Surg Am 90:1906–1913

22.

Neer CS 2nd (1983) Impingement lesions. Clin Orthop Relat Res 173:70–77

23.

Nich C, Dhiaf N, Di Schino M, Augereau B (2014) Does partial tear repair of adjacent tendons improve the outcome of supraspinatus tendonfull-thickness tear reinsertion? Orthop Traumatol Surg Res 100:721–726

24.

Nove-Josserand L, Levigne C, Noel E, Walch G (1994) Isolated lesions of the subscapularis muscle. Apropos of 21 cases. Rev Chir Orthop Reparatrice Appar Mot 80:595–601

25.

Paladini P, Campi F, Merolla G, Pellegrini A, Porcellini G (2013) Pectoralis minor tendon transfer for irreparable anterosuperior cuff tears. J Shoulder Elbow Surg 22:e1–e5

26.

Patte D (1990) Classification of rotator cuff lesions. Clin Orthop Relat Res 254:81–86

27.

Pauly S, Gerhardt C, Chen J, Scheibel M (2010) Single versus double-row repair of the rotator cuff: does double-row repair with improved anatomical and biomechanical characteristics lead to better clinical outcome? Knee Surg Sports Traumatol Arthrosc 18:1718–1729

28.

Richards DP, Burkhart SS, Campbell SE (2005) Relation between narrowed coracohumeral distance and subscapularis tears. Arthroscopy 21:1223–1228

29.

Sahu D, Fullick R, Giannakos A, Lafosse L (2016) Sentinel sign: a sign of biceps tendon which indicates the presence of subscapularis tendon rupture. Knee Surg Sports Traumatol Arthrosc 24:3745–3749

30.

Scheibel M, Magosch P, Pritsch M, Lichtenberg S, Habermeyer P (2005) The belly-off sign: a new clinical diagnostic sign for subscapularis lesions. Arthroscopy 21:1229–1235

31.

Shank JR, Singleton SB, Braun S, Kissenberth MJ, Ramappa A, Ellis H, Decker MJ, Hawkins RJ, Torry MR (2011) A comparison of forearm supination and elbow flexion strength in patients with long head of the biceps tenotomy or tenodesis. Arthroscopy 27:9–16

32.

Slenker NR, Lawson K, Ciccotti MG, Dodson CC, Cohen SB (2012) Biceps tenotomy versus tenodesis: clinical outcomes. Arthroscopy 28:576–582

33.

Sonnery-Cottet B, Edwards TB, Noel E, Walch G (2002) Rotator cuff tears in middle-aged tennis players: results of surgical treatment. Am J Sports Med 30:558–564

34.

Tokish JM, Decker MJ, Ellis HB, Torry MR, Hawkins RJ (2003) The belly-press test for the physical examination of the subscapularis muscle: electromyographic validation and comparison to the lift-off test. J Shoulder Elbow Surg 12:427–430

35.

Uschok S, Herrmann S, Pauly S, Perka C, Greiner S (2016) Combined arthroscopic tenodesis of the long head of biceps and rotator cuff repair in antero-superior cuff tears. Arch Orthop Trauma Surg 136:1273–1279

36.

Walch G, Nove-Josserand L, Levigne C, Renaud E (1994) Tears of the supraspinatus tendon associated with "hidden" lesions of the rotator interval. J Shoulder Elbow Surg 3:353–360

37.

Warner JJ, Higgins L, Parsons IM, Dowdy P (2001) Diagnosis and treatment of anterosuperior rotator cuff tears. J Shoulder Elb Surg 10:37–46

38.

Weishaupt D, Zanetti M, Tanner A, Gerber C, Hodler J (1999) Lesions of the reflection pulley of the long biceps tendon. MR arthrographic findings. Invest Radiol 34:463–469

39.

Wellmann M (2016) Diagnostics and treatment of anterosuperior rotator cuff tears. Orthopäde 45:130–135

40.

Yamaguchi K, Ditsios K, Middleton WD, Hildebolt CF, Galatz LM, Teefey SA (2006) The demographic and morphological features of rotator cuff disease. A comparison of asymptomatic and symptomatic shoulders. J Bone Joint Surg Am 88:1699–1704

41.

Zanetti M, Pfirrmann CW (2004) Biceps tendon disorders: ultrasound, MR imaging and MR arthrography. Radiologe 44:591–596
Ethics declarations
Interessenkonflikt
F. Plachel, P. Moroder, C. Gerhardt und M. Scheibel geben an, dass kein Interessenkonflikt besteht.
Dieser Beitrag beinhaltet keine von den Autoren durchgeführten Studien an Menschen oder Tieren.
Caption Electronic Supplementary Material
Video 1. Linke Schulter. Blick von dorsal über das posteriore Standardportal. Es zeigt sich eine klinisch asymptomatische, degenerative Veränderung des Bizepssehnenankers und des anterosuperioren Labrums (SLAP-Läsion Typ 1). Die Subskapularissehne (SSC) erscheint partiell rupturiert (Grad 1) und zusätzlich zeigt sich eine ventrale transmurale Ruptur der Supraspinatussehne (SSP). Das korakohumerale Ligament (CHL) und das superiore glenohumerale Ligament (SGHL) sind rupturiert und aufgefasert (Pulley-Läsion Typ 4). Die lange Bizepssehne (LBS) ist statisch im Sulcus bicipitalis zentriert
Video 2. Linke Schulter. Blick von dorsal über das posteriore Standardportal. Es zeigt sich eine anatomisch rekonstruierte Rotatorenmanschette. Prüfung der Rekonstruktion und Stabilität der langen Bizepssehne (LBS) mittels Tasthaken über das anteroinferiore Portal
About this article
Cite this article
Plachel, F., Moroder, P., Gerhardt, C. et al. Anterosuperiore Rotatorenmanschettenläsion beim jungen Patienten. Arthroskopie 30, 216–222 (2017). https://doi.org/10.1007/s00142-017-0142-1
Schlüsselwörter
Rotatorenmanschette

Pulley-Läsion

Supraspinatussehne

Subskapularissehne

Anatomische Rekonstruktion
Keywords
Rotator cuff

Lesion of the biceps pulley

Supraspinatus tendon

Subscapularis tendon

Anatomical reconstruction