Zusammenfassung
Hintergrund
Bewegungshemmungen des Kniegelenks stören die Funktion erheblich. Nicht alle Bewegungsstörungen lassen sich arthroskopisch behandeln. Offene Arthrolysen gehören in bestimmten Fällen zum Behandlungskonzept.
Fragestellung
Streck- und Beugehemmungen können kapsulär bzw. extraartikulär in der Muskulatur begründet sein. In diesem Beitrag werden die offene Kapsulotomie und Eingriffe am proximalen und distalen Streckapparat dargestellt.
Material und Methode
Indikationen und Operationstechniken zur offenen Arthrolyse des Kniegelenks werden anhand eigener Ergebnisse und der Literatur diskutiert.
Ergebnisse
Die publizierten Ergebnisse der offenen Arthrolysen sind unter Berücksichtigung der schwierigen Fallgruppe gut.
Schlussfolgerungen
Eine exakte Analyse der Ursache von Bewegungsstörungen ist erforderlich. Extraartikuläre Ursachen erfordern stets ein offenes Vorgehen. Eine posteriore Kapsulotomie kann sowohl offen als auch arthroskopisch durchgeführt werden.
Abstract
Background
Loss of range of motion of the knee joint causes significant disability. Surgical treatment should include arthroscopic as well as open arthrolysis procedures.
Objectives
Impairments of extension and flexion can have capsular or extra-articular origins in the musculature. The techniques of open capsulotomy and interventions on the proximal and distal extension apparatus are presented.
Methods
Discussion on the indications and surgical techniques for open arthrolysis of the knee joint are presented based on own results and the available literature.
Results
The established surgical techniques can significantly improve the range of motion considering the severity of this case group.
Conclusions
An exact analysis of the cause of knee stiffness is necessary. Only intra-articular problems can be arthroscopically treated and open techniques are indicated when the stiffness is caused by an extra-articular pathology. The techniques are established and reproducible.
This is a preview of subscription content, log in to check access.
Access options
Buy single article
Instant access to the full article PDF.
US$ 39.95
Price includes VAT for USA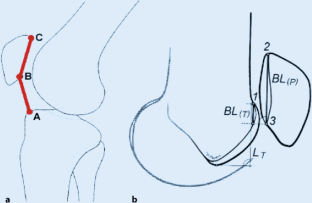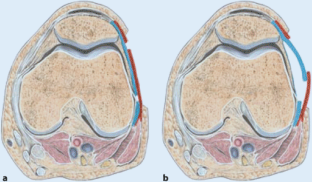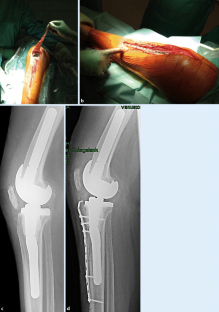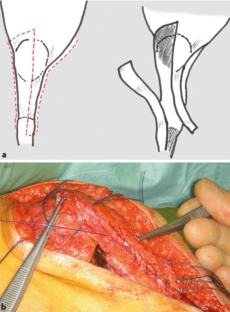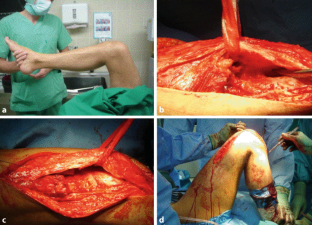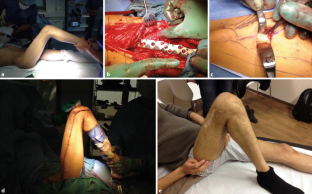 Literatur
1.

Freiling D, Galla M, Lobenhoffer P (2006) Arthrolysis for chronic flexion deficits of the knee. An overview of indications and techniques of vastus intermedius muscle resection, transposition of the tibial tuberosity and z‑plasty of the patellar tendon. Unfallchirurg 109:285–296

2.

Freiling D, Lobenhoffer P (2009) The surgical treatment of chronic extension deficits of the knee. Oper Orthop Traumatol 21:545–556

3.

Gogus A, Lobenhoffer P (1993) Arthroscopic therapy of arthrofibrosis of the knee joint. Unfallchirurg 96:100–108

4.

Holschen M, Lobenhoffer P (2014) Treatment of extension contracture of the knee by quadriceps plasty (Judet procedure). Oper Orthop Traumatol 26:353–360

5.

Laprade RF, Pedtke AC, Roethle ST (2008) Arthroscopic posteromedial capsular release for knee flexion contractures. Knee Surg Sports Traumatol Arthrosc 16:469–475

6.

Lobenhoffer HP, Bosch U, Gerich TG (1996) Role of posterior capsulotomy for the treatment of extension deficits of the knee. Knee Surg Sports Traumatol Arthrosc 4:237–241

7.

Lobenhoffer P, Gerich T, Hernandez R (1996) Therapy of extension deficits of the knee joint by arthroscopic arthrolysis and dorsal capsulotomy. Unfallchirurg 99:487–491

8.

Lobenhoffer P, Gogus A, Gerich T (1993) Therapy of arthrofibrosis after ligament reconstruction of the knee joint. Orthopade 22:392–398

9.

Lobenhoffer P, Weber-Spickschen TS (2013) Posttraumatic limitations in range of movement of the knee joint. Unfallchirurg 116:394–403

10.

Tröger M, Holschen M (2014) Arthroscopic arthrolysis for the treatment of movement disorders of the knee. Oper Orthop Traumatol 26:361–368

11.

Wierer G, Hoser C, Herbst E et al (2015) Treatment of patella baja by a modified Z‑plasty. Knee Surg Sports Traumatol Arthrosc. doi:10.1007/s00167-015-3576-x

12.

Caton J, Des champs G, Chambat P, Lerat JL, De jour H (1982) Les rotu les basses à propos de 128 observations. Rev Chir Orthop 68:317–325

13.

Biedert RM (Hrsg) (2004) Patellofemoral disorders: diagnosis and Treatment. Wiley, London
Ethics declarations
Interessenkonflikt
P. Lobenhoffer gibt an, dass kein Interessenkonflikt besteht.
Dieser Beitrag beinhaltet keine vom Autor durchgeführten Studien an Menschen oder Tieren.
About this article
Cite this article
Lobenhoffer, P. Offene Arthrolyse des Kniegelenks. Arthroskopie 29, 186–193 (2016). https://doi.org/10.1007/s00142-016-0084-z
Schlüsselwörter
Kapsulotomie

Tuberositasversetzung

Patellarsehnenverlängerung

Vastus-intermedius-Resektion

Judet-Operation
Keywords
Capsulotomy

Tuberosity shift

Patella tendon lengthening

Vastus intermedius resection

Judet procedure