This is a preview of subscription content, log in to check access.
Access options
Buy single article
Instant access to the full article PDF.
US$ 39.95
Price includes VAT for USA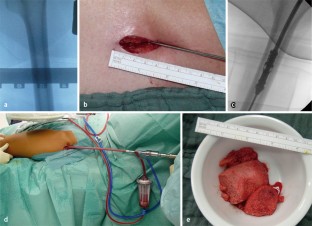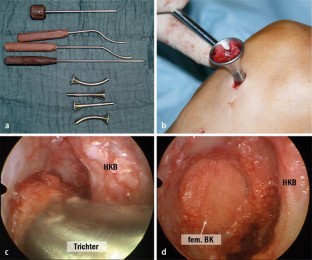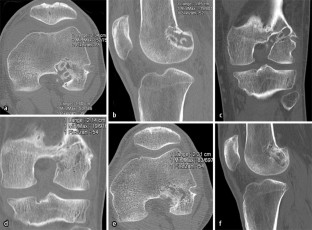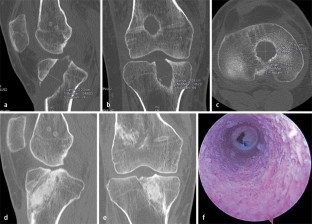 Literatur
1.

Bach B (2003) Revision anterior cruciate ligament surgery. Arthroscopy 19(10 Suppl 1):14–29

2.

Dimitriou R, Mataliotakis GI, Angoules AG et al (2011) Complications following autologous bone graft harvesting from the iliac crest and using the RIA: a systematic review. Injury 42(Suppl 2):3–15

3.

Goulet JA, Senunas LE, DeSilva GL, Greenfield ML (1997) Autogenous iliac crest bone graft. Complications and functional assessment. Clin Orthop Rel Res 339:76–81

4.

Grote S, Helfen T, Mück F et al (2013) Femoral marrow cavity bone harvesting used for arthroscopic refilling of misplaced or enlarged bone tunnels in revision ACL surgery. Knee Surg Sports Traumatol Arthrosc. doi:10.1007/s00167-013-2736-0

5.

Joshi A, Kostakis GC (2004) An investigation of post-operative morbidity following iliac crest graft harvesting. Br Dent J 196(3):167–171

6.

Kobbe P, Tarkin IS, Frink M, Pape HC (2008) Voluminous bone graft harvesting of the femoral marrow cavity for autologous transplantation. An idication for the "Reamer-Irrigator-Aspirator-"(RIA)technique. Unfallchirurg 111(6):469–472

7.

Newman JT, Stahel PF, Smith WR et al (2008) A new minimally invasive technique for large volume bone graft harvest for treatment of frakture nonunions. Orthopedics 31(3):257–261

8.

Pape HC, Zelle BA., Hildebrand F et al (2005) Reamed femoral nailing in sheep: does irrigation and aspiration of intermedullary contents alter the systemic response? J Bone Joint Surg Am 87A(11):2515–2522

9.

Porter RM, Liu F, Pilapil C et al (2009) Osteogenic potential of reamer irrigator aspirator (RIA) aspirate collected from patients undergoing hip arthroplasty. J Orthop Res 27(1):42–49

10.

Schmidmaier G, Herrmann S, Green J et al (2006) Quantitative assessment of growth factors in reaming aspirate, iliac crest, and platelet preparation. Bone 39(5):1156–1163

11.

Zantop T, Petersen W (2011) Arthroscopic filling of misplaced and wide bone tunnels after reconstruction of anterior cruciate ligament with bone graft in patients with recurrent instability. Oper Orthop Traumatol 23(4):337–350
Einhaltung ethischer Richtlinien
Interessenkonflikt. S. Grote und W.C. Prall geben an, dass kein Interessenkonflikt besteht. Dieser Beitrag enthält keine Studien an Menschen oder Tieren. Alle im vorliegenden Manuskript beschriebenen Untersuchungen am Menschen wurden mit Zustimmung der zuständigen Ethik-Kommission, im Einklang mit nationalem Recht sowie gemäß der Deklaration von Helsinki von 1975 (in der aktuellen, überarbeiteten Fassung) durchgeführt. Von allen beteiligten Patienten liegt eine Einverständniserklärung vor.
About this article
Cite this article
Grote, S., Prall, W. Revision einer VKB-Plastik. Arthroskopie 27, 312–315 (2014). https://doi.org/10.1007/s00142-014-0828-6