Zusammenfassung
Das Problem der Rotatorenmanschettenruptur als Komplikation der Schulterluxation beim jüngeren Patienten sowie die Luxation als Komplikation der Rotatorenmanschettenruptur des älteren Patienten sind mittlerweile hinreichend bekannt. In der Literatur finden sich nur wenige Empfehlungen zur Therapie dieser Befundkonstellation, die häufig nur als Untergruppe beschrieben wird.
Anhand der Literatur wird eine Strategie zur Therapie in Abhängigkeit des Patientenalters, des Funktionsanspruchs und der vorherrschenden Pathologie entwickelt.
Abstract
The rotator cuff tear as a complication of a shoulder dislocation in younger patients as well as the shoulder dislocation as a complication of a rotator cuff tear in elderly patients is well known. Only a few reports, mostly subgroups concerning this combination of pathology were reported in the literature.
We developed a strategy for the therapy of rotator cuff tears and shoulder instability related to the age of the patients, their functional demand as well as the pathologic findings.
This is a preview of subscription content, log in to check access.
Access options
Buy single article
Instant access to the full article PDF.
US$ 39.95
Price includes VAT for USA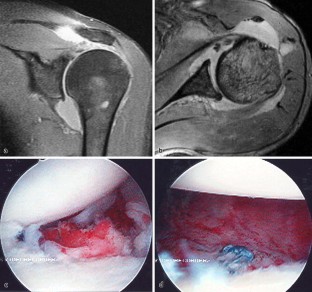 Literatur
1.

Berbig R, Weishaupt D et al. (1999) Primary anterior shoulder dislocation and rotator cuff tears. J Shoulder Elbow Surg 8: 220–225

2.

Bier A, Braun, Kühn (1912) Chirurgische Operationslehre. Barth, Leipzig

3.

Blom S, Dahlback LO (1970) Nerve injuries in dislocations of the shoulder joint and fractures of the neck of the humerus. A clinical and electromyographical study. Acta Chir Scand 136: 461–466

4.

Craig EV (1984) The posterior mechanism of acute anterior shoulder dislocations. Clin Orthop Relat Res 190: 212–216

5.

Gleyze P, Habermeyer P, Lehmann M, Schneider M (1994) What is the role of the long head of the biceps and rotator cuff in posttraumatic shoulder instability: a retrospective study. 8th SECEC Meeting. Barcelona, Spain, June 16–18, 1994

6.

Gonzalez D, Lopez R (1991) Concurrent rotator-cuff tear and brachial plexus palsy associated with anterior dislocation of the shoulder. A report of two cases. J Bone Joint Surg [Am] 73: 620–621

7.

Groh GI, Rockwood CA jr (1995) The terrible triad: anterior dislocation of the shoulder associated with rupture of the rotator cuff and injury to the brachial plexus. J Shoulder Elbow Surg 4: 51–53

8.

Gumina S, Postacchini F (1997) Anterior dislocation of the shoulder in elderly patients." J Bone Joint Surg [Br] 79: 540–543

9.

Habermeyer P, Jung D et al. (1998) Treatment strategy in first traumatic anterior dislocation of the shoulder. Plea for a multi-stage concept of preventive initial management. Unfallchirurg 101: 328–341; discussion 327

10.

Hawkins RJ, Bell RH et al. (1986) Anterior dislocation of the shoulder in the older patient. Clin Orthop Relat Res 206: 192–195

11.

Hawkins RJ, Morin WD et al. (1999) Surgical treatment of full-thickness rotator cuff tears in patients 40 years of age or younger. J Shoulder Elbow Surg 8: 259–265

12.

Itoi E, Tabata S (1993) Rotator cuff tears in the adolescent. Orthopedics 16: 78–81

13.

Levy O, Pritsch M et al. (1999) An operative technique for recurrent shoulder dislocations in older patients. J Shoulder Elbow Surg 8: 452–457

14.

Loew M, Thomsen M et al. (2001) Injury pattern in shoulder dislocation in the elderly patient. Unfallchirurg 104: 115–118

15.

McLaughlin H, Cavallaro WU (1950) Primary anterior dislocation of the shoulder. Am J Surg 80: 615–621; passim

16.

McLaughlin HL, MacLellan DI (1967) Recurrent anterior dislocation of the shoulder. II. A comparative study. J Trauma 7: 191–201

17.

Neer CS 2nd, Craig EV et al. (1983) Cuff-tear arthropathy. J Bone Joint Surg [Am] 65: 1232–1244

18.

Neviaser RJ, Neviaser TJ et al. (1993) Anterior dislocation of the shoulder and rotator cuff rupture. Clin Orthop Relat Res 291: 103–106

19.

Pasila M, Jaroma H et al. (1978) Early complications of primary shoulder dislocations. Acta Orthop Scand 49: 260–263

20.

Pouliart N, Gagey O (2006) Concomitant rotator cuff and capsuloligamentous lesions of the shoulder: a cadaver study. Arthroscopy 22: 728–735

21.

Prudnikov OE (1994) Simultaneous lesions of the rotator cuff and the brachial plexus. Rev Chir Orthop Reparatrice Appar Mot 80: 602–609

22.

Robinson CM, Kelly M et al. (2002) Redislocation of the shoulder during the first six weeks after a primary anterior dislocation: risk factors and results of treatment. J Bone Joint Surg [Am] 84-A: 1552–1559

23.

Simank HG, Dauer G et al. (2006) Incidence of rotator cuff tears in shoulder dislocations and results of therapy in older patients. Arch Orthop Trauma Surg 126: 235–240

24.

Simonich SD, Wright TW (2003) Terrible triad of the shoulder. J Shoulder Elbow Surg 12: 566–568

25.

Sonnabend DH (1994) Treatment of primary anterior shoulder dislocation in patients older than 40 years of age. Conservative versus operative. Clin Orthop Relat Res 304: 74–77

26.

Stevens JH (1926) Dislocaton of he shoulder. Ann Surg 83: 84

27.

Walch G, Boileau P (1997) Rotator cuff tears associated with anterior instability. In: Warnerr JJP, Iannotti JP, Gerber C (eds) Complex and revision problems in shoulder surgery. Lippincott-Raven, Philadelphia
Interessenkonflikt
Es besteht kein Interessenskonflikt. Der korrespondierende Autor versichert, dass keine Verbindungen mit einer Firma, deren Produkt in dem Artikel genannt wird oder einer Firma, die ein Konkurrenzprodukt vertreibt, bestehen. Die Präsentation des Themas ist unabhängig und die Darstellung der Inhalte produktneutral.
About this article
Cite this article
Habermeyer, P., Lichtenberg, S. & Magosch, P. Rotatorenmanschettenruptur und Schulterinstabilität. Arthroskopie 20, 217–222 (2007). https://doi.org/10.1007/s00142-007-0405-3
Schlüsselwörter
Schulter

Rotatorenmanschette

Instabilität

Terrible triad
Keywords
Shoulder

Rotator cuff tear

Instability

Terrible triad