Zusammenfassung
Bei den seit 1989 in unserer Klinik arthroskopisch operierten Patienten kam es in 15 Fällen zur Entstehung einer Osteonekrose des medialen Femurkondylus im früh-postoperativen Verlauf. Das Durchschnittsalter der Patienten betrug 61 Jahre. Während sich intraoperativ bei 12 Patienten eine degenerative Innenmeniskusschädigung zeigte, waren die beklagten Beschwerden bei 3 Patienten durch den arthroskopischen Befund nicht zu klären. Die degenerativen Knorpelveränderungen gingen in allen Fällen nicht über das altersübliche Maß hinaus. Intraoperativ wurden lediglich mechanische Arthrosopieinstrumente verwendet. Die retrospektive Betrachtung des oben genannten Kollektivs bzgl. des präoperativen Schmerzprofils zeigte, dass die angegebenen Beschwerden trotz fehlender radiologischer Hinweise eher einer Arthrose als einer degenerativen Meniskusschädigung zugeordnet werden mussten. Die postoperative Manifestation der Osteonekrose, begleitet von im Wesentlichen unveränderten Beschwerden, unabhängig vom intraoperativen Befund, hat uns dazu veranlasst, in den vergangenen 5 Jahren bei einem Kollektiv von 16 Patienten mit vergleichbarem Alter und Beschwerdebild die Entscheidung zur Operation zu verzögern. Alle 16 Patienten wurden in einem Zeitraum zwischen 2 und 5 Monaten nach Auftreten der Beschwerden konservativ behandelt. In 9 Fällen manifestierte sich innerhalb des oben genannten Zeitraums eine Osteonekrose des medialen Femurkondylus. Bei einem dieser Patienten wurde durch eine MRT bereits 2 Wochen nach Beschwerdebeginn ein entsprechender Verdacht geäußert. Diese Beobachtung zeigt, dass bei Patienten im genannten Alter mit einem Schmerzprofil, das—trotz negativem radiologischem Befund—eher einer Arthrose als einer Meniskusschädigung zuzuordnen ist, hinsichtlich der Indikationsstellung zu arthroskopischen Maßnahmen die mögliche Entwicklung einer Osteonekrose Berücksichtigung finden sollte. Eine Entstehung der Osteonekrose als Folge der Arthroskopie ist nach den oben dargestellten Beobachtungen als unwahrscheinlich anzusehen.
Abstract
Osteonecrosis of the medial femoral condyle developed during the early postoperative period in 15 cases of all patients who had undergone arthroscopy in our clinic since 1989. The average age of the patients was 61 years. Degenerative damage to the medial meniscus became evident during surgery in 12 patients, while the complaints reported by 3 patients could not be clarified by the arthroscopic findings. In no case were the degenerative cartilaginous changes more extensive than usual considering the patient's age. Only mechanical arthroscopic instruments were employed during surgery. Retrospective analysis of this group of patients with regard to preoperative pain profile showed that despite a lack of radiological evidence the specified complaints should be classified as due to arthrosis rather than to degenerative damage of the meniscus. The postoperative manifestation of osteonecrosis accompanied by complaints that remained essentially unchanged irrespective of intraoperative findings prompted us in the past 5 years to postpone a decision for surgery in16 patients of comparable age with similar complaints. All 16 patients were treated conservatively for a period of between 2 and 5 months after appearance of the complaints. During the aforementioned timeframe osteonecrosis of the medial femoral condyle became apparent in nine cases. In one of these patients MRI findings aroused suspicion already 2 weeks after the onset of complaints. This observation demonstrates that in patients in the above-mentioned age group who exhibit a pain profile—despite negative radiological findings—more likely due to arthrosis rather than meniscus damage consideration should be given to possible development of osteonecrosis when deciding on arthroscopic measures. Formation of osteonecrosis as a consequence of arthroscopy can be considered improbable based on the observations presented above.
This is a preview of subscription content, log in to check access.
Access options
Buy single article
Instant access to the full article PDF.
US$ 39.95
Price includes VAT for USA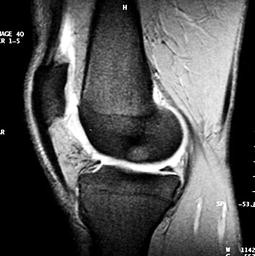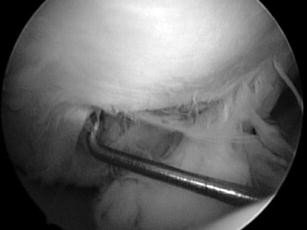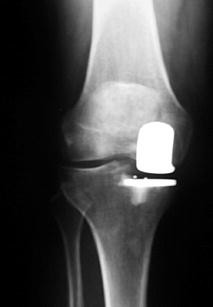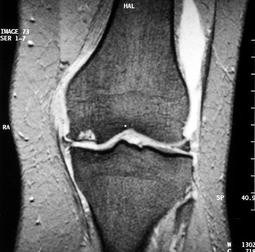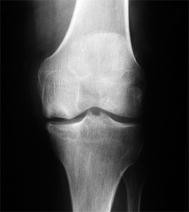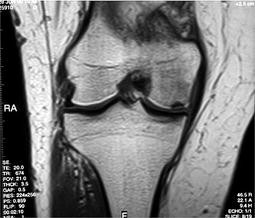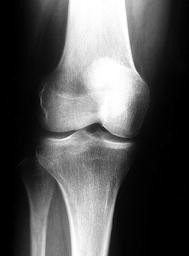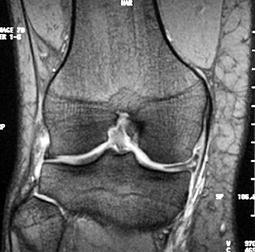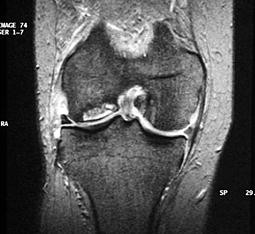 Literatur
1.

Ahlbäck S, Bauer GCH, Bohne WH (1968) Spontaneous osteonecrosis of the knee. Arthritis Rheum 11:705–733

2.

Al-Kaar M, Garcia J, Fritschy D, Bonvin JC (1997) Osteonecrose aseptique du condyle femoral apres meniscectomie par voie arthroscopique. J Radiol 78(4):283–288

3.

Athanasian EA, Wickiewicz TL, Warren (1995) Osteonecrosis of the femoral condyle after arthroscopic reconstruction of a cruciate ligament. J Bone Joint Surg 77:1418–1422

4.

Bauer HCF, Persson PE, Nilsson OS (1989) Tears of the medial meniscus associated with increased radionuclide activity of the proximal tibia. Internat Orthop (SICOT) 13:153–155

5.

Björkengren AG, AlRowaih A, Lindstrand A, Wingstrand H, Thorngren KG, Pettersson H (1990) Spontaneous osteonecrosis of the knee: value of MR imaging in determining prognosis. AJR Am J Roentgenol 154(2):331–336

6.

Bootsveld K, Siewert B, Reiser M, Koch W (1992) Spontane Osteonekrose des Femurcondylus—neue Erkenntnisse in T2-gewichteten Spin-Echo Sequenzen und Gradienten-Echo Studien. Rofo Fortschr Roentgenstr Neuen Bildgeb Verfahr 156(4):360–364

7.

Brahme SK, Fox JM, Ferkel RD, Friedman MJ, Flannigan BD, Resnick DL (1991) Osteonecrosis of the knee after arthroscopic surgery: diagnosis with MR imaging. Radiology 178:851–853

8.

Cruess RL (1986) Osteonecrosis of bone: current concepts as to etiology and pathogenesis. Clin Orthop 208:30–39

9.

Fink B, Schneider T, Braunstein S, Schmielau G, Rüther W (1996) Holmium:YAG laser-induced aseptic bone necroses of the femoral condyle. Arthroscopy 12:217–223

10.

Garino JP, Lotke PA, Sapega AA, Reilly PJ, Esterhai JL jr (1995) Osteonecrosis of the knee following laser-assisted arthroscopic surgery: a report of six cases. Arthroscopy 11:467–474

11.

Healy WL (1991) Osteonecrosis of the knee detected only by magnetic resonance imaging. J Orthopedics 14(6):703–704

12.

Hofmann S, Kramer J, Plenk H jr, Leder K, Imhof H, Engel A (1994) Osteonekrosen. Orthopäde 23:331–341

13.

Janzen DL, Kosarek FJ, Helms CA, Cannon WD jr, Wright JC (1997) Osteonecrosis after contact neodymium:yttrium aluminium garnet arthroscopic laser meniscectomy. AJR Am J Roentgenol 169(3):855–858

14.

Johnson TC, Evans JA, Gilley JA, De Lee JC (2000) Osteonecrosis of the knee after arthroscopic surgery for meniscal tears and chondral lesions. Arthroscopy 16:254–261

15.

Kantor H (1987) Bone marrow presure in osteonecrosis of the femoral condyle (Ahlback`s disease). Arch Orthop Trauma Surg 106(6):349–352

16.

Kobayashi Y, Kimura M, Higuchi H, Terauchi M, Shirakura K, Takagishi K (2002) Juxta-articular bone marrow signal changes on magnetic resonance imaging following arthroscopic meniscectomy. Arthroscopy 18:238–245

17.

Lankes M, Petersen W, Hassenpflug J (2000) Die arterielle Versorgung der Femurcondylen. Z Orthop 138:174–180

18.

Lanzer WL Komenda G (1990) Changes in articular cartilage after meniscectomy. Clin Orthop 252:41–48

19.

Lotke PA, Ecker ML, Alavi A (1977) Painful knees in older patients: radionuclide diagnosis of possible osteonecrosis with spontaneous resolution. J Bone Joint Surg [Am] 70:470–473

20.

Memminger M, Franke J, Hochheim B (1998) Morbus Ahlbäck: nicht nur am medialen Femurcondylus. Orthop Prax 34(7):473–477

21.

Muscolo DL, Costa-Paz M, Makino A, Ayerza MA (1996) Osteonecrosis of the knee following arthroscopic meniscectomy in patients over 50-years old. Arthroscopy 12:273–279

22.

Nakamura N, Horibe S, Nakamura S, Mitsouka T (2002) Subchondral microfracture of the knee without osteonecrosis after arthroscopic medial meniscectomy. Arthroscopy 18(5):538–541

23.

Norman A, Baker ND (1978) Spontaneous osteonecrosis of the knee and medial meniscus tears. Radiology 129:653–656

24.

Pape D, Seil R, Fritsch E, Rupp S, Kohn D (2002) Prevalence of spontaneous osteonecrosis of the medial femoral condyle in elderly patients. Knee Surg Sports Traumatol Arthrosc 10(4):233–240

25.

Prues-Latour V, Bonvin JC, Fritschy D (1998) Nine cases of osteonecrosis in elderly patients following arthroscopic meniscectomy. Knee Surg Sports Traumatol Arthrosc 6(3):142–147

26.

Rangger C, Klestil T, Kathrein A, Inderster A, Hamid L (1996) Influence of magnetic resonance imaging on indications for arthroscopy of the knee. Clin Orthop 330:133–142

27.

Rozbruch SR, Wickiewicz TL, DiCarlo EF, Potter HG (1996) Osteonecrosis of the knee following arthroscopic laser meniscectomy. Arthroscopy 12:245–250

28.

Santori N, Candello V, Adriani E, Mariani PP (1995) Osteonecrosis after arthroscopic medial meniscectomy. Arthroscopy 11:220–224

29.

Stallard D, Sundaram M (1991) Spontaneous osteonecrosis of the knee. Orthopedics 14(8):913, 916–917

30.

Uchio Y, Ochi M, Adachi N, Nishikori T, Kawasaki K (2001) Intraosseous hypertension and venous congestion in osteonecrosis of the knee. Clin Orthop 384:217–223

31.

Valenti Nin JR, Leyes M, Schweitzer D (1998) Spontaneous osteonecrosis of the knee. Treatment and evolution. Knee Surg Sports Traumatol Arthrosc 6:12–15

32.

Yamamoto T, Bullough PG (2000) Spontaneous osteonecrosis of the knee: the result of subchondral insufficiency fracture. J Bone Joint Surg [Am] 82:858–865
About this article
Cite this article
Seitz, S., Godolias, G. Osteonekrose des Femurkondylus nach Arthroskopie—eine Komplikation des Eingriffs?. Arthroskopie 16, 44–50 (2003). https://doi.org/10.1007/s00142-003-0210-6
Schlüsselwörter
Osteonekrose

Arthroskopie

Meniskusresektion
Keywords
Osteonecrosis

Arthroscopy

Meniscus resection