Abstract
Purpose
The patency of arterial catheters is essential for reliable invasive blood pressure monitoring. We sought to determine whether radial catheter failures were associated with intravascular thrombosis in critically ill adult patients.
Methods
This unmatched case-control study was conducted within a prospective cohort of patients admitted to an intensive care unit. The arterial catheter failure was the main outcome, which identified cases. Controls were patients with patent catheter until removal or 28 days of follow-up. The prevalence of intravascular thrombosis in cases and controls was determined by ultrasonography of the cannulated radial artery. Assessors were blinded to clinical findings. Failing catheters were removed and examined microscopically.
Results
Catheter failures occurred in 25.5% of 200 patients during 584 catheter-days (incidence rate, 87/1000 catheter-days). The median patency duration was 13.1 days. An intravascular thrombosis located in front of the catheter tip was diagnosed in 42 of 50 cases (84.0%) and 24 of 139 controls (17.3%). In multivariable logistic regression analysis, the probability of catheter failure was higher in patients with intravascular thrombosis [odds ratio (OR), 36.52; 95% confidence interval (CI), 12.86–103.74] and females (OR, 3.45; 95% CI 1.32–9.05), increased proportionally to arterial blood sampling frequency (OR, 1.20; 95% CI 1.04–1.38), and decreased in thrombocytopenia (OR, 0.28; 95% CI 0.10–0.78). After removal, 15.7% of failing catheters had some luminal fibrin deposits, but none were occluded.
Conclusions
Most failing radial arterial catheters had no luminal obstruction, but were associated with an intravascular thrombosis. Among predictive factors, arterial blood sampling frequency is the most susceptible to intervention.
This is a preview of subscription content, log in to check access.
Access options
Buy single article
Instant unlimited access to the full article PDF.
US$ 39.95
Price includes VAT for USA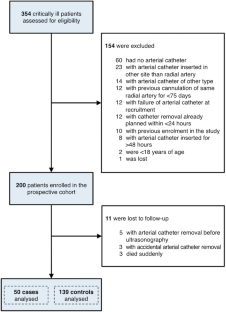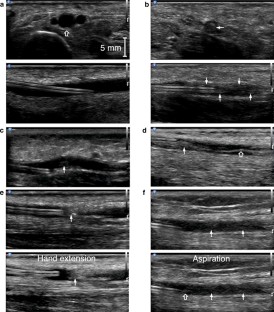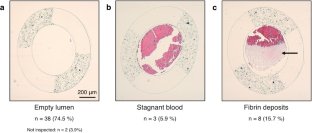 References
1.

Vincent JL, Sakr Y, Spring CL, Ranieri VM, Reinhart K, Gerlach H, Moreno R, Carlet J, Le Gall JR, Payen D, on behalf of the Sepsis Occurrence in Acutely Ill Patients Investigators (2006) Sepsis in European intensive care units: results of the SOAP study. Crit Care Med 34:344–353

2.

McIntyre LA, Hébert PC, Fergusson D, Cook DJ, Aziz A, for the Canadian Critical Care Trials Group (2007) A survey of Canadian intensivists' resuscitation practices in early septic shock. Crit Care 11:R74

3.

Cannesson M, Pestel G, Ricks C, Hoeft A, Perel A (2011) Hemodynamic monitoring and management in patients undergoing high risk surgery: a survey among North American and European anesthesiologists. Crit Care 15:R197. https://doi.org/10.1186/cc10364

4.

Cecconi M, De Backer D, Antonelli M, Beale R, Bakker J, Hofer C, Jaeschke R, Mebazza A, Pinski MR, Teboul JL, Vincent JL, Rhodes A (2014) Consensus on circulatory shock and hemodynamic monitoring. Task force of the European Society of Intensive Care Medicine. Intensive Care Med 40:1795–1815. https://doi.org/10.1007/s00134-014-3525-z

5.

Gershengorn HB, Garland A, Kramer A, Scales DC, Rubenfeld G, Wunsch H (2014) Variation of arterial and central venous catheter use in United States intensive care units. Anesthesiology 120:650–664. https://doi.org/10.1097/ALN.0000000000000008

6.

Scheer BV, Perel A, Pfeiffer UJ (2002) Clinical review: complications and risk factors of peripheral arterial catheters used for haemodynamic monitoring in anaesthesia and intensive care medicine. Crit Care 6:199–204

7.

American Association of Critical Care Nurses (1993) Evaluation of the effects of heparinized and nonheparinized flush solutions on the patency of arterial pressure monitoring lines: the AACN Thunder Project. Am J Crit Care 2:3–15

8.

Clifton GD, Branson P, Kelly HJ, Dotson LR, Record KE, Phillips BA, Thompson JR (1991) Comparison of normal saline and heparin solutions for maintenance of arterial catheter patency. Heart Lung 20:115–118

9.

Zevola DR, Dioso J, Moggio R (1997) Comparison of heparinized and nonheparinized solutions for maintaining patency of arterial and pulmonary artery catheters. Am J Crit Care 6:52–55

10.

Budz B (1995) Effects of flush solution on radial artery catheter patency. Dissertation, School of Nursing, University of British Columbia

11.

Kulkarni M, Elsner C, Ouellet D, Zeldin R (1994) Heparinized saline versus normal saline in maintaining patency of the radial artery catheter. Can J Surg 37:37–42

12.

Whitta RK, Hall KF, Bennetts TM, Welman L, Rawlins P (2006) Comparison of normal or heparinised saline flushing on function of arterial lines. Crit Care Resusc 8:205–208

13.

Del Cotillo M, Grané N, Llavoré M, Quintana S (2008) Heparinized solution vs. saline solution in the maintenance of arterial catheters: a double blind randomized clinical trial. Intensive Care Med 34:339–343

14.

Goh LJ, Teo HS, Masagoes M (2011) Heparinised saline versus normal saline in maintaining patency of arterial and central venous catheters. Proc Singapore Healthc 20:190–196

15.

Robertson-Malt S, Malt GN, Farquhar V, Greer W (2014) Heparin versus normal saline for patency of arterial lines. Cochrane Database Syst Rev (5):CD007364. https://doi.org/10.1002/14651858.cd007364.pub2

16.

Everett J (2013) Heparinized arterial line flush solutions: does the evidence support a change in practice? Capstone Project. Dissertation, Harris College of Nursing and Health Sciences, School of Nurse Anesthesia, Texas Christian University

17.

Tully RP, Moore JA, Rigg J, McGrath BA, Alexander P (2014) Problems with saline flush for arterial lines. Anaesthesia 69:87–88. https://doi.org/10.1111/anae.12552

18.

National Patient Safety Agency (2008) Problems with infusions and sampling from arterial lines. Rapid Response Report. NPSA/2008/RRR006. http://www.nrls.npsa.nhs.uk/resources/?entryid45=59891&p=13. Accessed 15 Mar 2017

19.

Brzezinski M, Luisetti T, London MJ (2009) Radial artery cannulation: a comprehensive review of recent anatomic and physiologic investigations. Anesth Analg 109:1763–1781. https://doi.org/10.1213/ANE.0b013e3181bbd416

20.

Martin C, Saux P, Papazian L, Gouin F (2001) Long-term arterial cannulation in ICU patients using the radial artery or dorsalis pedis artery. Chest 119:901–906

21.

Salmon AA, Galhotra S, Rao V, DeVita MA, Darby J, Hilmi I, Simmons RL (2010) Analysis of major complications associated with arterial catheterisation. Qual Saf Health Care 19:208–212. https://doi.org/10.1136/qshc.2008.028597

22.

Günther SC, Schwebel C, Hamidfar-Roy R, Bonadona A, Lugosi M, Ara-Somohano C, Minet C, Potton L, Cartier JC, Vésin A, Chautemps M, Styfalova L, Ruckly S, Timsit JF (2016) Complications of intravascular catheters in ICU: definitions, incidence and severity. A randomized controlled trial comparing usual transparent dressings versus new-generation dressings (the ADVANCED study). Intensive Care Med 42:1753–1765. https://doi.org/10.1007/s00134-016-4582-2

23.

von Elm E, Altman DG, Egger M, Pocock SJ, Gøtzsche PC, Vandenbroucke JP, for the STROBE Initiative (2007) The Strengthening the Reporting of Observational Studies in Epidemiology (STROBE) statement: guidelines for reporting observational studies. Ann Intern Med 147:573–577

24.

Shiloh AL, Eisen LA (2010) Ultrasound-guided arterial catheterization: a narrative review. Intensive Care Med 36:214–221. https://doi.org/10.1007/s00134-009-1699-6

25.

Kleinman B, Powell S, Kumar P, Gardner RM (1992) The fast flush test measures the dynamic response of the entire blood pressure monitoring system. Anesthesiology 77:1215–1220

26.

Le Gall JR, Lemeshow S, Saulnier F (1993) A new simplified acute physiology score (SAPS II) based on a European/North American multicenter study. JAMA 270:2957–2963

27.

Vincent JL, Moreno R, Takala J, Willatts S, De Mendonça A, Bruining H, Reinhart CK, Suter PM, Thijs LG (1996) The SOFA (Sepsis-related Organ Failure Assessment) score to describe organ dysfunction/failure. On behalf of the Working Group on Sepsis-Related Problems of the European Society of Intensive Care Medicine. Intensive Care Med 22:707–710

28.

Riker RR, Picard JT, Fraser GL (1999) Prospective evaluation of the sedation-agitation scale for adult critically ill patients. Crit Care Med 27:1325–1329

29.

Murphy GS, Szokol JW, Marymont JH, Avram MJ, Vender JS, Kubasiak J (2006) Retrograde blood flow in the brachial and axillary arteries during routine radial arterial catheter flushing. Anesthesiology 105:492–497

30.

Hosmer DW, Lemeshow S (2000) Applied logistic regression, 2nd edn. Wiley, New York

31.

Kim JM, Arakawa K, Bliss J (1975) Arterial cannulation: factors in the development of occlusion. Anesth Analg 54:836–841

32.

Bedford RF (1977) Radial arterial function following percutaneous cannulation with 18- and 20-gauge catheters. Anesthesiology 47:37–39

33.

Bedford RF (1978) Long-term radial artery cannulation: effects on subsequent vessel function. Crit Care Med 6:64–67

34.

Kaye J, Heald GR, Morton J, Weaver T (2001) Patency of radial arterial catheters. Am J Crit Care 10:104–111

35.

Staniloae CS, Mody KP, Sanghvi K, Mindrescu C, Coppola JT, Antonescu CR, Shah S, Patel T (2009) Histopathologic changes of the radial artery wall secondary to transradial catheterization. Vasc Health Risk Manag 5:527–532

36.

Tarbell JM, Cancel LM (2016) The glycocalyx and its significance in human medicine. J Intern Med 280:97–113. https://doi.org/10.1111/joim.12465

37.

Cosemans JM, Angelillo-Scherrer A, Mattheij NJ, Heemskerk JW (2013) The effects of arterial flow on platelet activation, thrombus growth, and stabilization. Cardiovasc Res 99:342–352. https://doi.org/10.1093/cvr/cvt110

38.

Galbusera M, Zoja C, Donadelli R, Paris S, Morigi M, Benigni A, Figliuzzi M, Remuzzi G, Remuzzi A (1997) Fluid shear stress modulates van Willebrand factor release from human vascular endothelium. Blood 90:1558–1564

39.

Merlani P, Garnerin P, Diby M, Ferring M, Ricou B (2001) Quality improvement report: linking guideline to regular feedback to increase appropriate requests for clinical tests: blood gas analysis in intensive care. BMJ 323:620–624

40.

Lambert D, Martin C, Perrin G, Saux P, Papazian L, Gouin F (1990) Risk of thrombosis in prolonged catheterization of the radial artery: comparison of 2 types of catheters. Ann Fr Anesth Reanim 9:408–411
Acknowledgements
We are grateful to Prof. Laurent Brochard (Keenan Research Centre for Biomedical Science of St. Michael's Hospital, Toronto, Ontario, Canada) for endorsing this study and providing positive feedback throughout as former Head of the Division of Intensive Care at the Geneva University Hospitals. We thank the patients, their family members and the nursing and medical staff involved in this study; Valérie Gardaz, Christelle Mounir and Claudio Andreetta (Division of Intensive Care, Geneva University Hospitals) for logistic assistance; Monique Coassin (Division of Clinical Pathology, Geneva University Hospitals) and Marie-Laure Grandgirard (Department of Communication, Fribourg Hospital) for technical support. This article is dedicated to the memory of our colleagues Sylvie Lejas and Jean-François Bellot, who were involved in the study as staff members.
Ethics declarations
Conflicts of interest
The authors declare that they have no competing interest relevant to this article.
Additional information
Owing to an error in typesetting, Table 2 was not structured correctly. The article has now been updated in this respect.
Electronic supplementary material
Below is the link to the electronic supplementary material.
Supplementary material 3 (MPG 28094 kb)
Supplementary material 4 (MPG 28610 kb)
Supplementary material 5 (MPG 23338 kb)
About this article
Cite this article
Fleury, Y., Arroyo, D., Couchepin, C. et al. Impact of intravascular thrombosis on failure of radial arterial catheters in critically ill patients: a nested case-control study. Intensive Care Med 44, 553–563 (2018). https://doi.org/10.1007/s00134-018-5149-1
Received:

Accepted:

Published:

Issue Date:
Keywords
Catheter failure

Critical care

Monitoring

Radial artery

Thrombosis

Ultrasonography