This is a preview of subscription content, log in to check access.
Access options
Buy single article
Instant access to the full article PDF.
US$ 39.95
Price includes VAT for USA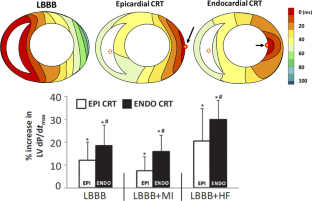 References
1.

Cleland JGF, Daubert J-C, Erdmann E et al (2005) The effect of cardiac resynchronization on morbidity and mortality in heart failure. N Engl J Med 352:1539–1549

2.

Gibson DG, Chamberlain DA, Coltart DJ, Mercer J (1971) Effect of changes in ventricular activation on cardiac haemodynamics in man. Comparison of right ventricular, left ventricular and simultaneous pacing of both ventricles. Br Heart J 33:397–400

3.

Nelson GS, Berger RD, Fetics BJ, Talbot M, Spinelli JC, Hare JM, Kass DA (2000) Left ventricular or biventricular pacing improves cardiac function at diminished energy cost in patients with dilated cardiomyopathy and left bundle-branch block. Circulation 102(25):3053–3059

4.

Kyriacou A, Pabari P, Mayet J et al (2014) Cardiac resynchronization therapy and AV optimization increase myocardial oxygen consumption, but increase cardiac function more than proportionally. Int J Cardiol 171:144–152

5.

Strik M, Rademakers LM, van Deursen CJ, van Hunnik A, Kuiper M, Klersy C, Auricchio A, Prinzen FW (2012) Endocardial left ventricular pacing improves cardiac resynchronization therapy in chronic asynchronous infarction and heart failure models. Circ Arrhythm Electrophysiol 5(1):191–200

6.

Hyde ER, Behar JM, Claridge S et al (2015) Beneficial effect on cardiac resynchronization from left ventricular endocardial pacing is mediated by early access to high conduction velocity tissue: electrophysiological simulation study. Circ Arrhythmia Electrophysiol 8:1164–1172

7.

Behar JM, Jackson T, Hyde E et al (2016) Optimized left ventricular endocardial stimulation is superior to optimized epicardial stimulation in ischemic patients with poor response to cardiac resynchronization therapy a combined magnetic resonance imaging, electroanatomic contact mapping and hemodynamic study to target endocardial lead placement. JACC Clin Electrophysiol 2(7):799–809

8.

Morgan JM, Biffi M, Geller L et al (2016) Alternate Site Cardiac ResYNChronization (ALSYNC): a prospective and multicentre study of left ventricular endocardial pacing for cardiac resynchronization therapy. Eur Heart J 37:2118–2127

9.

Mafi-Rad M, Luermans JG, Blaauw Y, Janssen M, Crijns HJ, Prinzen FW, Vernooy K (2016) Feasibility and acute hemodynamic effect of left ventricular septal pacing by transvenous approach through the interventricular septum. Circ Arrhythm Electrophysiol. 9(3):e003344

10.

Auricchio A, Delnoy PP, Butter C et al (2014) Feasibility, safety, and short-term outcome of leadless ultrasound-based endocardial left ventricular resynchronization in heart failure patients: results of the wireless stimulation endocardially for CRT (WiSE-CRT) study. Europace 16:681–688

11.

Tse HF, Yu C, Wong KK, Tsang V, Leung YL, Ho WY, Lau CP (2002) Functional abnormalities in patients with permanent right ventricular pacing: the effect of sites of electrical stimulation. J Am Coll Cardiol 40:1451–1458

12.

Curtis AB, Worley S, Adamson PB, Chung E, Niazi I, Sherfesee L, Shinn T, Sutton MS (2013) Biventricular pacing for atrioventricular block and systolic dysfunction. New Engl J Med 368:1585–1593

13.

Weisse U, Isgro F, Werling C, Lehmann A, Saggau W (2002) Impact of atrio-biventricular pacing to poor left-ventricular function after CABG. Thorac Cardiovasc Surg 50(3):131–135

14.

Ruschitzka F, Abraham WT, Singh JP et al (2013) Cardiac-resynchronization therapy in heart failure with a narrow QRS complex. New Engl J Med 369(15):1395–1405

15.

Mullens W, Borowski AG, Curtin R, Grimm RA, Thomas JD, Tang WH (2008) Mechanical dyssynchrony in advanced decompensated heart failure: relation to hemodynamic responses to intensive medical therapy. Heart Rhythm. 5(8):1105–1110

16.

Rabkin D, Cabreriza E, Curtis L et al (2004) Load dependence of cardiac output in biventricular pacing: right ventricular pressure overload in pigs. J Thorac Cardiovasc Surg 127(6):1713–1722
Ethics declarations
Conflicts of interest
CAR received research grants from Medtronic, St Jude Medical, LivaNova, Boston Scientific and EBR Systems. FWP received research grants from Medtronic, St Jude Medical, LivaNova, Biotronik, Sorin, Biosense Webster and EBR Systems. AA received speaker's fee from Medtronic, Boston Scientific, and LivaNova; he also received research grants from Medtronic, Biosense Webster and EBR.
About this article
Cite this article
Rinaldi, C.A., Auricchio, A. & Prinzen, F.W. Left ventricular endocardial pacing for the critically ill. Intensive Care Med 44, 915–917 (2018). https://doi.org/10.1007/s00134-018-5062-7
Received:

Accepted:

Published:

Issue Date: