This is a preview of subscription content, log in to check access.
Access options
Buy single article
Instant access to the full article PDF.
US$ 39.95
Price includes VAT for USA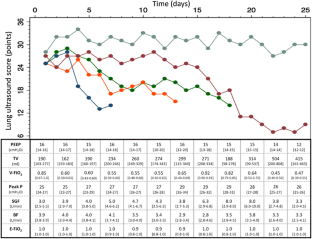 References
1.

Pesenti A, Musch G, Lichtenstein D, Mojoli F, Amato MB, Cinnella G, Gattinoni L, Quintel M (2016) Imaging in acute respiratory distress syndrome. Intensive Care Med 42:686–698

2.

Bouhemad B, Mongodi S, Via G, Rouquette I (2015) Ultrasound for "lung monitoring" of ventilated patients. Anesthesiology 122:437–447

3.

Via G, Lichtenstein D, Mojoli F, Rodi G, Neri L, Storti E, Klersy C, Iotti G, Braschi A (2010) Whole lung lavage: a unique model for ultrasound assessment of lung aeration changes. Intensive Care Med 36:999–1007

4.

Mongodi S, Bouhemad B, Orlando A, Stella A, Tavazzi G, Via G, Iotti GA, Braschi A, Mojoli F (2016) Modified lung ultrasound score for assessing and monitoring pulmonary aeration. Ultraschall. doi:10.1055/s-0042-120260

5.

Mongodi S, Algieri I, Mojoli F, Chiumello D, Cressoni M, Via G, Braschi A (2014) CT-scan and ultrasound comparative assessment of lung aeration in ARDS. Intensive Care Med 40(Suppl 1):S127–S128
Ethics declarations
Conflicts of interest
On behalf of all authors, the corresponding author states that there is no conflict of interest.
Electronic supplementary material
Below is the link to the electronic supplementary material.
About this article
Cite this article
Mongodi, S., Pozzi, M., Orlando, A. et al. Lung ultrasound for daily monitoring of ARDS patients on extracorporeal membrane oxygenation: preliminary experience. Intensive Care Med 44, 123–124 (2018). https://doi.org/10.1007/s00134-017-4941-7
Accepted:

Published:

Issue Date: