This is a preview of subscription content, log in to check access.
Access options
Buy single article
Instant unlimited access to the full article PDF.
US$ 39.95
Price includes VAT for USA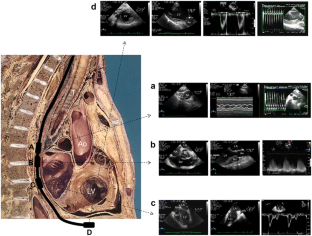 References
1.

Cecconi M, De Backer D, Antonelli M, Beale R, Bakker J, Hofer C, Jaeschke R, Mebazaa A, Pinsky MR, Teboul JL, Vincent JL, Rhodes A (2014) Consensus on circulatory shock and hemodynamic monitoring. Task force of the European Society of Intensive Care Medicine. Intensive Care Med 40:1795–1815

2.

Papolos A, Narula J, Bavishi C, Chaudhry FA, Sengupta PP (2016) US hospital use of echocardiography: insights from the Nationwide Inpatient Sample. J Am Coll Cardiol 67(5):502–511

3.

Zieleskiewicz L, Muller L, Lakhal K, Meresse Z, Arbelot C, Bertrand PM, Bouhemad B, Cholley B, Demory D, Duperret S, Duranteau J, Guervilly C, Hammad E, Ichai C, Jaber S, Langeron O, Lefrant JY, Mahjoub Y, Maury E, Meaudre E, Michel F, Muller M, Nafati C, Perbet S, Quintard H, Riu B, Vigne C, Chaumoitre K, Antonini F, Allaouchiche B, Martin C, Constantin JM, De Backer D, Leone M, CAR'Echo and AzuRea Collaborative Networks (2015) Point-of-care ultrasound in intensive care units: assessment of 1073 procedures in a multicentric, prospective, observational study. Intensive Care Med 41(9):1638–1647

4.

Vincent JL, Rhodes A, Perel A, Martin GS, Della Rocca G, Vallet B, Pinsky MR, Hofer CK, Teboul JL, de Boode WP, Scolletta S, Vieillard-Baron A, De Backer D, Walley KR, Maggiorini M, Singer M (2011) Clinical review: update on hemodynamic monitoring: a consensus of 16. Crit Care 15(4):229

5.

Vignon P, Mentec H, Terré S, Gastinne H, Guéret P, Lemaire F (1994) Diagnostic accuracy and therapeutic impact of transthoracic and transesophageal echocardiography in mechanically ventilated patients in the ICU. Chest 106(6):1829–1834

6.

Aneman A, Vieillard-Baron A (2016) Cardiac dysfunction in sepsis. Intensive Care Med 42(12):2073–2076

7.

Vignon P, Repessé X, Bégot E, Léger J, Jacob C, Bouferrache K, Slama M, Prat G, Vieillard-Baron A (2016) Comparison of echocardiographic indices used to predict fluid responsiveness in ventilated patients. Am J Respir Crit Care Med. doi:10.1164/rccm.201604-0844OC

8.

Bouferrache K, Amiel JB, Chimot L, Caille V, Charron C, Vignon P, Vieillard-Baron A (2012) Initial resuscitation guided by the Surviving Sepsis Campaign recommendations and early echocardiographic assessment of hemodynamics in intensive care unit septic patients: a pilot study. Crit Care Med 40(10):2821–2827

9.

Mebazaa A, Tolppanen H, Mueller C, Lassus J, DiSomma S, Baksyte G, Cecconi M, Choi DJ, Cohen Solal A, Christ M, Masip J, Arrigo M, Nouira S, Ojji D, Peacock F, Richards M, Sato N, Sliwa K, Spinar J, Thiele H, Yilmaz MB, Januzzi J (2016) Acute heart failure and cardiogenic shock: a multidisciplinary practical guidance. Intensive Care Med 42(2):147–163

10.

Riu-Poulenc B, Begot E, Mari A, Clavel M, Chimot L, Delour P, Vargas F, Filloux B, Vandroux D, Jabot J, Silva S, Genestal M, François B, Pichon N, Vignon P (2014) Agreement of therapeutic proposals derived from early hemodynamic assessment using transpulmonary thermodilution and transesophageal echocardiography in septic shock patients. Intensive Care Med 40(Suppl 1):S209

11.

Vieillard-Baron A, Matthay M, Teboul JL, Bein T, Schultz M, Magder S, Marini JJ (2016) Experts' opinion on management of hemodynamics in ARDS patients: focus on the effects of mechanical ventilation. Intensive Care Med 42(5):739–749

12.

Mekontso Dessap A, Boissier F, Charron C, Bégot E, Repessé X, Legras A, Brun-Buisson C, Vignon P, Vieillard-Baron A (2016) Acute cor pulmonale during protective ventilation for acute respiratory distress syndrome: prevalence, predictors, and clinical impact. Intensive Care Med 42(5):862–870

13.

Expert Round Table on Echocardiography in ICU (2014) International consensus statement on training standards for advanced critical care echocardiography. Intensive Care Med 40(5):654–666

14.

Begot E, Dalmay F, Etchecopar C, Clavel M, Pichon N, Francois B, Lang R, Vignon P (2015) Hemodynamic assessment of ventilated ICU patients with cardiorespiratory failure using a miniaturized multiplane transesophageal echocardiography probe. Intensive Care Med 41(11):1886–1894

15.

Vieillard-Baron A, Slama M, Mayo P, Charron C, Amiel JB, Esterez C, Leleu F, Repesse X, Vignon P (2013) A pilot study on safety and clinical utility of a single-use 72-hour indwelling transesophageal echocardiography probe. Intensive Care Med 39(4):629–635
Ethics declarations
Conflicts of interest
On behalf of all authors, the corresponding author states that there is no conflict of interest.
Electronic supplementary material
Below is the link to the electronic supplementary material.
Video 1. Total inspiratory collapse of the superior vena cava depicted by transesophageal echocardiography in a ventilated patient with hypovolemic shock. This pattern is consistent with fluid responsiveness (MP4 8175 kb)
About this article
Cite this article
Vignon, P., Merz, T.M. & Vieillard-Baron, A. Ten reasons for performing hemodynamic monitoring using transesophageal echocardiography. Intensive Care Med 43, 1048–1051 (2017) doi:10.1007/s00134-017-4716-1
Received:

Accepted:

Published:

Issue Date:
Keywords
Left Ventricular Systolic Dysfunction

Septic Shock Patient

Hemodynamic Monitoring

Pulse Pressure Variation

Predict Fluid Responsiveness