This is a preview of subscription content, log in to check access.
Access options
Buy single article
Instant access to the full article PDF.
US$ 39.95
Price includes VAT for USA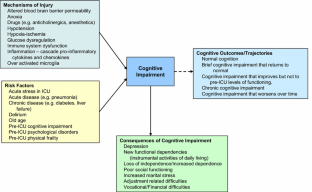 References
1.

Wolters AE, Slooter AJ, van der Kooi AW, van Dijk D (2013) Cognitive impairment after intensive care unit admission: a systematic review. Intensive Care Med 39:376–386

2.

Iwashyna TJ, Ely EW, Smith DM, Langa KM (2010) Long-term cognitive impairment and functional disability among survivors of severe sepsis. JAMA 304:1787–1794

3.

Herridge MS, Moss M, Hough CL, Hopkins RO, Rice TW, Bienvenu OJ, Azoulay E (2016) Recovery and outcomes after the acute respiratory distress syndrome (ARDS) in patients and their family caregivers. Intensive Care Med 42:725–738

4.

Maley JH, Mikkelsen ME (2016) Short-term gains with long-term consequences: the evolving story of sepsis survivorship. Clin Chest Med 37:367–380

5.

Pandharipande PP, Girard TD, Jackson JC, Morandi A, Thompson JL, Pun BT, Brummel NE, Hughes CG, Vasilevskis EE, Shintani AK, Moons KG, Geevarghese SK, Canonico A, Hopkins RO, Bernard GR, Dittus RS, Ely EW, BRAIN-ICU Study Investigators (2013) Long-term cognitive impairment after critical illness. N Engl J Med 369:1306–1316

6.

Hopkins RO, Suchyta MR, Beene K, Jackson JC (2016) Critical illness acquired brain injury: neuroimaging and implications for rehabilitation. Rehabil Psychol 61:151–164

7.

Singer BH, Newstead MW, Zeng X, Cooke CL, Thompson RC, Singer K, Ghantasala R, Parent JM, Murphy GG, Iwashyna TJ, Standiford TJ (2016) Cecal ligation and puncture results in long-term central nervous system myeloid inflammation. PLoS One 11:e0149136

8.

Hopkins RO, Choong K, Zebuhr CA, Kudchadkar SR (2015) Transforming PICU culture to facilitate early rehabilitation. J Pediatr Intensive Care 4:204–211

9.

Needham DM, Dinglas VD, Morris PE, Jackson JC, Hough CL, Mendez-Tellez PA, Wozniak AW, Colantuoni E, Ely EW, Rice TW, Hopkins RO, NIH NHLBI ARDS Network (2013) Physical and cognitive performance of patients with acute lung injury 1 year after initial trophic versus full enteral feeding. EDEN trial follow-up. Am J Respir Crit Care Med 188:567–576

10.

Shah FA, Pike F, Alvarez K, Angus D, Newman AB, Lopez O, Tate J, Kapur V, Wilsdon A, Krishnan JA, Hansel N, Au D, Avdalovic M, Fan VS, Barr RG, Yende S (2013) Bidirectional relationship between cognitive function and pneumonia. Am J Respir Crit Care Med 188:586–592

11.

Jackson JC, Hart RP, Gordon SM, Shintani A, Truman B, May L, Ely EW (2003) Six-month neuropsychological outcome of medical intensive care unit patients. Crit Care Med 31:1226–1234

12.

Hopkins RO, Collingridge D, Weaver LK, Chan K, Orme JF Jr (2003) Neuropsychological sequelae following acute respiratory distress syndrome: two year outcome. J Int Neuropsychol Soc 9:584

13.

Jackson JC, Pandharipande PP, Girard TD, Brummel NE, Thompson JL, Hughes CG, Pun BT, Vasilevskis EE, Morandi A, Shintani AK, Hopkins RO, Bernard GR, Dittus RS, Ely EW, Bringing to Light the Risk F, Incidence of Neuropsychological Dysfunction in ICUssi (2014) Depression, post-traumatic stress disorder, and functional disability in survivors of critical illness in the BRAIN-ICU study: a longitudinal cohort study. Lancet Respir Med 2:369–379

14.

Herridge MS, Tansey CM, Matte A, Tomlinson G, Diaz-Granados N, Cooper A, Guest CB, Mazer CD, Mehta S, Stewart TE, Kudlow P, Cook D, Slutsky AS, Cheung AM (2011) Functional disability 5 years after acute respiratory distress syndrome. N Engl J Med 364:1293–1304

15.

Jackson JC, Ely EW, Morey MC, Anderson VM, Denne LB, Clune J, Siebert CS, Archer KR, Torres R, Janz D, Schiro E, Jones J, Shintani AK, Levine B, Pun BT, Thompson J, Brummel NE, Hoenig H (2012) Cognitive and physical rehabilitation of intensive care unit survivors: results of the RETURN randomized controlled pilot investigation. Crit Care Med 40:1088–1097
Acknowledgments
Dorothy Wade receives funding from the National Institute for Health Research (NIHR) UCL Hospitals Biomedical Research Centre.
Ethics declarations
Conflicts of interest
The authors declare that they have no conflict of interest.
About this article
Cite this article
Hopkins, R.O., Wade, D. & Jackson, J.C. What's new in cognitive function in ICU survivors. Intensive Care Med 43, 223–225 (2017). https://doi.org/10.1007/s00134-016-4550-x
Received:

Accepted:

Published:

Issue Date:
Keywords
Cognitive Impairment

Critical Illness

Cognitive Outcome

Psychological Morbidity

Moderate Traumatic Brain Injury