Abstract
Purpose
To evaluate the potential preventive effect of probiotics on ventilator-associated pneumonia (VAP).
Methods
This was an open-label, randomized, controlled multicenter trial involving 235 critically ill adult patients who were expected to receive mechanical ventilation for ≥48 h. The patients were randomized to receive (1) a probiotics capsule containing live Bacillus subtilis and Enterococcus faecalis (Medilac-S) 0.5 g three times daily through a nasogastric feeding tube plus standard preventive strategies or (2) standard preventive strategies alone, for a maximum of 14 days. The development of VAP was evaluated daily, and throat swabs and gastric aspirate were cultured at baseline and once or twice weekly thereafter.
Results
The incidence of microbiologically confirmed VAP in the probiotics group was significantly lower than that in the control patients (36.4 vs. 50.4 %, respectively; P = 0.031). The mean time to develop VAP was significantly longer in the probiotics group than in the control group (10.4 vs. 7.5 days, respectively; P = 0.022). The proportion of patients with acquisition of gastric colonization of potentially pathogenic microorganisms (PPMOs) was lower in the probiotics group (24 %) than the control group (44 %) (P = 0.004). However, the proportion of patients with eradication PPMO colonization on both sites of the oropharynx and stomach were not significantly different between the two groups. The administration of probiotics did not result in any improvement in the incidence of clinically suspected VAP, antimicrobial consumption, duration of mechanical ventilation, mortality and length of hospital stay.
Conclusion
Therapy with the probiotic bacteria B. Subtilis and E. faecalis are an effective and safe means for preventing VAP and the acquisition of PPMO colonization in the stomach.
This is a preview of subscription content, log in to check access.
Access options
Buy single article
Instant access to the full article PDF.
US$ 39.95
Price includes VAT for USA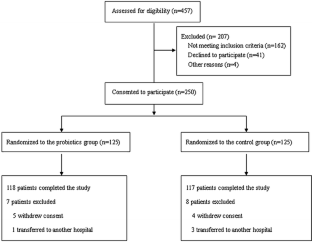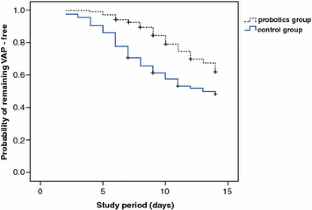 References
1.

Rello J, Ollendorf DA, Oster G, Vera-Llonch M, Bellm L, Redman R et al (2002) Epidemiology and outcomes of ventilator-associated pneumonia in a large US database. Chest 122:2115–2121. doi:10.1378/chest.122.6.2115

2.

Safdar N, Dezfulian C, Collard HR, Saint S (2005) Clinical and economic consequences of ventilator-associated pneumonia: a systematic review. Crit Care Med 33:2184–2193. doi:10.1097/01.CCM.0000181731.53912.D9

3.

de Smet AM, Kluytmans JA, Cooper BS, Mascini EM, Benus RF, van der Werf TS et al (2009) Decontamination of the digestive tract and oropharynx in ICU patients. N Engl J Med 360:20–31. doi:10.1056/NEJMoa0800394

4.

de Jonge E, Schultz MJ, Spanjaard L, Bossuyt PM, Vroom MB, Dankert J et al (2003) Effects of selective decontamination of the digestive tract on mortality and acquisition of resistant bacteria in intensive care: a randomised controlled trial. Lancet 362:1011–1016. doi:10.1016/S0140-6736(03)14409-1

5.

Lingnau W, Berger J, Javorsky F, Fille M, Allerberger F, Benzer H (1998) Changing bacterial ecology during a five-year period of selective intestinal decontamination. J Hosp Infect 39:195–206. doi:10.1016/S0195-6701(98)90258-4

6.

Ebner W, Kropec-Hübner A, Daschner FD (2000) Bacterial resistance and overgrowth due to selective decontamination of the digestive tract. Eur J Clin Microbiol Infect Dis 19:243–247. doi:10.1007/s100960050470

7.

Lilly DM, Stillwell RH (1965) Probiotics: growth promoting factors produced by microorganisms. Science 147:747–748. doi:10.1126/science.147.3659.747

8.

Zeng J, Li YQ, Zuo XL, Zhen YB, Yang J, Liu CH (2008) Clinical trial: effect of active lactic acid bacteria on mucosal barrier function in patients with diarrhoea-predominant irritable bowel syndrome. Aliment Pharmacol Ther 28:994–1002. doi:10.1111/j.1365-2036.2008.03818.x

9.

Gill HS, Guarner F (2004) Probiotics and human health: a clinical perspective. Postgrad Med J 80:516–526. doi:10.1136/pgmj.2003.008664

10.

Jacobi CA, Schulz C, Malfertheiner P (2011) Treating critically ill patients with probiotics: beneficial or dangerous? Gut Pathogens 3:2. doi:10.1186/1757-4749-3-2

11.

Klarin B, Molin G, Jeppsson B, Larsson A (2008) Use of the probiotic Lactobacillus plantarum 299 to reduce pathogenic bacteria in the oropharynx of intubated patients: a randomised controlled open pilot study. Crit Care 12:R136. doi:10.1186/cc7109

12.

Manley KJ, Fraenkel MB, Mayall BC, Power DA (2007) Probiotic treatment of vancomycin-resistant enterococci: a randomised controlled trial. Med J Aust 186:454–457

13.

Schultz MJ, Juffermans NP (2010) Prevention of VAP: "WHAP" should we do? Crit Care Med 38:706–707. doi:10.1097/CCM.0b013e3181bfea4b

14.

Chinese Society of Critical Care Medicine (2013) The guidelines for prevention, diagnosis and treatment of ventilator-associated pneumonia (2013). Zhonghua Nei Ke Za Zhi 52:524–543. doi:10.3760/cma.j.issn.0578-1426.2013.06.024

15.

Morrow LE, Kollef MH, Casale TB (2010) Probiotic prophylaxis of ventilator-associated pneumonia: a blinded, randomized, controlled trial. Am J Respir Crit Care Med 182:1058–1064. doi:10.1164/rccm.200912-1853OC

16.

Bergmans DCJJ, Bonten MJM, Gaillard CA, Paling JC, van der Geest S, van Tiel FH et al (2001) Prevention of ventilator-associated pneumonia by oral decontamination: a prospective, randomized, double-blind, placebo-controlled study. Am J Respir Crit Care Med 164:382–388. doi:10.1164/ajrccm.164.3.2005003

17.

Giamarellos-Bourboulis EJ, Bengmark S, Kanellakopoulou K, Kotzampassi K (2009) Pro- and synbiotics to control inflammation and infection in patients with multiple injuries. J Trauma 67:815–821. doi:10.1097/TA.0b013e31819d979e

18.

Kotzampassi K, Giamarellos-Bourboulis EJ, Voudouris A, Kazamias P, Eleftheriadis E (2006) Benefits of a synbiotic formula (Synbiotic 2000Forte) in critically ill trauma patients: early results of a randomized controlled trial. World J Surg 30:1848–18455. doi:10.1007/s00268-005-0653-1

19.

Spindler-Vesel A, Benkgmark S, Vovk I, Cerovic O, Kompan L (2007) Synbiotics, prebiotics, glutamine, or peptide in early enteral nutrition: a randomized study in trauma patients. J Parenter Enteral Nutr 31:119–126. doi:10.1177/0148607107031002119

20.

Banupriya B, Biswal N, Srinivasaraghavan R, Narayanan P, Mandal J (2015) Probiotic prophylaxis to prevent ventilator associated pneumonia (VAP) in children on mechanical ventilation: an open-label randomized controlled trial. Intensive Care Med 41:677–685. doi:10.1007/s00134-015-3694-4

21.

Forestier C, Guelon D, Cluytens V, Gillart T, Sirot J, De Champs C (2008) Oral probiotic and prevention of Pseudomonas aeruginosa infections: a randomized, double-blind, placebo controlled pilot study in intensive care unit patients. Crit Care 12:R69. doi:10.1186/cc6907

22.

Knight DJ, Gardiner D, Banks A, Snape SE, Weston VC, Bengmark S et al (2009) Effect of synbiotic therapy on the incidence of ventilator associated pneumonia in critically ill patients: a randomised, double-blind, placebo controlled trial. Intensive Care Med 35:854–861. doi:10.1007/s00134-008-1368-1

23.

Barraud D, Blard C, Hein F, Marçon O, Cravoisy A, Nace L et al (2010) Probiotics in the critically ill patient: a double blind, randomized, placebo-controlled trial. Intensive Care Med 36:1540–1547. doi:10.1007/s00134-010-1927-0

24.

Oudhuis GJ, Bergmans DC, Dormans T, Zwaveling JH, Kessels A, Prins MH et al (2011) Probiotics versus antibiotic decontamination of the digestive tract: infection and mortality. Intensive Care Med 37:110–117. doi:10.1007/s00134-010-2002-6

25.

[No authors listed] (2015) Randomized controlled study of probiotics containing Lactobacillus casei (Shirota strain) for prevention of ventilator-associated pneumonia. J Med Assoc Thai 98:253–259

26.

Sommacal HM, Bersch VP, Vitola SP, Osvaldt AB (2015) Perioperative synbiotics decrease postoperative complications in periampullary neoplasms: a randomized, double-blind clinical trial. Nutr Cancer 67:457–462. doi:10.1080/01635581.2015.1004734

27.

Falcão de Arruda IS, de Aguilar-Nascimento JE (2004) Benefits of early enteral nutrition with glutamine and probiotics in brain injury patients. Clin Sci (Lond) 106:287–292. doi:10.1042/CS20030251

28.

de Araujo GV, de Oliveira Junior MH, Peixoto DM, Sarinho ES (2015) Probiotics for the treatment of upper and lower respiratory-tract infections in children: systematic review based on randomized clinical trials. J Pediatr (Rio J). 91:413–427. doi:10.1016/j.jped.2015.03.002

29.

Lone NI, Walsh TS (2011) Prolonged mechanical ventilation in critically ill patients: epidemiology, outcomes and modelling the potential cost consequences of establishing a regional weaning unit. Crit Care 15:R102. doi:10.1186/cc10117

30.

Ego A, Preiser JC, Vincent JL (2015) Impact of diagnostic criteria on the incidence of ventilator-associated pneumonia. Chest 147:347–355. doi:10.1378/chest.14-0610

31.

Scholte JB, van Dessel HA, Linssen CF, Bergmans DC, Savelkoul PH, Roekaerts PM et al (2014) Endotracheal aspirate and bronchoalveolar lavage fluid analysis: interchangeable diagnostic modalities in suspected ventilator-associated pneumonia? J Clin Microbiol 52:3597–3604. doi:10.1128/JCM.01494-14

32.

Wang J, Liu KX, Ariani F, Tao LL, Zhang J, Qu JM (2013) Probiotics for preventing ventilator-associated pneumonia: a systematic review and meta-analysis of high-quality randomized controlled trials. PLoS One 8:e83934. doi:10.1371/journal.pone.0083934

33.

Luyer MD, Buurman WA, Hadfoune M, Speelmans G, Knol J, Jacobs JA et al (2005) Strain-specific effects of probiotics on gut barrier integrity following hemorrhagic shock. Infect Immun 73:3686–3692. doi:10.1128/IAI.73.6.3686-3692.2005

34.

Hurley JC (2008) Profound effect of study design factors on ventilator-associated pneumonia incidence of prevention studies: benchmarking the literature experience. J Antimicrob Chemother 61:1154–1161. doi:10.1093/jac/dkn086

35.

Jain PK, McNaught CE, Anderson AD, MacFie J, Mitchell CJ (2004) Influence of synbiotic containing Lactobacillus acidophilus La5, Bifidobacterium lactis Bb 12, Streptococcus thermophilus, Lactobacillus bulgaricus and oligofructose on gut barrier function and sepsis in critically ill patients: a randomised controlled trial. Clin Nutr 23:467–475. doi:10.1016/j.clnu.2003.12.002

36.

Bekaert M, Timsit JF, Vansteelandt S, Depuydt P, Vésin A, Garrouste-Orgeas M et al (2011) Attributable mortality of ventilator-associated pneumonia: a reappraisal using causal analysis. Am J Respir Crit Care Med 184:1133–1139. doi:10.1164/rccm.201105-0867OC

37.

Loss SH, de Oliveira RP, Maccari JG, Savi A, Boniatti MM, Hetzel MP et al (2015) The reality of patients requiring prolonged mechanical ventilation: a multicenter study. Rev Bras Ter Intensiva 27:26–35. doi:10.5935/0103-507X.20150006

38.

Hashimoto S, Shime N (2013) Evaluation of semi-quantitative scoring of Gram staining or semi-quantitative culture for the diagnosis of ventilator-associated pneumonia: a retrospective comparison with quantitative culture. J Intensive Care 1:2. doi:10.1186/2052-0492-1-2

39.

Niederman MS (2010) The argument against using quantitative cultures in clinical trials and for the management of ventilator-associated pneumonia. Clin Infect Dis 51[Suppl 1]:S93–S99. doi:10.1086/653055

40.

Berton DC, Kalil AC, Teixeira PJ (2014) Quantitative versus qualitative cultures of respiratory secretions for clinical outcomes in patients with ventilator-associated pneumonia. Cochrane Database Syst Rev 10:006482. doi:10.1002/14651858.CD006482.pub4
Acknowledgments
We thank Man Chen, Xin Qu, and Guo-qiang Qie from the Intensive Care Unit, Shandong Provincial Hospital affiliated to Shandong University, People's Republic of China for advice and copy-editing. This clinical trial was funded by grants from the Specific Fund of Clinical Medical Research of the Chinese Medical Association (No: 10030180240) and from the National Natural Science Foundation of China (No: 81200238).
Ethics declarations
Conflicts of interest
All authors declare that they have no conflict of interest regarding the submission and publication of the work reported here.
Additional information
This clinical trial is registered at http://www.chictr.org.cn (ChiCTR-TRC-11001713).
Take home message: The administration of probiotics was associated with a reduction of VAP incidence and a delay of VAP occurrence after tracheal incubation. Probiotics treatment may have prevented gastric colonization with PPMOs, but it was unable to eradicate PPMO colonization in the stomach of mechanically ventilated ICU patients.
Electronic supplementary material
Below is the link to the electronic supplementary material.
About this article
Cite this article
Zeng, J., Wang, C., Zhang, F. et al. Effect of probiotics on the incidence of ventilator-associated pneumonia in critically ill patients: a randomized controlled multicenter trial. Intensive Care Med 42, 1018–1028 (2016). https://doi.org/10.1007/s00134-016-4303-x
Received:

Accepted:

Published:

Issue Date:
Keywords
Probiotics

Ventilator-associated pneumonia

Prevention and control

Gastric colonization