The ten "diseases" that are not true diseases
What's New in Intensive Care
Introduction
Intensive care medicine is a young medical speciality. As tremendous advances in life-supporting therapies have allowed patients to be kept alive for a prolonged time despite essential organs or biological systems failing [
1
], we have entered new medical territory with its own pathologies and disorders. Our way to chart this unknown domain recapitulates how we have developed medicine in general. First of all, we try to add some order to the complexities of biological phenomena with the use of concepts such as diseases and syndromes (Fig.
1
). Identifying causes may lead to prevention or etiological therapy, and unravelling courses may lead to strategies for reversal or mitigation. However, reality is often much more complex and unpredictable than our concepts. As such, some diseases may be rather mental constructs or oversimplifications, and syndromes may be ragbags: in both cases, they are poor or even misleading guides for therapy.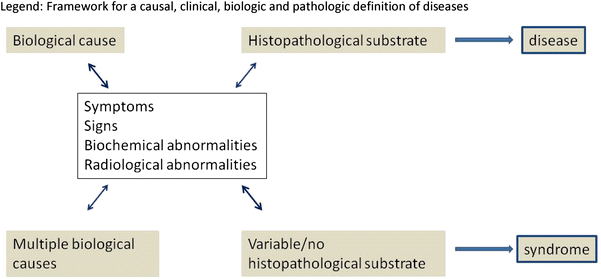 Keywords
Renal Replacement Therapy 
Systemic Inflammatory Response Syndrome 
Bronchiolitis Obliterans 
Relative Adrenal Insufficiency 
Pneumocystis Jiroveci Pneumonia 
These keywords were added by machine and not by the authors. This process is experimental and the keywords may be updated as the learning algorithm improves.
Notes
Acknowledgments
Dr. Salluh is supported in part by individual research grant from CNPq and FAPERJ.
Conflicts of interest
None.
Copyright information
© Springer-Verlag Berlin Heidelberg and ESICM 2015