Abstract
Purpose
Ultrasound measurements of diaphragm thickness (T di) and thickening (TFdi) may be useful to monitor diaphragm activity and detect diaphragm atrophy in mechanically ventilated patients. We aimed to establish the reproducibility of measurements in ventilated patients and determine whether passive inflation by the ventilator might cause thickening apart from inspiratory effort.
Methods
Five observers measured T di and TFdi in 96 mechanically ventilated patients. The probe site was marked in 66 of the 96 patients. TFdi was measured at peak and end-inspiration (airway occluded and diaphragm relaxed) in nine healthy volunteers inhaling to varying lung volumes. The association with diaphragm electrical activity was quantified.
Results
Right hemidiaphragm thickness was obtained on 95 % of attempts; left hemidiaphragm measurements could not be obtained consistently. Right hemidiaphragm thickness measurements were highly reproducible (mean ± SD 2.4 ± 0.8 mm, repeatability coefficient 0.2 mm, reproducibility coefficient 0.4 mm), particularly after marking the location of the probe. TFdi measurements were only moderately reproducible (median 11 %, IQR 3–17 %, repeatability coefficient 17 %, reproducibility coefficient 16 %). TFdi and diaphragm electrical activity were positively correlated, r 2 = 0.32, p < 0.01). At inspiratory volumes below 50 % of inspiratory capacity, passive inflation did not cause diaphragm thickening. TFdi was considerably lower in patients on either partially assisted or controlled ventilation compared to healthy subjects (median 11 vs. 35 %, p < 0.001).
Conclusions
Ultrasound measurements of right hemidiaphragm thickness are feasible and highly reproducible in ventilated patients. At clinically relevant inspiratory volumes, diaphragm thickening reflects muscular contraction and not passive inflation. This technique can be reliably employed to monitor diaphragm thickness, activity, and function during mechanical ventilation.
This is a preview of subscription content, log in to check access.
Access options
Buy single article
Instant access to the full article PDF.
US$ 39.95
Price includes VAT for USA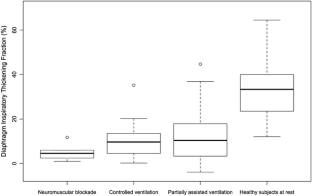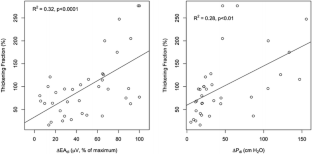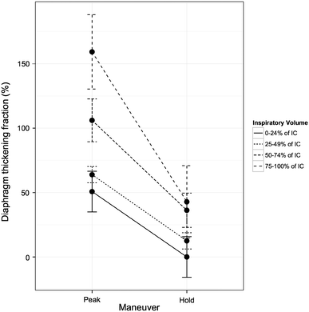 References
1.

Tobin MJ, Laghi F, Jubran A (2010) Narrative review: ventilator-induced respiratory muscle weakness. Ann Intern Med 153:240–245. doi:10.7326/0003-4819-153-4-201008170-00006

2.

De Jonghe B, Bastuji-Garin S, Durand M-C et al (2007) Respiratory weakness is associated with limb weakness and delayed weaning in critical illness. Crit Care Med 35:2007–2015. doi:10.1097/01.ccm.0000281450.01881.d8

3.

Demoule A, Jung B, Prodanovic H et al (2013) Diaphragm dysfunction on admission to the intensive care unit. Prevalence, risk factors, and prognostic impact-a prospective study. Am J Respir Crit Care Med 188:213–219. doi:10.1164/rccm.201209-1668OC

4.

Meade MO, Cook DJ, Guyatt GH et al (2008) Ventilation strategy using low tidal volumes, recruitment maneuvers, and high positive end-expiratory pressure for acute lung injury and acute respiratory distress syndrome: a randomized controlled trial. JAMA 299:637–645. doi:10.1001/jama.299.6.637

5.

Kim WY, Suh HJ, Hong S-B et al (2011) Diaphragm dysfunction assessed by ultrasonography: influence on weaning from mechanical ventilation. Crit Care Med. doi:10.1097/CCM.0b013e3182266408

6.

Laghi F, Tobin MJ (2003) Disorders of the respiratory muscles. Am J Respir Crit Care Med 168:10–48. doi:10.1164/rccm.2206020

7.

Powers SK, Shanely RA, Coombes JS et al (2002) Mechanical ventilation results in progressive contractile dysfunction in the diaphragm. J Appl Physiol 92:1851–1858. doi:10.1152/japplphysiol.00881.2001

8.

Sassoon CSH, Caiozzo VJ, Manka A, Sieck GC (2002) Altered diaphragm contractile properties with controlled mechanical ventilation. J Appl Physiol 92:2585–2595. doi:10.1152/japplphysiol.01213.2001

9.

Levine S, Nguyen T, Taylor N et al (2008) Rapid disuse atrophy of diaphragm fibers in mechanically ventilated humans. N Engl J Med 358:1327–1335. doi:10.1056/NEJMoa070447

10.

Jaber S, Petrof BJ, Jung B et al (2011) Rapidly progressive diaphragmatic weakness and injury during mechanical ventilation in humans. Am J Respir Crit Care Med 183:364–371. doi:10.1164/rccm.201004-0670OC

11.

Doorduin J, van Hees HW, van der Hoeven JG, Heunks LM (2013) Monitoring of the respiratory muscles in the critically ill. Am J Respir Crit Care Med 187:20–27. doi:10.1164/rccm.201206-1117CP

12.

Cattapan SE, Laghi F, Tobin MJ (2003) Can diaphragmatic contractility be assessed by airway twitch pressure in mechanically ventilated patients? Thorax 58:58–62

13.

Man WD-C, Moxham J, Polkey MI (2004) Magnetic stimulation for the measurement of respiratory and skeletal muscle function. Eur Respir J 24:846–860. doi:10.1183/09031936.04.00029004

14.

ATS/ERS statement on respiratory muscle testing. Am J Respir Crit Care Med. 2002;166:518–624. doi: 10.1164/rccm.166.4.518

15.

Anzueto A, Peters JI, Tobin MJ et al (1997) Effects of prolonged controlled mechanical ventilation on diaphragmatic function in healthy adult baboons. Crit Care Med 25:1187–1190

16.

Hooijman PE, Beishuizen A, de Waard MC et al (2014) Diaphragm fiber strength is reduced in critically ill patients and restored by a troponin activator. Am J Respir Crit Care Med 189:863–865. doi:10.1164/rccm.201312-2260LE

17.

Matamis D, Soilemezi E, Tsagourias M et al (2013) Sonographic evaluation of the diaphragm in critically ill patients. Technique and clinical applications. Intensive Care Med 39:801–810. doi:10.1007/s00134-013-2823-1

18.

McCool FD, Tzelepis GE (2012) Dysfunction of the diaphragm. N Engl J Med 366:932–942. doi:10.1056/NEJMra1007236

19.

McCool FD, Benditt JO, Conomos P et al (1997) Variability of diaphragm structure among healthy individuals. Am J Respir Crit Care Med 155:1323–1328. doi:10.1164/ajrccm.155.4.9105074

20.

Baldwin CE, Paratz JD, Bersten AD (2011) Diaphragm and peripheral muscle thickness on ultrasound: intra-rater reliability and variability of a methodology using non-standard recumbent positions. Respirology 16:1136–1143. doi:10.1111/j.1440-1843.2011.02005.x

21.

Cohn D, Benditt JO, Eveloff S, McCool FD (1997) Diaphragm thickening during inspiration. J Appl Physiol 83:291–296

22.

Ueki J, de Bruin PF, Pride NB (1995) In vivo assessment of diaphragm contraction by ultrasound in normal subjects. Thorax 50:1157–1161

23.

McCool FD, Conomos P, Benditt JO et al (1997) Maximal inspiratory pressures and dimensions of the diaphragm. Am J Respir Crit Care Med 155:1329–1334. doi:10.1164/ajrccm.155.4.9105075

24.

Vivier E, Mekontso Dessap A, Dimassi S et al (2012) Diaphragm ultrasonography to estimate the work of breathing during non-invasive ventilation. Intensive Care Med 38:796–803. doi:10.1007/s00134-012-2547-7

25.

Goligher EC, Detsky ME, Farias P, Murray A et al (2010) Validity and reproducibility of sonographic evaluation of diaphragm structure and activity in mechanically ventilated patients. Am J Respir Crit Care Med 181:A6346

26.

Goligher EC, Laghi F, Morales D, Kavanagh BP et al (2013) A Window into the work of breathing: feasibility, precision, and physiological meaning of ultrasound measurements of diaphragm thickness. Crit Care 17(Suppl 2):P145

27.

Gottesman E, McCool FD (1997) Ultrasound evaluation of the paralyzed diaphragm. Am J Respir Crit Care Med 155:1570–1574. doi:10.1164/ajrccm.155.5.9154859

28.

de Bruin PF, Ueki J, Watson A, Pride NB (1997) Size and strength of the respiratory and quadriceps muscles in patients with chronic asthma. Eur Respir J 10:59–64

29.

Laghi F, Shaikh HS, Morales D et al (2014) Diaphragmatic neuromechanical coupling and mechanisms of hypercapnia during inspiratory loading. Respir Physiol Neurobiol 198:32–41. doi:10.1016/j.resp.2014.03.004

30.

Poole DC, Sexton WL, Farkas GA et al (1997) Diaphragm structure and function in health and disease. Med Sci Sports Exerc 29:738–754

31.

Bland JM, Altman DG (1999) Measuring agreement in method comparison studies. Stat Methods Med Res 8:135–160

32.

Bland JM, Altman DG (1986) Statistical methods for assessing agreement between two methods of clinical measurement. Lancet 1:307–310

33.

McAlinden C, Khadka J, Pesudovs K (2011) Statistical methods for conducting agreement (comparison of clinical tests) and precision (repeatability or reproducibility) studies in optometry and ophthalmology. Ophthalmic Physiol Opt 31:330–338. doi:10.1111/j.1475-1313.2011.00851.x

34.

Grosu HB, Lee YI, Lee J et al (2012) Diaphragm muscle thinning in patients who are mechanically ventilated. Chest 142:1455–1460. doi:10.1378/chest.11-1638

35.

Ferrari G, De Filippi G, Elia F et al (2014) Diaphragm ultrasound as a new index of discontinuation from mechanical ventilation. Crit Ultrasound J 6:8. doi:10.1186/2036-7902-6-8

36.

DiNino E, Gartman EJ, Sethi JM, McCool FD (2014) Diaphragm ultrasound as a predictor of successful extubation from mechanical ventilation. Thorax 69:423–427. doi:10.1136/thoraxjnl-2013-204111
Acknowledgments
This study was funded by an operating grant from the Physician Services Incorporated Foundation (Toronto, Canada). E.G. is supported by a Post-Doctoral Fellowship from the Canadian Institutes of Health Research.
Conflicts of interest
On behalf of all the authors, the corresponding author states that there is no conflict of interest.
Additional information
Take-home message:
Diaphragm ultrasound measurements are feasible and highly reproducible in mechanically ventilated patients and provide a valid measure of diaphragm activity during mechanical ventilation. Many ventilated patients exhibit much lower diaphragm activity levels compared to resting tidal breathing in healthy subjects.
Electronic supplementary material
Below is the link to the electronic supplementary material.
About this article
Cite this article
Goligher, E.C., Laghi, F., Detsky, M.E. et al. Measuring diaphragm thickness with ultrasound in mechanically ventilated patients: feasibility, reproducibility and validity. Intensive Care Med 41, 642–649 (2015). https://doi.org/10.1007/s00134-015-3687-3
Received:

Accepted:

Published:

Issue Date:
Keywords
Diaphragm

Artificial respiration

Ultrasonography

Ventilator weaning