Abstract
Purpose
The objective was to compare the effectiveness of repositioning every 2 or 4 h for preventing pressure ulcer development in patients in intensive care unit under mechanical ventilation (MV).
Methods
This was a pragmatic, open-label randomized clinical trial in consecutive patients on an alternating pressure air mattress (APAM) requiring invasive MV for at least 24 h in a university hospital in Spain. Eligible participants were randomly assigned to groups for repositioning every 2 (n = 165) or 4 (n = 164) h. The primary outcome was the incidence of a pressure ulcer of at least grade II during ICU stay.
Results
A pressure ulcer of at least grade II developed in 10.3 % (17/165) of patients turned every 2 h versus 13.4 % (22/164) of those turned every 4 h (hazard ratio [HR] 0.89, 95 % confidence interval [CI] 0.46–1.71, P = 0.73). The composite end point of device-related adverse events was recorded in 47.9 versus 36.6 % (HR 1.50, CI 95 % 1.06–2.11, P = 0.02), unplanned extubation in 11.5 versus 6.7 % (HR 1.77, 95 % CI 0.84–3.75, P = 0. 13), and endotracheal tube obstruction in 36.4 versus 30.5 %, respectively (HR 1.44, 95 % CI 0.98–2.12, P = 0.065). The median (interquartile range) daily nursing workload for manual repositioning was 21 (14–27) versus 11 min/patient (8–15) (P < 0.001).
Conclusions
A strategy aimed at increasing repositioning frequency (2 versus 4 h) in patients under MV and on an APAM did not reduce the incidence of pressure ulcers. However, it did increase device-related adverse events and daily nursing workload.
This is a preview of subscription content, log in to check access.
Access options
Buy single article
Instant access to the full article PDF.
US$ 39.95
Price includes VAT for USA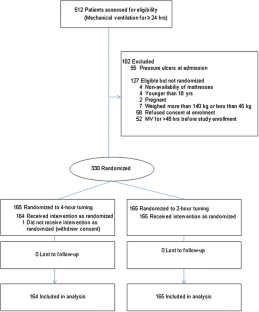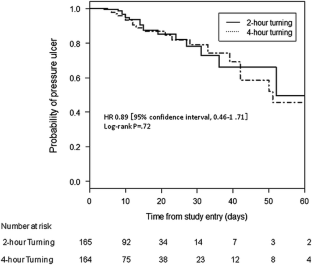 References
1.

Keller BPJA, Wille J, Ramshorst Van, van der Werken C (2002) Pressure ulcers in intensive care patients: a review of risk and prevention. Intensive Care Med 28:1379–1388

2.

Manzano F, Navarro MJ, Roldan D, Moral MA, Leyva I, Guerrero C, Sanchez MA, Colmenero M, Fernandez Mondejar E, Granada UPP Group (2010) Pressure ulcer incidence and risk factors in ventilated intensive care patients. J Crit Care 25:469–476

3.

Reddy M, Gill SS, Rochon PA (2006) Preventing pressure ulcers: a systematic review. JAMA 296:974–984

4.

Gorecki C, Brown JM, Nelson EA, Briggs M, Schoonhoven L, Dealey C, Defloor T, Nixon J, European Quality of Life Pressure Ulcer Project group (2009) Impact of pressure ulcers on quality of life in older patients: a systematic review. J Am Geriatr Soc 57:1175–1183

5.

Posnett J, Franks PJ (2008) The burden of chronic wounds in the UK. Nurs Times 104:44–45

6.

Ayello EA, Lyder CH (2008) A new era of pressure ulcer accountability in acute care. Adv Skin Wound Care 21:134–140

7.

Vanderwee K, Clark M, Dealey C, Gunningberg L, Defloor T (2007) Pressure ulcer prevalence in Europe: a pilot study. J Eval Clin Pract 13:227–235

8.

Agency for Healthcare Policy and Research (1992) Pressure ulcers in adults: prediction and prevention. Clinical practice guideline no. 3. AHCPR Publication No. 92-0047. Public Health Service, US Dept of Health and Human Services, AHCPR, Rockville, MD

9.

de Laat EH, Pickkers P, Schoonhoven L, Verbeek AL, Feuth T, van Achterberg T (2007) Guideline implementation results in a decrease of pressure ulcer incidence in critically ill patients. Crit Care Med 35:815–820

10.

McInnes E, Bell-Syer SE, Dumville JC, Legood R, Cullum NA (2008) Support surfaces for pressure ulcer prevention. Cochrane Database Syst Rev 8(4). doi:10.1002/14651858

11.

Manzano F, Pérez AM, Colmenero M, Aguilar MM, Sánchez-Cantalejo E, Reche AM, Talavera J, López F, Frías-Del Barco S, Fernández-Mondejar E (2013) Comparison of alternating pressure mattresses and overlays for prevention of pressure ulcers in ventilated intensive care patients: a quasi-experimental study. J Adv Nurs 69:2099–2106

12.

Krishnagopalan S, Johnson EW, Low LL, Kaufman LJ (2002) Body positioning of intensive care patients: clinical practice versus standards. Crit Care Med 30:2588–2592

13.

Bours GJ, De Laat E, Halfens RJ, Lubbers M (2001) Prevalence, risk factors and prevention of pressure ulcers in dutch intensive care units. Intensive Care Med 27:1599–1605

14.

Olshansky K (2008) The 10 most important questions concerning pressure ulcers and quality of care. Adv Skin Wound Care 21:505–508

15.

Krapfl LA, Gray M (2008) Does regular repositioning prevent pressure ulcers? J Wound Ostomy Continence Nurs 35:571–577

16.

European Pressure Ulcer Advisory Panel and National Pressure Ulcer Advisory Panel (2009) Treatment of pressure ulcers: quick reference guide. National Pressure Ulcer Advisory Panel, Washington DC. http://www.epuap.org/guidelines/Final_Quick_Treatment.pdf. Accessed 15 June 2014

17.

Johnson AP, Sikich NJ, Evans G, Evans W, Giacomini M, Glendining M, Krahn M, Levin L, Oh P, Perera C (2009) Health technology assessment a comprehensive framework for evidence-based recommendations in Ontario. Int J Technol Assess Health Care 25:141–150

18.

Campbell C, Parish LC (2010) The decubitus ulcer: facts and controversies. Clin Dermatol 28:527–532

19.

Schellongowski P, Losert H, Locker GJ, Laczika K, Frass M, Holzinger U, Bojic A, Staudinger T (2007) Prolonged lateral steep position impairs respiratory mechanics during continuous lateral rotation therapy in respiratory failure. Intensive Care Med 33:625–631

20.

Colmenero M, Manzano F, Perez-Perez AM, Roldan D, Del Moral MA, Sanchez-Moya MA, Mañas-Vera MR, Fernandez-Mondejar E (2012) Effectiveness of a regimen of repositioning every 2 hours versus every 4 hours using alternating pressure mattresses in preventing pressure ulcers in patients on mechanical ventilation. The PUPPAS randomized controlled trial. 25th Annual Congress of the European Society of Intensive Care Medicine, Lisbon, Portugal. Category A, 0851

21.

Girard TD, Kress JP, Fuchs BD, Thomason JW, Schweickert WD, Pun BT, Taichman DB, Dunn JG, Pohlman AS, Kinniry PA, Jackson JC, Canonico AE, Light RW, Shintani AK, Thompson JL, Gordon SM, Hall JB, Dittus RS, Bernard GR, Ely EW (2008) Efficacy and safety of a paired sedation and ventilator weaning protocol for mechanically ventilated patients in intensive care (Awakening and Breathing Controlled trial): a randomised controlled trial. Lancet 12(371):126–134

22.

European Pressure Ulcer Advisory Panel (EPUAP) (1998) Pressure ulcer treatment guidelines. EPUAP, Oxford

23.

Krinsley JS, Barone JE (2005) The drive to survive: unplanned extubation in the ICU. Chest 128:560–566

24.

Caruso P, Denari S, Ruiz SA, Demarzo SE, Deheinzelin D (2009) Saline instillation before tracheal suctioning decreases the incidence of ventilator-associated pneumonia. Crit Care Med 37:32–38

25.

American Thoracic Society; Infectious Diseases Society of America (2005) Guidelines for the management of adults with hospital-acquired, ventilator-associated, and healthcare-associated pneumonia. Am J Respir Crit Care Med 171:388–416

26.

Vanderwee K, Grypdonck MH, De Bacquer D, Defloor T (2007) Effectiveness of turning with unequal time intervals on the incidence of pressure ulcer lesions. J Adv Nurs 57:59–68

27.

Moore Z, Cowman S, Conroy RM (2011) A randomised controlled clinical trial of repositioning, using the 30° tilt, for the prevention of pressure ulcers. J Clin Nurs 20:2633–2644

28.

Defloor T, De Bacquer D, Grypdonck MH (2005) The effect of various combinations of turning and pressure reducing devices on the incidence of pressure ulcers. Int J Nurs Stud 42:37–46

29.

Zwarenstein M, Treweek S, Gagnier JJ, Altman DG, Tunis S, Haynes B, Oxman AD, Moher D, CONSORT group; Pragmatic Trials in Healthcare (Practihc) group (2008) Improving the reporting of pragmatic trials: an extension of the CONSORT statement. BMJ 11(337):a2390. doi:10.1136/bmj.a2390

30.

Nijs N, Toppets A, Defloor T, Bernaerts K, Milisen K, Van Den Berghe G (2009) Incidence and risk factors for pressure ulcers in the intensive care unit. J Clin Nurs 18:1258–1266

31.

Özdemir H, Karadag A (2008) A descriptive study in 3 intensive care units in Turkey. J Wound Ostomy Continence Nurs 35:293–300

32.

Ferguson ND, Fan E, Camporota L, Antonelli M, Anzueto A, Beale R, Brochard L, Brower R, Esteban A, Gattinoni L, Rhodes A, Slutsky AS, Vincent JL, Rubenfeld GD, Thompson BT, Ranieri VM (2012) The Berlin definition of ARDS: an expanded rationale, justification, and supplementary material. Intensive Care Med 38:1573–1582

33.

Girard R, Baboi L, Ayzac L, Richard JC, Guérin C, Proseva trial group (2014) The impact of patient positioning on pressure ulcers in patients with severe ARDS: results from a multicentre randomised controlled trial on prone positioning. Intensive Care Med 40:397–403

34.

Mebazaa A, Parissis J, Porcher R, Gayat E, Nikolaou M, Boas FV, Delgado JF, Follath F (2011) Short-term survival by treatment among patients hospitalized with acute heart failure: the global ALARM-HF registry using propensity scoring methods. Intensive Care Med 37:290–301

35.

Papanikolaou J, Makris D, Saranteas T, Karakitsos D, Zintzaras E, Karabinis A, Kostopanagiotou G, Zakynthinos E (2011) New insights into weaning from mechanical ventilation: left ventricular diastolic dysfunction is a key player. Intensive Care Med 37:1976–1985

36.

Barwing J, Pedroni C, Quintel M, Moerer O (2011) Influence of body position, PEEP and intra-abdominal pressure on the catheter positioning for neurally adjusted ventilatory assist. Intensive Care Med 37:2041–2045
Acknowledgments
We acknowledge the efforts of the Data and Safety Monitoring Board members during the study: José Antonio Ramírez, Miguel Ángel Calleja, Manuela Expósito, Juana de Haro. We also acknowledge all the participants of PUPPAS Study Group: Susana Martínez, Raquel Álvarez-Jiménez, Alicia Jiménez-Pérez, Cristina Garrrido-Colmenero,Vanessa Muñoz, Rafael de la Chica, José Luís Pérez-Quirantes, Samuel Nievas, María Isabel Menéndez, Sonia Ortiz, María Ángeles Carvajal, Juan Alonso Cañadas, María Ángeles Calvo, Gertrudis Sanz, María Mar Marfil, Mª Jesús Machado, Manuel González-Sandoval, Ana de Miguel, Carmen Robles, Ascensión Chamorro, Manuel Baena, María Cruz Medina, Trinidad Jiménez, Olga Erigaray, Mercedes Titos, Arancha González-espigares, Laura Millán, María Mar Aguilar, Juan Talavera, Lourdes Rodríguez, Antonio Escobar, María Dolores Cantero, Clara Rodríguez-Rodríguez, Pilar Toledano, and María Angustias Montijano.
Conflicts of interest
The authors have not disclosed any potential conflicts of interest. This study was sponsored by grants from EFRD (European Fund for Regional Development) and the Spanish Institutes of Health Research (PI10/02923).
Additional information
For the PUPPAS Trial Investigators.
Take-home message:
A schedule of repositioning every 2 h was not superior to every 4 h to prevent pressure ulcers in ICU patients under mechanical ventilation and on modern support surfaces. However, it requires a higher nursing workload and increases the likelihood of an adverse effect.
Electronic supplementary material
Below is the link to the electronic supplementary material.
About this article
Cite this article
Manzano, F., Colmenero, M., Pérez-Pérez, A.M. et al. Comparison of two repositioning schedules for the prevention of pressure ulcers in patients on mechanical ventilation with alternating pressure air mattresses. Intensive Care Med 40, 1679–1687 (2014). https://doi.org/10.1007/s00134-014-3424-3
Received:

Accepted:

Published:

Issue Date:
Keywords
Mechanical ventilation

Pressure ulcer

Prevention

Clinical trial

Repositioning

Intensive care unit