Abstract
Purpose
To explore trends over time in admission prevalence and (risk-adjusted) mortality of critically ill haematological patients and compare these trends to those of several subgroups of patients admitted to the medical intensive care unit (medical ICU patients).
Methods
A total of 1,741 haematological and 60,954 non-haematological patients admitted to the medical ICU were analysed. Trends over time and differences between two subgroups of haematological medical ICU patients and four subgroups of non-haematological medical ICU patients were assessed, as well as the influence of leukocytopenia.
Results
The proportion of haematological patients among all medical ICU patients increased over time [odds ratio (OR) 1.06; 95 % confidence interval (CI) 1.03–1.10 per year; p < 0.001]. Risk-adjusted mortality was significantly higher for haematological patients admitted to the ICU with white blood cell (WBC) counts of <1.0 × 109/L (47 %; 95 % CI 41–54 %) and ≥1.0 × 109/L (45 %; 95 % CI 42–49 %), respectively, than for patients admitted with chronic heart failure (27 %; 95 % CI 26–28 %) and with chronic liver cirrhosis (38 %; 95 % CI 35–42 %), but was not significantly different from patients admitted with solid tumours (40 %; 95 % CI 36–45 %). Over the years, the risk-adjusted hospital mortality rate significantly decreased in both the haematological and non-haematological group with an OR of 0.93 (95 % CI 0.92–0.95) per year. After correction for case-mix using the APACHE-II score (with WBC omitted), a WBC <1.0 × 109/L was not a predictor of mortality in haematological patients (OR 0.86; 95 % CI 0.46–1.64; p = 0.65). We found no case–volume effect on mortality for haematological ICU patients.
Conclusions
An increasing number of haematological patients are being admitted to Dutch ICUs. While mortality is significantly higher in this group of medical ICU patients than in subgroups of non-haematological ones, the former show a similar decrease in raw and risk-adjusted mortality rate over time, while leukocytopenia is not a predictor of mortality. These results suggest that haematological ICU patients have benefitted from improved intensive care support during the last decade.
This is a preview of subscription content, log in to check access.
Access options
Buy single article
Instant access to the full article PDF.
US$ 39.95
Price includes VAT for USA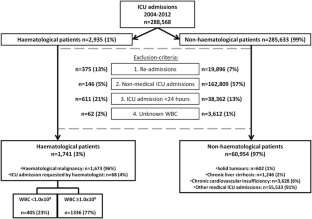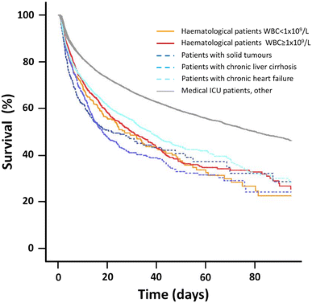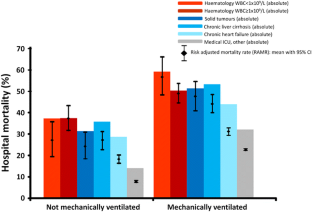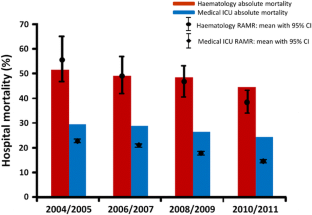 References
1.

Blijlevens NM, Donnelly JP, De Pauw BE (2000) Mucosal barrier injury: biology, pathology, clinical counterparts and consequences of intensive treatment for haematological malignancy: an overview. Bone Marrow Transpl 25:1269–1278

2.

Bird GT, Farquhar-Smith P, Wigmore T, Potter M, Gruber PC (2012) Outcomes and prognostic factors in patients with haematological malignancy admitted to a specialist cancer intensive care unit: a 5 yr study. Br J Anaesth 108:452–459

3.

Schellongowski P, Staudinger T, Kundi M, Laczika K, Locker GJ, Bojic A, Robak O, Fuhrmann V, Jager U, Valent P, Sperr WR (2011) Prognostic factors for intensive care unit admission, intensive care outcome, and post-intensive care survival in patients with de novo acute myeloid leukemia: a single center experience. Haematologica 96:231–237

4.

Atallah E, Cortes J, O'Brien S, Pierce S, Rios MB, Estey E, Markman M, Keating M, Freireich EJ, Kantarjian H (2007) Establishment of baseline toxicity expectations with standard frontline chemotherapy in acute myelogenous leukemia. Blood 110:3547–3551

5.

Afessa B, Azoulay E (2010) Critical care of the hematopoietic stem cell transplant recipient. Crit Care Clin 26:133–150

6.

Groeger JS, White P Jr, Nierman DM, Glassman J, Shi W, Horak D, Price K (1999) Outcome for cancer patients requiring mechanical ventilation. J Clin Oncol 17:991–997

7.

Bos MM, de Keizer NF, Meynaar IA, Bakhshi-Raiez F, de Jonge E (2012) Outcomes of cancer patients after unplanned admission to general intensive care units. Acta Oncol 51(7):897–905

8.

Moran JL, Solomon PJ, Outcome ACF, Resource Evaluation of the A, New Zealand Intensive Care S (2012) Mortality and intensive care volume in ventilated patients from 1995 to 2009 in the Australian and New Zealand binational adult patient intensive care database*. Crit Care Med 40:800–812

9.

Hill QA (2010) Intensify, resuscitate or palliate: decision making in the critically ill patient with haematological malignancy. Blood Rev 24:17–25

10.

Azoulay E, Afessa B (2006) The intensive care support of patients with malignancy: do everything that can be done. Intensive Care Med 32:3–5

11.

Souza-Dantas VC, Salluh JI, Soares M (2011) Impact of neutropenia on the outcomes of critically ill patients with cancer: a matched case-control study. Ann Oncol 22:2094–2100

12.

Azoulay E, Soares M, Darmon M, Benoit D, Pastores S, Afessa B (2011) Intensive care of the cancer patient: recent achievements and remaining challenges. Ann Intensive Care 1:5

13.

Knaus WA, Draper EA, Wagner DP, Zimmerman JE (1985) Apache-II—a severity of disease classification-system. Crit Care Med 13:818–829

14.

Arts D, de Keizer N, Scheffer GJ, de Jonge E (2002) Quality of data collected for severity of illness scores in the Dutch National Intensive Care Evaluation (NICE) registry. Intensive Care Med 28:656–659

15.

Koetsier A, Peek N, de Keizer N (2012) Identifying types and causes of errors in mortality data in a clinical registry using multiple information systems. Stud Health Technol Inform 180:771–775

16.

R Development Core Team (2005) R: A language and environment for statistical computing. R Foundation for Statistical Computing, Vienna

17.

Azoulay E, Mokart D, Pene F, Lambert J, Kouatchet A, Mayaux J, Vincent F, Nyunga M, Bruneel F, Laisne LM, Rabbat A, Lebert C, Perez P, Chaize M, Renault A, Meert AP, Benoit D, Hamidfar R, Jourdain M, Darmon M, Schlemmer B, Chevret S, Lemiale V (2013) Outcomes of critically ill patients with hematologic malignancies: prospective multicenter data from France and Belgium—groupe de recherche respiratoire en reanimation onco-hematologique study. J Clin Oncol 31:2810–2818

18.

Hampshire PA, Welch CA, McCrossan LA, Francis K, Harrison DA (2009) Admission factors associated with hospital mortality in patients with haematological malignancy admitted to UK adult, general critical care units: a secondary analysis of the ICNARC Case Mix Programme Database. Crit Care 13:R137

19.

Legrand M, Max A, Peigne V, Mariotte E, Canet E, Debrumetz A, Lemiale V, Seguin A, Darmon M, Schlemmer B, Azoulay E (2012) Survival in neutropenic patients with severe sepsis or septic shock. Crit Care Med 40:43–49

20.

Gooley TA, Chien JW, Pergam SA, Hingorani S, Sorror ML, Boeckh M, Martin PJ, Sandmaier BM, Marr KA, Appelbaum FR, Storb R, McDonald GB (2010) Reduced mortality after allogeneic hematopoietic-cell transplantation. N Engl J Med 363:2091–2101

21.

Townsend WM, Holroyd A, Pearce R, Mackinnon S, Naik P, Goldstone AH, Linch DC, Peggs KS, Thomson KJ, Singer M, Howell DC, Morris EC (2013) Improved intensive care unit survival for critically ill allogeneic haematopoietic stem cell transplant recipients following reduced intensity conditioning. Br J Haematol 161:578–586

22.

Lecuyer L, Chevret S, Guidet B, Aegerter P, Martel P, Schlemmer B, Azoulay E (2008) Case volume and mortality in haematological patients with acute respiratory failure. Eur Respir J 32:748–754

23.

Zuber B, Tran T-C, Aegerter P, Grimaldi D, Charpentier J, Guidet B, Mira J-P, Pene F, Network CU-R, Brivet F, Bedos JP, Vieillard-Baron A, Cohen Y, Labrousse J, Safar M, Richard C, Wolff M, Caen D, Mira JP, Fraisse F, Kalfon P, Fagon JY, Blin F, Brun-Buisson C, Rabbat A, Nitemberg G, Dhonneur G, Dreyfus D, Baud F, Coulaud JM, Pallot L, Bismuth H, Similowski T, Chastre J, Bolgert F, Ricome JL, Outin H, Zarka D, Annane D, Guidet B, Misset B, Schlemmer B, Jacob L, Parrot A, Bonnet F, Mentec H (2012) Impact of case volume on survival of septic shock in patients with malignancies. Crit Care Med 40:55–62

24.

Pene F, Aubron C, Azoulay E, Blot F, Thiery G, Raynard B, Schlemmer B, Nitenberg G, Buzyn A, Arnaud P, Socie G, Mira JP (2006) Outcome of critically ill allogeneic hematopoietic stem-cell transplantation recipients: a reappraisal of indications for organ failure supports. J Clin Oncol 24:643–649

25.

Depuydt P, Kerre T, Noens L, Nollet J, Offner F, Decruyenaere J, Benoit D (2011) Outcome in critically ill patients with allogeneic BM or peripheral haematopoietic SCT: a single-centre experience. Bone Marrow Transpl 46:1186–1191

26.

Namendys-Silva SA, Gonzalez-Herrera MO, Garcia-Guillen FJ, Texcocano-Becerra J, Herrera-Gomez A (2013) Outcome of critically ill patients with hematological malignancies. Ann Hematol 92:699–705

27.

Antonelli M, Bonten M, Chastre J, Citerio G, Conti G, Curtis JR, De Backer D, Hedenstierna G, Joannidis M, Macrae D, Mancebo J, Maggiore SM, Mebazaa A, Preiser J-C, Rocco P, Timsit J-F, Wernerman J, Zhang H (2012) Year in review in Intensive Care Medicine 2011. II. Cardiovascular, infections, pneumonia and sepsis, critical care organization and outcome, education, ultrasonography, metabolism and coagulation. Intensive Care Med 38:345–358

28.

Antonelli M, Bonten M, Chastre J, Citerio G, Conti G, Curtis JR, De Backer D, Hedenstierna G, Joannidis M, Macrae D, Mancebo J, Maggiore SM, Mebazaa A, Preiser J-C, Rocco P, Timsit J-F, Wernerman J, Zhang H (2012) Year in review in Intensive Care Medicine 2011: iII. ARDS and ECMO, weaning, mechanical ventilation, noninvasive ventilation, pediatrics and miscellanea. Intensive Care Med 38:542–556

29.

Oeyen SG, Benoit DD, Annemans L, Depuydt PO, Van Belle SJ, Troisi RI, Noens LA, Pattyn P, Decruyenaere JM (2013) Long-term outcomes and quality of life in critically ill patients with hematological or solid malignancies: a single center study. Intensive Care Med 39:889–898

30.

van Vliet M, van den Boogaard M, Donnelly JP, Evers AW, Blijlevens NM, Pickkers P (2014) Long-term health related quality of life following intensive care during treatment for haematological malignancies. PLoS One 9:e87779

31.

Song J-U, Suh GY, Park HY, Lim SY, Han SG, Kang YR, Kwon OJ, Woo S, Jeon K (2012) Early intervention on the outcomes in critically ill cancer patients admitted to intensive care units. Intensive Care Med 38:1505–1513

32.

van der Velden WJ, Blijlevens NM, Feuth T, Donnelly JP (2009) Febrile mucositis in haematopoietic SCT recipients. Bone Marrow Transpl 43:55–60

33.

Massion PB, Dive AM, Doyen C, Bulpa P, Jamart J, Bosly A, Installe E (2002) Prognosis of hematologic malignancies does not predict intensive care unit mortality. Crit Care Med 30:2260–2270
Acknowledgments
We acknowledge all participating ICUs of the National Intensive Care Registry for contributing patient data for analysis.
Conflicts of interest
None.
Additional information
M. van Vliet and I. W. M. Verburg contributed equally to this work.
Take-home message: The survival of haematological ICU patients in both the ICU and hospital in The Netherlands has improved over time, as has that of non-haematological medical ICU patients. Leukocytopenia itself is not a predictor of mortality. These results indicate that intensive supportive care for patients with haematological malignancies should be available without delay, irrespective of their WBC count.
About this article
Cite this article
van Vliet, M., Verburg, I.W.M., van den Boogaard, M. et al. Trends in admission prevalence, illness severity and survival of haematological patients treated in Dutch intensive care units. Intensive Care Med 40, 1275–1284 (2014). https://doi.org/10.1007/s00134-014-3373-x
Received:

Accepted:

Published:

Issue Date:
Keywords
ICU outcome

Haematological malignancy

Prospective intensive care evaluation

Illness severity