Abstract
Purpose
Use of ultrasound (US) when introducing central venous catheters (CVC) may improve success rates, reduce the number of needle punctures, and decrease complication rates, but has been hampered by supposed difficulty in learning how to perform the technique. This study describes the learning curve for US-guided jugular CVC placement after a training program.
Methods
After an initial slide presentation and a video, intensivists who had not previously used US for CVC placement were evaluated qualitatively for US set up (score S1) and technical skills (score S2). Quantitative measures included durations of different components of the procedure (T 1, time from entry of the US into the patient's room to sterile dressing of the intensivist; T 2, time needed for sterile drapes, venous line preparation, and sterile sheath placement; T 3, time from skin puncture to venous flashback; T 4, time from guide insertion to dressing; T tot, total duration of the procedure); number of skin punctures; and a difficulty score allocated by the intensivist.
Results
We performed 150 evaluations of 30 intensivists: 50 % had no prior experience of CVC placement and 50 % no prior US experience. Maximal S1 and S2 scores were obtained with the fourth and eighth placement procedures, respectively. T 1 and T 2 did not change with ongoing training (5 and 8 min, respectively), but T 3 and T 4 decreased, from 5 min (first procedure) to less than 1 min (seventh procedure), and from 10 min (first procedure) to 7 min (sixth procedure), respectively. T tot decreased from 34 to 21 min at the eighth procedure. The number of skin punctures and the difficulty score decreased rapidly with the number of evaluations.
Conclusions
Our study demonstrates that skills in US-guided CVC placement can easily be acquired with training.
This is a preview of subscription content, log in to check access.
Access options
Buy single article
Instant unlimited access to the full article PDF.
US$ 39.95
Price includes VAT for USA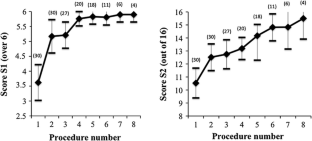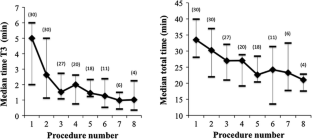 References
1.

Feller-Kopman D (2007) Ultrasound-guided internal jugular access: a proposed standardized approach and implications for training and practice. Chest 132:302–309

2.

McGee DC, Gould MK (2003) Preventing complications of central venous catheterization. N Engl J Med 348:1123–1133

3.

Hind D, Calvert N, McWilliams R, Davidson A, Paisley S, Beverley C, Thomas S (2003) Ultrasonic locating devices for central venous cannulation: meta-analysis. BMJ 327:361

4.

Dodge KL, Lynch CA, Moore CL, Biroscak BJ, Evans LV (2012) Use of ultrasound guidance improves central venous catheter insertion success rates among junior residents. J Ultrasound Med 31:1519–1526

5.

Lamperti M, Bodenham AR, Pittiruti M, Blaivas M, Augoustides JG, Elbarbary M, Pirotte T, Karakitsos D, Ledonne J, Doniger S, Scoppettuolo G, Feller-Kopman D, Schummer W, Biffi R, Desruennes E, Melniker LA, Verghese ST (2012) International evidence-based recommendations on ultrasound-guided vascular access. Intensive Care Med 38:1105–1117

6.

Antonelli M, Bonten M, Cecconi M, Chastre J, Citerio G, Conti G, Curtis JR, Hedenstierna G, Joannidis M, Macrae D, Maggiore SM, Mancebo J, Mebazaa A, Preiser JC, Rocco P, Timsit JF, Wernerman J, Zhang H (2013) Year in review in Intensive Care Medicine 2012. II: pneumonia and infection, sepsis, coagulation, hemodynamics, cardiovascular and microcirculation, critical care organization, imaging, ethics and legal issues. Intensive Care Med 39:345–364

7.

Shojania KG, Duncan BW, McDonald KM, Wachter RM, Markowitz AJ (2001) Making health care safer: a critical analysis of patient safety practices. Evid Rep Technol Assess (Summ) 43:i-x (1–668)

8.

Howard S (2004) A survey measuring the impact of NICE guidance 49: the use of ultrasound locating devices for placing central venous catheters. Abacus International Survey, Bicester

9.

National Institute for Clinical Excellence (2002) Guidance on the use of ultrasound locating devices for placing central venous catheters. National Institute for Clinical Excellence, London. www.nice.org.uk. Accessed 15 Dec 2011

10.

Blaivas M, Adhikari S (2009) An unseen danger: frequency of posterior vessel wall penetration by needles during attempts to place internal jugular vein central catheters using ultrasound guidance. Crit Care Med 37:2345–2349 (quiz 2359)

11.

Karakitsos D, Labropoulos N, De Groot E, Patrianakos AP, Kouraklis G, Poularas J, Samonis G, Tsoutsos DA, Konstadoulakis MM, Karabinis A (2006) Real-time ultrasound-guided catheterisation of the internal jugular vein: a prospective comparison with the landmark technique in critical care patients. Crit Care 10:R162

12.

Milling TJ Jr, Rose J, Briggs WM, Birkhahn R, Gaeta TJ, Bove JJ, Melniker LA (2005) Randomized, controlled clinical trial of point-of-care limited ultrasonography assistance of central venous cannulation: the Third Sonography Outcomes Assessment Program (SOAP-3) Trial. Crit Care Med 33:1764–1769

13.

Froehlich CD, Rigby MR, Rosenberg ES, Li R, Roerig PL, Easley KA, Stockwell JA (2009) Ultrasound-guided central venous catheter placement decreases complications and decreases placement attempts compared with the landmark technique in patients in a pediatric intensive care unit. Crit Care Med 37:1090–1096

14.

Slama M, Novara A, Safavian A, Ossart M, Safar M, Fagon JY (1997) Improvement of internal jugular vein cannulation using an ultrasound-guided technique. Intensive Care Med 23:916–919

15.

Wigmore TJ, Smythe JF, Hacking MB, Raobaikady R, MacCallum NS (2007) Effect of the implementation of NICE guidelines for ultrasound guidance on the complication rates associated with central venous catheter placement in patients presenting for routine surgery in a tertiary referral centre. Br J Anaesth 99:662–665

16.

Maecken T, Grau T (2007) Ultrasound imaging in vascular access. Crit Care Med 35:S178–S185

17.

Gray AT (2006) Ultrasound-guided regional anesthesia: current state of the art. Anesthesiology 104:368–373 (discussion 365A)
Conflicts of interest
On behalf of all authors, the corresponding author states that there is no conflict of interest.
Additional information
Take home message: After a standardized teaching program, an ultrasound-guided central venous catheter placement technique can be rapidly learned even by novices.
Tweet: After a standardized teaching program, a US-guided CVC placement technique can be rapidly learned even by novices.
Electronic supplementary material
Below is the link to the electronic supplementary material.
Supplementary material 1 (MPG 71499 kb)
About this article
Cite this article
Nguyen, B., Prat, G., Vincent, J. et al. Determination of the learning curve for ultrasound-guided jugular central venous catheter placement. Intensive Care Med 40, 66–73 (2014). https://doi.org/10.1007/s00134-013-3069-7
Received:

Accepted:

Published:

Issue Date:
Keywords
Ultrasound

Central venous catheter

Education

Learning curve