Abstract
Purpose
Vancomycin has been used in patients with sepsis infected by MRSA and shows large interindividual variability in its dosing. In this observational study the potential influence of sepsis status on the vancomycin dose requirement in relation to systemic inflammatory response syndrome (SIRS) criteria was assessed.
Methods
From about 250 patients receiving serum vancomycin monitoring from May 2006 to April 2011 at the Osaka National Hospital, 105 adult patients who had been assessed using the SIRS criteria were identified. Patients on chemotherapy or intermittent positive pressure ventilation in whom the SIRS criteria could not accurately evaluate inflammatory status were excluded. Using two vancomycin serum concentrations at peak and trough, individual pharmacokinetic parameters were calculated by the Bayesian estimation method using a two-compartment model. Creatinine clearance rate was estimated by the Cockcroft-Gault formula (eCcr).
Results
Patients with SIRS had a significantly higher vancomycin clearance than those without SIRS, indicating that SIRS patients had a higher elimination capacity. The vancomycin clearance was positively correlated with the SIRS score defined as the number of positive items in the criteria, and negatively with age, except in patients with renal dysfunction. A linear relationship between the vancomycin clearance and eCcr remained even in the supernormal eCcr phase (more than approximately 120 mL/min).
Conclusions
This study provides a new insight into the need for quick prediction of dose requirement. That is, an increased vancomycin dosage would be needed in patients with a higher SIRS score to maintain the therapeutic target concentration, in particular in those with a high eCcr value.
This is a preview of subscription content, log in to check access.
We're sorry, something doesn't seem to be working properly.
Please try refreshing the page. If that doesn't work, please contact support so we can address the problem.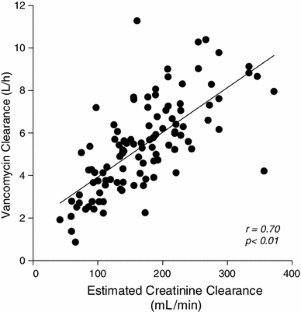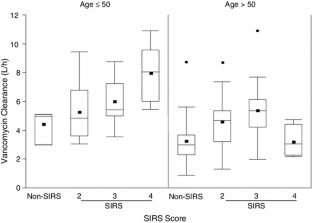 References
1.

Kirby WM (1984) Vancomycin therapy of severe staphylococcal infections. J Antimicrob Chemother 14(Suppl D):73–78

2.

Brumfitt W, Hamilton-Miller J (1989) Methicillin-resistant Staphylococcus aureus. N Engl J Med 320(18):1188–1196

3.

Matzke GR, Zhanel GG, Guay DR (1986) Clinical pharmacokinetics of vancomycin. Clin Pharmacokinet 11(4):257–282

4.

Matzke GR, McGory RW, Halstenson CE, Keane WF (1984) Pharmacokinetics of vancomycin in patients with various degrees of renal function. Antimicrob Agents Chemother 25(4):433–437

5.

Rodvold KA, Blum RA, Fischer JH, Zokufa HZ, Rotschafer JC, Crossley KB, Riff LJ (1988) Vancomycin pharmacokinetics in patients with various degrees of renal function. Antimicrob Agents Chemother 32(6):848–852

6.

Roberts JA, Lipman J (2006) Antibacterial dosing in intensive care: pharmacokinetics, degree of disease and pharmacodynamics of sepsis. Clin Pharmacokinet 45(8):755–773

7.

Nystrom PO (1998) The systemic inflammatory response syndrome: definitions and aetiology. J Antimicrob Chemother 41(Suppl A):1–7

8.

American College of Chest Physicians/Society of Critical Care Medicine Consensus Conference (1992) Definitions for sepsis and organ failure and guidelines for the use of innovative therapies in sepsis. Crit Care Med 20(6):864–874

9.

Yasuhara M, Iga T, Zenda H, Okumura K, Oguma T, Yano Y, Hori R (1998) Population pharmacokinetics of vancomycin in Japanese adult patients. Ther Drug Monit 20(2):139–148

10.

Cockcroft DW, Gault MH (1976) Prediction of creatinine clearance from serum creatinine. Nephron 16(1):31–41

11.

Udy AA, Roberts JA, Boots RJ, Paterson DL, Lipman J (2010) Augmented renal clearance: implications for antibacterial dosing in the critically ill. Clin Pharmacokinet 49(1):1–16

12.

Baptista JP, Sousa E, Martins PJ, Pimentel JM (2012) Augmented renal clearance in septic patients and implications for vancomycin optimisation. Int J Antimicrob Agents 39(5):420–423

13.

Troger U, Drust A, Martens-Lobenhoffer J, Tanev I, Braun-Dullaeus RC, Bode-Boger SM (2012) Decreased meropenem levels in intensive care unit patients with augmented renal clearance: benefit of therapeutic drug monitoring. Int J Antimicrob Agents 40(4):370–372

14.

Udy AA, Putt MT, Boots RJ, Lipman J (2011) ARC – augmented renal clearance. Curr Pharm Biotechnol 12(12):2020–2029

15.

Udy AA, Roberts JA, Lipman J (2011) Implications of augmented renal clearance in critically ill patients. Nat Rev Nephrol 7(9):539–543

16.

Varghese JM, Roberts JA, Lipman J (2011) Antimicrobial pharmacokinetic and pharmacodynamic issues in the critically ill with severe sepsis and septic shock. Crit Care Clin 27(1):19–34

17.

Roberts JA, Lipman J (2009) Pharmacokinetic issues for antibiotics in the critically ill patient. Crit Care Med 37(3):840–851

18.

Knudsen JD, Fuursted K, Raber S, Espersen F, Frimodt-Moller N (2000) Pharmacodynamics of glycopeptides in the mouse peritonitis model of Streptococcus pneumoniae or Staphylococcus aureus infection. Antimicrob Agents Chemother 44(5):1247–1254

19.

Moise-Broder PA, Forrest A, Birmingham MC, Schentag JJ (2004) Pharmacodynamics of vancomycin and other antimicrobials in patients with Staphylococcus aureus lower respiratory tract infections. Clin Pharmacokinet 43(13):925–942

20.

Matsuo S, Imai E, Horio M, Yasuda Y, Tomita K, Nitta K, Yamagata K, Tomino Y, Yokoyama H, Hishida A (2009) Revised equations for estimated GFR from serum creatinine in Japan. Am J Kidney Dis 53(6):982–992
Conflicts of interest
The authors declare no conflict of interest.
Electronic supplementary material
Below are the links to the electronic supplementary material.
About this article
Cite this article
Shimamoto, Y., Fukuda, T., Tanaka, K. et al. Systemic inflammatory response syndrome criteria and vancomycin dose requirement in patients with sepsis. Intensive Care Med 39, 1247–1252 (2013). https://doi.org/10.1007/s00134-013-2909-9
Received:

Accepted:

Published:

Issue Date:
Keywords
SIRS criteria

Sepsis

Vancomycin

Clearance

Vancomycin dosage

Augmented renal clearance