Abstract
Objectives
To report on the monitoring of diaphragm electrical activity (Edi) using neurally adjusted ventilator assist (NAVA) technology to investigate the mechanisms of ventilator dependence in children with neuromuscular and respiratory control disorders.
Patients and methods
Using NAVA technology, electrical activity of the diaphragm (Edi) was monitored at the lowest achievable level of respiratory support in six ventilator-dependent patients with neuromuscular and respiratory control disorders, aged 6 weeks to 12 years, admitted to a tertiary paediatric intensive care unit between 2009 and 2011.
Results
Edi monitoring identified markedly abnormal respiratory dynamic patterns that were not always apparent clinically. These were associated with disorders of central respiratory control, muscle weakness and diaphragm pathology.
Conclusions
Edi monitoring using NAVA technology is a valuable, minimally invasive, diagnostic adjunct in children with neuromuscular and respiratory control disorders who are ventilator-dependent.
This is a preview of subscription content, log in to check access.
Access options
Buy single article
Instant access to the full article PDF.
US$ 39.95
Price includes VAT for USA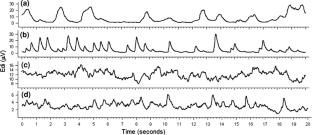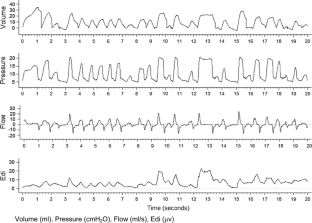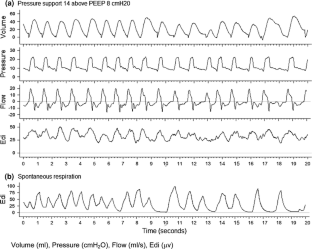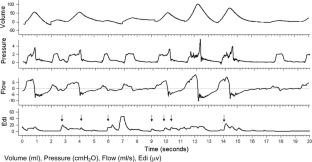 References
1.

Goldstone J (2002) The pulmonary physician in critical care. 10: difficult weaning. Thorax 57:986–991

2.

Sinderby C, Navalesi P, Beck J, Skrobik Y, Comtois N, Friberg S, Gottfried SB, Lindström L (1999) Neural control of mechanical ventilation in respiratory failure. Nat Med 5:1433–1436

3.

Sinderby C, Saphija J, Beck J (2004) Neurally adjusted ventilatory assist. In: Slutksy AS, Brochard L (eds) Mechanical ventilation. Update in Intensive Care Medicine, Springer, pp 125–134

5.

Barwing J, Ambold M, Linden N, Quintel M, Moerer O (2009) Evaluation of the catheter positioning for neurally adjusted ventilatory assist. Intensive Care Med 35:1809–1814

6.

Ogier M, Katz DM (2008) Breathing dysfunction in Rett syndrome: understanding epigenetic regulation of the respiratory network. Respir Physiol Neurobiol 164:55–63

7.

Julu PO, Kerr AM, Apartopoulos F, Al-Rawas S, Engerström IW, Engerström L, Jamal GA, Hansen S (2001) Characterisation of breathing and associated central autonomic dysfunction in the Rett disorder. Arch Dis Child 85:29–37

8.

Emeriaud G, Beck J, Tucci M, Lacroix J, Sinderby C (2006) Diaphragm electrical activity during expiration in mechanically ventilated infants. Pediatr Res 59:705–710

9.

Forrest KM, Al-Sarraj S, Sewry C, Buk S, Tan SV, Pitt M, Durward A, McDougall M, Irving M, Hanna MG, Matthews E, Sarkozy A, Hudson J, Barresi R, Bushby K, Jungbluth H, Wraige E (2011) Infantile onset myofibrillar myopathy due to recessive CRYAB mutations. Neuromuscul Disord 21:37–40

10.

Goldfarb LG, Vicart P, Goebel HH, Dalakas MC (2004) Desmin myopathy. Brain 127:723–734

11.

Dubowitz V (1999) Very severe spinal muscular atrophy (SMA type 0): an expanding clinical phenotype. Eur J Paediatr Neurol 3:49–51

12.

Bordessoule A, Emeriaud G, Dlenard N, Beck J, Jouvet P (2010) Recording diaphragm activity by an oesophageal probe: a new tool to evaluate the recovery of diaphragmatic paralysis. Intensive Care Med 36:1978–1979
Appendix: NAVA catheter positioning
Appendix: NAVA catheter positioning
As referenced in the main text, the NAVA catheter was positioned as previously described. The appropriately sized catheter was selected by the child's age, as recommended by the manufacturer. The 'NEX' (nose-ear-xiphisternum) technique was used to estimate catheter length, and the correct position was confirmed by inspection of the four oesophageal ECG tracings, with the blue markers present in the two middle tracings [4, 5].
About this article
Cite this article
Fine-Goulden, M.R., Puppala, N.K. & Durward, A. Mechanisms of ventilator dependence in children with neuromuscular and respiratory control disorders identified by monitoring diaphragm electrical activity. Intensive Care Med 38, 2072–2079 (2012). https://doi.org/10.1007/s00134-012-2724-8
Received:

Accepted:

Published:

Issue Date:
Keywords
Neurally adjusted ventilator assist (NAVA)

Diaphragm

Fatigue

Children

Ventilator asynchrony