Abstract
Purpose
To evaluate whether an in-line filter inserted in the syringe pump infusion line assembly influences start-up times and flow irregularities during vertical pump displacement at low infusion rates.
Methods
Fluid delivery after syringe pump start-up and after vertical displacement of the syringe pump by −50 cm was determined gravimetrically at flow rates of 0.5, 1.0 and 2.0 ml h−1. Measurements were repeated for each flow rate four times with two different syringe pumps with and without an in-line filter incorporated. Data are shown as median and range.
Results
Start-up times were reduced by an in-line filter at 0.5 ml h−1 flow rate from 355.5 s (0–660) to 115 s (0–320), whereas the effect was attenuated at higher flow rates. Pooling of fluid into the infusion system after lowering the infusion syringe pump was halved in all flow rates tested. Amount of infusion bolus after elevating the syringe pump by 50 cm was not affected by an in-line filter.
Conclusion
In the evaluated model in-line filters help to reduce flow irregularities and delay in drug delivery of syringe pumps at low flow rates and represent an option to optimize continuous administration of highly concentrated short-acting drugs at very small infusion rates.
This is a preview of subscription content, log in to check access.
Access options
Buy single article
Instant access to the full article PDF.
US$ 39.95
Price includes VAT for USA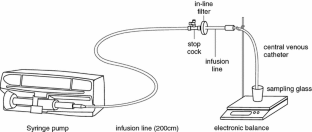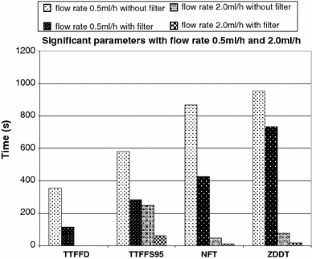 References
1.

Rooke GA, Bowdle TA (1994) Syringe pumps for infusion of vasoactive drugs: mechanical idiosyncrasies and recommended operating procedures. Anesth Analg 78:150–156

2.

Lonnqvist PA, Lofqvist B (1997) Design flaw can convert commercially available continuous syringe pumps to intermittent bolus injectors. Intensive Care Med 23:998–1001

3.

Kern H, Kuring A, Redlich U, Dopfmer UR, Sims NM, Spies CD, Kox WJ (2001) Downward movement of syringe pumps reduces syringe output. Br J Anaesth 86:828–831

4.

Neff T, Fischer J, Fehr S, Baenziger O, Weiss M (2001) Evaluation of the FASTSTART mode for reducing start-up delay in syringe pump infusion systems. Swiss Med Wkly 131:219–222

5.

Neff T, Fischer J, Fehr S, Baenziger O, Weiss M (2001) Start-up delays of infusion syringe pumps. Paediatr Anaesth 11:561–565

6.

Weiss M, Fischer J, Neff T, Baenziger O (2000) The effects of syringe plunger design on drug delivery during vertical displacement of syringe pumps. Anaesthesia 55:1094–1098

7.

Neff TA, Fischer JE, Schulz G, Baenziger O, Weiss M (2001) Infusion pump performance with vertical displacement: effect of syringe pump and assembly type. Intensive Care Med 27:287–291

8.

Weiss M, Baenziger O, Neff T, Fanconi S (2000) Influence of infusion line compliance on drug delivery rate during acute line loop formation. Intensive Care Med 26:776–779

9.

Weiss M, Hug MI, Neff T, Fischer J (2000) Syringe size and flow rate affect drug delivery from syringe pumps. Can J Anesth 47:1031–1035

10.

Cook RI (2000) Syringe pump assemblies and the natural history of clinical technology. Can J Anesth 47:929–935

11.

Leff RD, True WR, Roberts RJ (1987) A gravimetric technique for evaluating flow continuity from two infusion devices. Am J Hosp Pharm 44:1388–1391

12.

Trautmann M, Zauser B, Wiedeck H, Buutenschön K, Marre R (2001) Bacterial colonization and endotoxin contamination of intravenous fluids. J Hosp Infect 37:225–236

13.

Jack T, Brent BE, Boehne M, Müller M, Sewald K, Braun A, Wessel A, Sasse M (2010) Analysis of particulate contaminations of infusion solutions in a pediatric intensive care unit. Intensive Care Med 36:707–711

14.

Kunac DL, Ball PA, Broadbet RS (1999) In-line intravenous filtration in neonates: help not hindrance. Aust J Hosp Pharm 29:321–327

15.

Ball PA (2003) Intravenous in-line filters: filtering the evidence. Curr Opin Clin Nutr Metab Care 6:319–325
Acknowledgments
We thank René Bolz (hospital medical technician) for his technical support and Susanne Staubli (graphic artist) for her support.
Additional information
B. Brotschi and B. Grass contributed equally to the study.
About this article
Cite this article
Brotschi, B., Grass, B., Weiss, M. et al. In-line filter included into the syringe infusion pump assembly reduces flow irregularities. Intensive Care Med 38, 518–522 (2012). https://doi.org/10.1007/s00134-011-2452-5
Received:

Accepted:

Published:

Issue Date:
Keywords
Infusion pump

Syringe

In-line filter

Compliance

Complications

Equipment