Abstract
Purpose
Retrospective study of prospectively collected data to assess the reliability of cervical magnetic stimulation (CMS) to detect prolonged phrenic nerve (PN) conduction time at the bedside. Because PN injuries may cause diaphragm dysfunction, their diagnosis is relevant in intensive care units (ICU). This is achieved by studying latency and amplitude of diaphragm response to PN stimulation. Electrical stimulation (ES) is the gold standard, but it is difficult to perform in the ICU. CMS is an easy noninvasive tool to assess PN integrity, but co-activates muscles that could contaminate surface chest electromyographic recordings.
Methods
In a first set of 56 ICU patients with suspected PN injury, presence and latency of compound motor action potentials elicited by CMS and ES were compared. With ES as the reference method, CMS was evaluated as a test designed to indicate presence or absence of PN injury. In eight additional patients, intramuscular diaphragm recordings were compared with surface diaphragm recordings and with the electromyograms of possible contamination sources.
Results
The sensitivity of CMS to diagnose abnormal PN conduction was 0.91, and specificity was 0.84, whereas positive and negative predictive values were 0.81 and 0.92, respectively. Passing–Bablok regression analysis suggested no differences between the two measures. The correlation between PN latency in response to CMS and ES was significant. The "diaphragm surface" and "needle" latencies were close, and were significantly different from those of possibly contaminating muscles. One hemidiaphragm showed likely signal contamination.
Conclusion
CMS provides an easy reliable tool to detect prolonged PN conduction time in the ICU.
This is a preview of subscription content, log in to check access.
Access options
Buy single article
Instant access to the full article PDF.
US$ 39.95
Price includes VAT for USA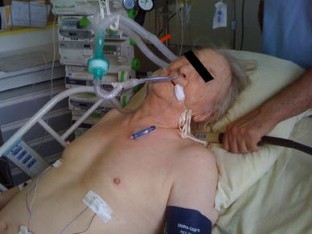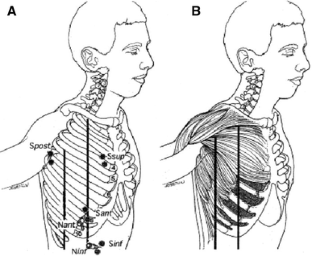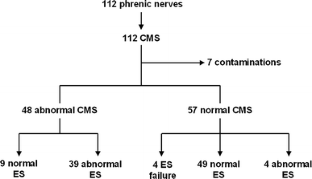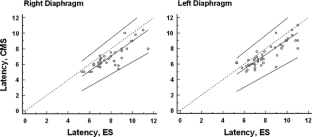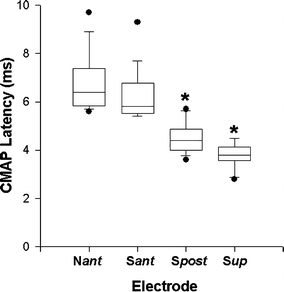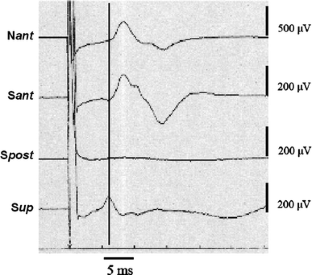 References
1.

Durand MC, Lofaso F, Lefaucheur JP, Chevret S, Gajdos P, Raphael JC, Sharshar T (2003) Electrophysiology to predict mechanical ventilation in Guillain-Barre syndrome. Eur J Neurol 10:39–44

2.

Similowski T, Straus C, Attali V, Girard F, Philippe F, Deray G, Thomas D, Derenne JP (1997) Neuromuscular blockade with acute respiratory failure in a patient receiving cibenzoline. Thorax 52:582–584

3.

Coronel B, Mercatello A, Couturier JC, Durand PG, Holzapfell L, Blanc PL, Robert D (1990) Polyneuropathy: potential cause of difficult weaning. Crit Care Med 18:486–489

4.

Bolton CF (1999) Critical illness polyneuropathy—a useful concept. Muscle Nerve 22:419–422

5.

Latronico N, Guarneri B, Alongi S, Bussi G, Candiani A (1999) Acute neuromuscular respiratory failure after ICU discharge—report of five patients. Intensive Care Med 25:1302–1306

6.

Duguet A, Demoule A, Gonzalez J, Remy-Neris O, Derenne JP, Similowski T (2006) Predicting the recovery of ventilatory activity in central respiratory paralysis. Neurology 67:288–292

7.

Diehl JL, Lofaso F, Deleuze P, Similowski T, Lemaire F, Brochard L (1994) Clinically relevant diaphragmatic dysfunction after cardiac operations. J Thorac Cardiovasc Surg 107:487–498

8.

Green M, Road J, Sieck GC, Similowski T (2002) ATS/ERS statement on respiratory muscle testing. Chapter 2: tests of respiratory muscle strength. Am J Respir Crit Care Med 166:528–547

9.

American Thoracic Society/European Respiratory Society (2002) ATS/ERS statement on respiratory muscle testing. Am J Respir Crit Care Med 166:518–624

10.

Similowski T, Fleury B, Launois S, Cathala HP, Bouche P, Derenne JP (1989) Cervical magnetic stimulation: a new painless method for bilateral phrenic nerve stimulation in conscious humans. J Appl Physiol 67:1311–1318

11.

Polkey MI, Duguet A, Luo Y, Hughes PD, Hart N, Hamnegard CH, Green M, Similowski T, Moxham J (2000) Anterior magnetic phrenic nerve stimulation: laboratory and clinical evaluation. Intensive Care Med 26:1065–1075

12.

Luo YM, Johnson LC, Polkey MI, Harris ML, Lyall RA, Green M, Moxham J (1999) Diaphragm electromyogram measured with unilateral magnetic stimulation. Eur Respir J 13:385–390

13.

Markand ON, Kincaid JC, Pourmand RA, Moorthy SS, King RD, Mahomed Y, Brown JW (1984) Electrophysiologic evaluation of diaphragm by transcutaneous phrenic nerve stimulation. Neurology 34:604–614

14.

Verin E, Straus C, Demoule A, Mialon P, Derenne J-P, Similowski T (2002) Validation of improved recording site to measure phrenic conduction from surface electrodes in humans. J Appl Physiol 92:967–974

15.

Similowski T, Mehiri S, Duguet A, Attali V, Straus C, Derenne JP (1997) Comparison of magnetic and electrical phrenic nerve stimulation in assessment of phrenic nerve conduction time. J Appl Physiol 82:1190–1199

16.

Demoule A, Verin E, Locher C, Derenne J-P, Similowski T (2003) Validation of surface recordings of the diaphragm response to transcranial magnetic stimulation in man. J Appl Physiol 94:453–461

17.

Horning MR, Kraft GH, Guy A (1972) Latencies recorded by intramuscular needle electrodes in different portions of a muscle: variation and comparison with surface electrodes. Arch Phys Med Rehabil 53:206–211

18.

Maryniak O, Yaworski R, Hayes KC (1989) Intramuscular recording in neurodiagnostic studies. Am J Phys Med Rehabil 68:186–191

19.

Passing H, Bablok W (1983) A new biometrical procedure for testing the equality of measurements from two different analytical methods. Application of linear regression procedures for method comparison studies in clinical chemistry. Part I. J Clin Chem Clin Biochem 21:709–720

20.

Estenne M, De Troyer A (1990) Cough in tetraplegic subjects: an active process. Ann Intern Med 112:22–28

21.

Ono S, Oishi M, Du CM, Takasu T (1995) Magnetic stimulation of peripheral nerves. Comparison of magnetic stimulation with electrical stimulation. Electromyogr Clin Neurophysiol 35:317–320

22.

Schmid UD, Walker G, Schmid-Sigron J, Hess CW (1991) Transcutaneous magnetic and electrical stimulation over the cervical spine: excitation of plexus roots-rather than spinal roots. Electroencephalogr Clin Neurophysiol Suppl 43:369–384

23.

Tankisi H, Pugdahl K, Johnsen B, Fuglsang-Frederiksen A (2007) Correlations of nerve conduction measures in axonal and demyelinating polyneuropathies. Clin Neurophysiol 118:2383–2392

24.

Similowski T (2001) The diaphragm, the magnet, and the critically ill: stimulating perspectives. Crit Care Med 29:1476–1478
Acknowledgments
Association pour le Développement et l'Organization de la Recherche en Pneumologie (ADOREP), Paris, France. Contrat de recherche Legs Poix, Chancellerie des Universités, Paris, France.
About this article
Cite this article
Demoule, A., Morelot-Panzini, C., Prodanovic, H. et al. Identification of prolonged phrenic nerve conduction time in the ICU: magnetic versus electrical stimulation. Intensive Care Med 37, 1962–1968 (2011). https://doi.org/10.1007/s00134-011-2374-2
Received:

Accepted:

Published:

Issue Date:
Keywords
Phrenic nerve

Respiratory muscles

Diaphragm

Electromyography

Peripheral nervous system diseases

Magnetic stimulation