Abstract
Introduction
Corticosteroids have been proposed to decrease morbidity and mortality in patients with septic shock. An impact on morbidity should be anticipated to be earlier and more easily detected than the impact on mortality.
Methods
Prospective, randomized, double-blind, placebo-controlled study of 28-day mortality in patients with septic shock for <72 h who underwent a short high-dose ACTH test in 52 centers in 9 European countries. Patients received 11-day treatment with hydrocortisone or placebo. Organ dysfunction/failure was quantified by the use of the sequential organ failure assessment (SOFA) score.
Results
From March 2002 to November 2005, 499 patients were enrolled (hydrocortisone 251, placebo 248). Both groups presented a similar SOFA score at baseline (hydrocortisone 10.8 ± 3.2 vs. placebo 10.7 ± 3.1 points). There was no difference in 28-day mortality between the two treatment groups (hydrocortisone 34.3% vs. placebo 31.5%). There was a decrease in the SOFA score of hydrocortisone-treated patients from day 0 to day 7 compared to the placebo-treated patients (p = 0.0027), driven by an improvement in cardiovascular organ dysfunction/failure (p = 0.0005) and in liver failure (p < 0.0001) in the hydrocortisone-treated patients.
Conclusion
Patients randomized to treatment with hydrocortisone demonstrated a faster decrease in total organ dysfunction/failure determined by the SOFA score, primarily driven by a faster improvement in cardiovascular organ dysfunction/failure. This organ dysfunction/failure improvement was not accompanied by a decreased mortality.
This is a preview of subscription content, log in to check access.
Access options
Buy single article
Instant access to the full article PDF.
US$ 39.95
Price includes VAT for USA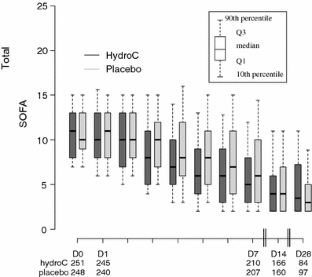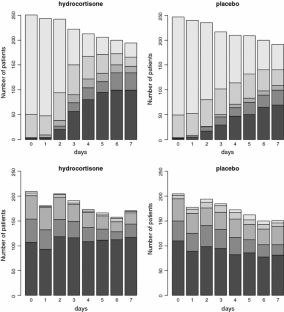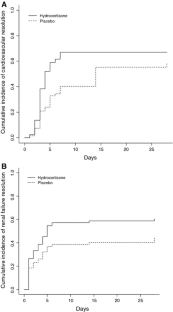 References
1.

Petros AJ, Marshall JC, van-Saene HK (1995) Should morbidity replace mortality as an endpoint for clinical trials in intensive care? Lancet 345:369–371

2.

Knaus WA, Wagner DP, Harrell FE, Draper EA (1994) What determines prognosis in sepsis? Evidence for a comprehensive individual patient risk assessment approach to the design and analysis of clinical trials. In: Reinhart K, Eyrich K, Sprung C (eds) Sepsis current perspectives in pathophysiology and therapy. Springer-Verlag, Berlin Heidelberg, pp 23–37

3.

Le Gall J-R, Lemeshow S, Leleu G, Klar J, Huillard J, Rué M, Teres D, Artigas A (1995) Customized probability models for early severe sepsis in adult intensive care patients. JAMA 273:644–650

4.

Bernard GR, Vincent J-L, Laterre P-F, LaRosa SP, Dhainaut J-F, Lopez-Rodriguez A, Steingrub JS, Garber GE, Helterbrand JD, Ely EW, Fisher CD Jr, for the Recombinant Human Activated Protein C Worldwide Evaluation in Severe Sepsis (PROWESS) Study Group (2001) Efficacy and safety of recombinant human activated protein C for severe sepsis. N Engl J Med 344:699–709

5.

Vincent J-L, Angus DC, Artigas A, Kalil A, Basson BR, Jamal HH, Johnson G III, Bernard GR, for the Recombinant Human Activated Protein C Worldwide Evaluation in Severe Sepsis (PROWESS) Study Group (2003) Effects of drotrecogin alfa (activated) on organ dysfunction in the PROWESS trial. Crit Care Med 31:834–840

6.

Carlet J (2006) Prescribing indications based on successful clinical trials in sepsis: a difficult exercise. Crit Care Med 34:525–529

7.

Marshall JC, Vincent JL, Guyatt G, Angus DC, Abraham E, Bernard G, Bombardier C, Calandra T, Jørgensen HS, Sylvester R, Boers M (2005) Outcome measures for clinical research in sepsis: A report of the 2nd Cambridge Colloquium of the international sepsis forum. Crit Care Med 33:1708–1716

8.

The Acute Respiratory Distress Syndrome Network (2000) Ventilation with lower tidal volumes as compared with traditional tidal volumes for acute lung injury and the acute respiratory distress syndrome. N Engl J Med 342:1301–1308

9.

Lilja HE, Leppäniemi A, Kemppainen E (2008) Utilization of intensive care unit resources in severe acute pancreatitis. JOP 8:179–184

10.

Sprung CL, Annane D, Keh D, Moreno R, Singer M, Freivogel K, Weiss YG, Benbenishty J, Kalenka A, Forst H, Laterre P-F, Reinhart K, Cuthbertson BH, Payen D, Briegel J, for the CORTICUS Study Group (2008) Hydrocortisone Therapy for Patients with Septic Shock. N Engl J Med 358:111–124

11.

Le Gall JR, Lemeshow S, Saulnier F (1993) A new simplified acute physiology score (SAPS II) based on a European/North American multicenter study. JAMA 270:2957–2963

12.

Vincent J-L, Moreno R, Takala J, Willats S, De Mendonça A, Bruining H, Reinhart CK, Suter PM, Thijs LG (1996) The SOFA (Sepsis-related organ failure assessment) score to describe organ dysfunction/failure. Intensive Care Med 22:707–710

13.

Moreno R, Vincent J-L, Matos R, Mendonça A, Cantraine F, Thijs L, Takala J, Sprung C, Antonelli M, Bruining H, Willatts S, on behalf of the Working Group on "Sepsis-related problems" of the European Society of Intensive Care Medicine (1999) The use of maximum SOFA score to quantify organ dysfunction/failure in intensive care. Results of a prospective, multicentre study. Intensive Care Med 25:686–696

14.

Laird NM, Ware JH (1982) Random-effects models for longitudinal data. Biometrics 38(4):963–974

15.

Lipsitz SH, Kim K, Zhao L (1994) Analysis of repeated categorical data using generalized estimating equations. Stat Med 13:1149–1163

16.

Briegel J, Forst H, Haller M, Schelling G, Kilger E, JKuprat G, Hemmer B, Lenhart A, Heyduck M, Stoll C, Peter K (1999) Stress doses of hydrocortisone reverse hyperdynamic septic shock: a prospective, randomized, double-blind, single-center study. Crit Care Med 27:723–732

17.

Annane D, Sébille V, Charpentier C, Bollaert PE, François B, Korach J-M, Capellier G, Cohen Y, Azoulay E, Troché G, Chaumet-Riffaut P, Bellissant E (2002) Effect of treatment with low doses of hydrocortisone and fludrocortisone on mortality in patients with septic shock. JAMA 288:862–871

18.

Bollaert PE (2000) Stress doses of glucocorticoids in catecholamine dependency: a new therapy for a new syndrome? Intensive Care Med 26:3–5

19.

Keh D, Boehnke T, Weber-Cartens S, Schulz C, Ahlers O, Bercker S, Volk H-D, Doecke W-D, Falke KJ, Gerlach H (2003) Immunologic and hemodynamic effects of "Low-Dose" hydrocortisone in septic shock. A double-blind, randomized, placebo-controlled, crossover study. Am J Respir Crit Care Med 167:512–520

20.

Saito T, Takanashi M, Gallagher E, Fuse A, Suzaki S, Inagaki O, Yamada K, Ogawa R (1995) Corticosteroid effect on early beta-adrenergic down-regulation during circulatory shock: hemodynamic study and beta-adrenergic receptor assay. Intensive Care Med 21:204–210

21.

Minneci PC, Deans KJ, Banks SM, Eichacker PQ, Natanson C (2004) Meta-Analysis: the effect of steroids on survival and shock during sepsis depends on the dose. Ann Intern Med 141:47–56

22.

Hayashi Y, Takayama T, Yamazaki S, Moriguchi M, Ohkubo T, Nakayama H, Higaki T (2011) Validation of perioperative steroids administration in liver resection: a randomized controlled trial. Ann Surg 253:50–55

23.

Dellinger RP, Levy MM, Carlet JM, Bion J, Parker MM, Jaeschke R, Reinhart K, Angus DC, Brun-Buisson C, Beale R, Calandra T, Dhainaut J-F, Gerlach H, Harvey M, Marini JJ, Marshall J, Ranieri M, Ramsay G, Sevransky J, Thompson BT, Townsend S, Vender JS, Zimmerman JL, Vincent J-L (2008) Surviving sepsis campaign: international guidelines for management of severe sepsis and septic shock: 2008. Intensive Care Med 34:17–60
Acknowledgments
The CORTICUS study was supported by the European Commission contract QLK2-CT-2000-00589, the European Society of Intensive Care Medicine (ESICM), the International Sepsis Forum (ISF) and the Gorham Foundation. Roche Diagnostics GmbH, Mannheim/Penzberg, Germany, provided the Elecsys® Cortisol immunoassay. The EU Commission and other sponsors had no role in the design and conduct of the study; collection, management, analysis and interpretation of the data; or in the preparation, review or approval of the manuscript. Thanks also to Prof. Dr. Wolfgang Hartl for suggestions that greatly improved the quality of the manuscript.
Additional information
On behalf of the CORTICUS investigators
Electronic supplementary material
Below is the link to the electronic supplementary material.
Appendix
Appendix
Steering Committee: C. Sprung (Chairman); D. Annane; J. Briegel; D. Keh; R. Moreno; D. Pittet; M. Singer; Y. Weiss.
Safety and Efficacy Monitoring Committee: J. Cohen (Chairman); C. Dore; T. Evans; N. Soni, F. Sorenson (Analytica International).
Study Coordinating Center: C. Sprung (Physician Coordinator); J. Benbenishty (Nurse Coordinator); A. Avidan, E. Ludmir; J. Kabiri; K. Furmanov; B. Hain; O. Kalugin; I. Zack.
Clinical Evaluation Committee: Y Weiss (Chairman); D. Annane; J. Briegel; S. Goodman; D. Keh; R. Moreno; M. Singer; C. Sprung
Berlin Coordinating Center: D. Keh (Chairman); A. Goessinger.
French Coordinating Center: D. Annane (Chairman); N. Zinsou, D. Friedman.
Munich Central Laboratory Harmonization: J. Briegel (Chairman); M. Vogeser.
Statistical Analyses: Analytica International- F. Sorenson, K. Freivogel.
CORTICUS Investigators: Austria: LKH Feldkirch, Feldkirch (P. Fae); Krankenhaus Barmherzige Schwestern, Linz (J. Reisinger); Universitaetsklinik fuer Innere Medizin II, Wien (G. Heinz); Belgium: Hopital St. Joseph, Arlon (M. Simon); Department of Critical Care Medicine, St Luc University Hospital, UCL, Brussels (P–F. Laterre, X. Wittebole, MN France); University Hospital Erasme, Université de Bruxelles, Brussels (J.L. Vincent, D. DeBacker); CHU Charleroi, Charleroi (P. Biston). France: Hopital de Caen, Caen (C. Daubin); Hopital Raymond Poincare, Garches (D. Annane, D. Lipiner, V. Maxime); Hopital Huriez, Lille (PA. Rodie Talbere, B. Vallet); Hopital Caremeau, Nimes (J.Y. Lefrant); Hopital Saint-Antoine, Paris (G. Offenstadt); Hopital Lariboisiere, Paris (D. Payen, A.C. Lukaszewicz). Germany: Zentralklinikum Augsburg, Augsburg (H. Forst, G. Neeser, Y. Barth); Charite Universitaetsmedizin Berlin, Campus Virchow-Klinikum (D. Keh, J.Langrehr, M.Oppert, C.Spies), Campus Mitte (C. Spies, S.Rosseau), Campus Benjamin Franklin (J. Weimann); Evangelisches Waldkrankenhaus Spandau, Berlin (M. Reyle Hahn); St. Joseph-Krankenhaus, Berlin (M. Schmutzler); Vivantes Klinikum Spandau, Berlin (K.J. Slama), Vivantes Klinikum Neukoelln, Berlin (H.Gerlach), Vivantes Klinikum im Friedrichshain,Berlin (S. Veit); Inst. For Anaesthesia & Operative Intensive Care Medicine, Darmstadt (M. Welte, L. Von Beck); University Hospital Carl Gustav Carus, Dresden (C. Marx); Krankenhaus Hennigsdorf, Hennigsdorf (A. Lange); Friedrich-Schiller Universitaet, Jena (K. Reinhart, F. Bloos, F. Brunkhorst); Klinikum Kempten-Oberallgaeu, Kempten (M. Haller); Klinikum of Landshut, Landshut (U. Helms); Klinikum Mannheim, Mannheim (A. Kalenka, F. Fiedler); Universitaetsklinikum Marburg, Marburg (M. Max); Klinik fuer Anaesthesiologie, Klinikum der Universitaet, Ludwig-Maximilians-Universitaet, Munich (J. Briegel); Department of Surgery, Klinikum der Universitaet-Grosshadern, Munich (W. Hartl); Staedtisches Krankenhaus Muenchen-Harlaching, Munich (M. Klimmer, T. Helmer); Universitaet Erlangen-Namberg, Nuernberg (M. Baumgaertel); Klinikum Ernst von Bergman, Potsdam (D. Pappert). Israel: Haemek Hospital, Afula (A. Lev); Hadassah Medical Organization, Jerusalem (Y. Weiss, C. Sprung, J. Benbenishty, O. Shatz); Belinson Medical Centre, Petach Tikva (P. Singer); Ichilov Hospital, Tel Aviv (A. Nimrod). Italy: Policlinico di Tor Vergata, Rome (S. Natoli); Centro di Rianimazione, Ospedale S. Eugenio, Rome (F. Turani). Netherlands: Erasmus University Medical Center, Rotterdam (B. Van der Hoven). Portugal: Hospital de St. Antonio do Capuchos, Lisbon (R. Moreno, R. Matos). United Kingdom: Aberdeen Royal Infirmary, Aberdeen (B.H. Cuthbertson, S. Roughton); The Ipswich Hospital NHS, Ipswich (M. Garfield); The General Infirmary at Leeds, Leeds (A. Mallick); University College London Hospitals NHS Foundation Trust, London (M. Singer, M McKendry); Southampton General Hospital, Southampton (T. Woodcock).
About this article
Cite this article
Moreno, R., Sprung, C.L., Annane, D. et al. Time course of organ failure in patients with septic shock treated with hydrocortisone: results of the Corticus study. Intensive Care Med 37, 1765 (2011). https://doi.org/10.1007/s00134-011-2334-x
Received:

Accepted:

Published:
Keywords
Corticosteroids

Steroids

Hydrocortisone

Septic shock

Mortality

Organ dysfunction

Organ failure

Sequential Organ Failure Assessment score. SOFA