Abstract
Purpose
Pleural and abdominal pressure are clinically estimated by measuring the esophageal and bladder or intragastric pressure (IGP), respectively. A new nasogastric polyfunctional catheter is now commercially available, equipped with two balloons in the lower and distal part; this catheter allows simultaneous esophageal pressure (Pes) and IGP measurements and can be also used to feed the patient. We compared the Pes and IGP measured using this new device with those obtained with a standard balloon catheter taken as gold standard.
Methods
Twenty-four intubated patients requiring ventilator support (mean age 64.3 ± 16.8 years, body mass index 25.3 ± 3.0 kg/m2, and PaO2/FiO2 280.8 ± 123.4 mmHg) were enrolled. Esophageal pressure and IGP were measured with the new nasogastric polyfunctional catheter (Nutrivent, Sidam, Italy) and with a standard balloon catheter (Smart Cath Viasys, USA). The Smart Cath was first inserted in the stomach and then retracted to the esophagus to measure IGP and Pes, respectively. In each patient two paired measurements were averaged.
Results
In the Bland–Altman analysis, the bias and agreement bands for Pes, ΔPes (computed as the difference of esophageal pressure between end-inspiration and expiration), and IGP were −0.25 (−2.65 to +2.15), 0.0 (−0.9 to +0.9), and −0.45 (−2.85 to + 1.95) cmH2O, respectively. No side effects or complications were recorded.
Conclusions
The new polyfunctional catheter showed a clinically acceptable validity in recording esophageal and intragastric pressure. This device should help physicians to better individualize the clinical patient management.
This is a preview of subscription content, log in to check access.
Access options
Buy single article
Instant access to the full article PDF.
US$ 39.95
Price includes VAT for USA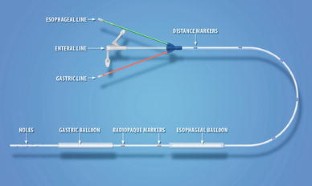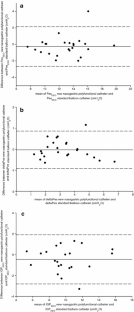 References
1.

Detsky ME, Stewart TE (2010) Long-term outcomes of patients after acute respiratory distress syndrome: hard work for nothing? Minerva Anestesiol 76:641–644

2.

Phua J, Badia JR, Adhikari NK, Friedrich JO, Fowler RA, Singh JM, Scales DC, Stather DR, Li A, Jones A, Gattas DJ, Hallett D, Tomlinson G, Stewart TE, Ferguson ND (2009) Has mortality from acute respiratory distress syndrome decreased over time? A systematic review. Am J Respir Crit Care Med 179:220–227

3.

Slutsky AS (1999) Lung injury caused by mechanical ventilation. Chest 116:9S–15S

4.

Gattinoni L, Chiumello D, Carlesso E, Valenza F (2004) Bench-to-bedside review: chest wall elastance in acute lung injury/acute respiratory distress syndrome patients. Crit Care 8:350–355

5.

Talmor D, Sarge T, Malhotra A, O'Donnell CR, Ritz R, Lisbon A, Novack V, Loring SH (2008) Mechanical ventilation guided by esophageal pressure in acute lung injury. N Engl J Med 359:2095–2104

6.

Malbrain ML, Chiumello D, Pelosi P, Wilmer A, Brienza N, Malcangi V, Bihari D, Innes R, Cohen J, Singer P, Japiassu A, Kurtop E, De Keulenaer BL, Daelemans R, Del Turco M, Cosimini P, Ranieri M, Jacquet L, Laterre PF, Gattinoni L (2004) Prevalence of intra-abdominal hypertension in critically ill patients: a multicentre epidemiological study. Intensive Care Med 30:822–829

7.

Malbrain ML, Chiumello D, Pelosi P, Bihari D, Innes R, Ranieri VM, Del Turco M, Wilmer A, Brienza N, Malcangi V, Cohen J, Japiassu A, De Keulenaer BL, Daelemans R, Jacquet L, Laterre PF, Frank G, de Souza P, Cesana B, Gattinoni L (2005) Incidence and prognosis of intraabdominal hypertension in a mixed population of critically ill patients: a multiple-center epidemiological study. Crit Care Med 33:315–322

8.

Chiumello D, Carlesso E, Cadringher P, Caironi P, Valenza F, Polli F, Tallarini F, Cozzi P, Cressoni M, Colombo A, Marini JJ, Gattinoni L (2008) Lung stress and strain during mechanical ventilation for acute respiratory distress syndrome. Am J Respir Crit Care Med 178:346–355

9.

Higgs BD, Behrakis PK, Bevan DR, Milic-Emili J (1983) Measurement of pleural pressure with esophageal balloon in anesthetized humans. Anesthesiology 59:340–343

10.

Milic-Emili J, Mead J, Turner JM (1964) Topography of esophageal pressure as a function of posture in man. J Appl Physiol 19:212–216

11.

Milic-Emili J, Mead J, Turner JM, Glauser EM (1964) Improved technique for estimating pleural pressure from esophageal balloons. J Appl Physiol 19:207–211

12.

Malbrain ML (2004) Different techniques to measure intra-abdominal pressure (IAP): time for a critical re-appraisal. Intensive Care Med 30:357–371

13.

Chiumello D, Cressoni M, Racagni M, Landi L, Li Bassi G, Polli F, Carlesso E, Gattinoni L (2006) Effects of thoraco-pelvic supports during prone position in patients with acute lung injury/acute respiratory distress syndrome: a physiological study. Crit Care 10:R87

14.

Baydur A, Behrakis PK, Zin WA, Jaeger M, Milic-Emili J (1982) A simple method for assessing the validity of the esophageal balloon technique. Am Rev Respir Dis 126:788–791

15.

Bland JM, Altman DG (1990) Measuring agreement in method comparison studies. Stat Methods Med Res 8:135–160

16.

Passing H, Bablok W (1983) A new biometrical procedure for testing the equality of measurements from two different analytical methods. Application of linear regression procedures for method comparison studies in clinical chemistry, Part I. J Clin Chem Clin Biochem 21:709–720

17.

Lin L, Hedavat AS, Yang M (2002) Statistical methods in assessing agreement: models, issues and tools. J Am Stat Assoc 97:257–270

18.

Buytendijk HJ (1949) Oesophagusdruk en longelasticiteit. Electrische Drukkerij I. Oppenheim NV, Groningen

19.

Mead J, McIlroy MB, Selverstone NJ, Kriete BC (1955) Measurement of intraesophageal pressure. J Appl Physiol 7:491–495

20.

Pelosi P, Goldner M, McKibben A, Adams A, Eccher G, Caironi P, Losappio S, Gattinoni L, Marini JJ (2001) Recruitment and derecruitment during acute respiratory failure: an experimental study. Am J Respir Crit Care Med 164:122–130

21.

Kron IL, Harman PK, Nolan SP (1984) The measurement of intra-abdominal pressure as a criterion for abdominal re-exploration. Ann Surg 199:28–30

22.

Malbrain ML, Cheatham ML, Kirkpatrick A, Sugrue M, Parr M, De Waele J, Balogh Z, Leppäniemi A, Olvera C, Ivatury R, D'Amours S, Wendon J, Hillman K, Johansson K, Kolkman K, Wilmer A (2006) Results from the International Conference of Experts on Intra-abdominal Hypertension and Abdominal Compartment Syndrome. I. Definitions. Intensive Care Med 32:1722–1732
Additional information
D. Chiumello and L. Gattinoni participated in the development of Nutrivent, but do not have any patent or financial agreement, and received only an honorarium as members of the advisory board.
About this article
Cite this article
Chiumello, D., Gallazzi, E., Marino, A. et al. A validation study of a new nasogastric polyfunctional catheter. Intensive Care Med 37, 791–795 (2011). https://doi.org/10.1007/s00134-011-2178-4
Received:

Accepted:

Published:

Issue Date:
Keywords
Nasogastric catheter

Esophageal pressure

Intragastric pressure

ARDS