Abstract
Purpose
To date, treatment with intravenous (IV) agents such as vasodilators, diuretics, and inotropes has shown marginal or mixed benefits in acute heart failure (AHF) trials. The aim of this study was to identify the risks and benefits of IV drugs in patients hospitalized with acute decompensated heart failure.
Methods
The AHF global survey of standard treatment (ALARM-HF) reviewed in-hospital treatments in eight countries. The present study was a post hoc analysis of ALARM-HF data in which propensity scoring was used to identify groups of patients who differed by treatment but had the same multivariate distribution of covariates. Such propensity matching allowed estimations of the effect of specific treatments on the outcome of in-hospital mortality.
Results
Unadjusted analysis showed a lower in-hospital mortality rate in AHF patients receiving "diuretics + vasodilators" (n = 1,805) compared to those receiving "diuretics alone" (n = 2,362) (7.6 vs. 14.2%, p < 0.0001). Propensity-based matching (n = 1,007 matched pairs) confirmed the lower mortality of AHF patients receiving diuretics + vasodilators: 7.8 versus 11.0% (p = 0.016). Unadjusted analysis showed a much greater in-hospital mortality rate in patients receiving IV inotropes (25.9%) compared to those who did not (5.2%) (p < 0.0001). Propensity-based matching (n = 954 pairs) confirmed that IV catecholamine use was associated with 1.5-fold increase for dopamine or dobutamine use and a >2.5-fold increase for norepinephrine or epinephrine use.
Conclusions
In terms of in-hospital survival, a vasodilator in combination with a diuretic fared better than treatment with only a diuretic. Catecholamine inotropes should be used cautiously as it has been seen that they actually increase the risk for in-hospital mortality.
This is a preview of subscription content, log in to check access.
Access options
Buy single article
Instant access to the full article PDF.
US$ 39.95
Price includes VAT for USA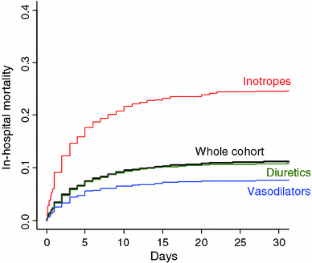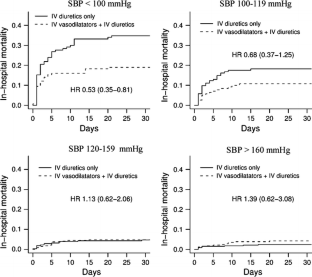 Abbreviations
AHF:

Acute heart failure

SBP:

Systolic blood pressure
References
1.

Dickstein K, Cohen-Solal A, Filippatos G, McMurray JJ, Ponikowski P, Poole-Wilson PA, Stromberg A, van Veldhuisen DJ, Atar D, Hoes AW, Keren A, Mebazaa A, Nieminen M, Priori SG, Swedberg K, Vahanian A, Camm J, De Caterina R, Dean V, Dickstein K, Filippatos G, Funck-Brentano C, Hellemans I, Kristensen SD, McGregor K, Sechtem U, Silber S, Tendera M, Widimsky P, Zamorano JL (2008) ESC Guidelines for the diagnosis and treatment of acute and chronic heart failure 2008:the Task Force for the Diagnosis and Treatment of Acute and Chronic Heart Failure 2008 of the European Society of Cardiology. Developed in collaboration with the Heart Failure Association of the ESC (HFA) and endorsed by the European Society of Intensive Care Medicine (ESICM). Eur Heart J 29:2388–2442

2.

Gheorghiade M, Zannad F, Sopko G, Klein L, Pina IL, Konstam MA, Massie BM, Roland E, Targum S, Collins SP, Filippatos G, Tavazzi L (2005) Acute heart failure syndromes: current state and framework for future research. Circulation 112:3958–3968

3.

Hunt SA, Abraham WT, Chin MH, Feldman AM, Francis GS, Ganiats TG, Jessup M, Konstam MA, Mancini DM, Michl K, Oates JA, Rahko PS, Silver MA, Stevenson LW, Yancy CW (2009) 2009 Focused update incorporated into the ACC/AHA 2005 Guidelines for the Diagnosis and Management of Heart Failure in Adults A Report of the American College of Cardiology Foundation/American Heart Association Task Force on Practice Guidelines Developed in Collaboration with the International Society for Heart and Lung Transplantation. J Am Coll Cardiol 53:e1–e90

4.

Cotter G, Metzkor E, Kaluski E, Faigenberg Z, Miller R, Simovitz A, Shaham O, Marghitay D, Koren M, Blatt A, Moshkovitz Y, Zaidenstein R, Golik A (1998) Randomised trial of high-dose isosorbide dinitrate plus low-dose furosemide versus high-dose furosemide plus low-dose isosorbide dinitrate in severe pulmonary oedema. Lancet 351:389–393

5.

Sharon A, Shpirer I, Kaluski E, Moshkovitz Y, Milovanov O, Polak R, Blatt A, Simovitz A, Shaham O, Faigenberg Z, Metzger M, Stav D, Yogev R, Golik A, Krakover R, Vered Z, Cotter G (2000) High-dose intravenous isosorbide-dinitrate is safer and better than Bi-PAP ventilation combined with conventional treatment for severe pulmonary edema. J Am Coll Cardiol 36:832–837

6.

Mullens W, Abrahams Z, Francis GS, Skouri HN, Starling RC, Young JB, Taylor DO, Tang WH (2008) Sodium nitroprusside for advanced low-output heart failure. J Am Coll Cardiol 52:200–207

7.

Gheorghiade M, Abraham WT, Albert NM, Greenberg BH, O'Connor CM, She L, Stough WG, Yancy CW, Young JB, Fonarow GC (2006) Systolic blood pressure at admission, clinical characteristics, and outcomes in patients hospitalized with acute heart failure. JAMA 296:2217–2226

8.

Costanzo MR, Johannes RS, Pine M, Gupta V, Saltzberg M, Hay J, Yancy CW, Fonarow GC (2007) The safety of intravenous diuretics alone versus diuretics plus parenteral vasoactive therapies in hospitalized patients with acutely decompensated heart failure: a propensity score and instrumental variable analysis using the Acutely Decompensated Heart Failure National Registry (ADHERE) database. Am Heart J 154:267–277

9.

Abraham WT, Adams KF, Fonarow GC, Costanzo MR, Berkowitz RL, LeJemtel TH, Cheng ML, Wynne J (2005) In-hospital mortality in patients with acute decompensated heart failure requiring intravenous vasoactive medications: an analysis from the Acute Decompensated Heart Failure National Registry (ADHERE). J Am Coll Cardiol 46:57–64

10.

Thackray S, Easthaugh J, Freemantle N, Cleland JG (2002) The effectiveness and relative effectiveness of intravenous inotropic drugs acting through the adrenergic pathway in patients with heart failure—a meta-regression analysis. Eur J Heart Fail 4:515–529

11.

Singer M (2007) Catecholamine treatment for shock—equally good or bad? Lancet 370:636–637

12.

Follath F, Yilmaz MB, Delgado JF, Parissis JT, Porcher R, Gayat E, Burrows N, Mclean A, Vilas-Boas F, Mebazaa A (2010) Clinical presentation, management and outcomes in the Acute Heart Failure Global Survey of Standard Treatment (ALARM-HF). Intensive Care Med (in press)

13.

D'Agostino RB Jr (1998) Propensity score methods for bias reduction in the comparison of a treatment to a non-randomized control group. Stat Med 17:2265–2281

14.

RD RosenbaumP (1983) The central role of the propensity score in observational studies for causal effects. Biometrika 70:41–55

15.

Gayat E, Pirracchio R, Resche-Rigon M, Mebazaa A, Mary JY and Porcher R (2010) Propensity scores in intensive care and anaesthesiology literature: a systematic review. Intensive Care Med. doi:10.1007/s00134-010-1991-5

16.

Shah BR, Laupacis A, Hux JE, Austin PC (2005) Propensity score methods gave similar results to traditional regression modeling in observational studies: a systematic review. J Clin Epidemiol 58:550–559

17.

Austin PC (2008) A critical appraisal of propensity-score matching in the medical literature between 1996 and 2003. Stat Med 27:2037–2049

18.

Sackner-Bernstein JD, Kowalski M, Fox M, Aaronson K (2005) Short-term risk of death after treatment with nesiritide for decompensated heart failure: a pooled analysis of randomized controlled trials. JAMA 293:1900–1905

19.

Follath F, Cleland JG, Just H, Papp JG, Scholz H, Peuhkurinen K, Harjola VP, Mitrovic V, Abdalla M, Sandell EP, Lehtonen L (2002) Efficacy and safety of intravenous levosimendan compared with dobutamine in severe low-output heart failure (the LIDO study): a randomised double-blind trial. Lancet 360:196–202

20.

Masip J, Roque M, Sánchez B, Fernández R, Subirana M, Expósito JA (2005) Noninvasive ventilation in acute cardiogenic pulmonary edema: systematic review and meta-analysis. JAMA 294:3124–3130

21.

De Backer D, Biston P, Devriendt J, Madl C, Chochrad D, Aldecoa C, Brasseur A, Defrance P, Gottignies P, Vincent JL, SOAP II Investigators (2010) Comparison of dopamine and norepinephrine in the treatment of shock. N Engl J Med 362:779–789

22.

Breidthardt T, Noveanu M, Potocki M, Reichlin T, Egli P, Hartwiger S, Socrates T, Gayat E, Christ M, Mebazaa A, Mueller C (2010) Impact of a high-dose nitrate strategy on cardiac stress in acute heart failure: a pilot study. J Intern Med 267:322–330

23.

Cuffe MS, Califf RM, Adams KF Jr, Benza R, Bourge R, Colucci WS, Massie BM, O'Connor CM, Pina I, Quigg R, Silver MA, Gheorghiade M (2002) Short-term intravenous milrinone for acute exacerbation of chronic heart failure: a randomized controlled trial. JAMA 287:1541–1547

24.

Metra M, Nodari S, D'Aloia A, Muneretto C, Robertson AD, Bristow MR, Dei Cas L (2002) Beta-blocker therapy influences the hemodynamic response to inotropic agents in patients with heart failure: a randomized comparison of dobutamine and enoximone before and after chronic treatment with metoprolol or carvedilol. J Am Coll Cardiol 40:1248–1258

25.

Neuberg GW, Miller AB, O'Connor CM, Belkin RN, Carson PE, Cropp AB, Frid DJ, Nye RG, Pressler ML, Wertheimer JH, Packer M (2002) Diuretic resistance predicts mortality in patients with advanced heart failure. Am Heart J 144:31–38

26.

Domanski M, Norman J, Pitt B, Haigney M, Hanlon S, Peyster E (2003) Diuretic use, progressive heart failure, and death in patients in the studies of left ventricular dysfunction (SOLVD). J Am Coll Cardiol 42:705–708

27.

den Uil CA, Caliskan K, Lagrand WK, van der Ent M, Jewbali LS, van Kuijk JP, Spronk PE, Simoons ML (2009) Dose-dependent benefit of nitroglycerin on microcirculation of patients with severe heart failure. Intensive Care Med 35:1893–1899

28.

Rusterholtz T, Bollaert PE, Feissel M, Romano-Girard F, Harlay ML, Zaehringer M, Dusang B, Sauder P (2008) Continuous positive airway pressure vs. proportional assist ventilation for noninvasive ventilation in acute cardiogenic pulmonary edema. Intensive Care Med 34:840–846

29.

Beohar N, Erdogan AK, Lee DC, Sabbah HN, Kern MJ, Teerlink J, Bonow RO, Gheorghiade M (2008) Acute heart failure syndromes and coronary perfusion. J Am Coll Cardiol 52:13–16

30.

Mebazaa A, Gheorghiade M, Pina IL, Harjola VP, Hollenberg SM, Follath F, Rhodes A, Plaisance P, Roland E, Nieminen M, Komajda M, Parkhomenko A, Masip J, Zannad F, Filippatos G (2008) Practical recommendations for prehospital and early in-hospital management of patients presenting with acute heart failure syndromes. Crit Care Med 36:S129–S139

31.

Costa AD, Garlid KD, West IC, Lincoln TM, Downey JM, Cohen MV, Critz SD (2005) Protein kinase G transmits the cardioprotective signal from cytosol to mitochondria. Circ Res 97:329–336

32.

Paulus WJ, Vantrimpont PJ, Shah AM (1994) Acute effects of nitric oxide on left ventricular relaxation and diastolic distensibility in humans. Assessment by bicoronary sodium nitroprusside infusion. Circulation 89:2070–2078

33.

Sun J, Morgan M, Shen RF, Steenbergen C, Murphy E (2007) Preconditioning results in S-nitrosylation of proteins involved in regulation of mitochondrial energetics and calcium transport. Circ Res 101:1155–1163

34.

Jaburek M, Costa AD, Burton JR, Costa CL, Garlid KD (2006) Mitochondrial PKC epsilon and mitochondrial ATP-sensitive K+ channel copurify and coreconstitute to form a functioning signaling module in proteoliposomes. Circ Res 99:878–883

35.

Hasselblad V, Gattis Stough W, Shah MR, Lokhnygina Y, O'Connor CM, Califf RM, Adams KF Jr (2007) Relation between dose of loop diuretics and outcomes in a heart failure population: results of the ESCAPE trial. Eur J Heart Fail 9:1064–1069

36.

Peacock WF, Costanzo MR, De Marco T, Lopatin M, Wynne J, Mills RM, Emerman CL (2009) Impact of intravenous loop diuretics on outcomes of patients hospitalized with acute decompensated heart failure: insights from the ADHERE registry. Cardiology 113:12–19

37.

Ahmed A, Husain A, Love TE, Gambassi G, Dell'Italia LJ, Francis GS, Gheorghiade M, Allman RM, Meleth S, Bourge RC (2006) Heart failure, chronic diuretic use, and increase in mortality and hospitalization: an observational study using propensity score methods. Eur Heart J 27:1431–1439

38.

Mebazaa A, Nieminen MS, Filippatos GS, Cleland JG, Salon JE, Thakkar R, Padley RJ, Huang B, Cohen-Solal A (2009) Levosimendan vs. dobutamine: outcomes for acute heart failure patients on beta-blockers in SURVIVE. Eur J Heart Fail 11:304–311

39.

Mebazaa A, Nieminen MS, Packer M, Cohen-Solal A, Kleber FX, Pocock SJ, Thakkar R, Padley RJ, Poder P, Kivikko M (2007) Levosimendan vs dobutamine for patients with acute decompensated heart failure: the SURVIVE randomized trial. JAMA 297:1883–1891
Conflict of interest
AM, JP, FVB, JFD and FF received an honorarium from Abbott for lectures and/or consulting. Abbott funded the ALARM-HF survey; data were acquired by IMS. Analyses were performed by the Département de Biostatistique et Informatique Médicale, Hôpital Saint-Louis, APHP, Université Paris 7, INSERM—UMR-S 717, Paris France by RP and EG.
Electronic supplementary material
Below is the link to the electronic supplementary material.
About this article
Cite this article
Mebazaa, A., Parissis, J., Porcher, R. et al. Short-term survival by treatment among patients hospitalized with acute heart failure: the global ALARM-HF registry using propensity scoring methods. Intensive Care Med 37, 290–301 (2011). https://doi.org/10.1007/s00134-010-2073-4
Received:

Accepted:

Published:

Issue Date:
Keywords
Acute heart failure

ALARM-HF data

Intravenous agents

In-hospital survival