Abstract
Purpose
To evaluate the effectiveness of simple daily sensitization of physicians to the duration of central venous and urinary tract catheterization, and impact on infection rates.
Methods
A prospective, before–after study in a surgical intensive care unit. All consecutive patients who had a central venous catheter (CVC) and/or urinary tract catheter (UTC) were included during two consecutive periods. Period 1 (August 2005 to May 2006) served as the control period. During Period 2 (July 2006 to April 2007), a red square, added to the patient's daily care sheet, questioned the physician about the utility of the CVC and/or UTC. If the response was "No", the CVC and/or the UTC were removed by a nurse.
Results
A total of 1,271 patients were analyzed (Period 1, n = 676; Period 2, n = 595). The duration of catheterization (median [interquartile range]) was significantly reduced in Period 2 compared to Period 1 (from (5 [3–9] to 4 [3–7] days, p < 0.001, for CVC, and from 5 [3–11] to 4 [3–8] days, p < 0.001, for UTC). The incidence and density incidence of CVC infection decreased in Period 2 compared to Period 1 (from 1.8% to 0.3%, p = 0.010, and from 2.8 to 0.7/1,000 CVC-days, p = 0.051) whereas UTC infections were not significantly different (4.3 to 3.0%, p = 0.230, and 5.0 to 4.9/1,000 UTC-days, p = 0.938, respectively).
Conclusions
A simple daily reminder to physicians on the patients' care sheets decreased the duration of central venous and urinary tract catheterization, and tended to decrease CVC infection rate without affecting UTC infection.
This is a preview of subscription content, log in to check access.
Access options
Buy single article
Instant access to the full article PDF.
US$ 39.95
Price includes VAT for USA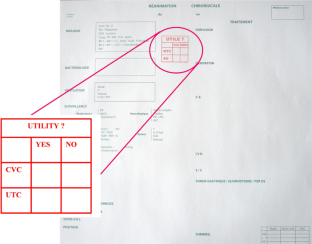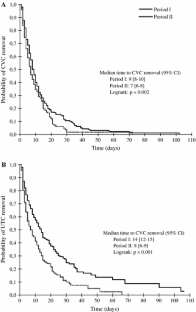 References
1.

Vincent JL, Rello J, Marshall J, Silva E, Anzueto A, Martin CD, Moreno R, Lipman J, Gomersall C, Sakr Y, Reinhart K, EPIC II Group of Investigators (2009) International study of the prevalence and outcomes of infection in intensive care units. JAMA 302:2323–2329

2.

van der Kooi TI, de Boer AS, Mannien J, Wille JC, Beaumont MT, Mooi BW, van den Hof S (2007) Incidence and risk factors of device-associated infections and associated mortality at the intensive care in the Dutch surveillance system. Intensive Care Med 33:271–278

3.

Blot SI, Peleman R, Vandewoude KH (2007) Invasive devices: no need? No use!. Intensive Care Med 33:209–214

4.

Tenke P, Kovacs B, Bjerklund Johansen TE, Matsumoto T, Tambyah PA, Naber KG (2008) European and Asian guidelines on management and prevention of catheter-associated urinary tract infections. Int J Antimicrob Agents 31(Suppl 1):S68–S785

5.

Crouzet J, Bertrand X, Venier AG, Badoz M, Husson C, Talon D (2007) Control of the duration of urinary catheterization: impact on catheter-associated urinary tract infection. J Hosp Infect 67:253–257

6.

Huang WC, Wann SR, Lin SL, Kunin CM, Kung MH, Lin CH, Hsu CW, Liu CP, Lee SS, Liu YC, Lai KH, Lin TW (2004) Catheter-associated urinary tract infections in intensive care units can be reduced by prompting physicians to remove unnecessary catheters. Infect Control Hosp Epidemiol 25:974–978

7.

Mermel LA, Farr BM, Sherertz RJ, Raad II, O'Grady N, Harris JS, Craven DE (2001) Guidelines for the management of intravascular catheter-related infections. Clin Infect Dis 32:1249–1272

8.

Leone M, Garnier F, Avidan M, Martin C (2004) Catheter-associated urinary tract infections in intensive care units. Microbes Infect 6:1026–1032

9.

Loeb M, Hunt D, O'Halloran K, Carusone SC, Dafoe N, Walter SD (2008) Stop orders to reduce inappropriate urinary catheterization in hospitalized patients: a randomized controlled trial. J Gen Intern Med 23:816–820

10.

Gracias VH, Sicoutris CP, Stawicki SP, Meredith DM, Horan AD, Gupta R, Haut ER, Auerbach S, Sonnad S, Hanson CW 3rd, Schwab CW (2008) Critical care nurse practitioners improve compliance with clinical practice guidelines in "semiclosed" surgical intensive care unit. J Nurs Care Qual 23:338–344

11.

Hoffman LA, Tasota FJ, Zullo TG, Scharfenberg C, Donahoe MP (2005) Outcomes of care managed by an acute care nurse practitioner/attending physician team in a subacute medical intensive care unit. Am J Crit Care 14:121–130 quiz 131–132

12.

Savey ATB, Lepape A (2005) Surveillance des infections nosocomiales en réanimation adulte. Online document, France, 2005. http://wwwinvssantefr/publications/2006/rea_raisin_2005/rapport_rea_raisin_2005pdf (Accessed 15 November 2006)
Acknowledgments
No financial support was received for this study.
Conflict of interest statement
The authors report no conflict of interest.
About this article
Cite this article
Seguin, P., Laviolle, B., Isslame, S. et al. Effectiveness of simple daily sensitization of physicians to the duration of central venous and urinary tract catheterization. Intensive Care Med 36, 1202–1206 (2010). https://doi.org/10.1007/s00134-010-1829-1
Received:

Accepted:

Published:

Issue Date:
Keywords
Central venous catheter

Duration of catheterization

Infection rate

Urinary tract catheter