This is a preview of subscription content, log in to check access.
Access options
Buy single article
Instant access to the full article PDF.
US$ 39.95
Price includes VAT for USA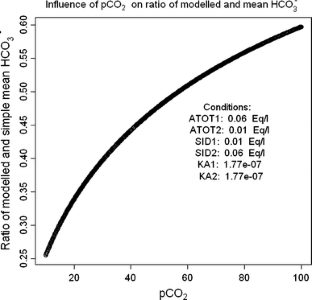 Notes
1.

Take for instance the highest point in the curve for pCO2 = 100 mmHg. Assuming [H+] is additive (and hence for equal pCO2, [HCO3 −] is also additive), a [H+] of 6.070848e-07 would result instead of 1.517582e-07, and using this [H+] a new combined SID of 0.01193681 Eq/l would result, but we know it is 0.035 Eq/l, when mixing equal volumes of two fluids with SID 0.01 and 0.06 Eq/l.
References
1.

Doberer D, Funk G-C, Kirchner K, Schneeweiss B (2009) A critique of Stewart's approach: the chemical mechanism of dilutional acidosis. Intensive Care Med. doi: 10.1007/s00134-009-1528-y, published online 17 June 2009

2.

Frassetto LA, Morris RC, Sebastian A (2007) Dietary sodium chloride intake independently predicts the degree of hyperchloremic metabolic acidosis in healthy humans consuming a net acid-producing diet. Am J Physiol 293:F521–F525

3.

R Development Core Team (2008) R: a language and environment for statistical computing. R Foundation for Statistical Computing, Vienna, Austria. ISBN 3-900051-07-0. http://www.R-project.org
Acknowledgment
P. D. Watson is thanked for the AcidBasics II.
About this article
Cite this article
Ring, T. Mixing bicarbonates: dilution acidosis from first principles. Intensive Care Med 35, 2183–2184 (2009). https://doi.org/10.1007/s00134-009-1668-0
Accepted:

Published:

Issue Date:
Keywords
Open System

Bicarbonate

HCO3

Total Concentration

Classical Model