Abstract
Objective
To assess the safety of low-dose vasopressin infusion in critically ill children requiring prolonged mechanical ventilation (MV) at risk of developing sedation/analgesia-related hypotension.
Method
Randomized pilot safety study in children expected to require MV for at least 3 days. Children received either vasopressin (0.0005 U/kg/min) or sodium chloride (0.9%) infusion for a period of 48 h. Haemodynamic variables, urine output and serum electrolytes were closely monitored and analyzed.
Results
Twelve children in each group had similar baseline characteristics. Vasopressin infusion was associated with an 8 mmol/L fall in serum sodium concentration (p < 0.01) and with higher incidence of hyponatraemia (8 vs. 66%, p < 0.01). In normotensive children, low-dose vasopressin also induced a reversible decrease in urine output, and acutely increased blood pressure (p < 0.01). After stopping the vasopressin there was rebound hypotension (p < 0.01).
Conclusion
Low-dose vasopressin infusion in haemodynamically stable, but critically ill, children is associated with reduction in urine output and decreased serum sodium level, yielding a high incidence of hyponatraemia. We conclude that these effects limit further study of prophylactic vasopressin for sedation-related hypotension in a randomized controlled trial.
This is a preview of subscription content, log in to check access.
Access options
Buy single article
Instant access to the full article PDF.
US$ 39.95
Price includes VAT for USA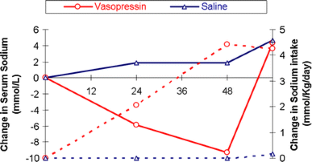 References
1.

Sfoggia A, Fontela PS, Moraes A, da Silva F, Sober RB, Noer RB, Bruno F, Einloft P, Garcia PC, Piva JP (2003) Sedation and analgesia in children submitted to mechanical ventilation could be overestimated? J Pediatr 79:343–348

2.

Tobias JD (2000) Tolerance, withdrawal, and physical dependency after long-term sedation and analgesia of children in the pediatric intensive care unit. Crit Care Med 28:2122–2132

3.

Ostermann ME, Keenan SP, Seiferling RA, Sibbald WJ (2000) Sedation in the intensive care unit: a systematic review. JAMA 283:1451–1459

4.

Richman PS, Baram D, Varela M, Glass PS (2006) Sedation during mechanical ventilation: a trial of benzodiazepine and opiate in combination. Crit Care Med 34:1395–1401

5.

Jacobi J, Fraser GL, Coursin DB, Riker RR, Fontaine D, Wittbrodt ET, Chalfin DB, Masica MF, Bjerke HS, Coplin WM, Crippen DW, Fuchs BD, Kelleher RM, Marik PE, Nasraway SA Jr, Murray MJ, Peruzzi WT, Lumb PD, Task Force of the American College of Critical Care Medicine (ACCM) of the Society of Critical Care Medicine (SCCM), American Society of Health-System Pharmacists (ASHP), American College of Chest Physicians (2002) Clinical practice guidelines for the sustained use of sedatives and analgesics in the critically ill adult. Crit Care Med 30:119–141

6.

Playfor S, Jenkins I, Boyles C, Choonara I, Davies G, Haywood T, Hinson G, Mayer A, Morton N, Ralph T, Wolf A, United Kingdom Paediatric Intensive Care Society Sedation; Analgesia, Neuromuscular Blockade Working Group (2006) Consensus guidelines on sedation and analgesia in critically ill children. Intensive Care Med 32:1125–1136

7.

Schade DS, Eaton RP (1978) The metabolic response to norepinephrine in normal versus diabetic man. Diabetologia 15:433–439

8.

Van den Berghe G, de Zegher F, Lauwers P (1994) Dopamine suppresses pituitary function in infants and children. Crit Care Med 22:1747–1753

9.

Irazuzta J, Sullivan KJ, Garcia PC, Piva JP (2007) Pharmacologic support of infants and children in septic shock. J Pediatr (Rio J) 83(Suppl 2):S36–S45

10.

Wernovsky G, Wypij D, Jonas RA, Mayer JE Jr, Hanley FL, Hickey PR, Walsh AZ, Chang AC, Castañeda AR, Newburger JW et al (1995) Postoperative course and hemodynamic profile after the arterial switch operation in neonates and infants. A comparison of low-flow cardiopulmonary bypass and circulatory arrest. Circulation 92:2226–2235

11.

Holmes CL, Patel BM, Russell JA, Walley KR (2001) Physiology of vasopressin relevant to management of septic shock. Chest 120:989–1002

12.

Russell JA, Walley KR, Singer J, Gordon AC, Hébert PC, Cooper DJ, Holmes CL, Mehta S, Granton JT, Storms MM, Cook DJ, Presneill JJ, Ayers D, VASST Investigators (2008) Vasopressin versus norepinephrine infusion in patients with septic shock. N Engl J Med 358:877–887

13.

van Steensel-Moll HA, Hazelzet JA, van der Voort E, Neijens HJ, Hackeng WH (1990) Excessive secretion of antidiuretic hormone in infections with respiratory syncytial virus. Arch Dis Child 65:1237–1239

14.

Delmas A, Leone M, Rousseau S, Albanèse J, Martin C (2005) Clinical review: vasopressin and terlipressin in septic shock patients. Crit Care 9:212–222

15.

Choong K, Kissoon N (2008) Vasopressin in pediatric shock and cardiac arrest. Pediatr Crit Care Med 9:372–379

16.

Möhring J, Glänzer K, Maciel JA Jr, Düsing R, Kramer HJ, Arbogast R, Koch-Weser J (1980) Greatly enhanced pressor response to antidiuretic hormone in patients with impaired cardiovascular reflexes due to idiopathic orthostatic hypotension. J Cardiovasc Pharmacol 2:367–376

17.

Frazier SK, Moser DK, Schlanger R, Widener J, Pender L, Stone KS (2008) Autonomic tone in medical intensive care patients receiving mechanical ventilation and during a CPAP weaning trial. Biol Res Nurs 9:301–310

18.

Pinsky MR (2005) Cardiovascular issues in respiratory care. Chest 128:592S–597S

19.

Taneyama C, Goto H, Kohno N, Benson KT, Sasao J, Arakawa K (1993) Effects of fentanyl, diazepam, and the combination of both on arterial baroreflex and sympathetic nerve activity in intact and baro-denervated dogs. Anesth Analg 77:44–48
Conflict of interest statement
None
About this article
Cite this article
Baldasso, E., Garcia, P.C.R., Piva, J.P. et al. Pilot safety study of low-dose vasopressin in non-septic critically ill children. Intensive Care Med 35, 355–359 (2009). https://doi.org/10.1007/s00134-008-1392-1
Received:

Accepted:

Published:

Issue Date:
Keywords
Vasopressin

Hypotension

Shock

Sedation

Paediatric intensive care

Mechanical ventilation