Abstract
Objective
To describe the incidence of acute respiratory distress syndrome (ARDS) in mechanically ventilated children and to study whether ARDS is underrecognized in this patient population.
Design and setting
Retrospective observational study in a single-center bed pediatric intensive care unit serving two Dutch provinces.
Patients
533 mechanically ventilated children aged 0–16 years, all of whom met the North-American European Consensus Conference criteria for ARDS.
Measurements and results
Chest radiographs were screened for the novel presence of bilateral infiltrates, in patients with bilateral infiltrates the PaO2/FIO2 ratio was calculated on two separate consecutive measurements. If below 200, the patient was classified as having ARDS. Left ventricular dysfunction was ruled out by echocardiography. The incidence was calculated by obtaining the number of children aged 0–16 years in our region. For each patient it was noted whether the patient was currently considered to have ARDS. Forty-one patients (7.7%) met the criteria for ARDS, with an incidence of 2.2 per 100,000 per year. The mortality rate was 20.4%. Thirty patients (73.1%) had primary ARDS, mainly from viral lower respiratory tract disease. Only ten patients (24.4%) currently had ARDS.
Conclusions
The incidence of pediatric ARDS is low compared to that of adult ARDS, and further underestimated as most patients were diagnosed by their underlying diseases.
This is a preview of subscription content, log in to check access.
Access options
Buy single article
Instant access to the full article PDF.
US$ 39.95
Price includes VAT for USA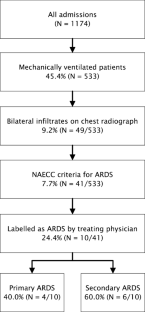 References
1.

Rubenfeld GD, Herridge MS (2007) Epidemiology and outcomes of acute lung injury. Chest 131:554–562

2.

Dahlem P, van Aalderen WMC, Hamaker ME, Dijkgraaf MGW, Bos AP (2003) Incidence and short-term outcome of acute lung injury in mechanically ventilated children. Eur Respir J 22:980–985

3.

Dahlem P, van Aalderen WMC, Bos AP (2007) Paediatric acute lung injury. Paediatr Respir Rev 8:348–632

4.

Schuster DP (2007) The search for "objective"criteria for ARDS. Intensive Care Med 33:400–402

5.

Bernard GR, Artigas A, Brigham KL, Carlet J, Falke K, Hudson L, Lamy M, Legall JR, Morris A, Spragg R (1994) The American-European Consensus Conference on ARDS. Definitions, mechanisms, relevant outcomes, and clinical trial coordination. Intensive Care Med 20:225–232

6.

Bindl L, Dresbach K, Lentze MJ (2005) Incidence of acute respiratory distress syndrome in German children and adolescent: a population-based study. Crit Care Med 33:209–212

7.

Erickson S, Schibler A, Numa A, Nuthall G, Yung M, Pascoe E, Wilkins B (2007) Acute lung injury in pediatric intensive care in Australia and New Zealand—a prospective, multicenter, observational study. Pediatr Crit Care Med 8:317–323

8.

Flori HR, Glidden DV, Rutherford GW, Matthay MA (2005) Pediatric acute lung injury. Prospective evaluation of risk factors associated with mortality. Am J Respir Crit Care Med 171:995–1001

9.

Hammer J, Numa A, Newth CJL (1997) Acute respiratory distress syndrome caused by respiratory syncytial virus. Pediatr Pulmonol 23:176–183

10.

Rubenfeld GD, Caldwell E, Cranston J, Hudson LD, Matthay MA (1999) Interobserver variability in applying a radiographic definition for ARDS. Chest 116:1347–1353

11.

Randolph AG, Meert KL, O'Neil ME, Hanson JH, Luckett PM, Arnold JH, Gedeit RG, Cox PN, Roberts JS, Venkataraman ST, Forbes PW, Cheifetz IM (2003) The feasibility of conducting clinical trials in infants and children with acute respiratory failure. Am J Respir Crit Care Med 167:1334–1340
About this article
Cite this article
Kneyber, M.C.J., Brouwers, A.G.A., Caris, J.A. et al. Acute respiratory distress syndrome: is it underrecognized in the pediatric intensive care unit?. Intensive Care Med 34, 751–754 (2008). https://doi.org/10.1007/s00134-008-1029-4
Received:

Accepted:

Published:

Issue Date:
Keywords
Acute respiratory distress syndrome

Mechanically ventilated

Pediatric intensive care unit

The Netherlands

Underdiagnoses