Abstract
Objective
To evaluate the antidepressant effect of imipramine on depressive symptoms observed in sepsis survivors rats.
Design and setting
Prospective, controlled experiment in an animal basic science laboratory.
Subjects
Male Wistar rats weighing 300–350 g.
Interventions
The rats underwent cecal ligation and perforation (CLP; sepsis group) with "basic support" (saline at 50 ml/kg immediately and 12 h after CLP plus ceftriaxone at 30 mg/kg and clindamycin at 25 mg/kg 6, 12, and 18 h after CLP) or sham-operated (control group). After 10 days of recovery rats received intraperitoneal injections of imipramine 10 mg/kg or saline and were subjected to the forced swimming test.
Measurements and results
The observed increase in the immobility time in the forced swimming test in animals subjected to CLP, as a parameter of depressive behavior, was reversed by imipramine.
Conclusions
The depressive symptoms evaluated by forced swimming test had been reversed after imipramine administration. Our data provide evidence that CLP-induced depressive symptoms are sensitive to antidepressants.
This is a preview of subscription content, log in to check access.
Access options
Buy single article
Instant access to the full article PDF.
US$ 39.95
Price includes VAT for USA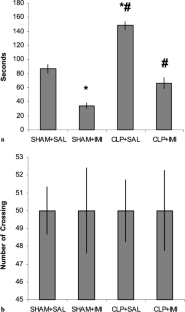 References
1.

Granja C, Dias C, Costa-Pereira A, Sarmento A (2004) Quality of life of survivors from severe sepsis and septic shock may be similar to that of others who survive critical illness. Crit Care Med 8:R91–R98

2.

Ritter C, Andrades ME, Reinke A, Menna-Barreto S, Moreira JC, Dal-Pizzol F (2004) Treatment with N-acetylcysteine plus deferoxamine protects rats against oxidative stress and improves survival in sepsis. Crit Care Med 32:342–349

3.

Barichello T, Martins MR, Reinke A, Feier G, Ritter C, Quevedo J, Dal-Pizzol F (2005) Cognitive impairment in sepsis survivors from cecal ligation and perforation. Crit Care Med 33:221–223

4.

Ritter C, Andrades M, Frota Junior ML, Bonatto F, Pinho RA, Polydoro M, Klamt F, Pinheiro CT, Menna-Barreto SS, Moreira JC, Dal-Pizzol F (2003) Oxidative parameters and mortality in sepsis induced by cecal ligation and perforation. Intensive Care Med 29:1782–1789

5.

Barichello T, Martins MR, Reinke A, Constantino LS, Machado RA, Reus GZ, Valvassori SS, Moreira JC, Quevedo J, Dal-Pizzol F (2007) Behavioural deficits in CLP-induced sepsis survivor rats. Braz J Med Biol Res 40:831–837

6.

Porsolt RD (1979) Animal model of depression. Biomedicine 30:139–140

7.

Viana A, Rego J-C, Poser GV, Ferraz A, Heckler AP, Costentin J, Kuze Rates SM (2005) The antidepressive-like effect of hypericum caprifoliatum Cham & Schlecht (Guttiferae) on forced swimming test results from an inhibition of neuronal monoamine uptake. Neuropharmacology 49:1042–1052

8.

Vianna MR, Alonso M, Viola H, Quevedo J, de Paris F, Furman M, de Stein ML, Medina JH, Izquierdo I (2000) Role of hippocampal signaling pathways in long-term memory formation of a nonassociative learning task in the rat. Learn Mem 7:333–340

9.

Cryan JF, Valentino RJ, Lucki I (2005) Assessing substrates underlying the behavioral effects of antidepressants using the modified rat forced swimming test. Neurosci Biobehav Rev 29:547–569

10.

Gardier AM, Bourin M (2001) Appropriate use of 'knockout' mice as models of depression or models of testing the efficacy of antidepressants. Psychopharmacology (Berl) 153:393–394
Additional information
This research was supported in part by UNESC (Brazil), FAPESC (Brazil), and CNPq (Brazil).
About this article
Cite this article
Tuon, L., Comim, C.M., Antunes, M.M. et al. Imipramine reverses the depressive symptoms in sepsis survivor rats. Intensive Care Med 33, 2165–2167 (2007). https://doi.org/10.1007/s00134-007-0804-y
Received:

Accepted:

Published:

Issue Date:
Keywords
Sepsis

Survivors

Cecal ligation and puncture

Depressivelike symptoms

Rat