Abstract
Objective
Delirium in the critically ill is reported in 11–80% of patients. We estimated the incidence of delirium using a validated scale in a large cohort of ICU patients and determined the associated risk factors and outcomes.
Design and setting
Prospective study in a 16-bed medical-surgical intensive care unit (ICU).
Patients
820 consecutive patients admitted to ICU for more than 24 h.
Interventions
Tools used were: the Intensive Care Delirium Screening Checklist for delirium, Richmond Agitation and Sedation Scale for sedation, and Numerical Rating Scale for pain. Risk factors were evaluated with univariate and multivariate analysis, and factors influencing mortality were determined using Cox regression.
Results
Delirium occurred in 31.8% of 764 patients. Risk of delirium was independently associated with a history of hypertension (OR 1.88, 95% CI 1.3–2.6), alcoholism (2.03, 1.2–3.2), and severity of illness (1.25, 1.03–1.07 per 5-point increment in APACHE II score) but not with age or corticosteroid use. Sedatives and analgesics increased the risk of delirium when used to induce coma (OR 3.2, 95% CI 1.5–6.8), and not otherwise. Delirium was linked to longer ICU stay (11.5 ± 11.5 vs. 4.4 ± 3.9 days), longer hospital stay (18.2 ± 15.7 vs. 13.2 ± 19.4 days), higher ICU mortality (19.7% vs. 10.3%), and higher hospital mortality (26.7% vs. 21.4%).
Conclusion
Delirium is associated with a history of hypertension and alcoholism, higher APACHE II score, and with clinical effects of sedative and analgesic drugs.
This is a preview of subscription content, log in to check access.
Access options
Buy single article
Instant access to the full article PDF.
US$ 39.95
Price includes VAT for USA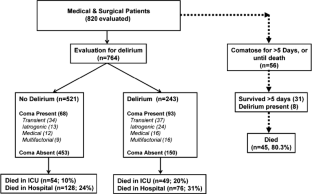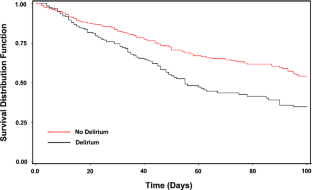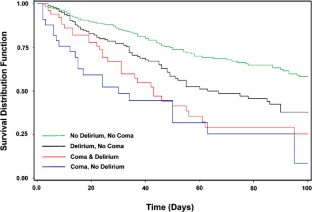 References
1.

Breitbart W, Gibson C, Tremblay A (2002) The delirium experience: delirium recall and delirium-related distress in hospitalized patients with cancer, their spouses/caregivers, and their nurses. Psychosomatics 43:183–194

2.

Granberg A, Bergbom Engberg I, Lundberg D (1998) Patients' experience of being critically ill or severely injured and cared for in an intensive care unit in relation to the ICU syndrome. I. Intensive Crit Care Nurs 14:294–307

3.

Granberg-Axell A, Bergbom I, Lundberg D (2001) Clinical signs of ICU syndrome/delirium: an observational study. Intensive Crit Care Nurs 17:72–93

4.

Jones WHS (1931) Hippocrates (460–375 bc). Aphorisms, IV. Hippocrates. Loeb Classical Library 1

5.

Armstrong SC, Cozza KL, Watanabe KS (1997) The misdiagnosis of delirium. Psychosomatics 38:433–439

6.

Ely EW, Gautam S, Margolin R, Francis J, May L, Speroff T, Truman B, Dittus R, Bernard R, Inouye SK (2001) The impact of delirium in the intensive care unit on hospital length of stay. Intensive Care Med 27:1892–1900

7.

Ely EW, Inouye SK, Bernard GR, Gordon S, Francis J, May L, Truman B, Speroff T, Gautam S, Margolin R, Hart RP, Dittus R (2001) Delirium in mechanically ventilated patients: validity and reliability of the confusion assessment method for the intensive care unit (CAM-ICU). JAMA 286:2703–2710

8.

Ely EW, Margolin R, Francis J, May L, Truman B, Dittus R, Speroff T, Gautam S, Bernard GR, Inouye SK (2001) Evaluation of delirium in critically ill patients: validation of the Confusion Assessment Method for the Intensive Care Unit (CAM-ICU). Crit Care Med 29:1370–1379

9.

Ely EW, Shintani A, Truman B, Speroff T, Gordon SM, Harrell FE Jr, Inouye SK, Bernard GR, Dittus RS (2004) Delirium as a predictor of mortality in mechanically ventilated patients in the intensive care unit. JAMA 291:1753–1762

10.

Dubois MJ, Bergeron N, Dumont M, Dial S, Skrobik Y (2001) Delirium in an intensive care unit: a study of risk factors. Intensive Care Med 27:1297–1304

11.

Aldemir M, Ozen S, Kara IH, Sir A, Bac B (2001) Predisposing factors for delirium in the surgical intensive care unit. Crit Care 5:265–270

12.

Kishi Y, Iwasaki Y, Takezawa K, Kurosawa H, Endo S (1995) Delirium in critical care unit patients admitted through an emergency room. Gen Hosp Psychiatry 17:371–379

13.

Lin SM, Liu CY, Wang CH, Lin HC, Huang CD, Huang PY, Fang YF, Shieh MH, Kuo HP (2004) The impact of delirium on the survival of mechanically ventilated patients. Crit Care Med 32:2254–2259

14.

McNicoll L, Pisani MA, Zhang Y, Ely EW, Siegel MD, Inouye SK (2003) Delirium in the intensive care unit: occurrence and clinical course in older patients. J Am Geriatr Soc 51:591–598

15.

Caraceni A, Grassi L (2003) Delirium—acute confusional states in palliative medicine. Oxford University Press, New York

16.

Plum F, Posner J (1980) The Diagnosis of stupor and coma. Davis, Philadelphia

17.

Trzepacz PT (1999) Update on the neuropathogenesis of delirium. Dement Geriatr Cogn Disord 10:330–334

18.

Trzepacz PT (2000) Is there a final common neural pathway in delirium? Focus on acetylcholine and dopamine. Semin Clin Neuropsychiatry 5:132–148

19.

Gardner DM, Baldessarini RJ, Waraich P (2005) Modern antipsychotic drugs: a critical overview. Can Med Assoc J 172:1703–1711

20.

Skrobik Y (2002) Haloperidol should be used sparingly. Crit Care Med 30:2613–2614

21.

Kress JP, Pohlman AS, O'Connor MF, Hall JB (2000) Daily interruption of sedative infusions in critically ill patients undergoing mechanical ventilation. N Engl J Med 342:1471–1477

22.

Bergeron N, Dubois MJ, Dumont M, Dial S, Skrobik Y (2001) Intensive Care Delirium Screening Checklist: evaluation of a new screening tool. Intensive Care Med 27:859–864

23.

Amador L, Goodwin JS (2000) Postoperative delirium in the older patient. J Am Coll Surg 5:767–773

24.

Bucerius J, Gummert JF, Borger MA, Walther T, Doll N, Falk V, Schmitt DV, Mohr FW (2004) Predictors of delirium after cardiac surgery delirium: effect of beating-heart (off-pump) surgery. J Thorac Cardiovasc Surg 127:57–64

25.

Korevaar JC, van Munster BC, de Rooij SE (2005) Risk factors for delirium in acutely admitted elderly patients: a prospective cohort study. BMC Geriatr 5:6

26.

Stein LM, Thienhaus OJ (1993) Hearing impairment and psychosis. Int Psychogeriatr 5:49–56

27.

Ross D (1998) Acute neurologic complications of drug and alcohol abuse. Neurol Clin 692:503–519

28.

Granberg Axell AI, Malmros CW, Bergbom IL, Lundberg DB (2002) Intensive care unit syndrome/delirium is associated with anemia, drug therapy and duration of ventilation treatment. Acta Anaesthesiol Scand 46:726–731

29.

Vincent FM (1995) The neuropsychiatric complications of corticosteroid therapy. Compr Ther 21:524–528

30.

Ananth J (1995) Musculoskeletal disorders and rheumatoid arthritis. In: Kaplan H, Sadock B (eds) Comprehensive textbook of psychiatry. Williams & Wilkins, Baltimore

31.

Skokie I (1999) Principles of analgesic use in the treatment of acute pain and cancer pain. American Pain Society, Glenview

32.

Lynch EP, Lazor MA, Gellis JE, Orav J, Goldman L, Marcantonio ER (1998) The impact of postoperative pain on the development of postoperative delirium. Anesth Analg 86:781–785

33.

Ely EW, Truman B, Shintani A, Thomason JW, Wheeler AP, Gordon S, Francis J, Speroff T, Gautam S, Margolin R, Sessler CN, Dittus RS, Bernard GR (2003) Monitoring sedation status over time in ICU patients: reliability and validity of the Richmond Agitation–Sedation Scale (RASS). JAMA 289:2983–2991

34.

Sessler CN, Gosnell MS, Grap MJ, Brophy GM, O'Neal PV, Keane KA, Tesoro EP, Elswick RK (2002) The Richmond Agitation–Sedation Scale: validity and reliability in adult intensive care unit patients. Am J Respir Crit Care Med 166:1338–1344

35.

Cammarano W, Drasner K, Katz J (1998) Pain control, sedation, and use of muscle relaxants. In: Hall J, Schmidt G, Wood L (eds) Principles of critical care medicine. McGraw-Hill, New York

36.

Lacy C, Armstrong L, Goldman M, Lance C (2004) Drug information handbook. Lexi-Comp, Hudson

37.

Luck J, Peabody JW, Dresselhaus TR, Lee M, Glassman P (2000) How well does chart abstraction measure quality? A prospective comparison of standardized patients with the medical record. Am J Med 108:642–649

38.

Lemos J de, Tweeddale M, Chittock D (2000) Measuring quality of sedation in adult mechanically ventilated critically ill patients. the Vancouver Interaction and Calmness Scale. Sedation Focus Group. J Clin Epidemiol 53:908–919

39.

Rincon HG, Granados M, Unutzer J, Gomez M, Duran R, Badiel M, Salas C, Martinez J, Mejia J, Ordonez C, Florez N, Rosso F, Echeverri P (2001) Prevalence, detection and treatment of anxiety, depression, and delirium in the adult critical care unit. Psychosomatics 42:391–396

40.

Granberg A, Engberg IB, Lundberg D (1999) Acute confusion and unreal experiences in intensive care patients in relation to the ICU syndrome. II. Intensive Crit Care Nurs 15:19–33

41.

Hernandez G, de la Fuente R, Romero C, Naranjo ME, Zanolli M, Barticevic N, Castillo L, Bugedo G (2004) Memories and perceptions in ICU survivors: a multidimensional questionnaire. Intensive Care Med 30(Suppl A):579

42.

Spies CD, Otter HE, Huske B, Sinha P, Neumann T, Rettig J, Lenzenhuber E, Kox WJ, Sellers EM (2003) Alcohol withdrawal severity is decreased by symptom-orientated adjusted bolus therapy in the ICU. Intensive Care Med 29:2230–2238

43.

Waldstein SR, Manuck SB, Ryan CM, Muldoon MF (1991) Neuropsychological correlates of hypertension: review and methodologic considerations. Psychol Bull 110:451–468

44.

Inouye SK, Bogardus ST Jr, Charpentier PA, Leo-Summers L, Acampora D, Holford TR, Cooney LM Jr (1999) A multicomponent intervention to prevent delirium in hospitalized older patients. N Engl J Med 340:669–676

45.

McKenzie CA, McKinnon W, Naughton DP, Treacher D, Davies G, Phillips GJ, Hilton PJ (2004) Differentiating midazolam over-sedation from neurological damage in the intensive care unit. Crit Care 9:32–36
Acknowledgements
The authors sincerely thank Drs. Daren Heyland and John Marshall for their critical review of the manuscript.
Appendix: Intensive Care Delirium Screening Checklist
Appendix: Intensive Care Delirium Screening Checklist
Examination are carried out on days 1–5 using a scale based on information collected from each entire 8-h shift or from the previous 24 h. Patients are assigned values on the following items of 1 (obvious manifestation of the item) or 0 (no manifestation of an item or no assessment possible); the total score ranges from 0 to 8.
1.

Altered level of consciousness. No response (A) or the need for vigorous stimulation in order to obtain any response (B) signifies a severe alteration in the level of consciousness and precludes evaluation. If there is coma (A) or stupor (B) no score is entered, and there is no further evaluation during that period.

A: No response (no score).

B: Response to intense and repeated stimulation (loud voice and pain; no score).

C: Response to mild or moderate stimulation; drowsiness or requirement of a mild to moderate stimulation for a response implies an altered level of consciousness (1 point).

D: Normal wakefulness; wakefulness or sleeping state that can easily be aroused (0 point).

E: Exaggerated response to normal stimulation; hypervigilance is rated as an abnormal level of consciousness (1 point).

2.

Inattention; difficulty in following a conversation or instructions, easily distracted by external stimuli, difficulty in shifting focuses (1 point).

3.

Disorientation; any obvious mistake in time, place, or person (1 point).

4.

Hallucination, delusion, psychosis; the unequivocal clinical manifestation of hallucination or of behavior probably due to hallucination (e. g., trying to catch a nonexistent object) or delusion; gross impairment in reality testing (1 point).

5.

Psychomotor agitation or retardation; hyperactivity requiring the use of additional sedative drugs or restraints in order to control potential danger to oneself or others (e. g., pulling out intravenous lines, hitting staff); hypoactivity or clinically noticeable psychomotor slowing (1 point).

6.

Inappropriate speech or mood; inappropriate, disorganized or incoherent speech; inappropriate display of emotion related to events or situation (1 point).

7.

Sleep/wake cycle disturbance; sleeping less than 4 h or waking frequently at night (do not consider wakefulness initiated by medical staff or loud environment); sleeping during most of the day (1 point).

8.

Symptom fluctuation; fluctuation of the manifestation of any item or symptom over 24 h (e. g., from one shift to another; 1 point).
About this article
Cite this article
Ouimet, S., Kavanagh, B.P., Gottfried, S.B. et al. Incidence, risk factors and consequences of ICU delirium. Intensive Care Med 33, 66–73 (2007). https://doi.org/10.1007/s00134-006-0399-8
Received:

Accepted:

Published:

Issue Date:
Keywords
Intensive Care Unit

Intensive Care Unit Stay

Intensive Care Delirium Screening Checklist

Delirium Incidence

Intensive Care Unit Delirium