Abstract
Objective
To investigate the long-term influence of erythrocyte transfusion on cerebral oxygenation in patients with severe traumatic brain injury.
Design
Prospective and observational study.
Setting
Neurotrauma intensive care unit of trauma center level I.
Patients
Sixty consecutive, hemodynamically stable patients with severe traumatic brain injury, pretransfusion hemoglobin < 100 g/l, non-bleeding and monitored through intracranial pressure and brain tissue partial pressure of oxygen (PtiO2) catheters were included.
Interventions
Transfusion of 1–2 units of red blood cells.
Measurements and results
Ten sets of variables (pretransfusion, end of transfusion, and 1, 2, 3, 4, 5, 6, 12 and 24 h after transfusion) were recorded, including: PtiO2, cerebral perfusion pressure (CPP), end-tidal CO2, peripheral saturation of oxygen, temperature, hemoglobin, lactate and PaO2/FiO2 ratio. Transfusion was associated with an increase in PtiO2 during a 6-h period, with a peak at 3 h (26.2%; p = 0.0001) in 78.3% of the patients. No relationship was observed between PtiO2, CPP and hemoglobin increments. The relative increment in PtiO2 at hour 3 was only correlated with baseline PtiO2 (r2 0.166; p = 0.001). All of the patients with basal PtiO2 < 15 mmHg showed an increment in PtiO2 versus 74.5% of patients with basal PtiO2 ≥ 15 mmHg (p < 0.01, hour 3).
Conclusions
Erythrocyte transfusion is associated with a variable and prolonged increment of cerebral tissue oxygenation in anemic patients with severe traumatic brain injury. Low baseline PtiO2 levels (< 15 mmHg) could define those patients who benefit the most from erythrocyte transfusion.
This is a preview of subscription content, log in to check access.
Access options
Buy single article
Instant access to the full article PDF.
US$ 39.95
Price includes VAT for USA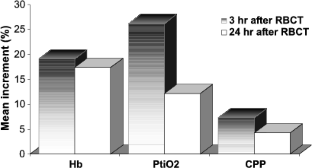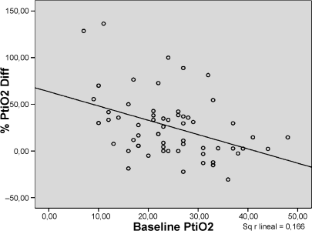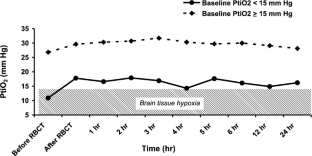 Abbreviations
CPP:

cerebral perfusion pressure

EtCO2 :

end-tidal CO2,

FiO2 :

oxygen inspired fraction

ICP:

Intracranial pressure

PaO2 :

oxygen arterial pressure

PtiO2 :

Brain tissue oxygen pressure

TBI:

traumatic brain injury

StO2 :

peripheral saturation assessed by pulse oximetry
References
1.

Walsh TS, Lee RJ, Maciver CR, Garrioch M, Mackirdy F, Binning AR, Cole S, McClelland DB (2006) Anemia during and at discharge from intensive care: the impact of restrictive blood transfusion practice. Intensive Care Med 32:100–109

2.

Vincent JL, Baron JF, Reinhart K, Gattinoni L, Thijs L, Webb A, Meier-Hellmann A, Nollet G, Peres-Bota D, ABC (Anemia and Blood Transfusion in Critical Care Investigators) (2002) Anemia and blood transfusion in critically ill patients. JAMA 288:1499–1507

3.

Leal-Noval SR, Marquez-Vacaro JA, Garcia-Curiel A, Camacho-Larana P, Rincon-Ferrari MD, Ordoñez-Fernandez A, Flores-Cordero JM, Loscertales-Abril J (2000) Nosocomial pneumonia in patients undergoing heart surgery. Crit Care Med 28:935–940

4.

Malone DL, Dunne J, Tracy JK, Putnam AT, Scalea TM, Napolitano LM (2003) Blood transfusion, independent of shock severity, is associated with worse outcome in trauma. J Trauma 54:898–890

5.

Fernandes CJ, Akamine N, De Marco FV, de Sousa JA, Lagudis S, Knobel E (2001) Erythrocytes transfusion does not increase oxygen consumption in critically ill septic patients. Crit Care 5:362–367

6.

Marik PE, Sibbald WJ (1993) Effect of stored-blood transfusion on oxygen delivery in patients with sepsis. JAMA 269:3024–3029

7.

Casutt M, Seifert B, Pasch T, Schmid E, Turina M, Spahn D. (1999) Factors influecing the individual effects of blood transfusion on oxygen delivery and oxygen consumption. Crit Care Med 27:2194–2200

8.

Yamada S, Koizumi A, Iso H, Wada Y, Watanabe Y, Date C, Yamamoto A, Kikushi S, Inaba Y, Toyoshima H, Kondo T, Tamokoshi A and JACC Study Group (2003) Risk factors for fatal subarachnoid hemorrhage: the Japan Collaborative Cohort Study. Stroke 34:2781–2787

9.

Smith MJ, Le Roux PD, Eliott JP, Winn HR (2004) Blood transfusion and increased risk for vasospasm and poor outcome after subarachnoid hemorrhage. J Neurosurg 101:1–7

10.

Yamada S, Koizumi A, Iso H, Wada Y, Watanabe Y, Date C, Yamamoto A, Kikushi S, Inaba Y, Kondo T, Toyoshima H, Tamokoshi A and JACC Study Group (2005) History of blood transfusion before 1990 is a risk factor for stroke and cardiovascular diseases: the Japan collaborative cohort study (JACC study).Cerebrovasc Dis 20:164–171

11.

Van den Brink WA, van Santbrink H, Steyerberg EW, Avezaat CJ, Suazo JA, Hogesteeger C, Jansen WJ, Kloos LM, Vermeulen J, Maas AI (2000) Brain oxygen tension in severe head injury. Neurosurgery 46:868–876

12.

Dings J, Meixensberger J, Jager A, Roosen K (1998) Clinical experience with 118 brain tissue oxygen partial pressure catheter probes. Neurosurgery 43:1082–1095

13.

Smith MJ, Stiefel MF, Magge S, Frangos S, Blom S, Gracias V, Le Roux PD (2005) Packed erythrocytes transfusion increases local cerebral oxygenation. Crit Care Med 33:1104–1108

14.

Ho J, Sibbald WJ, Chin-Y EE (2003) Effects of storage on efficacy of red cell transfusion: when is it not safe? Crit Care Med 31:S687–S697

15.

Suttners S, Piper SN, Kumle B, Lang K, Rohm KD, Isgro F, Boldt J (2004) The influence of allogeneic blood cell transfusion compared with 100% oxygen ventilation on systemic oxygen transport and skeletal muscle oxygen tension after cardiac surgery. Anesth Analg 99:2–11

16.

Daugherty WP, Levasseur JE, Sun D, Rockswold GL, Bullock MR (2004) Perfluorocarbon emulsion improves cerebral oxygenation and mitochondrial function after fluid percussion brain injury in rats. Neurosurgery 54:1223–1230

17.

Pendem S, Rana S, Manno E, Gagic O (2006) A review of red cell transfusion in the neurological intensive care unit. Neurocrit Care 4:63–67

18.

Lang EW, Czosnyka M, Mehdorn M (2003) Tissue oxygen reactivity and cerebral autoregulation after severe traumatic brain injury. Crit Care Med 31:267–271

19.

Marín-Caballos AJ, Murillo-Cabezas F, Cayuela-Domínguez A, Domínguez-Roldan JM, Rincón-Ferrari MD, Valencia-Anguita J, Flores-Cordero JM, Muñoz-Sánchez MA (2005) Cerebral perfusion pressure and risk of brain hypoxia in severe head injury: a prospective observational study. Crit Care 9(6):670–676

20.

Sahuquillo J, Amoros S, Santos A, Poca MA, Panzardo H, Dominguez L, Pedraza S (2000) Does an increase in cerebral perfusion always mean a better oxygenated brain? A study in head-injured patients. Acta Neurochir Suppl 76:457–462

21.

Weiskopf RB, Feiner J, Hopt H, Lieberman J, Finlay HE, Quah C, Kramer JH, Bostrom A, Toy P (2006) Fresh blood and aged stored blood are equally efficacious in immediately reversing anemia-induced brain oxygenation deficits in humans. Anesthesiology 104:911–920

22.

Spahn D, Madjdpour C (2006) Physiologic transfusion triggers. Anesthesiology 104:905–906

23.

Valadka AB, Gopinath SP, Contant CF, Uzura M, Robertson CS (1998) Relationship of brain tissue PO2 to outcome after severe head injury. Crit Care Med 26:1576–1581
Acknowledgements
Supported by Spanish Government funds (Fondo de Investigación Sanitaria: Proyecto de Investigación PI 040296; Convenio específico de colaboración entre el Instituto de Salud Carlos III y la comunidad autónoma andaluza, fundación "Progreso y Salud". BOE 31, resolución 1907, año 2006).
About this article
Cite this article
Leal-Noval, S.R., Rincón-Ferrari, M.D., Marin-Niebla, A. et al. Transfusion of erythrocyte concentrates produces a variable increment on cerebral oxygenation in patients with severe traumatic brain injury. Intensive Care Med 32, 1733–1740 (2006). https://doi.org/10.1007/s00134-006-0376-2
Received:

Accepted:

Published:

Issue Date:
Keywords
Brain hypoxia

Cerebral oxygenation

Erythrocytes

Neurotrauma

PtiO2

Red blood cells

Severe brain injury

Transfusion