Abstract
Objective
A negative effect of hyperglycemia on clinical outcome has been proposed for patients treated under intensive care conditions. So far, however, the safety and effect of fat based nutrition regimen, especially of olive oil based emulsions, have not been systematically studied.
Design and setting
Prospective, open-labeled, randomized, pilot study in a 14-bed surgical intensive care unit.
Patients and interventions
Thirty-three consecutive, severe multiple trauma patients (injury severity score 31.6±11.5) were included; 18 (L group) received a parenteral lipid-based nutrition; 15 (G group) were given a standard parenteral glucose-based nutrition.
Measurements and results
The energy expenditure (EE) showed no difference between groups and no significant difference between the energy intake/EE ratio. The daily mean energy intake was lower in the L group (17.9±6.3 kcal/kg) than in the G group (22.3±4.2 kcal/kg). Triglycerides and nitrogen balance showed no significant differences between groups. The L group had significantly lower blood glucose (L 7.4±1.6, G 8.7±1.6 mmol/l), carbon dioxide production, and minute volume and shorter duration of mechanical ventilation (L 13.0±8.9, G 20.4±7.0 days), and stay in the ICU (L 17.9±11.2, G 25.1±7.0 days).
Conclusions
Our findings suggest a good tolerance, a decrease in blood glucose, clinically relevant shortening of ICU stay, and shorter time on mechanical ventilation for patients treated with olive oil based than with conventional glucose-heavy nutrition.
This is a preview of subscription content, log in to check access.
Access options
Buy single article
Instant access to the full article PDF.
US$ 39.95
Price includes VAT for USA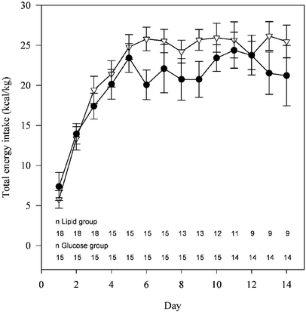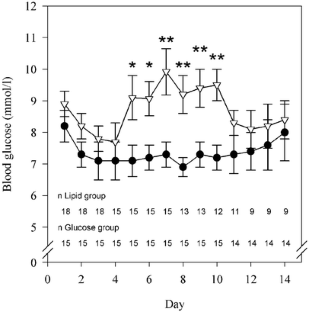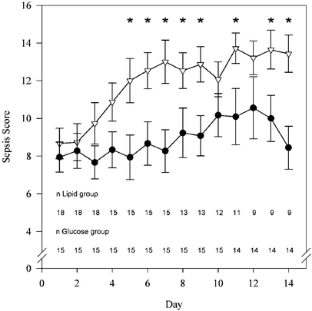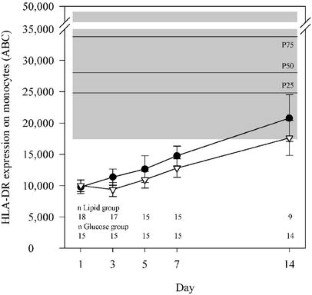 References
1.

Berghe G van den, Wouters P, Weekers F, Verwaest C, Bruyninckx F, Schetz M, Vlasselaers D, Ferdinande P, Lauwers P, Bouillon R (2001) Intensive insulin therapy in the surgical intensive care unit. N Engl J Med 345:1359–1367

2.

Fietsam R Jr, Bassett J, Glover JL (1991) Complications of coronary artery surgery in diabetic patients. Am Surg 57:551–557

3.

Gore DC, Chinkes DL, Hart DW, Wolf SE, Herndon DN, Sanford AP (2002) Hyperglycemia exacerbates muscle protein catabolism in burn-injured patients. Crit Care Med 30:2438–2442

4.

Ortiz A, Ziyadeh FN, Neilson EG (1997) Expression of apoptosis-regulatory genes in renal proximal tubular epithelial cells exposed to high ambient glucose and in diabetic kidneys. J Investig Med 45:50–56

5.

Said G, Goulon-Goeau C, Slama G, Tchobroutsky G (1992) Severe early-onset polyneuropathy in insulin-dependent diabetes mellitus. A clinical and pathological study. N Engl J Med 326:1257–1263

6.

Huschak G, zur Nieden K, Stuttmann R (2003) Effects of lipid based nutrition on clinical outcome of patients after severe trauma. Clin Nutr 22 Suppl 1:S1–114

7.

Heyland DK, MacDonald S, Keefe L, Drover JW (1998) Total parenteral nutrition in the critically ill patient: a meta-analysis. JAMA 280:2013–2019

8.

Yaqoob P (1998) Lipids and the immune response. Curr Opin Clin Nutr Metab Care 1:153–161

9.

Schönle PW (1995) The Early Rehabilitation Barthel Index—an early rehabilitation-oriented extension of the Barthel Index. Rehabilitation (Stuttg) 34:69–73

10.

al Saady NM, Blackmore CM, Bennett ED (1989) High fat, low carbohydrate, enteral feeding lowers PaCO2 and reduces the period of ventilation in artificially ventilated patients. Intensive Care Med 15:290–295

11.

Tappy L, Schwarz JM, Schneiter P, Cayeux C, Revelly JP, Fagerquist CK, Jequier E, Chiolero R (1998) Effects of isoenergetic glucose-based or lipid-based parenteral nutrition on glucose metabolism, de novo lipogenesis, and respiratory gas exchanges in critically ill patients. Crit Care Med 26:860–867

12.

Kohlhardt SR, Smith RC, Kee AJ (1994) Metabolic response to a high-lipid, high-nitrogen peripheral intravenous nutrition solution after major upper-gastrointestinal surgery. Nutrition 10:317–326

13.

Kohlhardt SR, Smith RC, Kee AJ (1994) Metabolic evaluation of a 75% lipid/25% glucose high nitrogen solution for intravenous nutrition. Eur J Surg 160:335–344

14.

Cai B, Zhu Y, Ma Y, Xu Z, Zao Y, Wang J, Lin Y, Comer GM (2003) Effect of supplementing a high-fat, low-carbohydrate enteral formula in COPD patients. Nutrition 19:229–232

15.

Sheman MS (2001) Parenteral nutrition and cardiopulmonary disease. In: Rombeau JL, Rolandelli RH (eds) Clinical nutrition: parenteral nutrition. Saunders, Philadelphia, pp 335–352

16.

Weinberger SE, Schwartzstein RM, Weiss JW (1989) Hypercapnia. N Engl J Med 321:1223–1231

17.

The Acute Respiratory Distress Syndrome Network (2000) Ventilation with lower tidal volumes as compared with traditional tidal volumes for acute lung injury and the acute respiratory distress syndrome. N Engl J Med 342:1301–1308

18.

Tappy L, Berger M, Schwarz JM, McCamish M, Revelly JP, Schneiter P, Jequier E, Chiolero R (1999) Hepatic and peripheral glucose metabolism in intensive care patients receiving continuous high- or low-carbohydrate enteral nutrition. JPEN J Parenter Enteral Nutr 23:260–267

19.

Carpentier YA, Dupont IE (2000) Advances in intravenous lipid emulsions. World J Surg 24:1493–1497

20.

Endres S, Ghorbani R, Kelley VE, Georgilis K, Lonnemann G, van der Meer JW, Cannon JG, Rogers TS, Klempner MS, Weber PC (1989) The effect of dietary supplementation with n-3 polyunsaturated fatty acids on the synthesis of interleukin-1 and tumor necrosis factor by mononuclear cells. N Engl J Med 320:265–271

21.

Yaqoob P, Knapper JA, Webb DH, Williams CM, Newsholme EA, Calder PC (1998) Effect of olive oil on immune function in middle-aged men. Am J Clin Nutr 67:129–135

22.

Göbel Y, Koletzko B, Böhles HJ, Engelsberger I, Forget D, Le Brun A, Peters J, Zimmermann A (2003) Parenteral fat emulsions based on olive and soybean oils: a randomized clinical trial in preterm infants. J Pediatr Gastroenterol Nutr 37:161–167

23.

Battistella FD, Widergren JT, Anderson JT, Siepler JK, Weber JC, MacColl K (1997) A prospective, randomized trial of intravenous fat emulsion administration in trauma victims requiring total parenteral nutrition. J Trauma 43:52–58

24.

Garrel DR, Razi M, Lariviere F, Jobin N, Naman N, Emptoz-Bonneton A, Pugeat MM (1995) Improved clinical status and length of care with low-fat nutrition support in burn patients. JPEN J Parenter Enteral Nutr 19:482–491

25.

Alexander JW (1998) Immunonutrition: the role of omega-3 fatty acids. Nutrition 14:627–633

26.

Hershman MJ, Cheadle WG, Wellhausen SR, Davidson PF, Polk HC Jr (1990) Monocyte HLA-DR antigen expression characterizes clinical outcome in the trauma patient. Br J Surg 77:204–207

27.

Torrinhas RS, Gidlund M, Goto H, Sales M, Oliviera P, Jacintho TM, Waitzberg DL (2002) Olive oil based lipid emulsion does not alter the expression of surface molecules with immunological functions on human monocytes/macrophages (MO). Clin Nutr Suppl 21:P-040

28.

Seidner DL, Mascioli EA, Istfan NW, Porter KA, Selleck K, Blackburn GL, Bistrian BR (1989) Effects of long-chain triglyceride emulsions on reticuloendothelial system function in humans. JPEN J Parenter Enteral Nutr 13:614–619

29.

Hwang TL, Huang SL, Chen MF (1990) Effects of intravenous fat emulsion on respiratory failure. Chest 97:934–938

30.

Driscoll DF, Adolph M, Bistrian BR (2001) Lipid emulsions in parenteral nutrition. In: Rombeau JL, Rolandelli RH (eds) Clinical nutrition: parenteral nutrition. Saunders, Philadelphia, pp 35–59

31.

Klein S, Miles JM (1994) Metabolic effects of long-chain and medium-chain triglyceride emulsions in humans. JPEN J Parenter Enteral Nutr 18:396–397

32.

Bardenheuer M, Obertacke U, Waydhas C, Nast-Kolb D (2000) Epidemiologie des Schwerverletzten. Eine prospektive Erfassung der präklinischen und klinischen Versorgung. Unfallchirurg 103:355–363
Acknowledgements
Parts of the manuscript were presented at the 25th Congress of the European Society of Parenteral and Enteral Nutrition (ESPEN) at Cannes, France [6]
Additional information
This study was funded by the German Berufsgenossenschaften (Employers' Liability Insurance Association) and Baxter Deutschland GmbH.
Electronic Supplementary Material
About this article
Cite this article
Huschak, G., zur Nieden, K., Hoell, T. et al. Olive oil based nutrition in multiple trauma patients: a pilot study. Intensive Care Med 31, 1202–1208 (2005). https://doi.org/10.1007/s00134-005-2727-9
Received:

Accepted:

Published:

Issue Date:
Keywords
Olive oil

Blood glucose

Lipid nutrition

Multiple trauma

Mechanical ventilation

HLA-DR