Abstract
Objective
This study investigated the temporal changes in whole-blood and plasma glutathione in ICU patients with multiple organ failure.
Design and setting
Prospective and descriptive pilot study performed in an ICU with eight beds at a university hospital.
Patients
Critically ill patients (n=11) with multiple organ failure and ICU stay of at least 6 days were consecutively included. Patients with chronic obstructive pulmonary disease (n=21) and healthy volunteers (n=10) were used as reference groups.
Measurements and results
Whole-blood and plasma glutathione were measured every 72 h. Total glutathione and the reduced fraction were determined in whole blood. The oxidized fraction and the redox status were calculated from these values. In plasma only the total concentration was determined. Patients were studied for 6–15 days. Nutrition was supplied according to routines supplying basal needs including glutamine. Both total and reduced glutathione was found to be depleted in whole blood compared to the reference groups. Redox status indicated continuing oxidative stress. Plasma glutathione showed higher values in total concentrations than the reference groups.
Conclusions
This study demonstrates that glutathione remains depleted in whole blood. This contrasts to what has previously been shown in skeletal muscle where a restitution of glutathione concentration is seen.
This is a preview of subscription content, log in to check access.
Access options
Buy single article
Instant access to the full article PDF.
US$ 39.95
Price includes VAT for USA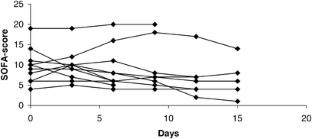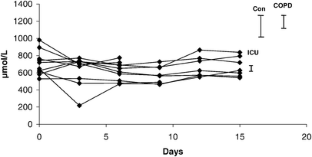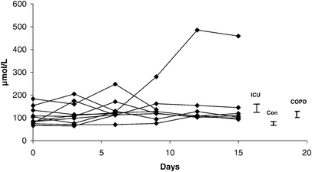 References
1.

Macdonald J, Galley HF, Webster Nr (2003) Oxidative stress and gene expression in sepsis. Br J Anaesth 90:221–232

2.

Metnitz GH, Fischer M, Bartens C, Steltzer H, Lang T, Druml W (2000) Impact of acute renal failure on antioxidant status in multiple organ failure. Acta Anaesthesiol Scand 44:236–240

3.

Keller GA, Barke R, Harty JT, Humphrey E, Simmons RL (1985) Decreased hepatic glutathione levels in septic shock. Arch Surg 120:941–945

4.

Pacht ER, Timerman AP, Lykens MG, Merola AJ (1991) Deficiency of alveolar fluid glutathione in patients with sepsis and the adult respiratory distress syndrome. Chest 100:1397–1403

5.

Hammarqvist F, Luo J-L, Andersson K, Wernerman J (1997) Skeletal muscle glutathione is depleted in critically ill patients. Crit Care Med 25:78–84

6.

Fläring UB, Rooyackers OB, Wernerman J, Hammarqvist F (2003) Temporal changes in muscle glutathione in ICU patients. Intensive Care Med 29:2193–2198

7.

Brealey D, Brand M, Hargreaves I, Heales S, Land J, Smolenski R, Davies NA, Cooper CE, Singer M (2002) Association between mitochondrial dysfunction and severity and outcome of septic shock. Lancet 360:219–223

8.

Fläring UB, Rooyackers OE, Hammarqvist F, Wernerman J (2003) Glutamine attenuates post-traumatic glutathione depletion in human muscle. Clin Sci (Lond) 104:275–282

9.

Lyons J, Rauh-Pfeiffer A, Ming-Yu Y, Lu XM, Zurakowski D, Curley M, Collier S, Duggan C, Nurko S, Thompson J et al. (2001) Cysteine metabolism and whole blood glutathione synthesis in septic pediatric patients. Crit Care Med 29:870–877

10.

Yu Y-M, Ryan CM, Fei ZW, Lu XM, Castillo L, Schultz JT, Tompkins RG, Young VR (2002) Plasma L-5-oxoproline kinetics and whole blood glutathione synthesis rates in severely burned adult humans. Am J Physiol Endocrinol Metab 282:E247–258

11.

Reid M, Badaloo A, Forrester T, Morlese JF, Frazer ME, Heird WC, Jahoor F (2000) In vivo rates of erythrocyte glutathione synthesis in children with severe protein-energy malnutrition. Am J Physiol 278:E405–E412

12.

Jahoor F, Jackson A, Gazzard B, Philips G, Sharpstone D, Frazer ME, Heird W (1999) Erythrocyte glutathione deficiency in symptom-free HIV infection is associated with decreased synthesis rate. Am J Physiol 276:E205–211

13.

Knaus WA, Draper EA, Wagner DP, Zimmerman JE (1985) Apache II: a severity of disease classification system. Crit Care Med 13:818–829

14.

Vincent JL, Moreno R, Takala J, Willatts S, De Mendonca A, Bruining H, Reinhart CK, Suter PM, Thijs LG (1996) The SOFA (Sepsis-related Organ Failure Assessment) score to describe organ dysfunction/failure. Intensive Care Med 22:707–710

15.

Richards RS, Roberts TK, Dunstan RH, McGregor NR, Butt HL (1998) Erythrocyte antioxidant systems protect cultured endothelial cells against oxidant damage. Biochem Mol Biol Int 46:857–865

16.

Lang CA, Naryshkin S, Schneider DL, Mills BJ, Lindeman RD (1992) Low blood glutathione levels in healthy aging adults. J Lab Clin Med 120:720–725

17.

Erden-Inal M, Sunal E, Kanbak G (2002) Age-related changes in the glutathione redox system. Cell Biochem Funct 20:61–66

18.

Roederer M, Staal FJ, Andersson M, Rabin R, Raju PA, Herzenberg LA, Herzenberg LA (1993) Disregulation of leukocyte glutathione in AIDS. Ann N Y Acad Sci 20:113–125

19.

Buhl R, Jaffe HA, Holroyd KJ, Wells FB, Mastrsangeli A, Saltini C, Cantin AM, Crystal RG (1989) Systemic glutathione deficiency in symptom-free HIV-seropositive individuals. Lancet II:234–236

20.

Jahoor F, Wykes LJ, Reeds PJ, Henry JF, del Rosario MP, Frazer ME (1995) Protein-deficient pigs cannot maintain reduced glutathione homeostasis when subjected to the stress of inflammation. J Nutr 125:1462–1472

21.

Malmezat T, Breuille D, Capitan P, Mirand PP, Obled C (2000) Glutathione turnover is increased during the acute phase of sepsis in rats. J Nutr 130:1239–1246
Acknowledgements
The study was supported by grants from the Swedish Medical Research council (project 04210 and 14244). We thank Lisselott Thunblad for her excellent technical assistance and Viveka Gustavsson and Ingegerd Johansson for their expert nursing assistance.
About this article
Cite this article
Fläring, U.B., Rooyackers, O.E., Hebert, C. et al. Temporal changes in whole-blood and plasma glutathione in ICU patients with multiple organ failure. Intensive Care Med 31, 1072–1078 (2005). https://doi.org/10.1007/s00134-005-2687-0
Received:

Accepted:

Published:

Issue Date:
Keywords
Human

Glutathione

Cysteine

Critically illness

Oxidative stress

Chronic obstructive pulmonary disease