Abstract
Objective
To evaluate whether the SOFA score can be used to develop a model to predict intensive care unit (ICU) mortality in different countries.
Design and setting
Analysis of a prospectively collected database. Patients with ICU stay longer than 2 days were studied to develop a mortality prediction model based on measurements of organ dysfunction.
Patients
748 patients from six countries.
Measurements and results
Two logistic regression models were constructed, one based on the SOFA maximum (SOFA Max model) and the other on variables identified by multivariate regression (SOFA Max-infection model). The H and C statistics had a p value above 0.05 for both models, but the D statistics showed a poor performance on the SOFA Max model when stratified for the presence of infection. Subsequent analysis was performed with SOFA Max-infection model. The area under the curve was 0.853. There were no statistically significant differences in observed and predicted mortalities except for one country which had a higher than predicted ICU mortality both in the overall population (28.3 vs. 19.1%) and in the noninfected patients (21.4 vs. 12.6%).
Conclusions
The SOFA Max adjusted for age and the presence of infection can predict mortality in this population, but in one country the ICU mortality was higher than expected. Our data do not allow us to determine the reasons behind these differences, and further studies to detect differences in mortality between countries and to elucidate the basis for these differences should be encouraged.
This is a preview of subscription content, log in to check access.
Access options
Buy single article
Instant access to the full article PDF.
US$ 39.95
Price includes VAT for USA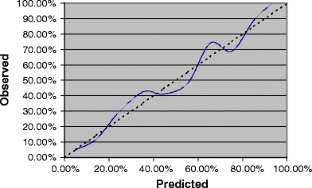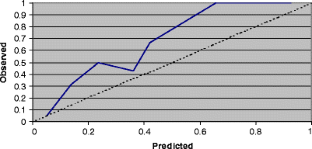 References
1.

Shortell SM, Zimmerman JE, Rousseau DM, Gillies RR, Wagner DP, Draper EA, Knaus WA, Duffy J (1994) The performance of intensive care units: does good management make a difference? Med Care 32:508–525

2.

Knaus WA, Draper EA, Wagner DP, Zimmerman JE (1985) APACHE II: a severity of disease classification system. Crit Care Med 13:818–829

3.

Le Gall J-R, Lemeshow S, Saulnier F (1993) A new simplified acute physiology score (SAPS II) based on a European/North American multicenter study. JAMA 270:2957–2963

4.

Lemeshow S, Teres D, Avrunin JS, Gage RW (1988) Refining intensive care unit outcome prediction by using changing probabilities of mortality. Crit Care Med 16:470–477

5.

Chang RWS, Jacobs S, Lee B (1988) Predicting outcome among intensive care unit patients using computerized trend analysis of daily APACHE II scores corrected for organ system failure. Intensive Care Med 14:558–566

6.

Rogers J, Fuller HD (1994) Use of daily Acute Physiology and Chronic Health Evaluation (APACHE) II scores to predict individual patient survival rate. Crit Care Med 22:1402–1405

7.

Rué M, Quintana S, Alvarez M, Artigas A (2001) Daily assessment of severity of illness and mortality prediction for individual patients. Crit Care Med 29:45–50

8.

Sicignano A, Carozzi C, Giudici D, Merli G, Arlati S, Pulici M, on behalf of ARCHIDIA (1996) The influence of length of stay in the ICU on power of discrimination of a multipurpose severity score (SAPS). Intensive Care Med 22:1048–1051

9.

Wong DT, Crofts SL, Gomez M, McGuire GP, Byrick RJ (1995) Evaluation of predictive ability of APACHE II system and hospital outcome in Canadian intensive care unit patients. Crit Care Med 23:1177–1183

10.

Castella X, Artigas A, Bion J, Kari A (1995) A comparison of severity of illness scoring systems for intensive care unit patients: results of a multicenter, multinational study. The European/North American Severity Study Group. Crit Care Med 23:1327–1335

11.

Rowan KM, Kerr JH, Major E, McPherson K, Short A, Vessey MP (1994) Intensive Care Society's Acute Physiology and Chronic Health Evaluation (APACHE II) study in Britain and Ireland: a prospective, multicenter, cohort study comparing two methods for predicting outcome for adult intensive care patients. Crit Care Med 22:1392–1401

12.

Clermont G, Angus DC, DiRusso SM, Griffin M, Linde-Zwirble WT (2001) Predicting hospital mortality for patients in the intensive care unit: a comparison of artificial neural networks with logistic regression models. Crit Care Med 29:291–296

13.

Murphy-Filkins R, Teres D, Lemeshow S, Hosmer DW (1996) Effect of changing patient mix on the performance of an intensive care unit severity-of-illness model: how to distinguish a general from a specialty intensive care unit. Crit Care Med 24:1968–1973

14.

Goldhill DR, Withington PS (1996) The effect of casemix adjustment on mortality as predicted by APACHE II. Intensive Care Med 22:415–419

15.

Patel PA, Grant BJ (1999) Application of mortality prediction systems to individual intensive care units. Intensive Care Med 25:977–982

16.

Vincent JL, Moreno R, Takala J, Willatts S, de Mendonça A, Bruining H, Reinhart CK, Suter PM, Thijs LG (1996) The SOFA (Sepsis-Related Organ Failure Assessment) score to describe organ dysfunction/failure. Intensive Care Med 22:707–710

17.

Tran DD, Groeneveld ABJ, Vander Meulen J, Nauta JJP, Strack Van Schijndel RJM, Thijs LG (1990) Age, chronic disease, sepsis, organ system failure, and mortality in a medical intensive care unit. Crit Care Med 18:474–479

18.

Deitch EA (1992) Multiple organ failure: pathophysiology and potential future therapy. Ann Surg 216:117–134

19.

Moreno R, Vincent JL, Matos A, de Mendonça A, Cantraine F, Thijs J, Takala J, Sprung C, Antonelli M, Bruining H, Willatts S (1999) The use of maximum SOFA score to quantify organ dysfunction/failure in intensive care. Results of a prospective, multicentre study. Intensive Care Med 25:686–696

20.

Lopes Ferreira F, Peres Bota D, Bross A, Melot C, Vincent JL (2001) Serial evaluation of the SOFA score to predict outcome. JAMA 286:1754–1758

21.

Vincent JL, de Mendonça A, Cantraine F, Moreno R, Takala J, Suter P, Sprung C, Colardyn FC, Blecher S (1998) Use of the SOFA score to assess the incidence of organ dysfunction/failure in intensive care units: results of a multicentric, prospective study. Crit Care Med 26:1793–1800

22.

Lemeshow S, Hosmer DWJ (1982) A review of goodness of fit statistics for use in the development of logistic regression models. Am J Epidemiol 115:92–106

23.

Pulkstenis E, Robinson TJ (2002) Two goodness-of-fit tests for logistic regression models with continuous covariates. Stat Med 21:79–93

24.

Hanley JA, McNeil BJ (1982) The meaning and use of the area under a receiver operating characteristic (ROC) curve. Radiology 143:29–36

25.

Hanley JA, McNeil BJ (1983) A method of comparing the areas under receiver operating characteristic curves derived from the same cases. Radiology 148:839–843

26.

Tilney NL, Bailey GL, Morgan AP (1973) Sequential system failure after rupture of abdominal aortic aneurysms: an unsolved problem in postoperative care. Ann Surg 178:117–122

27.

Fry DE, Pearlstein L, Fulton RL, Hiram CP (1980) Multiple system organ failure: the role of uncontrolled infection. Arch Surg 115:136–140

28.

Bell RC, Coalson JJ, Smith JD et al (1983) Multiple organ system failure and infection in adult respiratory distress syndrome. Ann Intern Med 99:293–298

29.

Tran DD, Cuesta MA (1992) Evaluation of severity in patients with acute pancreatitis. Am J Gastroenterol 87:604–608

30.

Marshall WG Jr, Dimick AR (1983) The natural history of major burns with multiple subsystem failure. J Trauma 23:102–105

31.

Henao FJ, Daes JE, Dennis RJ (1991) Risk factors for multiorgan failure: a case-control study. J Trauma 31:74–80

32.

Faist E, Baue A, Ditmer H, Heberer G (1983) Multiple organ failure in polytrauma patients. J Trauma 23:775–787

33.

Antonelli M, Moreno R, Vincent JL, Sprung CL, Mendoca A, Passariello M, Riccioni L, Osborn J (1999) Application of SOFA score to trauma patients. Sequential Organ Failure Assessment. Intensive Care Med 25:389–394

34.

Bossink AW, Groeneveld J, Hack CE, Thijs LG (1998) Prediction of mortality in febrile medical patients: how useful are systemic inflammatory response syndrome and sepsis criteria? Chest 113:1533–1541

35.

Moreno R, Morais P (1997) Outcome prediction in intensive care: results of a prospective, multicentre, Portuguese study. Intensive Care Med 23:177–186

36.

Sirio CA, Tajimi K, Tase C (1992) An initial comparison of intensive care in Japan and the United States. Crit Care Med 20:1207–1215

37.

Rivera-Fernandez R, Vazquez-Mata G, Bravo M, Aguayo-Hoyos E, Zimmerman J, Wagner D, Knaus W (1998) The Apache III prognostic system: customized mortality predictions for Spanish ICU patients. Intensive Care Med 24:574–581

38.

Markgraf R, Deutschinoff G, Pientka L, Scholten T, Lorenz C (2001) Performance of the score systems Acute Physiology and Chronic Health Evaluation II and III at an interdisciplinary intensive care unit, after customization. Crit Care 5:31–36

39.

Metnitz PG, Lang T, Valentin A, Steltzer H, Krenn CG, Le Gall JR (2001) Evaluation of the logistic organ dysfunction system for the assessment of organ dysfunction and mortality in critically ill patients. Intensive Care Med 27:992–998

40.

Bastos PG, Knaus WA, Zimmerman JE, Magalhaes M, Sun X, Wagner DP, The Brazil APACHE III Study Group (1996) The importance of technology for achieving superior outcomes from intensive care. Intensive Care Med 22:664–669

41.

Apolone G, Bertolini G, D'Amico R, Iapichino G, Cattaneo A, De Salvo G, Melotti RM (1996) The performance of SAPS II in a cohort of patients admitted to 99 Italian ICUs: results from GiViTI. Gruppo Italiano per la Valutazione degli interventi in Terapia Intensiva. Intensive Care Med 22:1368–1378

42.

Beck DH, Taylor BL, Millar B, Smith GB (1997) Prediction of outcome from intensive care: a prospective cohort study comparing Acute Physiology and Chronic Health Evaluation II and III prognostic systems in a United Kingdom intensive care unit. Crit Care Med 25:9–15

43.

Teres D, Lemeshow S (1999) When to customize a severity model. Intensive Care Med 25:140–142

44.

Ghuysen A, Lambermont B, D'Orio V (2000) [Application of the Simplified Acute Physiology Score II (SAPS II) in a medical intensive care unit]. Ann Fr Anesth Reanim 19:510–516

45.

Buist M, Gould T, Hagley S, Webb R (2000) An analysis of excess mortality not predicted to occur by APACHE III in an Australian level III intensive care unit. Anaesth Intensive Care 28:171–177
About this article
Cite this article
Kajdacsy-Balla Amaral, A.C., Andrade, F.M., Moreno, R. et al. Use of the Sequential Organ Failure Assessment score as a severity score. Intensive Care Med 31, 243–249 (2005). https://doi.org/10.1007/s00134-004-2528-6
Received:

Accepted:

Published:

Issue Date:
Keywords
Infection

International

Outcome

Organ dysfunction