Abstract
Objective
To examine whether the introduction of highly active antiretroviral therapy (HAART) has changed the rate of admission, the clinical spectrum, and the mortality of HIV-infected ICU patients.
Design
Observational study.
Setting
Infectious diseases ICU in a teaching hospital, Paris, France.
Patients
All HIV-infected patients admitted during a pre-HAART era (1995–1996; n=189) and a HAART era (1998–2000; n=236).
Interventions
None.
Measurements and results
At the HAART era, 79% of patients had derived no or little benefit from the availability of HAART at ICU admission: 44% had no history of antiretroviral (ARV) medications and 35% had failed to respond to ARV. As compared with the pre-HAART era, the rate of hospitalized HIV-infected patients requiring the ICU stay increased (HAART, 5.9% vs pre-HAART, 4.4%; p=0.004). The admission was more likely to occur through the emergency room (45 vs 29%, p=0.0004), and the patients to be foreigners (38.1 vs 28.6%; p=0.04). After adjustment for significant prognostic covariates (AIDS-related tumors at admission, CD4 count <50/mm3, poor functional status (Knaus score C or D), SAPSII, and need for mechanical ventilation), ICU survival was unchanged (adjusted OR=0.613, 95% CI=0.312–1.206), but 3-month survival was significantly improved (adjusted OR=0.57; 95% CI=0.32–0.99; p=0.045).
Conclusion
The number of HIV-infected patients admitted to the ICU remained high in the HAART era. Underutilization of HAART and limited access to health care are possible explanations. The ICU mortality has remained unchanged, but 3-month mortality has decreased.
This is a preview of subscription content, log in to check access.
Access options
Buy single article
Instant access to the full article PDF.
US$ 39.95
Price includes VAT for USA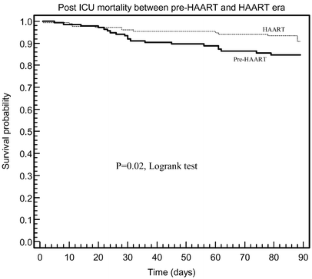 References
1.

Palella FJ Jr, Delaney KM, Moorman AC, Loveless MO, Fuhrer J, Satten GA, Aschman DJ, Holmberg SD (1998) Declining morbidity and mortality among patients with advanced human immunodeficiency virus infection. HIV Outpatient Study Investigators. N Engl J Med 338:853–860

2.

Spira R, Marimoutou C, Binquet C, Lacoste D, Dabis F (1998) Rapid change in the use of antiretroviral agents and improvement in a population of HIV-infected patients: France, 1995–1997. Groupe d'Epidemiologie Clinique du SIDA en Aquitaine (GECSA). J Acquir Immune Defic Syndr Hum Retrovirol 18:358–364

3.

Pinget R, Cazein F, Lot F, Pillonel J, David D, Semaille C (2003) Surveillance du SIDA en France: situation au 30 septembre 2002. Surveillance du VIH/sida en France:7–18 – Available online at: http://www.invs.sante.fr

4.

Fauci AS (1999) The AIDS epidemic: considerations for the 21st century. N Engl J Med 341:1046–1050

5.

Morris A, Creasman J, Turner J, Luce JM, Wachter RM, Huang L (2002) Intensive care of human immunodeficiency virus-infected patients during the era of highly active antiretroviral therapy. Am J Respir Crit Care Med 166:262–267

6.

Nuesch R, Geigy N, Schaedler E, Battegay M (2002) Effect of highly active antiretroviral therapy on hospitalization characteristics of HIV-infected patients. Eur J Clin Microbiol Infect Dis 21:684–687

7.

Castilla J, Sobrino P, Fuente L de La, Noguer I, Guerra L, Parras F (2002) Late diagnosis of HIV infection in the era of highly active antiretroviral therapy: consequences for AIDS incidence. AIDS 16:1945–1951

8.

Afessa B, Green B (2000) Clinical course, prognostic factors, and outcome prediction for HIV patients in the ICU. The PIP (Pulmonary complications, ICU support, and prognostic factors in hospitalized patients with HIV) study. Chest 118:138–145

9.

Morris A, Wachter RM, Luce J, Turner J, Huang L (2003) Improved survival with highly active antiretroviral therapy in HIV-infected patients with severe Pneumocystis carinii pneumonia. AIDS 17:73–80

10.

Mouton Y, Alfandari S, Valette M, Cartier F, Dellamonica P, Humbert G, Lang JM, Massip P, Mechali D, Leclercq P, Modai J, Portier H (1997) Impact of protease inhibitors on AIDS-defining events and hospitalizations in 10 French AIDS reference centres. Federation National des Centres de Lutte contre le SIDA. AIDS 11:F101–105

11.

Knaus WA, Zimmerman JE, Wagner DP, Draper EA, Lawrence DE (1981) APACHE-acute physiology and chronic health evaluation: a physiologically based classification system. Crit Care Med 9:591–597

12.

(1992) 1993 revised classification system for HIV infection and expanded surveillance case definition for AIDS among adolescents and adults. MMWR Recomm Rep 41:1–19

13.

Bourdillon F, Courtial-Destembert S, Nadal J, Leblanc G (2000) Personnes infectées par le VIH en situation d'échec thérapeutique au premier trimestre 1999. BEH:1–4

14.

Carpenter CC, Cooper DA, Fischl MA, Gatell JM, Gazzard BG, Hammer SM, Hirsch MS, Jacobsen DM, Katzenstein DA, Montaner JS, Richman DD, Saag MS, Schechter M, Schooley RT, Thompson MA, Vella S, Yeni PG, Volberding PA (2000) Antiretroviral therapy in adults: updated recommendations of the International AIDS Society-USA Panel. J Am Med Assoc 283:381–390

15.

Bedos JP, Dumoulin JL, Gachot B, Veber B, Wolff M, Regnier B, Chevret S (1999) Pneumocystis carinii pneumonia requiring intensive care management: survival and prognostic study in 110 patients with human immunodeficiency virus. Crit Care Med 27:1109–1115

16.

Vincent B, Flahault A, Antoine M, Wislez M, Parrot A, Mayaud C, Cadranel J (2001) AIDS-related alveolar hemorrhage: a prospective study of 273 BAL procedures. Chest 120:1078–1084

17.

Nickas G, Wachter RM (2000) Outcomes of intensive care for patients with human immunodeficiency virus infection. Arch Intern Med 160:541–547

18.

Shapiro MF, Morton SC, McCaffrey DF, Senterfitt JW, Fleishman JA, Perlman JF, Athey LA, Keesey JW, Goldman DP, Berry SH, Bozzette SA (1999) Variations in the care of HIV-infected adults in the United States: results from the HIV Cost and Services Utilization Study. J Am Med Assoc 281:2305–2315

19.

Dybul M, Fauci AS, Bartlett JG, Kaplan JE, Pau AK (2002) Guidelines for using antiretroviral agents among HIV-infected adults and adolescents. Recommendations of the Panel on Clinical Practices for Treatment of HIV. MMWR Recomm Rep 51:1–55

20.

Hamers FF, Alix J, Semaille C, Pilkington H, Downs A (2001) Surveillance of HIV/AIDS in Europe: update at end 2000. Euro Surveill 6:84–85

21.

Casalino E, Mendoza-Sassi G, Wolff M, Bedos JP, Gaudebout C, Regnier B, Vachon F (1998) Predictors of short- and long-term survival in HIV-infected patients admitted to the ICU. Chest 113:421–429

22.

Lazard T, Retel O, Guidet B, Maury E, Valleron AJ, Offenstadt G (1996) AIDS in a medical intensive care unit: immediate prognosis and long-term survival. J Am Med Assoc 276:1240–1245

23.

Palo VA de, Millstein BH, Mayo PH, Salzman SH, Rosen MJ (1995) Outcome of intensive care in patients with HIV infection. Chest 107:506–510

24.

Murphy EL, Collier AC, Kalish LA, Assmann SF, Para MF, Flanigan TP, Kumar PN, Mintz L, Wallach FR, Nemo GJ (2001) Highly active antiretroviral therapy decreases mortality and morbidity in patients with advanced HIV disease. Ann Intern Med 135:17–26

25.

Wislez M, Bergot E, Antoine M, Parrot A, Carette MF, Mayaud C, Cadranel J (2001) Acute respiratory failure following HAART introduction in patients treated for Pneumocystis carinii pneumonia. Am J Respir Crit Care Med 164:847–851
About this article
Cite this article
Vincent, B., Timsit, J., Auburtin, M. et al. Characteristics and outcomes of HIV-infected patients in the ICU: impact of the highly active antiretroviral treatment era. Intensive Care Med 30, 859–866 (2004). https://doi.org/10.1007/s00134-004-2158-z
Received:

Accepted:

Published:

Issue Date:
Keywords
ICU mortality

Post-ICU mortality

AIDS

HAART