Abstract
Objective
Nitric oxide (NO) and aquaporins (AQPs) are believed to play an important role in the pathogenesis of pulmonary inflammation and edema. The aim of this study was to investigate the role of NO synthase (NOS) and AQP in acute lung injury (ALI) lung following bleomycin inhalation in rats.
Design and setting
A prospective controlled trial in a university research laboratory.
Animals and interventions
Sprague-Dawley rats were treated by inhalation of 10 U/kg bleomycin hydrochloride in 5 ml of normal saline. Control rats were treated with 5 ml normal saline alone. The animals (6–8 rats per group) were killed on days 4, 7 or 14.
Measurements and results
We analyzed the change in expression of inducible NOS (iNOS), neuronal NOS (nNOS), endothelial NOS (eNOS), aquaporin 1 (AQP1) and aquaporin 5 (AQP5) over time by Western blot. Nitrate and nitrite concentrations were measured in bronchoalveolar lavage fluid (BALF) using a modified Griess reaction. The nitrite and nitrate concentrations in BALF from rats 4 days after bleomycin exposure were greater than those from saline-treated rats. Immunoblotting studies demonstrated increased levels of eNOS in the rat lung at 4, 7 and 14 days and iNOS at 7 and 14 days after bleomycin inhalation. However, nNOS expression was unaltered. Although AQP1 expression was decreased in rats at 4 days, AQP5 expression was increased at 4, 7 and 14 days.
Conclusions
This study demonstrates that NO metabolites increase along with eNOS and iNOS expression during the acute exudative phase in ALI, and that AQP and NOS are regulated independently in bleomycin-induced pulmonary edema.
This is a preview of subscription content, log in to check access.
Access options
Buy single article
Instant access to the full article PDF.
US$ 39.95
Price includes VAT for USA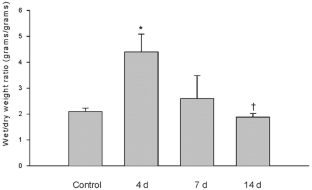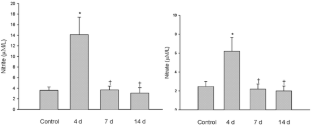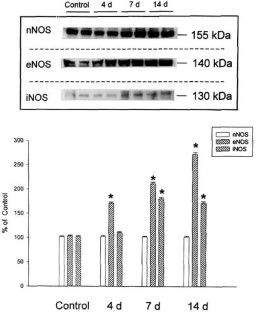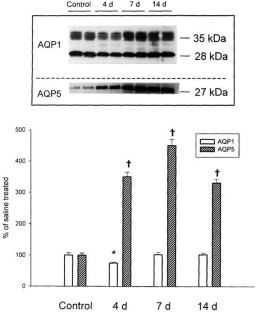 References
1.

Jules-Elysee K, White DA (1990) Bleomycin-induced pulmonary toxicity. Clin Chest Med 1:1–20

2.

Piguet PF, Collart MA, Grau GE, Kapanci Y, Vassalli P (1989) Tumor necrosis factor/cachectin plays a key role in bleomycin-induced pneumopathy and fibrosis. J Exp Med 170:655–663

3.

Smith RE, Strieter RM, Zhang K, Phan SH, Standiford TJ, Lukacs NW, Kunkel SL (1995) A role for C-C chemokines in fibrotic lung disease. J Leukoc Biol 57:782–787

4.

Piguet PF, Vesin C, Grau GE et al. (1993) Interleukin 1 receptor antagonist (IL-1ra) prevents or cures pulmonary fibrosis elicited in mice by bleomycin or silica. Cytokine 5:57–61

5.

Vincent JL, Zhang H, Szabo C, Thompson RC (2000) Effects of nitric oxide in septic shock. Am J Respir Crit Care Med 161:1781–1785

6.

Moncada S, Palmer RMJ, Higgs EA (1989) Biosynthesis of nitric oxide from L-arginine. A pathway for the regulation of cell function and communication. Biochem Pharmacol 11:1709–1715

7.

Moncada S, Palmer RMJ, Higgs EA (1991) Nitric oxide: physiology, pathophysiology and pharmacology. Pharmacol Rev 443:109–142

8.

Haddad IY, Pataki G, Hu P, Galliani C, Beckman JS, Matalon S (1994) Quantification of nitrotyrosine levels in lung secretions of patients and animals with acute lung injury. J Clin Invest 94:2407–2413

9.

King LS, Nielsen S, Agre P (1996) Aquaporin-1 water channel protein in lung: ontogeny, steroid-induced expression and distribution in rat. J Clin Invest 97:2183–2191

10.

Nielsen S, King LS, Christensen BM et al. (1997) Aquaporins in complex tissues: II. Cellular and subcellular distribution in respiratory tract and glands of rat. Am J Physiol 273:C1549–C1561

11.

Towne JE, Harrod KS, Krane CM, Agre P (2000) Decreased expression of aquaporin (AQP) 1 and AQP5 in mouse lung after acute viral infection. Am J Respir Cell Mol 22:34–44

12.

Hamelmann E, Schwarze J, Takeda K, Oshiba A, Larsen GL, Irvin CG, Gelfand EW (1997) Noninvasive measurement of airway responsiveness in allergic mice using barometric plethysmography. Am J Respir Crit Care Med 156:766–775

13.

Smith PK, Krohn RI, Hermanson GT, Mallia AK, Gartner FH, Provenzano MD, Fujimoto EK, Goeke NM, Olson BJ, Klenk DC (1985) Measurement of protein using bicinchoninic acid. Anal Biochem 150:76–85

14.

Greenberg SS, Xie J, Spitzer JJ, Wang JF, Lancaster J, Grisham MB, Powers DR, Giles TD (1995) Nitro-containing L-arginine analogs interfere with assays for nitrate and nitrite. Life Sci 57:1949–1961

15.

Nakashima JM, Levin JR, Hyde DM, Giri SN (1991) Repeated exposures to enzyme-generated oxidants cause alveolitis, epithelial hyperplasia and fibrosis in hamsters. Am J Pathol 139:1485–1499

16.

Gaston B, Drazen JM, Loscalzo J, Stamler JS (1994) The biology of nitrogen oxides in the airways. Am J Respir Crit Care Med 149:538–551

17.

Savani RC, Hou G, Liu P, Wang C, Simons E, Grimm PC, Stern R, Greenberg AH, DeLisser HM, Khalil N (2000) A role for hyaluronan in macrophage accumulation and collagen deposition after bleomycin-induced lung injury. Am J Respir Cell Mol Biol 23:475–484

18.

Mulligan MS, Hevel JM, Marletta MA, Ward PA (1991) Tissue injury caused by deposition of immune complexes is L-arginine dependent. Proc Natl Acad Sci USA 88:6338–6342

19.

Kooy NW, Royall JA, Ye YZ, Kelly DR, Beckman JS (1995) Evidence for in vivo peroxynitrite production in human acute lung injury. Am J Respir Crit Care Med 151:1250–1254

20.

Eiserich JP, Hristova M, Cross CE, Jones AD, Freeman BA, Halliwell B, van der Vliet A (1998) Formation of nitric oxide-derived inflammatory oxidants by myeloperoxidase in neutrophils. Nature 391:393–397

21.

Mehta S, Javeshghani D, Datta P, Levy RD, Magder S (1999) Porcine endotoxemic shock is associated with increased expired nitric oxide. Crit Care Med 27:385–393

22.

Gurujeyalakshmi G, Wang Y, Giri SN (2000) Suppression of bleomycin induced nitric oxide production in mice by taurine and niacin. Nitric Oxide 4:399–411

23.

Basset G, Crone C, Saumon G (1987) Significance of active ion transport in transalveolar water absorption: a study on isolated rat lung. J Physiol 384:311–324

24.

Matthay MA, Folkesson H, Verkman AS (1996) Salt and water transport across alveolar and distal airway epithelia in the adult lung. Am J Physiol 270:L487–L503

25.

Verkman AS (1998) Role of aquaporin water channels in kidney and lung. Am J Med Sci 316:310–320

26.

Bai C, Fukuda N, Song Y, Ma T, Matthay MA, Verkman AS (1999) Lung fluid transport in aquaporin-1 and aquaporin-4 knockout mice. J Clin Invest 3:555–561
Acknowledgements
This study was supported by a grant of the Korean Health 21 R & D Project. Ministry of Health & Welfare, Republic of Korea (01-PJ3-PG6–01GN04–0003).
Electronic Supplementary Material
About this article
Cite this article
Jang, A., Lee, J., Choi, I. et al. Expression of nitric oxide synthase, aquaporin 1 and aquaporin 5 in rat after bleomycin inhalation. Intensive Care Med 30, 489–495 (2004). https://doi.org/10.1007/s00134-003-2129-9
Received:

Accepted:

Published:

Issue Date:
Keywords
Nitric oxide synthase

Aquaporin

Acute lung injury