Abstract
Objective
To compare the safety and estimate the response profile of olanzapine, a second-generation antipsychotic, to haloperidol in the treatment of delirium in the critical care setting.
Design
Prospective randomized trial
Setting
Tertiary care university affiliated critical care unit.
Patients
All admissions to a medical and surgical intensive care unit with a diagnosis of delirium.
Interventions
Patients were randomized to receive either enteral olanzapine or haloperidol.
Measurements
Patient's delirium severity and benzodiazepine use were monitored over 5 days after the diagnosis of delirium.
Main results
Delirium Index decreased over time in both groups, as did the administered dose of benzodiazepines. Clinical improvement was similar in both treatment arms. No side effects were noted in the olanzapine group, whereas the use of haloperidol was associated with extrapyramidal side effects.
Conclusions
Olanzapine is a safe alternative to haloperidol in delirious critical care patients, and may be of particular interest in patients in whom haloperidol is contraindicated.
This is a preview of subscription content, log in to check access.
Access options
Buy single article
Instant access to the full article PDF.
US$ 39.95
Price includes VAT for USA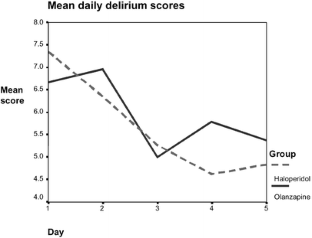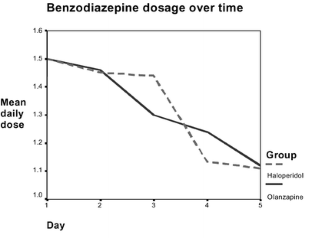 References
1.

Dubois MJ, Bergeron N, Dumont M, Dial S, Skrobik Y (2001) Delirium in an intensive care unit: a study of risk factors. Intensive Care Med 27:1297–1304

2.

Dial S, Payne J (2002) Managing delirium in the intensive care unit. Clin Pulm Med 9:260–266

3.

Kishi Y, Iwasaki Y, Takezawa K, Kurosawa H, Endo S (1995) Delirium in critical care unit patients admitted through an emergency room. Gen Hosp Psychiatry 17:371–379

4.

Aldemir M, Ôzen S, Hara IH, Sir A, Baç B (2001) Predisposing factors for delirium in the surgical intensive care unit. Crit Care 5:265–270

5.

Ely EW, Guatam S, Margolin R, Francis J, May L, Speroff T, Truman B, Dittus R, Bernard GR, Inouye SK (2001) The impact of delirium in the intensive care unit on hospital length of stay. Intensive Care Med 27:1892–1900

6.

McCusker J, Cole M, Abrahamowicz M, Primeau F, Belzile E (2002) Delirium predicts 12-month mortality. Arch Intern Med 162:457–463

7.

McGuire BE, Basten CJ, Ryan CJ, Gallagher J (2000) Intensive care unit syndrome: a dangerous misnomer. Arch Intern Med 160:906–909

8.

Armstrong SC, Cozza KL, Watanabe KS (1997) The misdiagnosis of delirium. Psychosomatics 38:433–439

9.

Bergeron N, Dubois MJ, Dumont M, Dial S, Skrobik Y (2001) Intensive care delirium screening checklist: evaluation of a new screening tool. Intensive Care Med 27:859–864

10.

Ely EW, Inouye SK, Bernard GR, Gordon S, Francis J, May L, Truman B, Speroff T, Gautam S, Margolin R, Hart RP, Dittus R (2001) Delirium in mechanically ventilated patients: validity and reliability of the confusion assessment method for the intensive care unit (CAM-ICU). J Am Med Assoc 286:2703–2710

11.

American Psychiatric Association (1999) Practice guideline for the treatment of patients with delirium. Am J Psychiatry 156:1–20

12.

Breitbart W, Gibson C, Tremblay A (2002) The delirium experience: delirium recall and delirium-related distress in hospitalized patients with cancer—their spouses/caregivers, and their nurses. Psychosomatics 43:183–194

13.

Menza MA, Murray GB, Holmes VF, Rafuls WA (1987) Decreased extrapyramidal symptoms with intravenous haldol. J Clin Psychiatry 48:278–280

14.

Wise MG, Cassem NH (1998) Behavioural disturbances in the ICU. In: Civetta JM, Taylor RW, Kirby RR (eds) Critical care. Lippincott, Philadelphia, pp 1595–1604

15.

Jacobi J, Fraser GL, Coursin DB, Riker RR, Fontaine D, Wittbrodt ET, Chalfin DB, Masica MF, Bjerke S, Coplin WM, Crippen DW, Fuchs BD, Kelleher RM, Marik PE, Nasraway SA, Murray MJ, Peruzzi WT, Lumb PD (2002) Clinical practice guidelines for the sustained use of sedatives and analgesics in the critically ill adult. Crit Care Med 30:119–141

16.

King DJ, Burke M, Lucas RA (1995) Antipsychotic drug-induced dysphoria. Br J Psychiatry 167:480–482

17.

Bashford G, Bradd P (1996) Drug-induced Parkinsonism associated with dysphagia and aspiration: a brief report. J Geriatr Psychiatry Neurol 9:133

18.

Caroff SN, Mann SC, Campbell EC (2001) Neuroleptic malignant syndrome. Adverse drug reaction bulletin, no. 209. Lippincott, Williams and Wilkins, London, pp 799–802

19.

Ilchef R (1997) Neuroleptic-induced laryngeal dystonia can mimic anaphylaxis. Aust N Z J Psychiatry 31:877–879

20.

Perrault LP, Denault AY, Carrier M, Cartier R, Belisle S (2000) Torsades de pointes secondary to intravenous haloperidol after coronary bypass surgery. Can J Anesth 47:251–254

21.

Kapur S, Remington G, Jones C, Wilson A, DaSilva J, Houle S, Zipursky R (1996) High levels of dopamine D2 receptor occupancy with low-dose haloperidol treatment: a PET study. Am J Psychiatry 153:948–950

22.

Sipahimalani A, Masand PS (1997) Use of risperidone in delirium: case reports. Ann Clin Psychiatry 9:105–107

23.

Sipahimalani A, Sime RM, Masand PS (1997) Treatment of delirium with risperidone. Int J Geriatr Psychopharmacol 1:24–26

24.

Sipahimalani A, Masand PS (1998) Olanzapine in the treatment of delirium. Psychosomatics 39:422–430

25.

Kim K, Pae C, Chae J, Bahk W, Jun T (2001) An open pilot trial of olanzapine for delirium in the Korean population. Psychiatr Clin Neurosci 55:515–519

26.

Breitbart W, Tremblay A, Gibson C (2002) An open trial of olanzapine for the treatment of delirium in hospitalized cancer patients. Psychosomatics 43:175–182

27.

Markowitz JS, Brown CS, Moore TR (1999) Atypical antipsychotics. Part I: Pharmacology, pharmacokinetics, and efficacy. Ann Pharmacother 33:73–85

28.

American Psychiatric Association (1994) Diagnostic and statistical manual of mental disorders, 4th edn (DSM-IV). American Psychiatric Association, Washington, DC

29.

Cammarano WB, Drasner K, Katz J (1998) Pain control, sedation, and use of muscle relaxants. In: Hall JB, Schmidt GA, Wood LD, (eds) Principles of critical care medicine. McGraw Hill, New York, pp 90–97

30.

McCusker J, Cole M, Bellavance F, Primeau F (1998) Delirium: reliability and validity of a new measure of severity of delirium. Int Psychogeriatr 10:421–433

31.

Ramsay MA, Savege TM, Simpson BR, Goodwin R (1974) Controlled sedation with aphaxalonealphadolone. Br Med J 2:656–659

32.

Chouinard G, Ross-Chouinard A, Annable L, Jones B (1980) Extrapyramidal symptom rating scale. Can J Neurol Sci 7:233

33.

Simpson GM, Angus JW (1970) A rating scale for extrapyramidal side effects. Acta Psychiatr Scand Suppl 212:11–19

34.

Skrobik Y (2002) Haloperidol should be used sparingly. Crit Care Med 30:2613–2614

35.

Caroff S, Rosenberg H, Mann S, Campbell E, Sullivan K (2002) Neuroleptic malignant syndrome in the critical care unit. Crit Care Med 30:2609–2610

36.

Trzepacz P (2000) Semin Clin Neuropsychiatry 5:132–148

37.

Ross CA, Peyser CE, Shapiro I, Folstein MF (1991) Delirium: phenomenologic and etiologic subtypes. Int Psychogeriatr 3:135–147

38.

Liptzin B, Levkoff SE (1992) An empirical study of delirium subtypes. Br J Psychiatry 161:843–845
Acknowledgement
Support for this study was generously provided by a (peer-reviewed) grant from the Zyprexa fund, Eli-Lilly, North America.
About this article
Cite this article
Skrobik, Y.K., Bergeron, N., Dumont, M. et al. Olanzapine vs haloperidol: treating delirium in a critical care setting. Intensive Care Med 30, 444–449 (2004). https://doi.org/10.1007/s00134-003-2117-0
Received:

Accepted:

Published:

Issue Date:
Keywords
Delirium

Therapy

Critical care

Olanzapine

Haloperidol

Parkinson's disease