Abstract
Objective
To investigate whether the electroencephalogram (EEG)-based Patient State Index (PSI) indicates the level of sedation as measured by Ramsay score in intubated and mechanically ventilated patients in the ICU.
Design
Prospective, single-blinded observer study.
Setting
Surgical intensive care unit.
Patients
Forty-one consecutive adult patients requiring intubation and ventilation during intensive care therapy.
Measurements and results
Following skin preparation with alcohol and placement of EEG electrodes, PSI was recorded while patients were ventilated and sedated with constant drug infusion rates. After 30 min, the level of sedation was measured by an assessor, who was blinded to PSI values, using the Ramsay sedation score. For analysis, the mean of PSI values measured during the last minute before clinical assessment of sedation was calculated. General Linear Model (GLM) analysis revealed significant differences between the PSI values at different levels of sedation as measured by the Ramsay score, except for the differentiation of level 5 from levels 4 and 6 (p>0.3) and level 2 from level 3, where only a trend was reached (p=0.077). The prediction probability of PSI was 0.920±0.037.
Conclusion
As the high prediction probability and the analysis of paired comparisons suggest, PSI may be used to quantify the level of propofol/sufentanil sedation in ICU patients. Further studies are required to test whether these promising results can be verified for other drug combinations.
This is a preview of subscription content, log in to check access.
Access options
Buy single article
Instant access to the full article PDF.
US$ 39.95
Price includes VAT for USA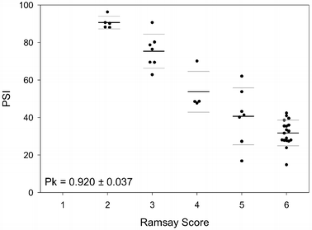 References
1.

Smith WD, Dutton RC, Smith NT (1996) Measuring the performance of anesthetic depth indicators. Anesthesiology 84:38–51

2.

Gugino LD, Chabot RJ, Prichep LS, John ER, Formanek V, Aglio LS (2001) Quantitative EEG changes associated with loss and return of consciousness in healthy adult volunteers anaesthetized with propofol or sevoflurane. Br J Anaesth 87:421–428

3.

John ER, Prichep LS, Kox W, Valdes-Sosa P, Bosch-Bayard J, Aubert E, Tom M, diMichele F, Gugino LD (2001) Invariant reversible QEEG effects of anesthetics. Conscious Cogn 10:165–183

4.

Prichep LS, John ER, Gugino LD, Kox W, Chabot RJ (2000) Quantitative EEG assessment of changes in the level of sedation/hypnosis during surgery under general anaesthesia. In: Jordan C, Vaughan DJA, Newton DEF (eds) Memory and awareness in anaesthesia. Imperial College Press, London, pp 97–107

5.

Nasraway SA, Wu EC, Kelleher RM, Yasuda CM, Donnelly AM (2002) How reliable is the Bispectral Index in critically ill patients? A prospective, comparative, single-blinded observer study. Crit Care Med 30:1483–1487

6.

Riker RR, Fraser GL, Simmons LE, Wilkins ML (2001) Validating the Sedation-Agitation Scale with the Bispectral Index and Visual Analog Scale in adult ICU patients after cardiac surgery. Intensive Care Med 27:853–858

7.

Vivien B, Di Maria S, Quattara A, Langeron O, Coriat P, Riou B (2003) Overestimation of Bispectral Index in sedated intensive care unit patients revealed by administration of muscle relaxant. Anesthesiology 99:9-17

8.

Schneider G, Gelb AW, Schmeller B, Tschakert R, Kochs E (2003) Detection of awareness in surgical patients with EEG-based indices—Bispectral Index (BIS) and Patient State Index (PSI). Br J Anaesth 91:329–335

9.

Ramsay MA, Savege TM, Simpson BR, Goodwin R (1974) Controlled sedation with alphaxalone-alphadolone. BMJ 2:656–659

10.

Carrasco G (2000) Instruments for monitoring intensive care unit sedation. Critical Care 4:217–225
Acknowledgements
The authors thank Warren D. Smith, PhD (Professor, Biomedical Engineering Program, California State University, Sacramento, CA) for providing PKMACRO software and the helpful support in installation and use of the programme. The authors thank the nurses of the anaesthesiology intensive care unit for their support.
Additional information
This work was financed from departmental sources and supported by a grant from B. Braun AG, Melsungen, Germany.
About this article
Cite this article
Schneider, G., Heglmeier, S., Schneider, J. et al. Patient State Index (PSI) measures depth of sedation in intensive care patients. Intensive Care Med 30, 213–216 (2004). https://doi.org/10.1007/s00134-003-2092-5
Received:

Accepted:

Published:

Issue Date:
Keywords
Sedation

Monitoring of sedation

Intravenous anaesthetics

Electroencephalogram

Patient State Index

Intensive care therapy

Artificial respiration