Abstract
Objective
To assess the diurnal distribution of ventricular tachycardia (VT) and atrial fibrillation (AF) in critically ill patients.
Design and setting
Prospective observational study (episode-based design) in an eight-bed medical/cardiological ICU at a university hospital that also admits postoperative patients.
Patients
98 consecutive patients with AF (n=55) or ventricular tachycardia (n=43).
Measurements and results
There were a total of 218 arrhythmia episodes (83 AF, 136 VT). The time of arrhythmia onset was not evenly distributed. Circadian variation in VT but not AF onset was well represented by a sine wave function. Both VT and AF fibrillation showed a trough during the night. The distribution of VT and AF episodes did not differ significantly with or without analgosedation.
Conclusions
In critically ill patients the onset of VT and AF over 24-h is nonuniformly distributed. In VT this circadian pattern of occurrence is well modeled by a sine wave function peaking between noon and 2 p.m. The circadian pattern is less clear for AF. The circadian variation is seen irrespective of the presence of absence of analgosedation for both arrhythmias.
This is a preview of subscription content, log in to check access.
Access options
Buy single article
Instant access to the full article PDF.
US$ 39.95
Price includes VAT for USA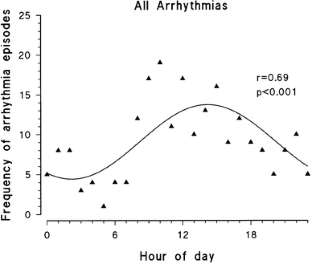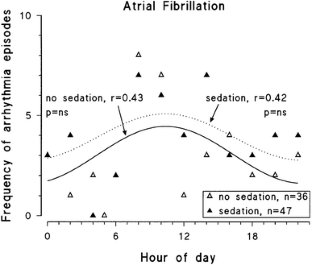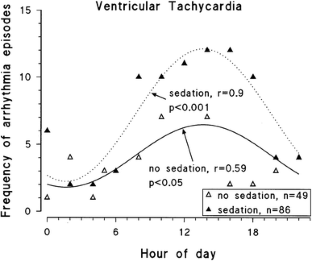 References
1.

Muller JE, Tofler GH, Stone PH (1989) Circadian variation and triggers of onset of acute cardiovascular disease. Circulation 79:733–743

2.

Muller JE, Stone PH, Turi ZG, Rutherford JD, Czeisler CA, Parker C, Poole KP, Passmani E, Robert R, Robertson T, Sobel BE, Willerson JT, Braunwald E for the MILIS Study Group (1985) Circadian variation in the frequency of onset of acute myocardial infarction. N Engl J Med 313:1315–1322

3.

Mulcahy D, Cunningham D, Crean P, Wright C, Keegan J, Quyyumi A, Park A, Fox K (1988) Circadian variation of total ischemic burden and its alteration with anti-anginal agents. Lancet II:755–759

4.

Tsementzis SA, Gill JS, Hitchcock ER, Gill SK, Beevers DG (1985) Diurnal variation of and activity during the onset of stroke. Neurosurgery 17:901–904

5.

Willich SN, Levy D, Rocco MB, Tofler GH, Stone PH, Muller JE (1987) Circadian variation in the incidence of sudden cardiac death in the Framingham Heart study population. Am J Cardiol 60:801–806

6.

Willich SN, Goldberg RJ, Maclure M, Perriello L, Muller JE (1992) Increased onset of sudden cardiac death in the first three hours after awakening. Am J Cardiol 70:65–68

7.

Levine RL, Pepe PE, Fromm RE Jr, Curka PA, Clark PA (1992) Prospective evidence of a circadian rhythm for out-of-hospital cardiac arrests. JAMA 267:2935–2937

8.

Thakur RK, Hoffmann RG, Olson DW, Joshi R, Tresch DD, Aufderheide TP, Ip JH (1996) Circadian variation in sudden cardiac death: effects of ages, sex, and initial cardiac rhythm. Ann Emerg Med 27:29–34

9.

Martens PR, Calle P, Van den Poel B, Lewi P (1995) Further prospective evidence of a circadian variation in the frequency of call for sudden cardiac death. Belgian Cardiopulmonary Cerebral Resuscitation Study Group. Intensive Care Med 21:45–49

10.

Peters RW, McQuillan S, Gold MR (1999) Interaction of septadian and circadian rhythms in life-threatening ventricular arrhythmias in patients with implantable cardioverter-defibrillators. Am J Cardiol 84:555–557

11.

Behrens S, Galecka M, Gruggemann T, Ehlers C, Willich SN, Ziss W, Dissmann R, Andresen D (1995) Circadian variation of sustained ventricular tachyarrhythmias terminated by appropriate shocks in patients with and implantable cardioverter defibrillator. Am Heart J 130:79–84

12.

Wood MA, Simpson PM, London WB, Stambler BS, Herre JM, Bernstein RC, Ellenbogen KA (1995) Circadian pattern of ventricular tachyarrhythmias in patients with implantable cardioverter-defibrillators. J Am Coll Cardiol 25:901–7

13.

Matsuo K, Kurita T, Inagaki M, Kakishita M, Aihara N, Shimizu W, Taguchi A, Suyama K, Kamakura S, Shimomura K (1999) The circadian pattern of development of ventricular fibrillation in patients with Brugada syndrome. Eur Heart J 20:465–470

14.

Lampert R, Rosenfeld L, Batsford W, Lee F, McPherson C (1994) Circadian variation of sustained ventricular tachycardia in patients with coronary artery disease and implantable cardioverter-defibrillators. Circulation 90:241–247

15.

Grimm W, Walter M, Menz V, Hoffmann J, Maisch B (2000) Circadian variation and onset mechanisms of ventricular tachyarrhythmias in patients with coronary disease versus idiopathic dilated cardiomyopathy. Pacing Clin Electrophysiol 23:1939–1943

16.

Manfredini R, Gallerani M, Boari B, Maraldi C, la Cecilia O, Rafael Ferreira AB, Smolensky MH, Portaluppi F (2002) Morning preference in onset of symptomatic third-degree atrioventricular heart block. Chronobiol Int 19:785–791

17.

Lee SH, Chang PC, Hung HF, Kuan P, Cheng JJ, Hung CR (1999) Circadian variation of paroxysmal supraventricular tachycardia. Chest 115:647–648

18.

Manfredini R, Gallerani M, Portaluppi F, Salmi R, Chierici F, Fersini C (1995) Circadian variation in the occurrence of paroxysmal supraventricular tachycardia in clinically healthy subjects. Chronobiol Int 12:55–61

19.

Smolensky MH, Tatar SE, Bergmann SA, Losman JG, Barnard CN, Dacso CC, Kraft IA (1976) Circadian rhythmic aspects of human cardiovascular function: a review by chronobiologic statistical methods. Chronobiologia 3:337–371

20.

Alboni P, degli Uberti E, Codeca L, Padovan G, Lo Veccio G, Margutti A, Fersini C (1982) Circadian variations of sinus rate in subjects with sinus node dysfunction. Chronobiologia 9:173–183

21.

Artucio H, Pereira M (1990) Cardiac arrhythmias in critically ill patients: epidemiologic study. Crit Care Med 18:1383–1388

22.

Knotzer H, Mayr A, Ulmer H, Lederer W, Schobersberger W, Mutz N, Hasibeder W (2000) Tachyarrhythmias in a surgical intensive care unit: a case-controlled epidemiologic study. Intensive Care Med 26:908–914

23.

Reinelt P, Karth GD, Geppert A, Heinz G (2001) Incidence and type of cardiac arrhythmias in critically ill patients: a single center experience in a medical-cardiological ICU. Intensive Care Med 27:1466–1473

24.

Shilo L, Dagen Y, Smorjik Y, Weinberg U, Dolev S, Komptel B, Balaum H, Shenkman L (1999) Patients in the intensive care unit suffer from severe lack of sleep associated with loss of normal melatonin secretion pattern. Am J Med Sci 317:278–281

25.

Mundigler G, Delle Karth G, Koreny M, Zehetgruber M, Steindl-Munda P, Marktl W, Fertl L, Siostrzonek P (2002) Impaired circadian rhythm of melatonin secretion in sedated critically ill patients with severe sepsis. Crit Care Med 30:536–540

26.

Wellens HJJ, Bär FWHM, Lie KI (1978) The value of the electrocardiogram in the differential diagnosis of a tachycardia with a widened QRS complex. Am J Med 64:27–33

27.

Brugada P, Brugada J, Mont L, Smeets J, Andries EW (1991) A new approach to the differential diagnosis of a regular tachycardia with a wide QRS complex. Circulation 83:1649–1659

28.

Lavery CE, Mittleman MA, Cohen MC, Muller JE, Verrier RL (1997) Nonuniform nighttime distribution of acute cardiac events: a possible effect of sleep states. Circulation 96:3321–3327

29.

Behrens S, Ney G, Fisher SG, Fletcher RD, Franz MR, Singh SN (1997) Effects of amiodarone on the circadian pattern of sudden cardiac death (CHF-STAT). Am J Cardiol 80:45–48

30.

Clair WK, Wilkinson WE, McCarthy EA, Page RL, Pritchett EL (1993) Spontaneous occurrence of symptomatic paroxysmal atrial fibrillation and paroxysmal supraventricular tachycardia in untreated patients. Circulation 87:1114–1122

31.

Yamashita T, Murakawa Y, Sezaki K, Inoue M, Hayami N, Shuzui Y, Omata M (1997) Circadian variation of atrial fibrillation. Circulation 96:1537–1541

32.

Viskin S, Golovner M, Malov N, Fish R, Alroy I, Vila Y, Laniado S, Kaplinsky E, Roth A (1999) Circadian variation of symptomatic paroxysmal atrial fibrillation. Data from almost 10 000 episodes. Eur Heart J 20:1429–1434

33.

Gillis AM, Conolly SJ, Dubuc M, Yee R, Lacomb P, Philippon F, Kerr CR, Kimber S, Gardner MJ, Tang AS, Molin F, Newman D, Abdollah H (2001) Circadian variation of paroxysmal fibrillation. PA3 Investigators. Atrial Pacing peri-ablation for prevention of atrial fibrillation trial. Am J Cardiol 87:794–798

34.

Hayano J, Sakata S, Okada A, Mukai S, Fujinami T (1998) Circadian rhythms of Atrioventricular conduction properties in chronic atrial fibrillation with and without heart failure J Am Coll Cardiol 31:158–166

35.

Schusterman V, Aysin B, Gottipaty V, Weiss R, Brode S, Schwartzman D, Anderson KP (1998) Autonomic nervous system activity and the spontaneous initiation of ventricular tachycardia. EVSEM Investigators. Electrophysiologic Study Versus Electrocardiographic Monitoring Trial. J Am Coll Cardiol 32:1891–1899

36.

Brembilla Perrot B, Terrier de la Chaise A, Pichene M, Aliot E, Cherrier F, Pernot C (1989) Isoprenaline as an aid to the induction of catecholamine dependent supraventricular tachycardias during programmed stimulation. Br Heart J 61:348–355

37.

Niebauer M, Daoud E, Goyal R, Chan KK, Harvey M, Bogun F, Castellani M, Man KC, Strickberger SA, Morady F (1996) Use of isoproterenol during programmed ventricular stimulation in patients with coronary artery disease and nonsustained ventricular tachycardia. Am Heart J 131:516–518

38.

Hatzinikolaou H, Rodriguez LM, Smeets JL, Timmermans C, Vrouchos G, Grecas G, Wellens HJ (1998) Isoprenaline and inducibility of atrioventricular nodal re-entrant tachycardia. Heart 79:165–168

39.

Umino M, Ohwatari T, Shimoyama K, Nagao M (1994) Unexpected atrial fibrillation during tooth extraction in a sedated elderly patient. Anesth Prog 41:77–80

40.

Roelofse JA, van der Bijl P (1994) Cardiac dysrhythmias associated with intravenous lorazepam, diazepam, and midazolam during oral surgery. J Oral Maxillofac Surg 52:247–250

41.

Lau W, Kovoor P, Ross DL (1993) Cardiac electrophysiologic effects of midazolam combined with fentanyl. Am J Cardiol 72:177–182
About this article
Cite this article
Delle Karth, G., Reinelt, P., Buberl, A. et al. Circadian variation in ventricular tachycardia and atrial fibrillation in a medical-cardiological ICU. Intensive Care Med 29, 963–968 (2003). https://doi.org/10.1007/s00134-003-1735-x
Received:

Accepted:

Published:

Issue Date:
Keywords
Tachyarrhythmias

Intensive care unit

Circadian distribution

Analgosedation