Abstract
Objective
To determine whether bovine surfactant given in cases of severe pediatric acute respiratory distress syndrome (ARDS) improves oxygenation.
Design
Single-center study with 19 patients, followed by a multicenter randomized comparison of surfactant with a standardized treatment algorithm. Primary endpoint PaO2/FIO2 at 48 h, secondary endpoints: PaO2/FIO2 at 2, 4, 12, and 24 h, survival, survival without rescue, days on ventilator, subgroups analyzed by analysis of variance to identify patients who might benefit from surfactant
Setting
Multicenter study in 19 reference centers for ARDS.
Patients
Children after the 44th postconceptional week and under 14 years old, admitted for at least 4 h, ventilated for 12–120 h, and without heart failure or chronic lung disease. In the multicenter study 35 patients were recruited; 20 were randomized to the surfactant group and 15 to the nonsurfactant group. Decreasing recruitment of patients led to a preliminary end of this study.
Interventions
Administration of 100 mg/kg bovine surfactant intratracheally under continuous ventilation and PEEP, as soon as the PaO2/FIO2 ratio dropped to less than 100 for 2 h (in the pilot study increments of 50 mg/kg as long as the PaO2/FIO2 did not increase by 20%). A second equivalent dose within 48 h was permitted.
Results
In the pilot study the PaO2/FIO2 increased by a mean of 100 at 48 h (n=19). A higher PaO2/FIO2 ratio was observed in the surfactant group 2 h after the first dose (58 from baseline vs. 9), at 48 h there was a trend towards a higher ratio (38 from baseline vs. 22). The rate of rescue therapy was significantly lower in the surfactant group. Outcome criteria were not affected by a second surfactant dose (n=11). A significant difference in PaO2/FIO2 in favor of surfactant at 48 h was found in the subgroup with an initial PaO2/FIO2 ratio higher than 65 and in patients without pneumonia.
Conclusions
Surfactant therapy in severe ARDS improves oxygenation immediately after administration. This improvement is sustained only in the subgroup of patients without pneumonia and that with an initial PaO2/FIO2 ratio higher than 65
This is a preview of subscription content, log in to check access.
Access options
Buy single article
Instant access to the full article PDF.
US$ 39.95
Price includes VAT for USA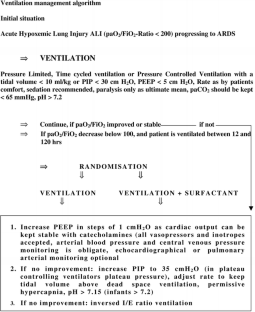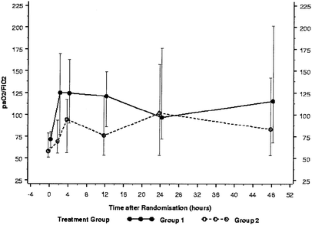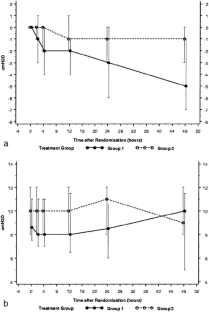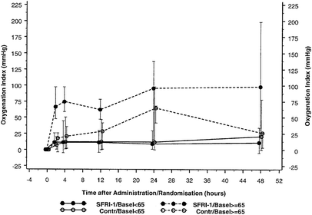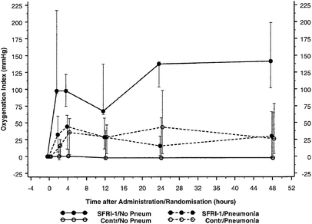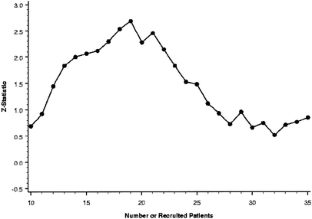 References
1.

Bernard GR, Artigas A, Brigham KL, Carlet J, Falke K, Hudson L, Lamy M, LeGall JR, Morris A, Spragg R, the Consensus Committee (1994) Report of the American-European Consensus Conference on ARDS: definitions, mechanisms, relevant outcomes and clinical trial coordination. Intensive Care Med 20:225–232

2.

Artigas A, Bernard GR, Carlet J, Dreyfuss D, Gattinoni L, Hudson L, Lamy M, Marini JJ, Matthay MA, Pinsky MR, Spragg R, Suter PM, Consensus Committee (1998) The American European consensus conference on ARDS, Part 2, Intensive Care Med 24:378–398

3.

Pfenniger J, Gerber A, Tschäppeler H, Zimmermann A (1982) Adult respiratory distress syndrome in children. J Pediatr 101:352–357

4.

Peters MJ, Tasker RC, Kiff KM, Yates R, Hatch DJ (1998) Acute hypoxemic respiratory failure in children: case mix and the utility of respiratory severity indices. Intensive Care Med 24:699–705

5.

Kühl PG, Appel R, Lasch P, Möller JC, Bindl L (1996) ARDS in pediatrics. Results of a survey in German children's hospitals and recommendations of the "working group pediatric ARDS" on respiratory management. Monatsschr Kinderheilkd 144:1110–1116

6.

Möller JC (1995) Predictive factors of death in pediatric acute respiratory failure. Eur Respir J 8:1436

7.

Möller JC, Raszynski A, Richter A, Tegtmeyer FK (1992) The prognostic value of respiratory indices in pediatric ARDS. Anaesthesist 41:399–402

8.

Bojko T, Notterman DA, Greenwald BM, DeBruin WJ, Magid MS, Godwin T (1995) Acute hypoxemic respiratory failure in children following bone marrow transplantation: an outcome and pathologic study. Crit Care Med 23:755–759

9.

Paret G, Ziv R, Barzilai A, Ben-Abraham R, Vardi A, Manisterki Y, Barzilay Z (1998) Ventilation index and outcome in children with acute respiratory distress syndrome. Pediatr Pulmonol 26:125–128

10.

Willson DF, Jiao JH, Baumann LA, Zaritsky A, Craft H Dockery K, Conrad D, Dalton H (1996) Calf's lung surfactant extract in acute hypoxemic respiratory failure in children. Crit Care Med 24:1316–1322

11.

Amato MB, Barbas CS, Medeiros DM, Magaldi RB, Schettino GP, Lorenzi-Filho G, Kairalla RA, Deheinzelin D, Munoz C, Oliveira R, Takagaki TY, Carvalho CR (1998) Effect of a protective-ventilation strategy on mortality in the acute respiratory distress syndrome. N Engl J Med 338:347–354

12.

Steinhard C, Fackler J, Heulitt M, Nichols D, Green T, Ware J (1996) Randomized trial of protocol driven mechanical ventilation versus ECMO in pediatric patients with ARDS. Pediatrics 98:543

13.

Bindl L, Demirakca S, Fedora M, Goldner M, Huth K, Kohl M, Kühl G, Kachel W, Merz U, Moamad Y, Porz W, Roth J, Scharf J, Varnholt V (2000) ARDS in children: comparison of 1991–1993 vs. 1997–1999. Z Geburthilfe Neonatol 204:S17

14.

Greene JH, Klinger JR (1998) The efficacy of inhaled nitric oxide in the treatment of acute respiratory distress syndrome. An evidence based medicine approach. Crit Care Clin 14:387–409

15.

Abman SH, Griebel JL, Parker DK, Schmidt JM, Swanton D, Kinsella JP (1994) Acute effects of inhaled nitric oxide in children with severe hypoxemic respiratory failure. J Pediatr 124:881–888

16.

Biarent D (1999) New tools in ventilatory support: high frequency ventilation, nitric oxide, tracheal gas insufflation, non-invasive ventilation. Pediatr Pulmonol 18 Suppl:178–181

17.

Möller JC, Schaible TF, Reiss I, Artlich A, Gortner L (1995) Treatment of severe non-neonatal ARDS with surfactant and nitric oxid in a "pre ECMO situation." Int J Artif Organs 18:598–602

18.

Moler FW, Palmisano JM, Custer JR, Meliones JN, Bartlett RH (1994) Alveolar-arterial oxygen gradients beforte extracorporeal life support for severe pediatric respiratory failure: improved outcome for extracorporeal life support managed patients? Crit Care Med 22:620–625

19.

Möller JC, Reiss I, Schaible T, Tegtmeyer FK, Gortner L (1995) Surfactant treatment in children with the acquired respiratory distress syndrome. Monatsschr Kinderheilkd 143:685–690

20.

Parker MM (1996) Surfactant replacement in pediatric respiratory failure: promising therapy for the future? Crit Care Med 24:1281–1282

21.

Murray JF, Matthay MA, Luce JM, Flick MR (1988) An expanded definition of the adult respiratory distress syndrome. Am Rev Respir Dis 138:720–723

22.

Schuster DP (1995) Fluid management in ARDS: keep them dry or does it matter? Intensive Care Med 21:101–103

23.

Pollak MM, Rutimann UE, Getson PR (1988) Pediatric risk of mortality (PRISM) score. Crit Care Med 16:1110–1116

24.

Holm BA, Matalon S (1989) Role of pulmonary surfactant in the development and treatment of adult respiratory distress syndrome. Anesth Analg 69:805–818

25.

Hartog A, Vazquez de Anda GF, Gommers D, Kaisers U, Lachmann B (2000) At surfactant deficiency, application of "the open lung concept" prevents protein leakage and attenuates changes in lung mechanics. Crit Care Med 28:1450–1454

26.

Gommers D, Eijking EP, So KL, van't Veen A, Lachmann B (1998) Broncheoalveolar lavage with a diluted surfactant suspension prior to surfactant instillation improves the effectiveness of surfactant therapy in experimental acute respiratory distress syndrome. Intensive Care Med 24:494–500

27.

Joka T, Obertacke U (1989) New treatment in ARDS: effect of surfactant replacement therapy. Z Herz Thorax Gefasschir 3 [Suppl]:21–24

28.

Gortner L, Wauer RR, Hammer H, Stock GJ, Heitmann F, Reiter HL, Kuhl PG, Möller JC, Friedrich HJ, Reiss I, Hentschel R, Jorch G, Hieronimi G, Kuhls E (1998) Early versus late surfactant treatment in preterm infants of 27–32 weeks gestational age: a multicenter controlled clinical trial. Pediatrics 102:1153–1160

29.

Lopez-Herce J, de Lucas N, Carillo A, Bustinza A, Moral R (1999) Surfactant treatment for acute respiratory distress syndrome. Arch Dis Child 80:248–252

30.

Taeusch HW (2000) Treatment of acute respiratory distress syndrome—the holy grail of surfactant therapy. Biol Neonate 77 [Suppl]:2–8

31.

Lotze A, Mitchell BR, Bulas DI, Zola EM, Shalwitz RA, Gunkel H (1998) Survanta in term infants study group. Multicenter study of surfactant use in the treatment of term infants with severe respiratory failure. J Pediatr 132:40–47

32.

Walmrath D, Günther A, Ghofrani HA, Schermuly R, Schneider T, Grimminger F, Seeger W (1996) Bronchoscopic surfactant administration in patients with severe adult respiratory distress syndrome and sepsis. Am J Respir Crit Care Med 154:57–62

33.

Anzueto A, Baughman R, Guntupalli KK, Weg JG, Wiedemann HP, Raventos AA, Lemaire F, Long W, Zaccardelli DS, Patthishall EN (1996) Aerolsolized surfactants in adults with sepsis induced acute respiratory distress syndrome. N Engl J Med 334:1417–1421

34.

Gregory TJ, Steinberg KP, Spragg R, Gadek JE, Hyers TM, Longmore WJ, Moxley MA, Cai GZ, Hite RD, Smith RM, Hudson LD, Crim C, Newton P, Mitchell BR, Gold AJ (1997) Bovine surfactant therapy for patients with acute respiratory distress syndrome. Am J Respir Crit Care Med 155:1309–1315

35.

Perez-Benavides F, Riff E, Franks C (1995) Adult respiratory distress syndrome and artificial surfactant replacement in the pediatric patient. Pediatr Emerg Care 11:153–156

36.

Willson DF, Zaritsky A, Bauman LA, Dockery K, James RL, Conrad D, Craft H, Novotny WE, Egan EA, Dalton H and Members of the Mid-Atlantic Pediatric Critical Care Network (1999) Instillation of calf lung surfactant extract is beneficial in pediatric acute hypoxemic respiratory failure. Crit Care Med 27:188–195

37.

Möller JC, Vossbeck S, Bindl L and the German ARDS-Surfactant Study Group (2000) Decreasing incidence of severe ARDS in pediatric ICUs in Germany and Austria. Z Geburtshilfe Neonatol 204:S18

38.

Zhao DH, Sun B, Wu ZH, Lindwall R, Robertson B (2000) Mitigation of endotoxin induced acute lung injury in ventilated rabbits by surfactant and inhaled nitric oxide. Intensive Care Med 26:229–238

39.

Ulrich R, Lorber C, Röder G, Urak G, Faryniak B, Sladen RN, Germann P (1999) Controlled airway pressure therapy, nitric oxide inhalation, prone position and ECMO as components of an integrated approach to ARDS. Anesthesiology 91:1577–1586

40.

Dupont H, Mentec H, Cheval C, Moine P, Fierobe L, Timsit JF (2000) Short term effect of inhaled nitric oxide and prone positioning on gas exchange in patients with severe acute respiratory distress syndrome. Crit Care Med 28:304–308

41.

Schultz C, Rott C, Richter N, Bucsky P (1999) Intracytoplasmatic detection of cytokines in neonatal lymphocytes and monocytes by flow cytometry. Blood 93:3566–3567

42.

Walker TA (1999) The acute respiratory distress syndrome in children: recent UMMC experience. J Mississippi Med Assoc Nov:371–375
Acknowledgements
This study was funded by Boehringer Ingelheim Pharma KG, Ingelheim, Germany. The ARDS Surfactant Study Group includes the following: Departments of Pediatrics/PICU: University of Aachen: H. Hörnchen MD, PhD, U. Merz MD PhD; Humboldt University of Berlin, PICU: V. Varnholt MD; University of Bonn: L. Bindl MD, S. Buderus MD; University of Erlangen: J. Scharf MD; University of Essen: C. Roll MD, L. Hanssler MD, PhD, University of Freiburg: R. Hentschel MD, T. Höhn MD; University of Giessen: S. Demirakca MD, I. Reiss MD, L. Gortner MD, PhD; University of Göttingen: H. Schiffmann MD, E. Herting MD, PhD; University of Graz: S. Rödl MD, G. Zobel MD, PhD; Medical College of Hanover: T. Paul MD, PhD, M. Sasse MD; University of Innsbruck: B. Simma MD, PhD, R. Trawöger; University of Cologne: B. Roth MD, PhD, A. Vierzig MD; Central Hospital Cologne: P. Groneck MD, PhD; Medical University of Lübeck: J.C. Möller, MD, PhD, FCCM, M. Kohl MD; University of Mainz: R.G. Huth MD, C.F. Wippermann MD; Central Hospital Mannheim/University of Heidelberg: P. Lasch MD, T. Schaible MD; University of Ulm: S. Voßbeck MD, F. Pohlandt MD, PhD; University of Würzburg: L. Schrod MD, PhD, G. Hofmann MD, Medical Sciendes Department, Boehringer Ingelheim Pharma KG: P. Schmidt PhD, H Schumacher PhD, H. von Seefeld PhD.
About this article
Cite this article
Möller, J.C., Schaible, T., Roll, C. et al. Treatment with bovine surfactant in severe acute respiratory distress syndrome in children: a randomized multicenter study. Intensive Care Med 29, 437–446 (2003). https://doi.org/10.1007/s00134-003-1650-1
Received:

Accepted:

Published:

Issue Date:
Keywords
Acute respiratory distress syndrome

Surfactant

Children

Ventilation

Oxygenation

Pneumonia