Abstract
Objectives
Co-morbid conditions including risk factors for cardiovascular diseases and left ventricular dysfunction are common in patients with chronic obstructive pulmonary disease (COPD). This study assessed the incidence of cardiac troponin I (cTnI) elevation, a specific marker for cardiac injury, and its prognostic significance during severe exacerbation of COPD.
Design
Prospective cohort study.
Setting
Two intensive care units.
Participants
Seventy-one consecutive patients admitted for severe exacerbation of COPD.
Intervention
None.
Measurements and results
Cardiac troponin I was assayed in blood samples obtained on admission and 24 h later (Stratus II immunoassay analyser, Dade International). Levels above 0.5 ng/ml were considered positive. The following data were recorded prospectively: clinical symptoms, co-morbidities, cause of the exacerbation, diagnostic procedures and treatment, general severity score (SAPS II) and in-hospital outcome. CTnI was positive in 18% of patients (95% confidence interval (CI95), 11–29%), with a median value at 1.00 ng/ml; CI95 (0.60–1.70). Eighteen patients died in the hospital (25%; CI95, 17–37%). Only cTnI (adjusted odds ratio (ORa), 6.52; CI95,1.23–34.47) and SAPS II 24 h after admission (ORa, 1.07; CI95, 1.01–1.13) were independent predictors of in-hospital mortality.
Conclusion
Elevated cTnI is a strong and independent predictor of in-hospital death in patients admitted for acutely exacerbated COPD.
This is a preview of subscription content, log in to check access.
Access options
Buy single article
Instant access to the full article PDF.
US$ 39.95
Price includes VAT for USA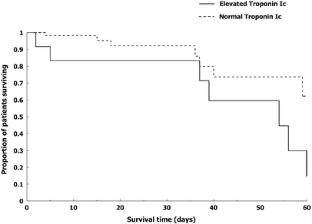 References
1.

Fuso L, Incalzi RA, Pistelli R, Muzzolon R, Valente S, Pagliari G, Gliozzi F, Ciappi G (1995) Predicting mortality of patients hospitalized for acutely exacerbated chronic obstructive pulmonary disease. Am J Med 98:272–277

2.

Connors AF Jr, Dawson NV, Thomas C, Harrell FE Jr, Desbiens N, Fulkerson WJ, Kussin P, Bellamy P, Goldman L, Knaus WA (1996) Outcomes following acute exacerbation of severe chronic obstructive lung disease. Am J Respir Crit Care Med 154:959–967

3.

Antonelli Incalzi R, Fuso L, De Rosa M, Forastiere F, Rapiti E, Nardecchia B, Pistelli R (1997) Co-morbidity contributes to predict mortality of patients with chronic obstructive pulmonary disease. Eur Respir J 10:2794–2800

4.

Pingleton SK (1988) Complications of acute respiratory failure. Am Rev Respir Dis 137:1463–1493

5.

Kollef MH, Ladenson JH, Eisenberg PR (1997) Clinically recognized cardiac dysfunction: an independent determinant of mortality among critically ill patients. Is there a role for serial measurement of cardiac troponin I? Chest 111:1340–1347

6.

Guest TM, Ramanathan AV, Tuteur PG, Schechtman KB, Ladenson JH, Jaffe AS (1995) Myocardial injury in critically ill patients. A frequently unrecognized complication. JAMA 273:1945–1949

7.

Render ML, Weinstein AS, Blaustein AS (1995) Left ventricular dysfunction in deteriorating patients with chronic obstructive pulmonary disease. Chest 107:162–168

8.

Jaffe AS, Ravkilde J, Roberts R, Naslund U, Apple FS, Galvani M, Katus H (2000) It's time for a change to a troponin standard. Circulation 102:1216–1220

9.

Antman EM, Tanasijevic MJ, Thompson B, Schactman M, McCabe CH, Cannon CP, Fischer GA, Fung AY, Thompson C, Wybenga D, Braunwald E (1996) Cardiac-specific troponin I levels to predict the risk of mortality in patients with acute coronary syndromes. N Engl J Med 335:1342–1349

10.

Meyer T, Binder L, Hruska N, Luthe H, Buchwald AB (2000) Cardiac troponin I elevation in acute pulmonary embolism is associated with right ventricular dysfunction. J Am Coll Cardiol 36:1632–1636

11.

Giannitsis E, Muller-Bardorff M, Kurowski V, Weidtmann B, Wiegand U, Kampmann M, Katus HA (2000) Independent prognostic value of cardiac troponin T in patients with confirmed pulmonary embolism. Circulation 102:211–217

12.

Seneff MG, Wagner DP, Wagner RP, Zimmerman JE, Knaus WA (1995) Hospital and 1-year survival of patients admitted to intensive care units with acute exacerbation of chronic obstructive pulmonary disease. JAMA; 274:1852–1857

13.

American Thoracic Society (1995) Standards for the diagnosis and care of patients with chronic obstructive pulmonary disease. Am J Respir Crit Care Med 152:S77–S121

14.

Le Gall JR, Lemeshow S, Saulnier F (1993) A new Simplified Acute Physiology Score (SAPS II) based on a European/North American multicenter study. JAMA 270:2957–2963

15.

Aslamy Z, Barbieri C, Heffner JE (1998) Cardiac enzyme evidence of cardiac injury in patients intubated for respiratory failure. Respir Care 43:713–718

16.

Klinger JR, Hill NS (1991) Right ventricular dysfunction in chronic obstructive pulmonary disease. Evaluation and management. Chest 99:715–723

17.

Kline LE, Crawford MH, MacDonald WJ, Schelbert H, O'Rourke RA, Moser KM (1977) Noninvasive assessment of left ventricular performance in patients with chronic obstructive pulmonary disease. Chest 72:558–564

18.

Brochard L, Mancebo J, Wysocki M, Lofaso F, Conti G, Rauss A, Simonneau G, Benito S, Gasparetto A, Lemaire F, Isabey D, Harf A (1995) Noninvasive ventilation for acute exacerbations of chronic obstructive pulmonary disease. N Engl J Med 333:817–822

19.

Working Group on Noninvasive Evaluation of Pulmonary Artery Pressure. European Office of the World Health Organization, Copenhagen. Tramarin R, Torbicki A, Marchandise B, Laaban JP, Morpurgo M (1991) Doppler echocardiographic evaluation of pulmonary artery pressure in chronic obstructive pulmonary disease. A European multicentre study. Eur Heart J 12:103–111
Acknowledgements
The authors want to thank the laboratory, which provided kits for measurements of troponin Ic.
About this article
Cite this article
Baillard, C., Boussarsar, M., Fosse, J. et al. Cardiac troponin I in patients with severe exacerbation of chronic obstructive pulmonary disease. Intensive Care Med 29, 584–589 (2003). https://doi.org/10.1007/s00134-003-1635-0
Received:

Accepted:

Published:

Issue Date:
Keywords
Chronic obstructive pulmonary disease

Cardiac troponin I

Cardiac injury

Acute respiratory failure