Abstract
Objective.
Preconditioning with low doses of endotoxin has been shown to induce endotoxin hyporesponsiveness. The present study was designed to assess the metabolic response of various tissues during endotoxemia and after pretreatment with endotoxin.
Design.
Controlled experimental animal study.
Setting.
Research laboratory of a university hospital.
Measurements and results.
Ten pigs were randomly assigned to a control (n = 5) or a treatment group (n = 5), the latter receiving incremental doses of endotoxin 5–2 days prior the experiments. Apart from hemodynamics and oxygen transport variables, lactate, glucose, and glycerol were measured in muscle, subcutaneous fat, and hepatic tissue using microdialysis. Endotoxin was infused (1 µg·kg·h) until the animals died. A significant increase in tissue lactate (eightfold) and glycerol (fivefold) was observed in the control animals. This effect was almost completely abolished in the endotoxin pretreated group. Endotoxin pretreatment had no significant effects on mean arterial pressure [56 (range 34–89) mmHg vs 70 (47–88) mmHg, n.s.] or cardiac output [4.8 (3.0–5.9) l/min vs 3.2 (2.1–4.2) l/min, n.s.], but significantly improved arterial pO2 and pH (P<0.05). Increase of oxygen extraction was higher in control animals [from 34% (range 24–47%) to 72% (range 61–79%)] compared to the pretreatment group [from 30% (range 22–42%) to 44% (range 34–50%), P<0.05]. Endotoxin pretreatment increased survival time from 5.3 h (5.0–5.8) to 8.0 h (7.0–8.5) (P<0.05), respectively.
Conclusions.
Microdialysis monitoring revealed that endotoxin preconditioning ameliorates the increase in tissue metabolism during endotoxemia, accompanied by decreased systemic oxygen demand despite unchanged global hemodynamics.
This is a preview of subscription content, log in to check access.
Access options
Buy single article
Instant access to the full article PDF.
US$ 39.95
Price includes VAT for USA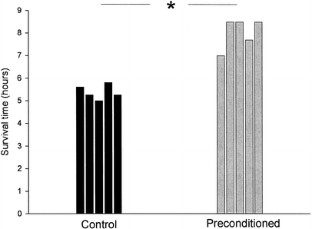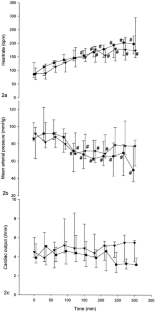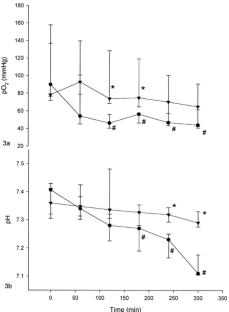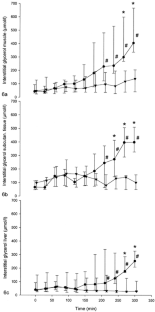 References
1.

Staubach KH, Jonas S, Kooistra A, Bruch HP (1996) Early endotoxin tolerance—a preventive concept against infection. Langenbecks Arch Chir Suppl Kongressbd 113:360–363

2.

Ungerstedt U (1991) Microdialysis—principles and applications for studies in animals and man. J Intern Med 230:365–273

3.

Rosdahl H, Hamrin K, Ungerstedt U, Henriksson J (1998) Metabolite levels in human skeletal muscle and adipose tissue studied with microdialysis at low perfusion flow. Am J Physiol 274:E936–945

4.

Korth U, Merkel G, Fernandez FF, Jandewerth O, Dogan G, Koch T, van Ackern K, Weichel O, Klein J (2000) Tourniquet-induced changes of energy metabolism in human skeletal muscle monitored by microdialysis. Anesthesiology 93:1407–1412

5.

He W, Fong Y, Marano MA, Gershenwald JE, Yurt RW, Moldawer LL, Lowry SF (1992) Tolerance to endotoxin prevents mortality in infected thermal injury: association with attenuated cytokine responses. J Infect Dis 165:859–864

6.

West MA, Heagy W (2002) Endotoxin tolerance: a review. Crit Care Med 30:S64-S73

7.

Mengozzi M, Ghezzi P (1993) Cytokine down-regulation in endotoxin tolerance. Eur Cytokine Network 4:89–98

8.

Wolk K, Docke WD, von Baehr V, Volk HD, Sabat R (2000) Impaired antigen presentation by human monocytes during endotoxin tolerance. Blood 96:218–223

9.

Frankenberger M, Pechumer H, Ziegler-Heitbrock HW (1995) Interleukin-10 is upregulated in LPS tolerance. J Inflamm 45:56–63

10.

Ziegler-Heitbrock HW (1995) Molecular mechanism in tolerance to lipopolysaccharide. J Inflamm 45:13–26

11.

Wysocka M, Robertson S, Riemann H, Caamano J, Hunter C, Mackiewicz A, Montaner LJ, Trinchieri G, Karp CL (2001) IL-12 suppression during experimental endotoxin tolerance: dendritic cell loss and macrophage hyporesponsiveness. J Immunol 166:7504–7513

12.

Hersch M, Gnidec AA, Bersten AD, Troster M, Rutledge FS, Sibbald WJ (1990) Histologic and ultrastructural changes in nonpulmonary organs during early hyperdynamic sepsis. Surgery 107:397–410

13.

Humer MF, Phang PT, Friesen BP, Allard MF, Goddard CM, Walley KR (1996) Heterogeneity of gut capillary transit times and impaired gut oxygen extraction in endotoxemic pigs. J Appl Physiol 81:895–904

14.

Oldner A, Goiny M, Ungerstedt U, Sollevi A (1996) Splanchnic homeostasis during endotoxin challenge in the pig as assessed by microdialysis and tonometry. Shock 6:188–193

15.

Oldner A, Goiny M, Rudehill A, Ungerstedt U, Sollevi A (1999) Tissue hypoxanthine reflects gut vulnerability in porcine endotoxin shock. Crit Care Med 27:790–797

16.

Woltmann A, Lebeau A, Staubach KH, Schade FU, Arnholdt H, Bruch HP (1994) Histomorphological changes of organs, in particular the liver, in a study of endotoxin tolerance in an animal model. Eur Surg Res 26:353–361

17.

Ayuse T, Brienza N, Revelly JP, O'Donnell CP, Boitnott JK, Robotham JL (1995) Alternations in liver hemodynamics in an intact porcine model of endotoxin shock. Am J Physiol 268:H1106–1114

18.

Stjernstrom H, Karlsson T, Ungerstedt U, Hillered L (1993) Chemical monitoring of intensive care patients using intravenous microdialysis. Intensive Care Med 19:423–428

19.

Ungerstedt U (1997) Microdialysis—a new technique for monitoring local tissue events in the clinic. Acta Anaesthesiol Scand Suppl 110:123

20.

Muller M (2002) Science, medicine, and the future: microdialysis. BMJ 324:588–591

21.

Sibbald WJ, Messmer K, Fink MP (2000) Roundtable conference on tissue oxygenation in acute medicine, Brussels, Belgium, 14–16 March 1998. Intensive Care Med 26:780–791

22.

Fink M (1997) Cytopathic hypoxia in sepsis. Acta Anaesthesiol Scand Suppl 110:87–95

23.

Fink MP (2000) Cytopathic hypoxia. A concept to explain organ dysfunction in sepsis. Minerva Anestesiol 66:337–342

24.

Fink MP (2001) Cytopathic hypoxia. Mitochondrial dysfunction as mechanism contributing to organ dysfunction in sepsis. Crit Care Clin 17:219–237

25.

Harada M, Okuda C, Sawa T, Fuse A, Imai H, Tanaka Y (1994) Changes in muscle and liver lactate concentrations after endotoxin infusion in rats. Circ Shock 43:166–170
About this article
Cite this article
Klaus, S., Heringlake, M., Block, K. et al. Metabolic changes detected by microdialysis during endotoxin shock and after endotoxin preconditioning. Intensive Care Med 29, 634–641 (2003). https://doi.org/10.1007/s00134-002-1602-1
Received:

Accepted:

Published:

Issue Date:
Keywords
Microdialysis

Endotoxemia

Sepsis

Critical care

Cellular metabolism

Monitoring