Zusammenfassung
Hintergrund
Femorale Torsionsfehler beinhalten die femorale Retrotorsion und die erhöhte femorale Antetorsion und sind mögliche Ursachen für Hüftschmerzen und Hüftarthrose. Femorale Torsionsfehler bei jungen Patienten mit femoroazetabulärem Impingement (FAI) gelten als weitere Möglichkeit für ein Hüftimpingement neben dem Cam- und Pincer-FAI.
Ziel der Arbeit
Dieser Artikel soll einen Überblick über die verschiedenen Messmethoden und Normwerte der femoralen Torsion geben. Die klinische Präsentation von Patienten mit femoralen Torsionsfehlern, mögliche Kombinationen und die chirurgische Therapie wird beschrieben.
Methoden
Zur Messung der femoralen Torsion ist die Schnittbildgebung mittels CT oder MRT der Goldstandard. Dabei sollten die verschiedenen Definitionen berücksichtigt werden, weil diese zu sehr unterschiedlichen Werten und Fehldiagnosen führen können, vor allem bei Patienten mit hoher femoraler Antetorsion. Eine dynamische 3D-Impingementsimulation, basierend auf 3D-CT, kann bei der Differenzierung zwischen intra- und extraartikulärem FAI helfen.
Ergebnisse und Diskussion
Eine femorale Retrotorsion (< 5°) kann sowohl zu einem anterioren intra- als auch extraartikulären ("subspine") FAI zwischen der Spina iliaca anterior inferior und dem proximalen Femur führen. Die erhöhte femorale Antetorsion (> 35°) kann zu einem posterioren intra- und extraartikulären (ischiofemoralen) Impingement zwischen dem Trochanter minor/major und dem Tuber ischiadicum führen. Klinisch kann eine femorale Retrotorsion durch die fehlende Innenrotation und einen positiven anterioren Impingementtest erkannt werden. Bei der erhöhten femoralen Antetorsion ist die Innenrotation erhöht, typischerweise in Bauchlage und der Faber-Test und der posteriore Impingementtest sind positiv.
Bei der operativen Therapie sind sowohl intra- als auch extraartikuläre Ursachen des FAI und ein zusätzliches Cam- oder Pincer-FAI zu berücksichtigen. Neben der Hüftarthroskopie und der chirurgischen Hüftluxation sollten femorale Rotations- und Derotationsosteotomien bei der Therapieplanung von Patienten mit femoralen Torsionsfehlern mit einbezogen werden.
Abstract
Background
Torsional deformities of the femur include femoral retrotorsion and increased femoral torsion, which are possible causes for hip pain and osteoarthritis. For patients with femoroacetabular impingement (FAI), torsional deformities of the femur represent an additional cause of FAI in addition to cam and pincer-type FAI.
Objectives
The aim of this article is to provide an overview of measurement techniques and normal values of femoral torsion. The clinical presentation, possible combinations and surgical therapy of patients with torsional deformities of the femur will be discussed.
Methods
For measurement of femoral torsion, CT or MRI represent the method of choice. The various definitions should be taken into account, because they can lead to differing values and misdiagnosis. This is the case especially for patients with high femoral torsion. Dynamic 3D impingement simulation using 3D-CT can help to differentiate between intra und extra-articular FAI.
Results and discussion
Femoral retrotorsion (< 5°) can lead to anterior intra- and extraarticular (subspine) FAI, between the anterior iliac inferior spine (AIIS) and the proximal femur. Increased femoral torsion (> 35°) can lead to posterior intra- and extra-articular ischiofemoral FAI, between the lesser/greater trochanter and the ischial tuberosity. During clinical examination, a patient with femoral retrotorsion exhibits loss of internal rotation and a positive anterior impingement test. Hips with increased femoral torsion show high internal rotation if examined in prone position and have a positive FABER and posterior impingement test.
During surgical therapy for patients with torsional deformities, intra and extra-articular causes for FAI in addition to cam and pincer-deformities should be considered. In addition to hip arthroscopy and surgical hip dislocation, also femoral rotational or derotational osteotomies should be evaluated during surgical planning of these patients.
This is a preview of subscription content, log in to check access.
Access options
Buy single article
Instant access to the full article PDF.
US$ 39.95
Price includes VAT for USA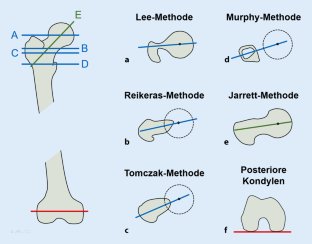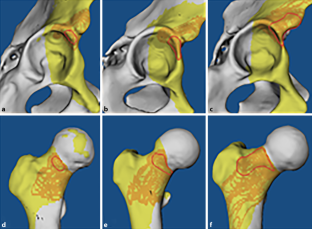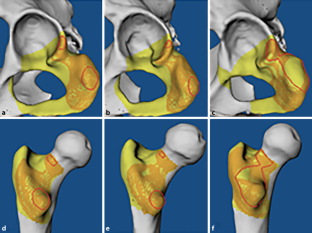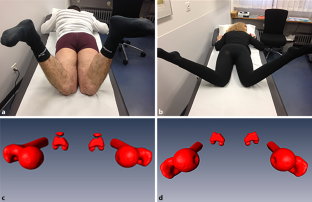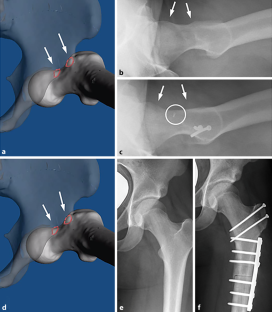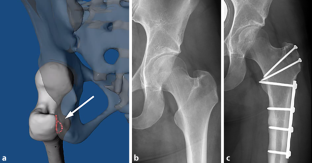 Abbreviations
FABER:

Flexion, Abduktion und External Rotation (Außenrotation)

FADIR:

Flexion, Adduktion und Innenrotation

FAI :

Femoroazetabuläres Impingement
Literatur
1.

Botser IB, Ozoude GC, Martin DE et al (2012) Femoral anteversion in the hip: comparison of measurement by computed tomography, magnetic resonance imaging, and physical examination. Arthroscopy 28:619–627. https://doi.org/10.1016/j.arthro.2011.10.021

2.

Brunner R, Krauspe R, Romkes J (2000) Torsion deformities in the lower extremities in patients with infantile cerebral palsy: pathogenesis and therapy. Orthopäde 29:808–813

3.

Buly RL, Sosa BR, Poultsides LA et al (2018) Femoral derotation osteotomy in adults for version abnormalities. J Am Acad Orthop Surg 26:e416–e425. https://doi.org/10.5435/JAAOS-D-17-00623

4.

Cordier W, Katthagen BD (2000) Femoral torsional deformities. Orthopäde 29:795–801. https://doi.org/10.1007/s001320050528

5.

Damopoulos D, Lerch TD, Schmaranzer F et al (2019) Segmentation of the proximal femur in radial MR scans using a random forest classifier and deformable model registration. Int J Comput Assist Radiol Surg. https://doi.org/10.1007/s11548-018-1899-z

6.

Decker S, Suero EM, Hawi N et al (2013) The physiological range of femoral antetorsion. Skeletal Radiol 42:1501–1505. https://doi.org/10.1007/s00256-013-1687-3

7.

Dolan MM, Heyworth BE, Bedi A et al (2011) CT reveals a high incidence of osseous abnormalities in hips with labral tears. Clin Orthop Relat Res 469:831–838. https://doi.org/10.1007/s11999-010-1539-6

8.

Ferro FP, Ho CP, Briggs KK, Philippon MJ (2015) Patient-centered outcomes after hip arthroscopy for femoroacetabular impingement and labral tears are not different in patients with normal, high, or low femoral version. Arthroscopy 31:454–459. https://doi.org/10.1016/j.arthro.2014.10.008

9.

Ganz R, Parvizi J, Beck M et al (2003) Femoroacetabular impingement: a cause for osteoarthritis of the hip. Clin Orthop Relat Res. https://doi.org/10.1097/01.blo.0000096804.78689.c2

10.

Jarrett DY, Oliveira AM, Zou KH et al (2010) Axial oblique CT to assess femoral anteversion. AJR Am J Roentgenol 194:1230–1233. https://doi.org/10.2214/AJR.09.3702

11.

Kamath AF, Ganz R, Zhang H et al (2015) Subtrochanteric osteotomy for femoral mal-torsion through a surgical dislocation approach. J Hip Preserv Surg 2:65–79. https://doi.org/10.1093/jhps/hnv011

12.

Kingsley PC, Olmsted KL (1948) A study to determine the angle of anteversion of the neck of the femur. J Bone Joint Surg Am 30A:745–751

13.

Koerner JD, Patel NM, Yoon RS et al (2013) Femoral version of the general population: does "normal" vary by gender or ethnicity? J Orthop Trauma 27:308–311. https://doi.org/10.1097/BOT.0b013e3182693fdd

14.

Kubiak-Langer M, Tannast M, Murphy SB et al (2007) Range of motion in anterior femoroacetabular impingement. Clin Orthop Relat Res 458:117–124. https://doi.org/10.1097/BLO.0b013e318031c595

15.

Kuo TY, Skedros JG, Bloebaum RD (2003) Measurement of femoral anteversion by biplane radiography and computed tomography imaging: comparison with an anatomic reference. Invest Radiol 38:221–229. https://doi.org/10.1097/01.RLI.0000059542.90854.EF

16.

Lee YS, Oh SH, Seon JK et al (2006) 3D femoral neck anteversion measurements based on the posterior femoral plane in ORTHODOC system. Med Biol Eng Comput 44:895–906. https://doi.org/10.1007/s11517-006-0104-7

17.

Lerch TD, Steppacher SD, Liechti EF et al (2016) Bernese periacetabular osteotomy: Indications, technique and results 30 years after the first description. Orthopade 45:687–694. https://doi.org/10.1007/s00132-016-3265-6

18.

Lerch TD, Steppacher SD, Liechti EF et al (2017) One-third of hips after periacetabular osteotomy survive 30 years with good clinical results, no progression of arthritis, or conversion to THA. Clin Orthop Relat Res 475:1154–1168. https://doi.org/10.1007/s11999-016-5169-5

19.

Lerch TD, Todorski IAS, Steppacher SD et al (2018) Prevalence of femoral and acetabular version abnormalities in patients with symptomatic hip disease: a controlled study of 538 hips. Am J Sports Med 46:122–134. https://doi.org/10.1177/0363546517726983

20.

Lerch TD, Boschung A, Todorski IAS, Steppacher SD, Schmaranzer F, Zheng G, Ryan MK, Siebenrock KA, Tannast M (2019) Femoroacetabular Impingement Patients With Decreased Femoral Version Have Different Impingement Locations and Intra- and Extraarticular Anterior Subspine FAI on 3D-CT-Based Impingement Simulation: Implications for Hip Arthroscopy. Am J Sports Med. 47(13):3120–3132. https://doi.org/10.1177/0363546519873666. Epub 2019 Sep 20

21.

Lerch TD, Eichelberger P, Baur H, Schmaranzer F, Liechti EF, Schwab JM, Siebenrock KA, Tannast M (2019) Prevalence and diagnostic accuracy of in-toeing and out-toeing of the foot for patients with abnormal femoral torsion and femoroacetabular impingement: implications for hip arthroscopy and femoral derotation osteotomy. Bone Joint J 101-B(10):1218–1229

22.

Lerch TD, Vuilleumier S, Schmaranzer F et al (2019) Patients with severe slipped capital femoral epiphysis treated by the modified Dunn procedure have low rates of avascular necrosis, good outcomes, and little osteoarthritis at long-term follow-up. Bone Joint J 101–B:403–414. https://doi.org/10.1302/0301-620X.101B4.BJJ-2018-1303.R1

23.

Maier C, Zingg P, Seifert B et al (2012) Femoral torsion: reliability and validity of the trochanteric prominence angle test. Hip Int 22:534–538. https://doi.org/10.5301/HIP.2012.9352

24.

Martin HD, Shears SA, Palmer IJ (2010) Evaluation of the hip. Sports Med Arthrosc Rev 18:63–75. https://doi.org/10.1097/JSA.0b013e3181dc578a

25.

Murphy SB, Simon SR, Kijewski PK et al (1987) Femoral anteversion. J Bone Joint Surg Am 69:1169–1176

26.

Reikerås O, Bjerkreim I, Kolbenstvedt A (1983) Anteversion of the acetabulum and femoral neck in normals and in patients with osteoarthritis of the hip. Acta Orthop Scand 54:18–23

27.

Reikerås O, Høiseth A, Reigstad A (1985) Evaluation of the Dunlap/Rippstein method for determination of femoral neck angles. Acta Radiol Diagn 26:177–179

28.

Schmaranzer F, Helfenstein R, Zeng G et al (2019) Automatic MRI-based three-dimensional models of hip cartilage provide improved morphologic and biochemical analysis. Clin Orthop Relat Res 477:1036–1052. https://doi.org/10.1097/CORR.0000000000000755

29.

Schmaranzer F, Lerch TD, Siebenrock KA et al (2019) Differences in femoral torsion among various measurement methods increase in hips with excessive femoral torsion. Clin Orthop Relat Res. https://doi.org/10.1097/CORR.0000000000000610

30.

Siebenrock KA, Steppacher SD, Haefeli PC et al (2013) Valgus hip with high antetorsion causes pain through posterior extraarticular FAI. Clin Orthop Relat Res 471:3774–3780. https://doi.org/10.1007/s11999-013-2895-9

31.

Steppacher SD, Lerch TD, Schmaranzer F, Tannast M (2018) Femorale Rotationspathologien. In: Sobau (Hrsg) Hüftarthroskopie. Thieme, Stuttgart, S 138–153

32.

Strecker W, Keppler P, Gebhard F, Kinzl L (1997) Length and torsion of the lower limb. J Bone Joint Surg Br 79:1019–1023

33.

Tannast M, Kubiak-Langer M, Langlotz F, Puls M, Murphy SB, Siebenrock KA (2007) Noninvasive three-dimensional assessment of femoroacetabular impingement. Journal of Orthopaedic Research 25(1):122–131

34.

Tannast M, Siebenrock KA, Anderson SE (2007) Femoroacetabular impingement: radiographic diagnosis—what the radiologist should know. AJR Am J Roentgenol 188:1540–1552. https://doi.org/10.2214/AJR.06.0921

35.

Tomczak RJ, Guenther KP, Rieber A et al (1997) MR imaging measurement of the femoral antetorsional angle as a new technique: comparison with CT in children and adults. AJR Am J Roentgenol 168:791–794. https://doi.org/10.2214/ajr.168.3.9057536

36.

Tönnis D, Heinecke A (1991) Diminished femoral antetorsion syndrome: a cause of pain and osteoarthritis. J Pediatr Orthop 11:419–431

37.

Tönnis D, Heinecke A (1999) Acetabular and femoral anteversion: relationship with osteoarthritis of the hip. J Bone Joint Surg Am 81:1747–1770

38.

Toogood PA, Skalak A, Cooperman DR (2009) Proximal femoral anatomy in the normal human population. Clin Orthop Relat Res 467:876–885. https://doi.org/10.1007/s11999-008-0473-3

39.

Waidelich HA, Strecker W, Schneider E (1992) Computed tomographic torsion-angle and length measurement of the lower extremity. The methods, normal values and radiation load. Rofo 157:245–251. https://doi.org/10.1055/s-2008-1033007

40.

Ziebarth K, Milosevic M, Lerch TD et al (2017) High survivorship and little osteoarthritis at 10-year followup in SCFE patients treated with a modified Dunn procedure. Clin Orthop Relat Res. https://doi.org/10.1007/s11999-017-5252-6
Ethics declarations
Interessenkonflikt
M. Tannast gibt an, dass er Unterstützung vom Schweizerischen Nationalfonds zur Förderung der wissenschaftlichen Forschung erhalten hat. T.D. Lerch, F. Schmaranzer, M.S. Hanke,C. Leibold, S.D. Steppacher und K.A. Siebenrock geben an, dass kein Interessenkonflikt besteht.
Alle Autoren bestätigen die Einhaltung ethischer Richtlinien. Alle beschriebenen Untersuchungen am Menschen wurden mit Zustimmung der zuständigen Ethik-Kommission, im Einklang mit nationalem Recht sowie gemäß der Deklaration von Helsinki von 1975 (in der aktuellen, überarbeiteten Fassung) durchgeführt. Von allen beteiligten Patienten liegt eine Einverständniserklärung vor. Dieser Beitrag beinhaltet keine Studien an Tieren.
Caption Electronic Supplementary Material
Video 1: 3D-Impingementsimulation des anterioren Impingements bei tiefer femoraler Antetorsion.
Video 2: 3D-Impingementsimulation des posterioren Impingements bei erhöhter femoraler Antetorsion.
About this article
Cite this article
Lerch, T.D., Schmaranzer, F., Hanke, M.S. et al. Femorale Torsionsfehler bei Patienten mit femoroazetabulärem Impingement. Orthopäde (2019). https://doi.org/10.1007/s00132-019-03847-x
Schlüsselwörter
Femorale Antetorsion

Hüftgelenk

Bildgebung, dreidimensionale

Arthrose

Referenzwerte
Keywords
Femoral torsion

Hip joint

Imaging, three-dimensional

Osteoarthritis

Reference values