Zusammenfassung
Hintergrund
Bei nichtinfektiösem Versagen von Kniegelenkendoprothesen mit Metall-Polyethylen-Gleitpaarung liegen Fallbeschreibungen mit ausgeprägten periimplantären entzündlichen Reaktionen und Nekrosenbildungen vor.
Ziel der Arbeit
Aufgrund der histopathologischen Ähnlichkeiten zu den dysfunktionellen Metall-auf-Metall(MoM)-Hüftgelenkendoprothesen wird der Typus einer MoM-ähnlichen-Reaktion bei Kniegelenkendoprothesen (ARMD-KEP) vorgeschlagen und ein histopathologischer Vergleich durchgeführt.
Material und Methoden
Die vorliegende Analyse bewertet 5 ARMD-KEP-Fälle anhand der "Synovial-like interface membrane"(SLIM)-Konsensusklassifikation, des Partikelalgorithmus, des CD3-Focus-Scores und des ALVAL-Scores. Als Vergleichsgruppen dienten 11 Fälle von MoM-Hüftendoprothese mit adverser und 20 Kniegelenkendoprothesenfälle ohne adverse Reaktion.
Ergebnisse
Bei den ARMD-KEP-Fällen lag durchweg ein SLIM Typ VI vor. Der ALVAL-Score betrug im Median 10. Mittels CD3-Focus-Score konnte bei allen Fällen der Gruppe eine adverse Reaktion bestätigt werden. Partikelkorrosionen ließen sich bei 2 von 5 Fällen finden.
Schlussfolgerung
In seltenen Fällen kann auch im Knie eine MoM-ähnliche adverse Reaktion vorliegen, wobei die entzündlichen und immunologischen Ausprägungen denen der adversen-MoM-Reaktion in der Hüfte ähneln. Als Pathogenesemechanismen können diskutiert werden: sekundärer Metall-Metall-Kontakt, Belastung des Kopplungsmechanismus und Korrosion der Metallkomponenten. Analog zur "trunnionosis" in der Hüfte wird der Begriff "Hingiose" für Korrosionserscheinungen in dysfunktionellen Situationen bei gekoppelten KEP-Systemen vorgeschlagen.
Abstract
Background
There are case descriptions of pronounced peri-implant inflammatory reactions and necrosis in non-infectious knee joint replacements with metal–polyethylene pairing.
Objectives
Due to the histopathological similarities to the dysfunctional metal-on-metal (MoM) hip joint replacement, MoM-like reactions in knee joint arthroplasty ("ARMD-KEP") are proposed and a histopathological comparison is made.
Materials and methods
This analysis evaluates five cases of "ARMD-KEP" using: (1) the SLIM consensus classification, (2) the particle algorithm, (3) the CD3 focus score and (4) the AVAL score. The comparison groups consist of 11 adverse cases of MoM hip and 20 cases of knee joint arthroplasty without adverse reaction.
Results
The ARMD-KEP cases were identified as SLIM type VI. Their median ALVAL score was 10. The CD3 focus score confirmed an adverse reaction. Particle corrosion was found in two of five cases.
Conclusions
This data indicates that, in rare cases, an adverse MoM-like reaction may be present in knee replacements, with inflammatory and immunological expression similar to that of the adverse MoM reaction in the hip. The pathomechanisms can be discussed as follows: (1) secondary metal–metal contact, (2) dysfunctional loading of the coupling mechanism and (3) corrosion of the metal components. Much like trunnionosis in the hip, the term "hingiosis" is proposed for corrosion phenomena in dysfunctional conditions of coupled knee endoprosthetic systems.
This is a preview of subscription content, log in to check access.
Access options
Buy single article
Instant unlimited access to the full article PDF.
US$ 39.95
Price includes VAT for USA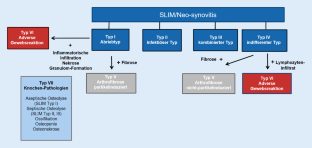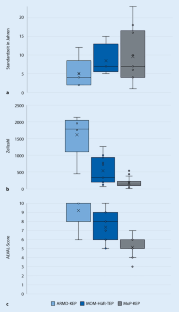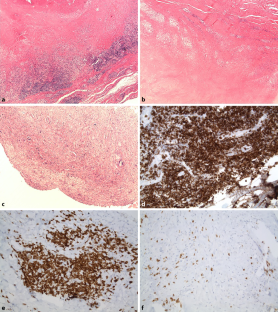 Abbreviations
ALVAL:

"Aseptic lymphocyte-dominated vasculitis-associated lesion"

ARMD:

"Adverse reaction to metal debris"

CD3:

"Cluster of differentiation"

FOV:

"Field of view"

KEP:

Knie-Endoprothese

MoM:

"Metal-on-metal"

MoP:

"Metal-on-polyethylene"

PE:

Polyethylen

SLIM:

"Synovia like interface membrane"

TEP:

Totalendoprothese
Literatur
1.

Campbell P, Ebramzadeh E, Nelson S, Takamura K, De Smet K, Amstutz HC (2010) Histological features of pseudotumor-like tissues from metal-on-metal hips. Clin Orthop Relat Res 468:2321–2327

2.

Davies AP, Willert HG, Campbell PA, Learmonth ID, Case CP (2005) An unusual lymphocytic perivascular infiltration in tissues around contemporary metal-on-metal joint replacements. J Bone Joint Surg Am 87:18–27

3.

Drummond J, Tran P, Fary C (2015) Metal-on-metal hip arthroplasty: a review of adverse reactions and patient management. J Funct Biomater 6:486–499

4.

EPRD (Hrsg) EPRD Jahresbericht 2017. In: Endoprothesenregister Deutschland. https://www.eprd.de/fileadmin/user_upload/Dateien/Publikationen/Berichte/EPRD-Jahresbericht_2017_Einzelseiten_Online-Version.pdf. Zugegriffen: 31. Okt. 2018

5.

Günther K‑P, Schmitt J, Campbell P, Delaunay CP, Drexler H, Ettema HB, García-Cimbrelo E, Hannemann F, Hartmann A, Huberti H, Knahr K, Kunze J, Langton DJ, Lauer W, Learmonth I, Lohmann CH, Lützner J, Morlock M, Seidler A, Wimmer MA, Zagra L (2013) Consensus statement "Current evidence on the management of metal-on-metal bearings"—April 16, 2012. Hip Int 23:2–5

6.

Hansen T, Otto M, Buchhorn GH, Scharnweber D, Gaumann A, Delank KS, Eckardt A, Willert HG, Kriegsmann J, Kirkpatrick CJ (2002) New aspects in the histological examination of polyethylene wear particles in failed total joint replacements. Acta Histochem 104:263–269

7.

Hopf F, Thomas P, Sesselmann S, Thomsen MN, Hopf M, Hopf J, Krukemeyer MG, Resch H, Krenn V (2017) CD3+ lymphocytosis in the peri-implant membrane of 222 loosened joint endoprostheses depends on the tribological pairing. Acta Orthop 88:642–648

8.

Klontz KC, Smith WI, Jonathan CK (2014) Acute metallosis following total knee replacement—a case report. J Orthop Case Reports 4:21–23

9.

Krenn S, Thomsen M, Usbeck S, Scheuber LF, Boettner F, Krukemeyer MG, Huber M, Kretzer JP, Gehrke T, Krenn V (2017) Supramacroparticulate PE in 6 different joint endoprostheses localisations: An indicator for PE damage? Pathol Res Pract 213:987–996

10.

Krenn V, Morawietz L, Perino G, Kienapfel H, Ascherl R, Hassenpflug GJ, Thomsen M, Thomas P, Huber M, Kendoff D, Baumhoer D, Krukemeyer MG, Natu S, Boettner F, Zustin J, Kölbel B, Rüther W, Kretzer JP, Tiemann A, Trampuz A, Frommelt L, Tichilow R, Söder S, Müller S, Parvizi J, Illgner U, Gehrke T (2014) Revised histopathological consensus classification of joint implant related pathology. Pathol Res Pract 210:779–786

11.

Krenn V, Thomas P, Thomsen M, Kretzer JP, Usbeck S, Scheuber L, Perino G, Rüther W, v Welser R, Hopf F, Huber M (2014) Histopathological particle algorithm. Particle identification in the synovia and the SLIM. Z Rheumatol 73:639–649

12.

Laitinen M, Nieminen J, Reito A, Pakarinen T‑K, Suomalainen P, Pamilo K, Parkkinen J, Lont T, Eskelinen A (2017) High blood metal ion levels in 19 of 22 patients with metal-on-metal hinge knee replacements. Acta Orthop 88:269–274

13.

Langton DJ, Jameson SS, Joyce TJ, Hallab NJ, Natu S, Nargol AVF (2010) Early failure of metal-on-metal bearings in hip resurfacing and large-diameter total hip replacement. J Bone Joint Surg Br 92-B:38–46

14.

Morawietz L, Classen R‑A, Schröder JH, Dynybil C, Perka C, Skwara A, Neidel J, Gehrke T, Frommelt L, Hansen T, Otto M, Barden B, Aigner T, Stiehl P, Schubert T, Meyer-Scholten C, König A, Ströbel P, Rader CP, Kirschner S, Lintner F, Rüther W, Bos I, Hendrich C, Kriegsmann J, Krenn V (2006) Proposal for a histopathological consensus classification of the periprosthetic interface membrane. J Clin Pathol 59:591–597

15.

Pandit H, Glyn-Jones S, McLardy-Smith P, Gundle R, Whitwell D, Gibbons CLM, Ostlere S, Athanasou N, Gill HS, Murray DW (2008) Pseudotumours associated with metal-on-metal hip resurfacings. J Bone Joint Surg Br 90-B:847–851

16.

Pastides PS, Dodd M, Sarraf KM, Willis-Owen CA (2013) Trunnionosis: a pain in the neck. World J Orthop 4:161–166

17.

Perino G, Sunitsch S, Huber M, Ramirez D, Gallo J, Vaculova J, Natu S, Kretzer JP, Müller S, Thomas P, Thomsen M, Krukemeyer MG, Resch H, Hügle T, Waldstein W, Böettner F, Gehrke T, Sesselmann S, Rüther W, Xia Z, Purdue E, Krenn V (2018) Diagnostic guidelines for the histological particle algorithm in the periprosthetic neo-synovial tissue. BMC Clin Pathol 18:7

18.

Smith AJ, Dieppe P, Vernon K, Porter M, Blom AW, National Joint Registry of England and Wales (2012) Failure rates of stemmed metal-on-metal hip replacements: analysis of data from the National Joint Registry of England and Wales. Lancet 379:1199–1204

19.

Thakur RR, Ast MP, McGraw M, Bostrom MP, Rodriguez JA, Parks ML (2013) Severe persistent synovitis after cobalt-chromium total knee arthroplasty requiring revision. Orthopedics 36:e520–e524

20.

Thomas MS, Wimhurst JA, Nolan JF, Toms AP (2013) Imaging metal-on-metal hip replacements: the Norwich experience. HSS J 9:247–256

21.

Thomsen M, Krenn V, Thomas P (2016) Adverse reactions to metal orthopedic implants after knee arthroplasty. Hautarzt 67:347–351

22.

Whitehouse MR, Endo M, Zachara S, Nielsen TO, Greidanus NV, Masri BA, Garbuz DS, Duncan CP (2015) Adverse local tissue reactions in metal-on-polyethylene total hip arthroplasty due to trunnion corrosion. Bone Joint J 97-B:1024–1030
Ethics declarations
Interessenkonflikt
N. Kirchen, L. Reich, W. Waldstein, T. Hopf, K.-D. Heller, S. Wienert und V. Krenn geben an: Ungeachtet eines möglichen Interessenkonflikts ist dieser wissenschaftliche Beitrag unabhängig und produktneutral.
Dieses Projekt beinhaltet keine Studien an Menschen oder Tieren. Unter der Antragsnummer 2018-13820 liegt ein zustimmendes Votum der Ethik-Kommission der Landesärztekammer Rheinland-Pfalz vor, insbesondere dass keine berufsethischen und berufsrechtlichen Bedenken bestehen.
About this article
Cite this article
Kirchen, N., Reich, L., Waldstein, W. et al. ARMD-Reaktionsmuster bei Kniegelenkendoprothesen. Orthopäde (2020). https://doi.org/10.1007/s00132-019-03776-9
Schlüsselwörter
Unerwünschte Reaktionen

Metall-auf-Metall-Gelenkprothesen

Synovialis

Polyethylen

Korrosion
Keywords
Adverse reactions

Metal-on-metal joint prostheses

Synovial membrane

Polyethylene

Corrosion