Zusammenfassung
Hintergrund
Die HTO ("high tibial osteotomy") ist eine gute gelenkerhaltende Alternative bei der Behandlung der isolierten medialen Varusgonarthrose, die jedoch mit einer Reihe von Komplikationen verbunden ist, die das Endergebnis kompromittieren können.
Fragestellung
Analyse und Vergleich der Komplikationsstruktur nach navigierter winkelstabiler CW("closed-wedge")- und nichtnavigierter winkelstabiler OW("open-wedge")-HTO sowie Bestimmung der Einflussfaktoren.
Material und Methode
281 HTO (187 CW- und 94 OWHTO) wurden retrospektiv analysiert. Als mögliche Einflusskriterien wurden Alter, Geschlecht, Body-Mass-Index (BMI), Operationsdauer sowie radiologische Parameter eingesetzt. Für die Berechnung wurde eine binäre logistische Regressionsanalyse angewendet.
Ergebnisse
Die gesamte Komplikationsrate betrug 21,4 % (25,1 % nach der CW- und 13,8 % nach der OWHTO, p = 0,02); die Major-Komplikationen traten nach 13,9 % der CW- und 10,6 % der OWHTO (p = 0,27), die Minor-Komplikationen nach 11,2 % der CW- und 3,2 % der OWHTO (p = 0,03) auf. Diese Differenz ist vor allem durch die CW-spezifischen Komplikationen (Peronäusläsionen und Fibulapseudarthrose) bedingt. Die Inzidenz der Tibiapseudarthrosen betrug jeweils 7,5 %. Die relevanten Prädiktoren der mechanischen Komplikationen bei der CWHTO sind Alter ≥ 52 Jahre sowie BMI ≥ 30 kg/m2; für die OWHTO sind diese Faktoren nicht relevant.
Schlussfolgerung
Die richtige Patientenselektion ist essenziell für das Vermeiden der postoperativen Komplikationen bei der HTO. Die gesamte Komplikationsinzidenz ist bei der OWHTO niedriger, vor allem durch das Vermeiden der CW-spezifischen Minor-Komplikationen. Die OWHTO bietet einen breiteren Spielraum bei der Patientenselektion.
Abstract
Background
High tibial osteotomy (HTO) is a good joint-preserving alternative to joint replacement in the treatment of isolated medial varus gonarthrosis. It is, however, accompanied by a number of complications, which can compromise the outcome of the treatment.
Objectives
Analysis and comparison of the complication structure after angle-stable navigated closed wedge (CW) HTO and conventional angle-stable open wedge (OW) HTO, as well as determination of influence factors.
Material and methods
281 HTO (187 CW- and 94 OWHTO) were analyzed retrospectively. Age, sex, BMI, time of surgery and radiological parameters were included as possible influence factors. A statistical analysis was performed with binary logistic regression.
Results
An overall complication rate of 21.4% was revealed (25.1% after CW- and 13.8% after OWHTO, p = 0.02); the major complications occurred after 13.9% CW- and 10.6% OWHTO (p = 0.27); minor complications were observed after 11.2% CW- and 3.2% OWHTO (p = 0.03). This difference results from complications specific to CWHTO (peroneal lesions and pseudarthrosis fibulae). The incidence of pseudarthrosis tibiae was equal in both procedures (7.5%). Age ≥ 52 years and body mass index (BMI) ≥ 30 kg/m2 were the relevant predictors for mechanical complications after CWHTO; these were not relevant for OWHTO.
Conclusion
The correct patient selection is essential to avoid postoperative complications after HTO. The overall complication rates are lower after OWHTO, mainly through the avoidance of complications typical for CWHTO. OWHTO offers a wider choice with respect to the selection of patients.
This is a preview of subscription content, log in to check access.
Access options
Buy single article
Instant unlimited access to the full article PDF.
US$ 39.95
Price includes VAT for USA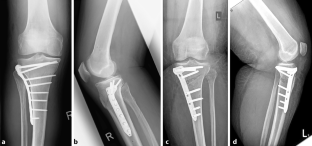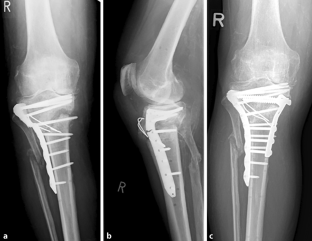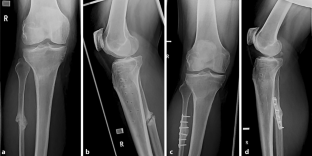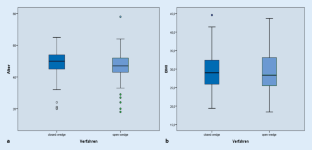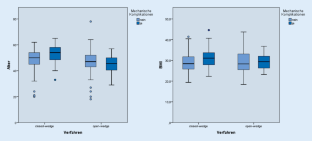 Abbreviations
BMI:

Body-Mass-Index

CPM :

"Continuous passive motion"

CW :

"Closed-wedge"

GKF :

Frakturen/Fissuren der Gegenkortikalis

HTO :

"High tibial osteotomy"

KI :

Konfidenzintervall

KOOS :

Knee Injury and Osteoarthritis Outcome Score

OR :

Odds Ratio

OW :

"Open-wedge"

ROC :

"Receiver operating characteristics"

VAS :

Visuelle Analogskala
Literatur
1.

Akamatsu Y, Mitsugi N, Mochida Y, Taki N, Kobayashi H, Takeuchi R, Saito T (2012) Navigated opening wedge high tibial osteotomy improves intraoperative correction angle compared with conventional method. Knee Surg Sports Traumatol Arthrosc 20:586–593

2.

Akizuki S, Shibakawa A, Takizawa T, Yamazaki I, Horiuchi H (2008) The long-term outcome of high tibial osteotomy: a ten- to 20-year follow-up. J Bone Joint Surg Br 90(5):592–596

3.

Atrey A, Morison Z, Tosounidis T, Tunggal J, Waddell JP (2012) Complications of closing wedge high tibial osteotomies for unicompartmental osteoarthritis of the knee. Bone Jt Res 1;1(9):205–209 (Sep)

4.

Aydoğdu S, Yercan H, Saylam C, Sur H (1996) Peroneal nerve dysfunction after high tibial osteotomy. An anatomical cadaver study. Acta Orthop Belg 62(3):156–160 (Sep)

5.

Chachla J, Dean CS, Mitchell JJ et al (2016) Medial opening wedge proximal tibial osteotomy. Arthrosc Tech 5(4):e919–e928. https://doi.org/10.1016/j.eats.2016.04.019

6.

Duivenvoorden T, van Diggele P, Reijman M, Bos PK, van Egmond J, Bierma-Zeinstra SM et al (2017) Adverse events and survival after closing- and opening-wedge high tibial osteotomy: a comparative study of 412 patients. Knee Surg Sports Traumatol Arthrosc 25(3):895–901

7.

Floerkemeier S, Staubli AE, Schroeter S, Goldhahn S, Lobenhoffer P (2014) Does obesity and nicotine abuse influence the outcome and complication rate after open-wedge high tibial osteotomy? A retrospective evaluation of five hundred and thirty three patients. Int Orthop 38(1):55–60

8.

Golovakha ML, Orljanski W, Benedetto KP et al (2014) Comparison of theoretical fixation stability of three devices employed in medial opening wedge high tibial osteotomy: a finite element analysis. Bmc Musculoskelet Disord 15:230. https://doi.org/10.1186/1471-2474-15-230

9.

Kim SJ, Koh YG, Chun YM, Kim YC, Park YS, Sung CH (2009) Medial opening wedge high-tibial osteotomy using a kinematic navigation system versus a conventional method: a 1-year retrospective, comparative study. Knee Surg Sports Traumatol Arthrosc. IEEE Trans Med Imaging 17(2):128–134 (Feb)

10.

Meidinger G, Imhoff AB, Paul J, Kirchhoff C, Sauerschnig M, Hinterwimmer S (2011) May smokers and overweight patients be treated with a medial open-wedge HTO? Risk factors for non-union. Knee Surg Sports Traumatol Arthrosc 19(3):333–339 (Mar)

11.

Miller BS, Downie B, McDonough EB, Wojtys EM (2009) Complications after medial opening wedge high tibial osteotomy. Arthroscopy 25(6):639–646 (Jun)

12.

Nelissen EM, van Langelaan EJ, Nelissen RG (2010) Stability of medial opening wedge high tibial osteotomy: a failure analysis. Int Orthop 34(2):217–223 (Feb)

13.

Ossendorf C, Fuchs B, Koch P (2006) Femoral stress fracture after computer navigated total knee arthroplasty. Knee 13(5):397–399 (Oct)

14.

Song EK, Seon JK, Park SJ, Jeong MS (2010) The complications of high tibial osteotomy: closing- versus opening-wedge methods. J Bone Joint Surg Br 92(9):1245–1252

15.

Tunggal AW, Higgins GA, Waddel JP (2010) Complications of closing wedge high tibial osteotomy. Int Orthop 34(2):255–261

16.

Van den Bekerom MP, Patt TW, Kleinhout MY, van der Vis HM, Albers GH (2008) Early complications after high tibial osteotomy: a comparison of two techniques. J Knee Surg 21(1):68–74 (Jan)

17.

Woodacre T, Ricketts M, Evans JT, Pavlou G, Schranz P, Hockings M, Toms A (2016) Complications associated with opening wedge high tibial osteotomy—A review of the literature and of 15 years of experience. Knee 23(2):276–282 (Mar)
Ethics declarations
Interessenkonflikt
A. Dorofeev, A. Tylla, W. Drescher und R. Stangl geben an, dass kein Interessenkonflikt besteht.
Für diesen Beitrag wurden von den Autoren keine Studien an Menschen oder Tieren durchgeführt. Für die aufgeführten Studien gelten die jeweils dort angegebenen ethischen Richtlinien. Diese retrospektive Studie erfolgte nach Konsultation der zuständigen Ethikkommission und im Einklang mit nationalem Recht.
About this article
Cite this article
Dorofeev, A., Tylla, A., Drescher, W. et al. Komplikationsanalyse nach winkelstabiler CW- und OW-Tibiaumstellungsosteotomie . Orthopäde 49, 18–25 (2020) doi:10.1007/s00132-019-03724-7
Schlüsselwörter
Body-Mass-Index

Varus

Gonarthrose

Pseudarthrose

Tibia
Keywords
Body mass index

Varus

Gonarthritis

Pseudarthrosis

Tibia