Zusammenfassung
Für die differenzialdiagnostische Einordnung von Hüftschmerzen ist die klinische Untersuchung nur bedingt hilfreich. Wertvoll ist neben dem Patientenalter auch die Anamnese. Zudem kann die Bildgebung wichtige Hinweise für die korrekte Diagnose liefern. Heutzutage wird in Deutschland häufig als primäre Bildgebung eine Magnetresonanztomographie durchgeführt, die bei vielen verschiedenen Pathologien ein Knochenmarködem (KMÖ) zeigen kann. Das KMÖ tritt beim transitorischen Knochenmarködem und außerhalb der atraumatischen Hüftkopfnekrose auf, u. a. begleitend bei Koxarthrose, Arthritis, "herniation pit" und Osteoidosteom. Der vorliegende Beitrag beschreibt einige häufige Differenzialdiagnosen und gibt Hinweise, wie die korrekte Zuordnung zu den jeweiligen Diagnosen gelingen kann.
Abstract
In patients with hip pain, clinical examination is of only restricted value in the differential diagnosis. Besides a patient's age, their medical history is often helpful in finding the correct diagnosis. Additionally, imaging can give valuable hints for excluding or validating a differential diagnosis. Nowadays, magnetic resonance imaging (MRI) is often used as a primary imaging modality in Germany. These MRIs show a bone marrow edema (BME) in many different pathologies. BME occurs in transitory bone marrow edema and outside of the atraumatic femoral head necrosis, concomitant with coxarthrosis, arthritis, herniation pit, and osteoid osteoma, amongst other conditions. This article describes several frequent differential diagnoses and gives hints on how to find the correct diagnosis.
This is a preview of subscription content, log in to check access.
We're sorry, something doesn't seem to be working properly.
Please try refreshing the page. If that doesn't work, please contact support so we can address the problem.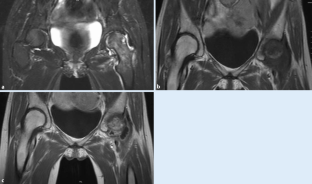 Abbreviations
aFKN:

Atraumatische Femurkopfnekrose

DCE-MRI:

"Dynamic contrast-enhanced MRI"

DWI:

Diffusion-Weighted Imaging (Diffusionswichtung)

KMÖ:

Knochenmarködem

RFA:

Radiofrequenzablation

STIR:

Short Tau Inversion Recovery

TIRM:

Turbo Inversion Recovery Magnitude

tKMÖ:

Transitorisches Knochenmarködem
Literatur
1.

Malizos KN, Zibis AH, Dailiana Z, Hantes M, Karachalios T, Karantanas AH (2004) MR imaging findings in transient osteoporosis of the hip. Eur J Radiol 50(3):238–244

2.

Fujioka M, Kubo T, Nakamura F, Shibatani M, Ueshima K, Hamaguchi H et al (2001) Initial changes of non-traumatic osteonecrosis of femoral head in fat suppression images: bone marrow edema was not found before the appearance of band patterns. Magn Reson Imaging 19(7):985–991

3.

Vande Berg BC, Lecouvet FE, Koutaissoff S, Simoni P, Malghem J (2008) Bone marrow edema of the femoral head and transient osteoporosis of the hip. Eur J Radiol 67(1):68–77

4.

Manara M, Varenna M (2014) A clinical overview of bone marrow edema. Reumatismo 66(2):184–196

5.

Klontzas ME, Vassalou EE, Zibis AH, Bintoudi AS, Karantanas AH (2015) MR imaging of transient osteoporosis of the hip: an update on 155 hip joints. Eur J Radiol 84(3):431–436

6.

Leydet-Quilici H, Le Corroller T, Bouvier C, Giorgi R, Argenson J‑N, Champsaur P et al (2010) Advanced hip osteoarthritis: magnetic resonance imaging aspects and histopathology correlations. Osteoarthr Cartil 18(11):1429–1435

7.

Boutry N, Paul C, Leroy X, Fredoux D, Migaud H, Cotten A (2002) Rapidly destructive osteoarthritis of the hip: MR imaging findings. AJR Am J Roentgenol 179(3):657–663

8.

Watanabe W, Itoi E, Yamada S (2002) Early MRI findings of rapidly destructive coxarthrosis. Skeletal Radiol 31(1):35–38

9.

Manenti G, Altobelli S, Pugliese L, Tarantino U (2015) The role of imaging in diagnosis and management of femoral head avascular necrosis. Clin Cases Miner Bone Metab 12(Suppl 1):31–38

10.

Yamamoto T, Schneider R, Bullough PG (2001) Subchondral insufficiency fracture of the femoral head: histopathologic correlation with MRI. Skeletal Radiol 30(5):247–254

11.

Hackney LA, Lee MH, Joseph GB, Vail TP, Link TM (2016) Subchondral insufficiency fractures of the femoral head: associated imaging findings and predictors of clinical progression. Eur Radiol 26(6):1929–1941

12.

Niva MH, Kiuru MJ, Haataja R, Pihlajamaki HK (2005) Fatigue injuries of the femur. J Bone Joint Surg Br 87(10):1385–1390

13.

Song WS, Yoo JJ, Koo K‑H, Yoon KS, Kim Y‑M, Kim HJ (2004) Subchondral fatigue fracture of the femoral head in military recruits. J Bone Joint Surg Am 86-A(9):1917–1924

14.

Beltran J, Opsha O (2005) MR imaging of the hip: osseous lesions. Magn Reson Imaging Clin N Am 13(4):665

15.

Klontzas ME, Zibis AH, Karantanas AH (2015) Osteoid osteoma of the femoral neck: use of the half-moon sign in MRI diagnosis. AJR Am J Roentgenol 205(2):353–357

16.

Mueller D, Schaeffeler C, Baum T, Walter F, Rechl H, Rummeny EJ et al (2014) Magnetic resonance perfusion and diffusion imaging characteristics of transient bone marrow edema, avascular necrosis and subchondral insufficiency fractures of the proximal femur. Eur J Radiol 83(10):1862–1869

17.

Geith T, Niethammer T, Milz S, Dietrich O, Reiser M, Baur-Melnyk A (2017) Transient bone marrow edema syndrome versus osteonecrosis: perfusion patterns at dynamic contrast-enhanced MR imaging with high temporal resolution can allow differentiation. Radiology 283(2):478–485
Ethics declarations
Interessenkonflikt
P. Stumpp und A. Roth geben an, dass kein Interessenkonflikt besteht.
Dieser Beitrag beinhaltet keine von den Autoren durchgeführten Studien an Menschen oder Tieren.
About this article
Cite this article
Stumpp, P., Roth, A. Das Knochenmarködem – Differenzialdiagnose zur aseptischen Hüftkopfnekrose. Orthopäde 47, 717–721 (2018). https://doi.org/10.1007/s00132-018-3621-9
Schlüsselwörter
Hüfte

Koxarthrose

Arthritis

Stressfraktur

Osteoidosteom
Keywords
Hip

Coxarthrosis

Arthritis

Stress fracture

Osteoid osteoma