Zusammenfassung
Hintergrund
Der Discus ulnocarpalis unterstützt als horizontaler Teil des triangulären fibrokartilaginären Komplexes (TFCC) das Radiokarpalgelenk bei der Kraftübertragung von der Handwurzel auf den Unterarm. Dabei unterliegt er degenerativen Veränderungen. Sind die Verschleißveränderungen mit Schmerzen verbunden, spricht man von einem Ulnaimpaktionssyndrom.
Diagnostik
Die klinische Untersuchung hilft, zwischen verschiedenen Ursachen ulnarer Handgelenkschmerzen zu differenzieren. Standardröntgenaufnahmen dienen der Bestimmung der Ulnavarianz. Belastungsaufnahmen sind für die Bestimmung eines dynamischen Ulnavorschubs sinnvoll. Ein Kernspintomogramm kann mitunter degenerative Veränderungen des TFCC selbst nachweisen, oder mittels Nachweis eines Ödems im Ulnakopf oder ulnarseits im Lunatum auf ein Ulnaimpaktionssyndrom hinweisen.
Therapie
Nach Ausschöpfen konservativer Maßnahmen kann eine Arthroskopie indiziert sein. Diese dient einerseits der diagnostischen Differenzierung verschiedener Schmerzursachen und andererseits therapeutisch der ulnokarpalen Druckentlastung durch zentrale Resektion des TFCC oder auch durch partielle Resektion des Ulnakopfes (Wafer-Resektion). Anhaltende Beschwerden machen mitunter eine Ulnaverkürzung erforderlich, um die ulnokarpalen Schmerzen zu lindern. Standardisierte Operationstechniken gewährleisten dabei heutzutage eine sichere Ausheilung der Osteotomie. Das Ziel der Schmerzlinderung kann bei korrekter Wahl des Behandlungsverfahrens meist suffizient erreicht werden.
Abstract
Background
The triangular fibrocartilage complex (TFCC) widens the radiocarpal joint and takes part in load transmission from the carpus to the forearm. It is thereby prone to degenerative changes. The painful situation that can accompany degeneration is called ulnar impaction.
Diagnosis
Clinical examination helps differentiate between various causes of ulnar-sided wrist pain. Standard X‑rays are needed to determine ulnar variance and stress radiographs can depict narrowing of the ulnocarpal joint space under load. MRI may prove degeneration of the TFCC itself or may indirectly confirm ulnar impaction in the presence of bone marrow edema in the ulnar head or at the proximal ulnar aspect of the lunate.
Treatment
If conservative treatment fails to alleviate symptoms, arthroscopy may be indicated. On the one hand, this completes the diagnostic cascade, and, on the other hand, allows decompression of the ulnocarpal joint space by resection of the TFCC with partial resection of the ulnar head (wafer resection). In the case of ongoing pain, ulnar shortening sufficiently alleviates ulnar-sided wrist pain. Thereby, modern standardized operation techniques are safe enough to ensure bone healing at the osteotomy site. The aim of alleviating ulnar-sided wrist pain is mostly achieved if the correct treatment option is chosen.
This is a preview of subscription content, log in to check access.
Access options
Buy single article
Instant unlimited access to the full article PDF.
US$ 39.95
Price includes VAT for USA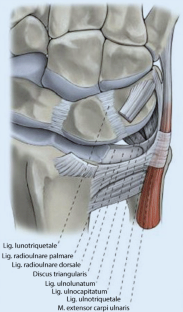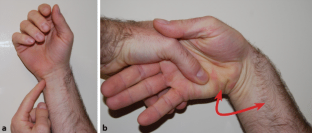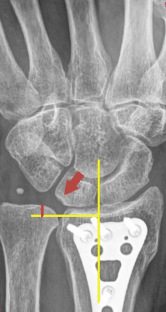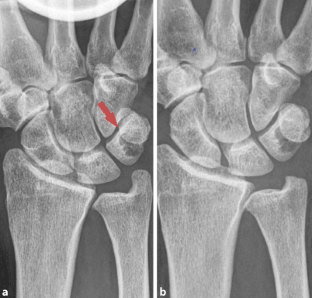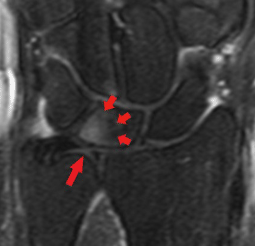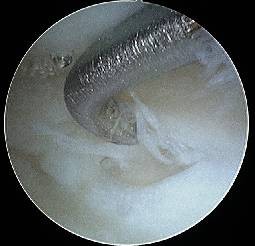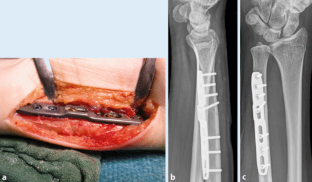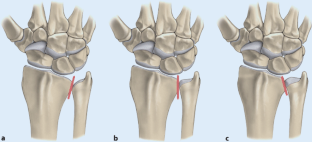 Abbreviations
DRUG:

Distales Radioulnargelenk

DU:

Discus ulnocarpalis

LT:

Lunotriquetral

MRT:

Magnetresonanztomographie

TFCC:

Triangulärer fibrokartilaginärer Komplex

UIS:

Ulnaimpaktionssyndrom
Literatur
1.

Abe Y, Tominaga Y (2011) Ulnar-sided wrist pain due to isolated disk tear of triangular fibrocartilage complex within the distal radioulnar joint: two case reports. Hand Surg 16:177–180

2.

Barbaric K, Rujevcan G, Labas M, Delimar D, Bicanic G (2015) Ulnar shortening osteotomy after distal radius fracture malunion: review of literature. Open Orthop J 15:98–106

3.

Bernstein MA, Nagle DJ, Martinez A, Stogin JM Jr, Wiedrich TA (2004) A comparison of combined arthroscopic triangular fibrocartilage complex debridement and arthroscopic wafer distal ulna resection versus arthroscopic triangular fibrocartilage complex debridement and ulnar shortening osteotomy for ulnocarpal abutment syndrome. Arthroscopy 20:392–401

4.

Broccoli G, Vaske B, Müller L, Kahmann R, Isenberg J (2014) Grenzen der arthroskopischen Behandlung degenerativer Läsionen des ulnokarpalen Komplexes in Anhängigkeit der Ulnavarianz. Handchir Mikrochir Plast Chir 46(3):151–162

5.

Constantine KJ, Tomaino MM, Herndon JH, Sotereanos DG (2000) Comparison of ulnar shortening osteotomy and the wafer resection procedure as treatment for ulnar impaction syndrome. J Hand Surg Am 25:55–60

6.

Del Gaudio T, Haerle M (2016) Die arthroskopische ulnokarpale Dekompression durch Teilresektion des Ulnakopfes. Oper Orthop Traumatol 28:263–269

7.

Feldon P, Terrono AL, Belsky MR (1992) The "wafer" procedure. Partial distal ulnar resection. Clin Orthop Relat Res 275:124–129

8.

Gelberman RH, Salamon PB, Jurist JM, Posch JL (1975) Ulnar variance in Kienböck's disease. J Bone Joint Surg Am 57:674–676

9.

Hahn P, Häusler A, Bruckner T, Unglaub F (2012) Wertigkeit der MRT hinsichtlich TFCC-Läsionen außerhalb klinischer Studien. Handchir Mikrochir Plast Chir 44:310–313

10.

Ikeda M, Kobayashi Y, Saito I, Ishii T, Shimizu A, Mochida J (2015) Conservative treatment using a newly designed custom-made wrist splint for ulnocarpal abutment syndrome. Prosthet Orthot Int 39:496–501

11.

Kirchberger MC, Unglaub F, Mühldorfer-Fodor M, Pillukat T, Hahn P, Müller LP, Spies CK (2015) Update TFCC: histology and pathology, classification, examination and diagnostics. Arch Orthop Trauma Surg 135:427–437

12.

Löw S, Erne H, Pillukat T, Mühldorfer-Fodor M, Unglaub F, Spies CK (2017) Rating of central lesions of the triangular fibrocartilage complex with respect to a traumatic or degenerative origin. J Hand Surg Eur Vol 42:357–362

13.

Löw S, Erne H, Schütz A, Eingartner C, Spies CK (2015) The required minimum length of video sequences for obtaining a reliable interobserver diagnosis in wrist arthroscopies. Arch Orthop Trauma Surg 135:1771–1777

14.

Löw S, Herold A, Eingartner C (2014) Die standardisierte Arthroskopie des Handgelenkes. Oper Orthop Traumatol 26:539–546

15.

Löw S, Herold A, Unglaub F, Megerle K, Erne H (2018) Treatment of ulnar impaction syndrome with and without central TFC lesion. J Wrist Surg. https://doi.org/10.1055/s-0037-1607073

16.

Löw S, Mühldorfer-Fodor M, Pillukat T, Prommersberger KJ, van Schoonhoven J (2014) Ulnar shortening osteotomy for malunited distal radius fractures: results of a 7-year follow-up with special regard to the grade of radial displacement and post-operative ulnar variance. Arch Orthop Trauma Surg 134:131–137

17.

Löw S, Prommersberger KJ, Pillukat T, van Schoonhoven J (2010) Intra- und Interobserver-Reliabilität digital fotodokumentierter Befunde von Handgelenksspiegelungen. Handchir Microchir Plast Chir 42:287–292

18.

Löw S, Spies CK, Unglaub F, van Schoonhoven J, Prommersberger KJ, Mühldorfer-Fodor M (2017) Preventable repeat wrist arthroscopies: analysis of the indications for 133 cases. J Wrist Surg 6:33–38

19.

Mikić ZD (1978) Age changes in the triangular fibrocartilage of the wrist joint. J Anat 126:367–384

20.

Möldner M, Unglaub F, Hahn P, Müller LP, Bruckner T, Spies CK (2015) Functionality after arthroscopic debridement of central triangular fibrocartilage tears with central perforations. J Hand Surg Am 40:252–258

21.

Moser VL, Gohritz A, Kitzinger HB, Löw S, Lanz U, Krimmer H (2007) Die Ulnaverkürzungsosteotomie mit der neuen 7‑Loch-Gleitplatte. Ergebnisse von 73 Eingriffen. Orthopäde 36:472–477

22.

Palmer AK (1989) Triangular fibrocartilage lesions: a classification. J Hand Surg Am 14:594–606

23.

Pillukat T, Fuhrmann R, Windolf J, van Schoonhoven J (2014) Die Arthroskopie des distalen Radioulnargelenkes. Oper Orthop Traumatol 26:547–555

24.

Schmauss D, Pöhlmann S, Lohmeyer JA, Germann G, Bickert B, Megerle K (2016) Clinical tests and magnetic resonance imaging have limited diagnostic value for triangular fibrocartilaginous complex lesions. Arch Orthop Trauma Surg 136:873–880

25.

Spies CK, Prommersberger KJ, Langer M, Müller LP, Hahn P, Unglaub F (2015) Instabilität des distalen Radioulnargelenks. Unfallchirurg 118:701–717

26.

Unglaub F, Fellenberg J, Germann G, Bickert B, Sauerbier M, Richter W (2007) Detection of apoptotic cartilage cells in symptomatic central tears of the triangular fibrocartilage. J Hand Surg Am 32:618–622

27.

Unglaub F, Hahn P, Wolf E, Germann G, Bickert B, Sauerbier M (2007) Degeneration process of symptomatic central tears in the triangular fibrocartilage. Ann Plast Surg 59:515–519

28.

van Schoonhoven J (2016) Arthroskopische Operationen am Handgelenk. Oper Orthop Traumatol 28:231–232
Ethics declarations
Interessenkonflikt
S. Löw, C. K. Spies, F. Unglaub, J. Oppermann, M. Langer und H. Erne geben an, dass kein Interessenkonflikt besteht.
Dieser Beitrag beinhaltet keine von den Autoren durchgeführten Studien an Menschen oder Tieren.
Caption Electronic Supplementary Material
ESM 1: Ausdünnung des TFCC vom Typ Palmer 2A
ESM 2: Debridement des TFCC bei einer DRUG-Arthroskopie
About this article
Cite this article
Löw, S., Spies, C.K., Unglaub, F. et al. Diagnostik und Therapie der degenerativen Diskusläsion. Orthopäde 47, 670–676 (2018). https://doi.org/10.1007/s00132-018-3551-6
Schlüsselwörter
Arthroskopie

Handwurzelknochen

Osteotomie

Triangulärer fibrokartilaginärer Komplex

Ulna
Keywords
Arthroscopy

Carpal bones

Osteotomy

Triangular fibrocartilage complex

Ulna